How to Paint Pumpkin Pillow Covers
These painted pumpkin cushion covers are large and bright. The photograph is of neutral pumpkins, but you can paint them in traditional colour as well by following the tutorial. Making your own cushion allows you to have nice large cushions. These one of a kind DIY painted pumpkin cushion covers wash well, and are fun to make. I think teens would enjoy making these as well. This is the first of the cushions I am making for this fall.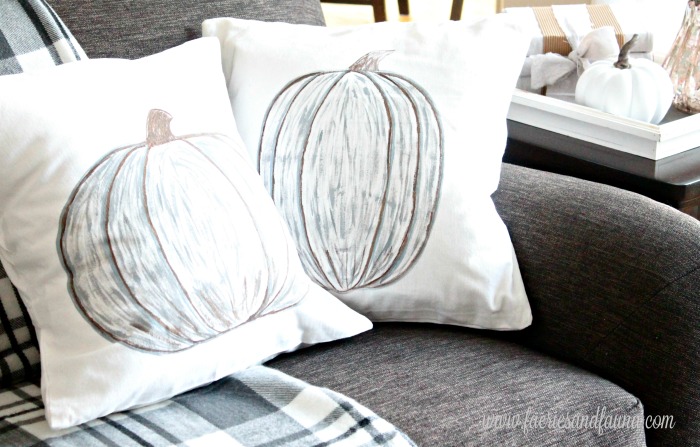 These are easy to make when you break them down into individual steps. I always say I am crafty, I am NOT artsy. If I can paint these, I am certain you can paint these.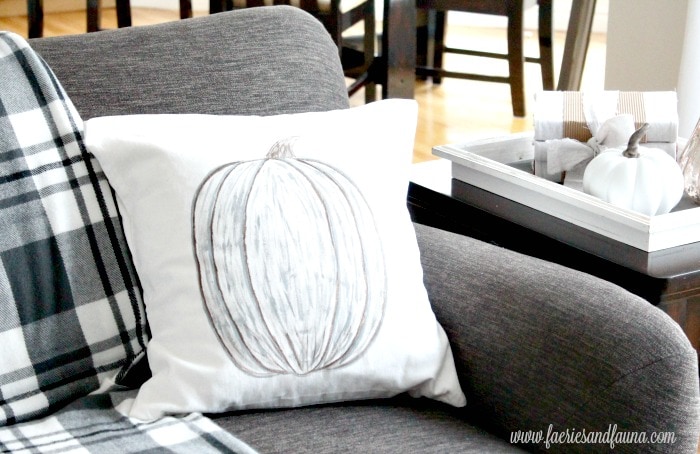 a


Tutorial

You will need a few materials.

Material for your cushion, (I used heavy muslin) one piece 20 by 20 inches and two pieces 16 by 20 inches. Prewash all your material and seal the edges with a Serger or zig zag stitch.

Art paper ( I used children's art paper from the dollar store), a pencil and a black marker.

Acrylic paint, I used Neutral Grey, Burnt Umber, and Snow White. Of course, you can do the same thing with oranges, browns, and greens.

Tintable Martha Stewart fabric medium, so you can use acrylic paint on fabric.

A plate for mixing the paint and fabric medium, a jar of water, small brushes and a paper towel.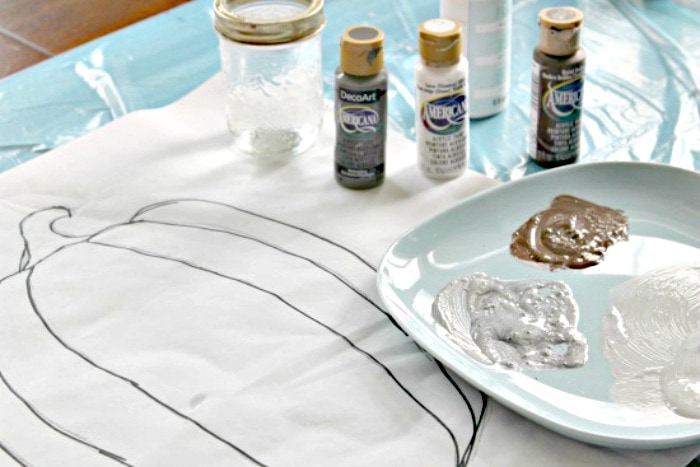 To create a template cut out a piece of paper to the size of your cushion. Mine was 20″ by 20″. Creating a template prior to painting allows you to erase as needed and gives a perspective as to the size of your pumpkin on the blank canvas of the cushion.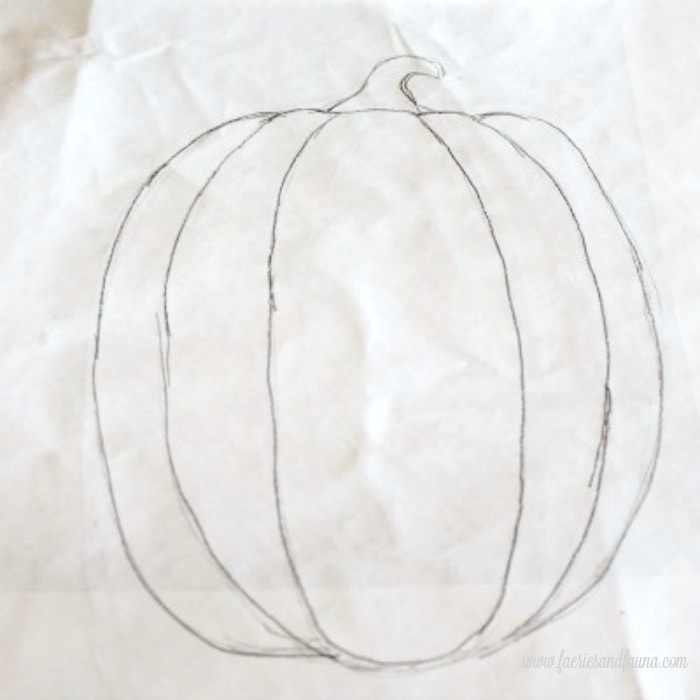 Once the pumpkin is drawn and shaped as you like, outline it in black marker to darken the lines.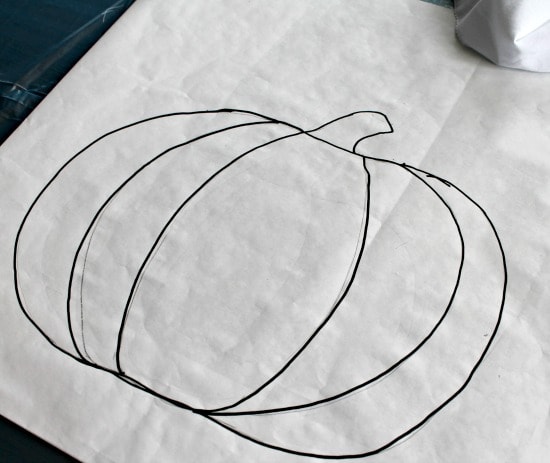 Once this is done, cut a piece of fabric 20 by 20″ piece of fabric for the front of your cushion cover. Place the fabric good side up over your template and start painting.
Paint the outline neutral grey. Once done, mix the neutral grey with white to get a slightly lighter grey.
Remember that pumpkins are curved, think about the general shape of a pumpkin and curve your strokes accordingly.
Fill your pumpkin in by section, using long C shaped strokes.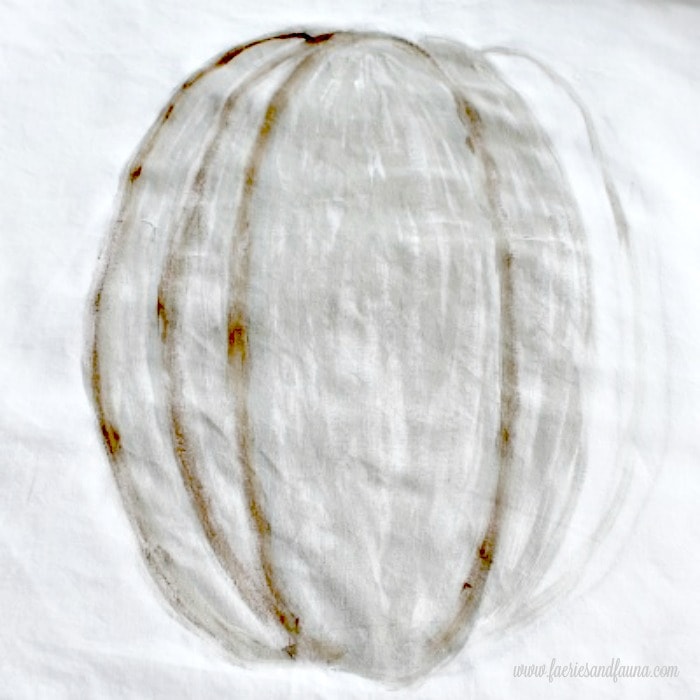 As you complete each section, use a small brush and burnt umber to paint along the inside of the pumpkin section outlines. The colours will blend.
If you put on too much dark paint even it out by adding the grey/white. If your shading is too light add some more burnt umber.
Clean your brush between dark and light colour changes.
To paint the stem. Fill in with grey, outline with burnt umber, and add a few extra strokes for texture.
Pumpkins in nature come in a wide variety of shapes, sizes, and imperfections. Have fun painting these, they don't need to be perfect to give the allusion of a pumpkin.
Let dry thoroughly before you start sewing. Heat set the paint with a dry iron (described on Martha Stewart's fabric medium). Now you're ready to sew.
Sewing a Simple Pumpkin Cushion Cover
To make a cushion cover you already have the front piece cut. Now cut two more pieces of material 20″ by 16″.
Make a rolled hem on one edge of each piece. Fold your fabric over 1/2 inch and iron. Then fold it over 1 inch and iron. Sew along the edge creating a hem. Repeat for the other piece.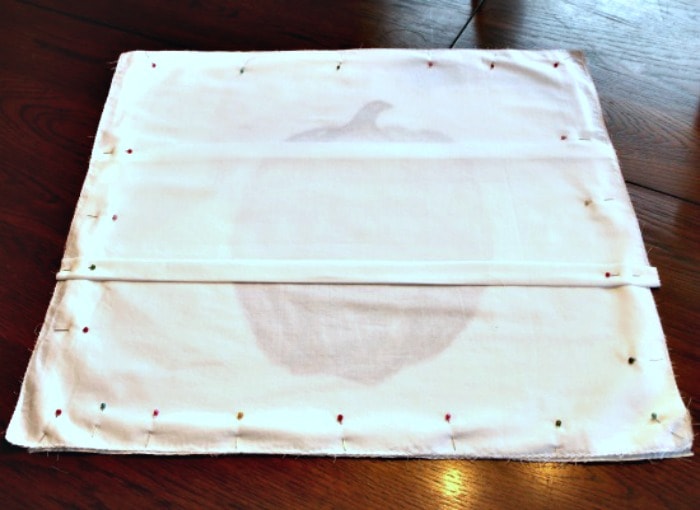 a
Pin the two pieces to the front of your pumpkin cushion cover as shown above. Sew with a 5/8 inch seam around all seams.
Then finish all the seams by sewing a zig zag stitch. You need a 20 by 20″ pillow insert, if you don't already have one, I like the pillow inserts from Ikea. They are large and inexpensive.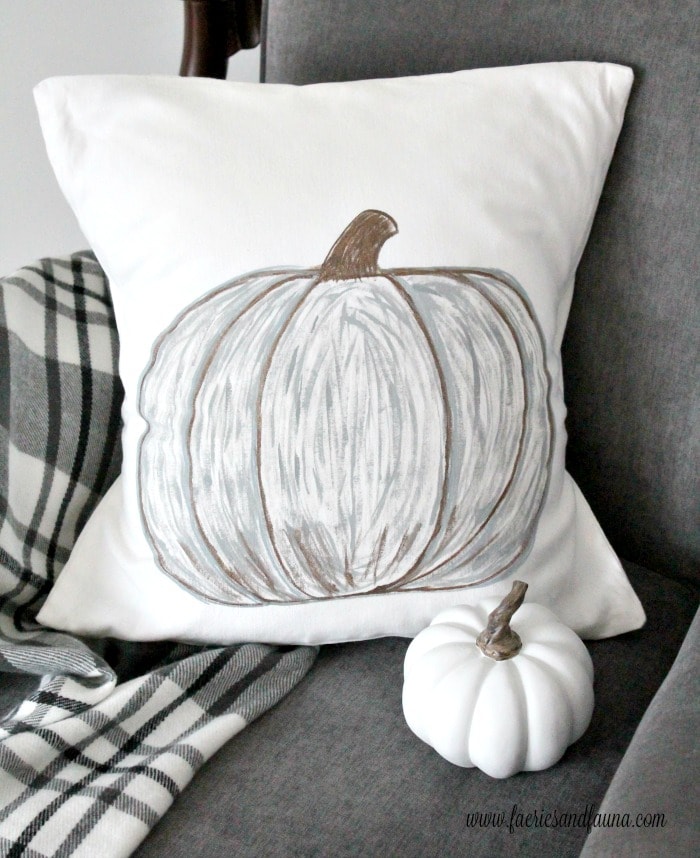 I am still right in the middle of making items for fall decor and craft fairs. Hopefully, in a couple of weeks, I will be able to show you a picture of the entire room.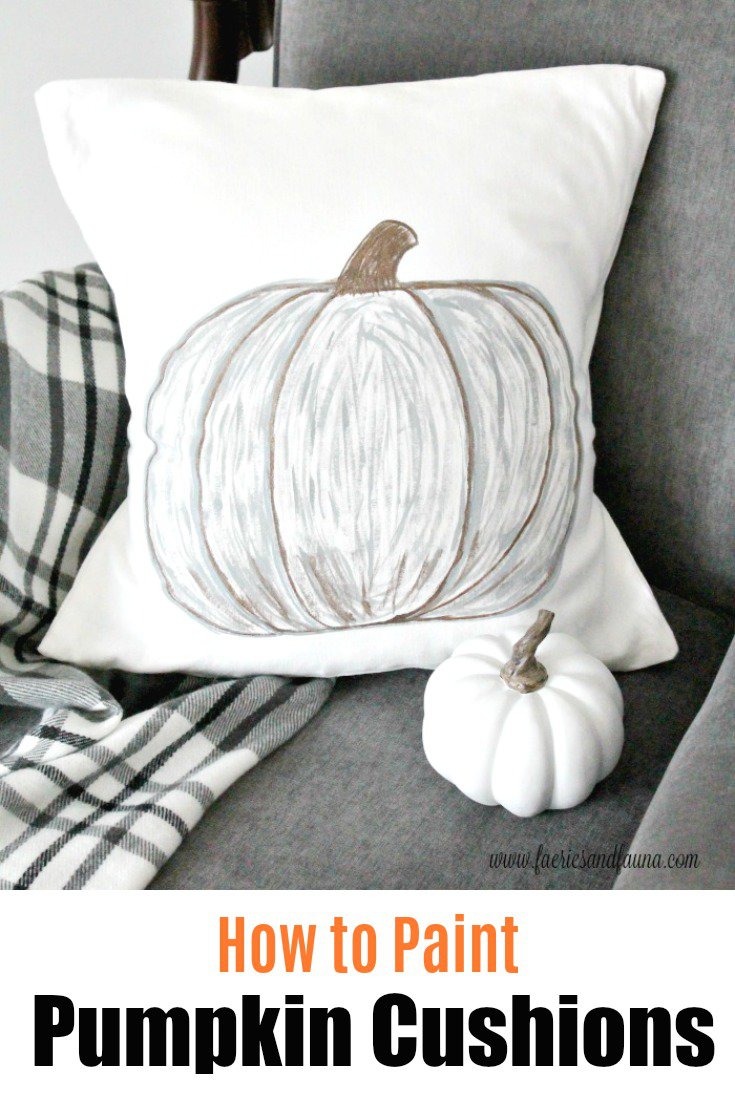 &