DIY Shiplap Wallart Background
Shiplap Walls for Different Spaces
Today I am collaborating with my friend Tarah from Grandma's House DIY. Tarah is one of the Farmhouse Hens and I love her blog. Shiplap is so versatile and functional. It is also very trendy now because of farmhouse decor. Tarah is using shiplap in a practical way for the walls of her real farmhouse, I am using it as a temporary decor element by making a shiplap wall art background.
Shiplap from Grandma's House DIY Blog Farmhouse
Tarah owns and lives on a real working farm she purchased from her Grandparents. Tarah has rebuilt her home using practical inexpensive materials, vintage treasures from her farm and mountain of skill of ingenuity.
Here is Tarah's practical application in her own words.
Shiplap is easy to install and can be used in multiple applications, it can be painted, sealed, stained or left as is. In my farmyard, I've run into a lot of old ship lap that I've used extensively throughout my home mostly in permanent situations but it doesn't always have to be permanent. What's great is how flexible it is depending on your choice of finish and application but it still always adds that certain bit of country charm!
My main experience using shiplap was in my basement. (Unfortunately, it was not ALL shiplap as there was only so much leftover in my "barn stash" so I ended up with a combination of pallet wood, shiplap and barn wood all mixed in.) I liked the rustic look as my basement is "what it is" however there was a part of me that was really itching to paint it white 😉 In true Chip and JoJo fashion lol I still may end up going down there someday and painting it out (at least just in the bathroom) just to make the whole place a little cleaner and lighter feeling.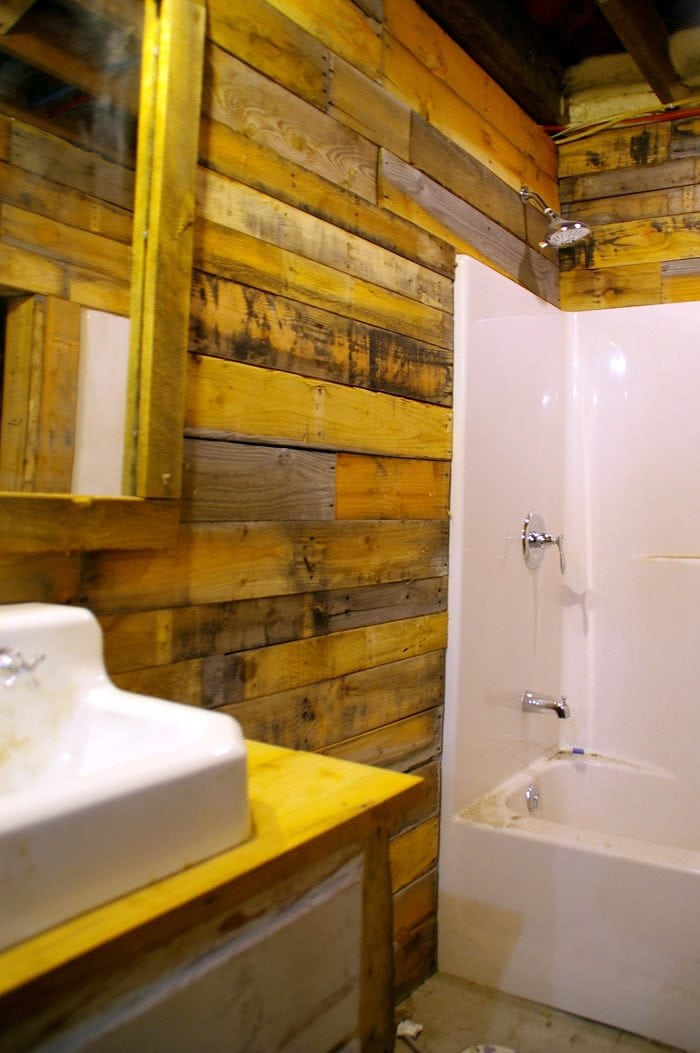 t
Here is the link to Tarah's Shiplap post. There is such a warm traditional feel to what she does. I don't think I would paint it. Would you?
Shiplap Wall Art from Faeries and Fauna's Urban Setting
Unfortunately, our home is very suburban, with a tiny yard. The only farm animals I have here come in motifs. I have commented before that I avoid doing anything permanently trendy to our home. I tend to stick to traditional decor with little bits of other decor styles including farmhouse decor added.
As a blogger and obvious decor fanatic, I am just a "tad" overzealous with using picture hooks everywhere. To be fair I do fill them regularly and do most of the interior painting but Hubs was getting annoyed at the various nail holes and different heights so my artwork backgrounds looked good. This shiplap wall art background is my solution and I am so happy it. It doesn't look like much on its own, but oh my it is so versatile for decor vignettes and I can move it from room to room wherever I want to.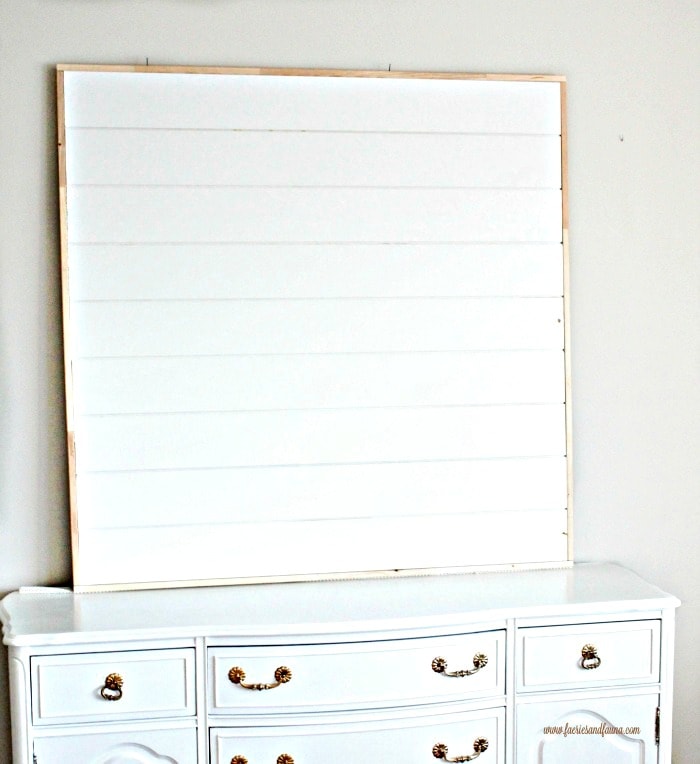 g
I am going to start by showing you how remarkably handy this DIY shiplap wall art is, how I use it, and then how you can make one of your own.
When you place something in front of it, it already looks more finished than a simple plain wall. Don't you agree?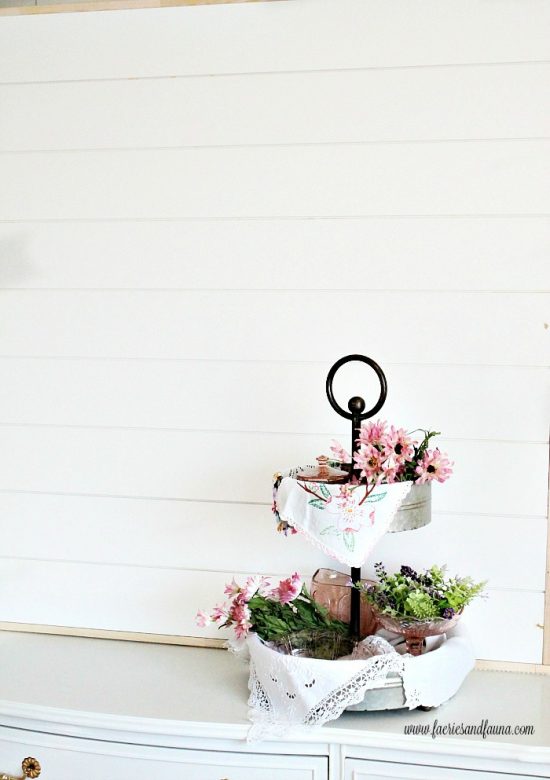 You can hang lightweight pictures from it using poster putty and a dollar store hook. Place the hook in the putty and place in between the slats.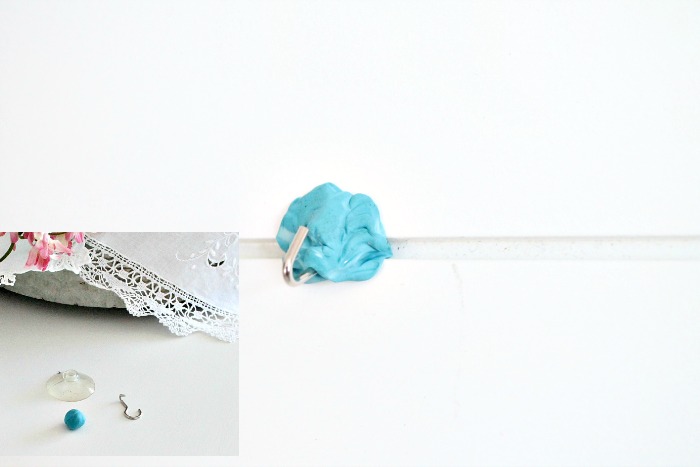 Like I did with this lightweight wreath.
f
I also put some small nails on the back of the shiplap wall art background, so I can suspend other things from the nails with fishing wire and without any damage. That is how I hung the snowflakes in my Winter Farmhouse Vignette.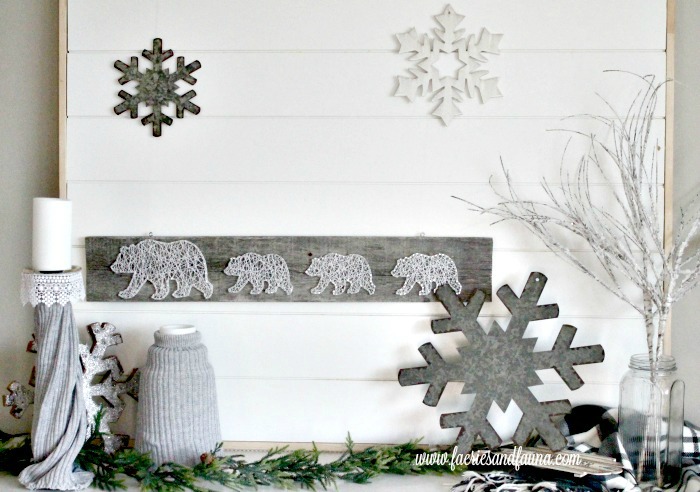 Banners can be easily draped from it as well.

k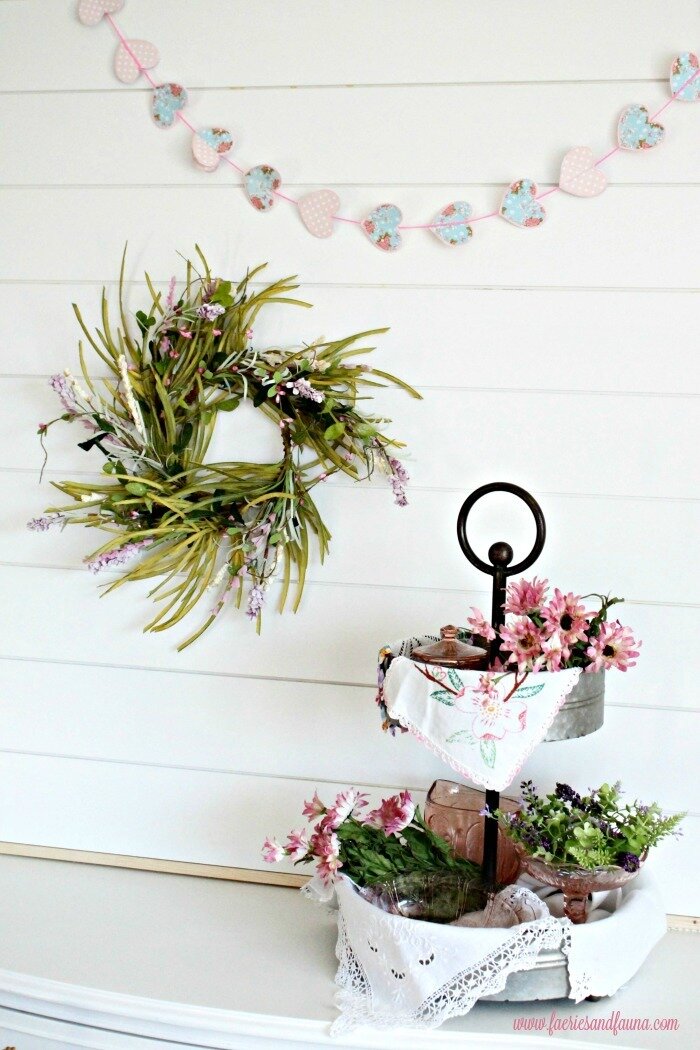 It's great for any time you want to do a wall grouping and don't want holes in your walls or those ugly (don't work so well) sticky wall hook things.
I hope I have convinced you that you need one of these in your life. Here is how to make one.
Square Shiplap Wallart Backdrop Tutorial
Materials
5 – 8′ lengths of prefinished shiplap
3- 8′ lengths of 1″ by 2″ lumber
Good quality wood glue
Air nailer with 1 1/4″ nails or finishing nails.
Cutting
Cut your shiplap into 48″ lengths (cut each board in half) You will end up with ten. To get the dimensions of the shiplap wall art close to square we only used 9 of the shiplap pieces,
Run wood glue down the narrowest slat of the pieces of shiplap. then fit into the first piece.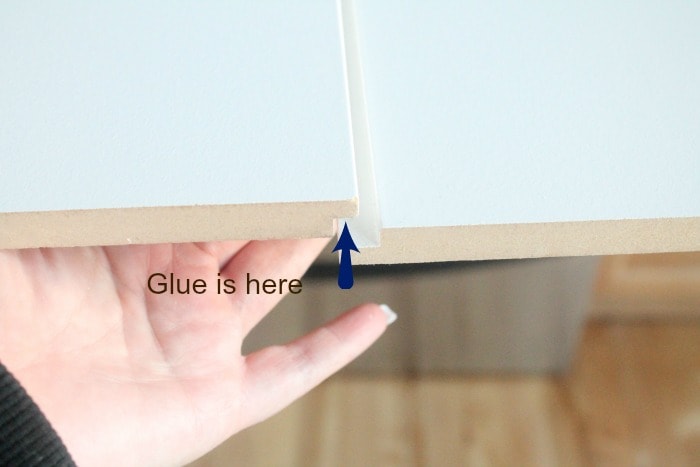 a
Repeat with all the others until you have 9 of them. Make sure they are square otherwise the frame won't fit properly and you will get gaps. Add some weight, I used granite samples but anything heavy like canned goods or books would work as well.
j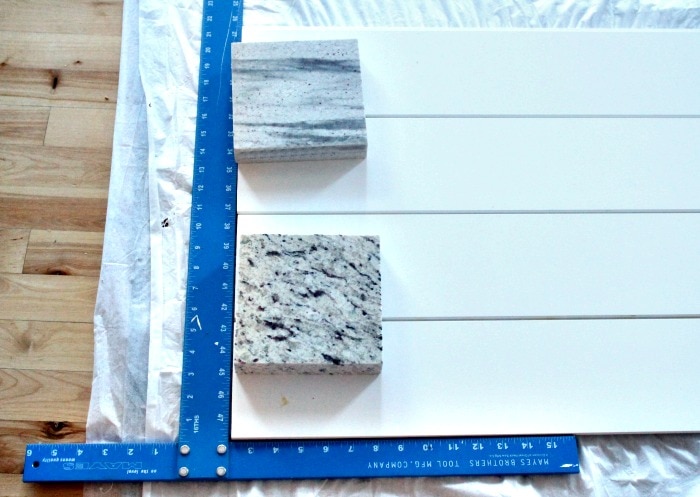 d
Let dry overnight. If they come apart (a couple of ours did because we lifted it) reglue and let them set.
Measure the height of your boards (ours was 47″) Cut two pieces of 1″ by 2″ for the sides of the frame and place next to the shiplap boards.
Then measure the width of your board and the 1″ by 2″ sides ours measured 49 1/4″
This will leave the sides of your frame covered at the ends by the top and the bottom of the frame.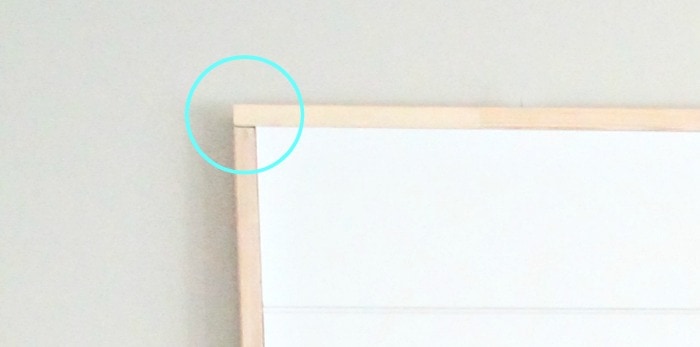 Nail the corners in place as snuggly as possible. Then nail along the sides into the shiplap with finishing nails.
As the shiplap came prefinished and I liked the bare wood look I left mine unfinished.
Mounting your Shiplap Wallart
This wall art is fairly heavy. It would need screws into the wall studs to hang freely. Again I avoid permanence, so I cleaned it against the wall on top of a piece of furniture.
To protect the furniture I put a strip of carpet non-slip dollar store rubber backing underneath it.
Thank you, Tarah, for dropping by and sharing your shiplap walled basement. Your post really outlines how widely different shiplap products and uses can be. It also points out that shiplap is not only useful as a temporary decor item but as a functional alternative to boring gyproc walls.
Enjoy the Day!