Happy Fall Banner Printable Banner
This free Fall printable can be used almost anywhere in your home, but I created it for children to make with their families. This free printable banner of little owls is easy enough for children to make and the readymade templates are included.    Little ones will need supervision using their safety scissors but no particular skills are required to create this happy Fall banner printable.
Grab some Fall flavoured beverages maybe something maple to go with a tree theme, print out the printable lettered owl cutouts and have some fun.
Fall patterns in teals with little acorns, plaids, and leaves are just that little bit different from the typical Fall colours. Teal is a surprisingly pretty colour to place in your Fall decor and if your planning on decorating with traditional Fall colours, I recommend trying a couple of accent pieces in teal. If you let me know how you like it.
Here is my Fall Home tour featuring teal and traditional colours, it should give you an idea of how this colour scheme looks for Fall decorating
My eldest son's yard is spectacular with a beautiful mature grove of trees, including maple and cottonwood trees. The tree grove is home to a resident owl that sounds so beautiful, but I have yet to see him. None the less that owl is my inspiration for this free Fall printable.
Hopefully, I get the chance to see him in the Fall when the foliage is thinner and he or she is less camouflaged.
Printable Owl Banner Tutorial
Supplies
3 sheets of plain card stock paper
Colour printer
Small safety pins (optional)
Scissors
Hole punch
String for hanging
Poster putty (optional)
Free Fall Printables
First, you will need the readymade templates for the owls with letters and the pumpkins.   Each printable prints out on letter size card stock and there are two printables on each page.
Printable Owl Template – Letters F & A
Printable Owl Template – Letters L & L
The banner is in various autumn colours, teal, oranges, browns, rusts, reds, and golden yellows. The patterns on the owls are part of the printable template.
How to Make a Fall Banner
Start by printing out all three printable Fall banner templates.
Carefully cut them out.
Using a hole punch make a small hole in the top middle of each printable.
You can either thread the owls right on to the string by using two holes, or first place a small safety pin through the hole on the printable.
Lace the thread through the small holes at the end of a safety pin, this will allow your printables to hang flat.
If you have issues with the paper printables sliding as you hang them, use little bits of poster putty on the string near the safety pan.  This makes a small easy to remove barrier that prevents the safety pin from moving.
You can either tie the ends of the banner is an adjustable noose knot, or in a simple little bow.
I know this post is early and were all stilling hanging on to summer. I need to start my Fall decorating early so that you have time to make the crafts once you find my posts. If you do come across this post early please just pin it for Fall inspiration.
Update: We moved homes and I lost my Fall printable banners. So I remade them and created a short video tutorial. This time I didn't use little safety pins to hang them.
Here is the Fall banner hanging on a farmhouse door, I like the wreath as is but those happy owls give it something extra, a little pop of happy.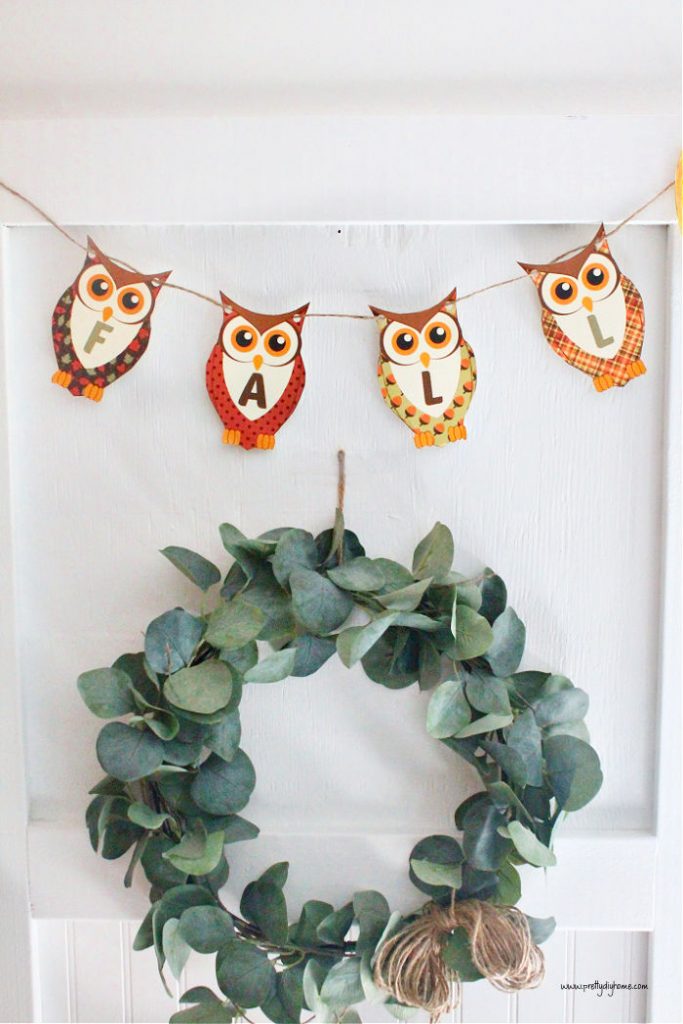 Almost time to start eating all things pumpkin.
Other Free Fall Printables You Should Check Out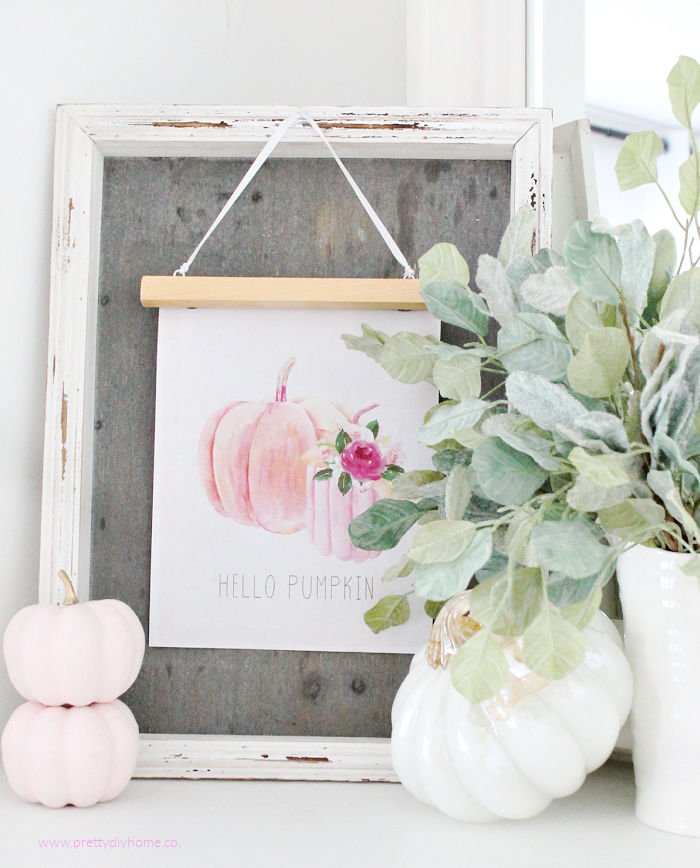 Free Pink Pumpkin Printables
This Free Fall Printables features pink feminine pumpkins and a really simple tutorial for a wood hanging frame. I also share a few image examples of different ways to use them.