Porch Halloween Decor Idea
Spooky Cute Ghost Halloween Porch Decorations
Halloween porch decorations can be scary or cute, this year I decided on spooky cute Halloween porch decorations using googly eyed ghosts. These outdoor ghosts are spooky adorable set on each side of the front door. Each one holds a fun sign and a sad face from sharing candy. If you love Halloween as much as they do in our neighbourhood you have to try making these large Halloween ghost decorations.
Halloween Porch Decor
Halloween decor is so much fun to do, whether it's scary and chilling for the older crowd or more spooky and adorable for the little ones. One year my sons and I created a really fun and scary haunted house for Halloween but then the little ones were too scared to come to the door to trick and treat. So now I lean towards the cuter softer side of Halloween porch decor.
Halloween Porch Ghosts for Outside
To make the Halloween front porch ghosts you will need.
White material (large flour sack towels worked well)
Two dollar store soccer balls
Plastic zip ties or bungee cords
Black felt for eyes or googly eyes (Michael's)
Halloween signs with fun sayings (optional)
Our front porch decor always includes flowers in different size pots. So I started with the two three foot high flower pots I already had. I often see something similar at Costco or Home Depot. These make up the main body of the ghost porch decoration.
Secondly you will need two soccer balls, or large plastic balls. I borrowed two from the soccer coach next door, but any kind of 8 to 10 inch ball you have works. The plastic ones from the dollar store as well.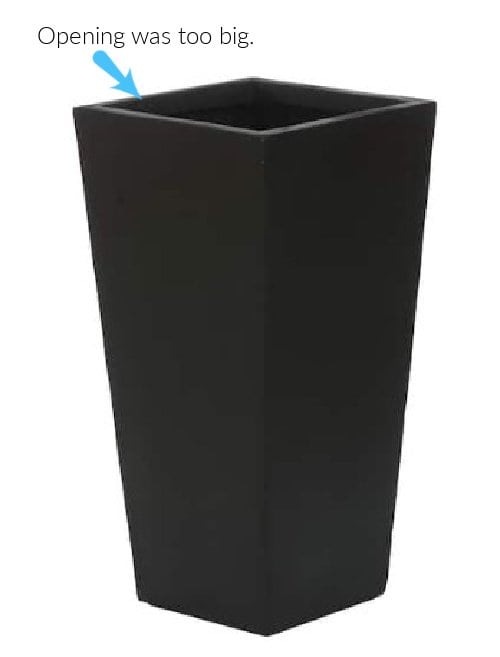 Unfortunately when trying to fit the ball into the planter it sunk down too low into the planter and the corners of the pot would have shown. My solution was to flip the pot over. Then I to find a simple inexpensive way to attach the ball to the bottom of the planter. Here is how I solved the problem.
Putting the Halloween Decoration Base Together
Wrap the soccer ball in a large white towel or rag. The rag needs to be thick enough to semi-cover the markings on the ball, and long enough to hang down the sides of the flower pot. I had some flour sack tea towels that worked for this, but ripped up old sheets, or a large white t-shirt are other inexpensive options.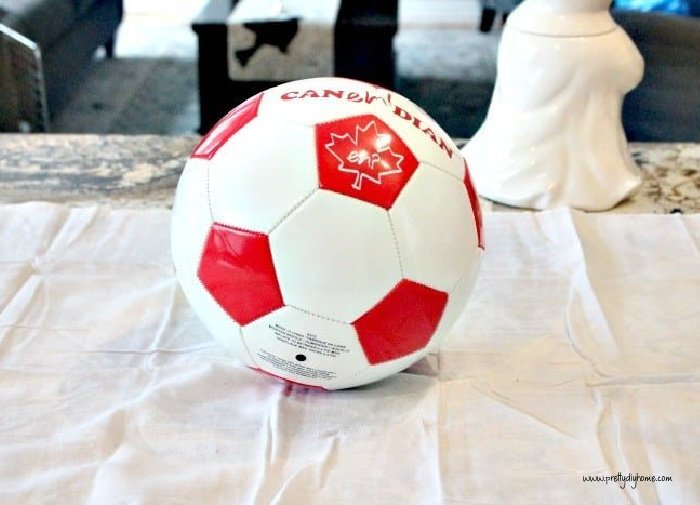 Twist the end of the towels and secure the sides with elastic bands. This will hold the ball securely inside the white rapping. Repeat for the second ball.L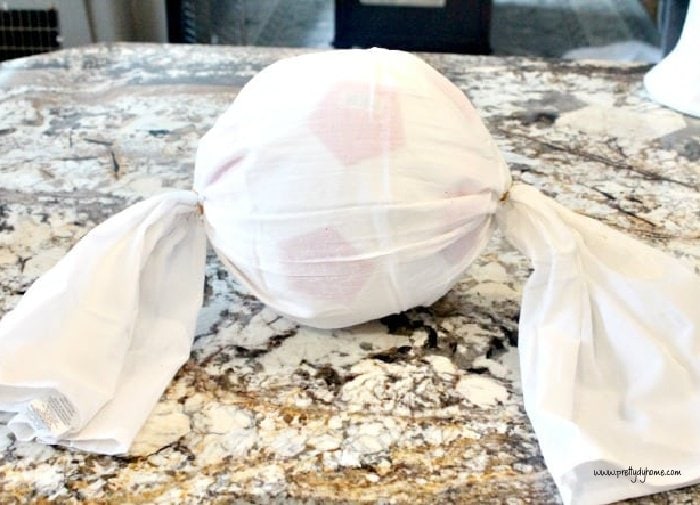 Place the ball on top of your plastic flower pot, I suggest using white zip ties or bungee cords for this. Lots of wrapping tape might work, but I don't think it will adhere well enough.
The little flaps of the towel sort of resemble arms, when you cover them with the sheets.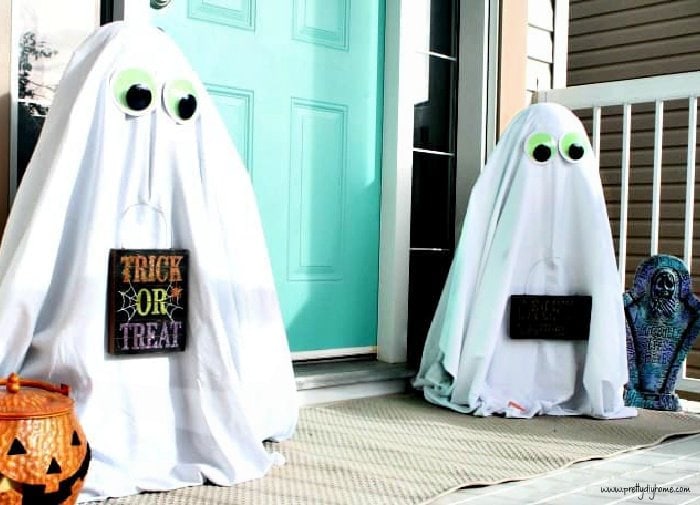 Adding Sheet Cover and Halloween Decor
My two ghosts are covered with thrift store twin sized flat sheets. I did not cut them at all. Place them over the top of the ball and tuck them in around the flower pot so none of the flower pot is showing.
Attach the stick on eyes, if you're not able to find the googly eyes at Michael's you can use a black material, felt or paper. The back of the googly eyes was adhesive enough to hold on to the sheet. I pressed them on to attach, if your don't adhere I would use some E6000.
Attach a Cute Saying
To make the porch Halloween decor a bit more special and welcoming add some sayings. I saw these little signs at 60% at Michael's so I splurged. I am curious to see how many adults may read the sign and ask for candy.l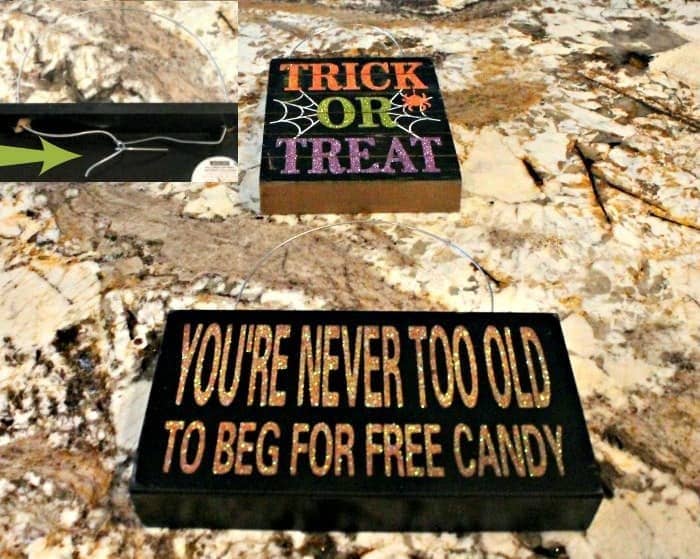 These two sayings are perfect for trick or treaters. Another idea I had was using dollar store chalkboards and writing "Hi I am Trick" on the first ghost, and " Hello, I am Treat" on the other one. The dollar store could very well have something right off the shelf that works very well.
My signs didn't have any hangers so I drilled holes in the top and added simple wire hangers. Once wired I pinned them to the front of the little ghosts right about where a mouth should be. The weight of the signs give them a fun expression.
Not Halloween? Please Pin Me for Later
Lighting
Our little sentries are being lit up with blue lights from our Christmas stash. They would look great in purple, but what can I say, the blue ones were already in my stash. You could also wrap the flower pot and with low heat white string lights but I didn't want to mess with whether or not they would show enough through the sheet fabric.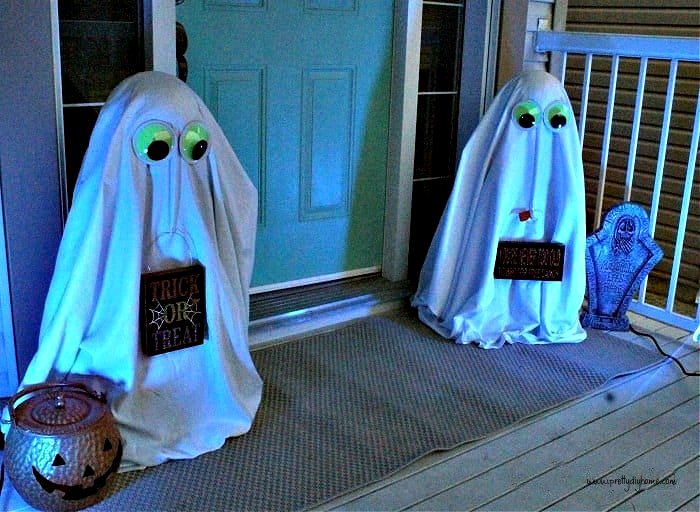 Complete your Halloween front porch decor with a jack-o-lantern and a couple of simple pumpkins. We also added a string of Halloween ghost shaped lights that went up the driveway as it is quite dark this far north by 5:30.
Not ready to make this yet? Pin it so you have it!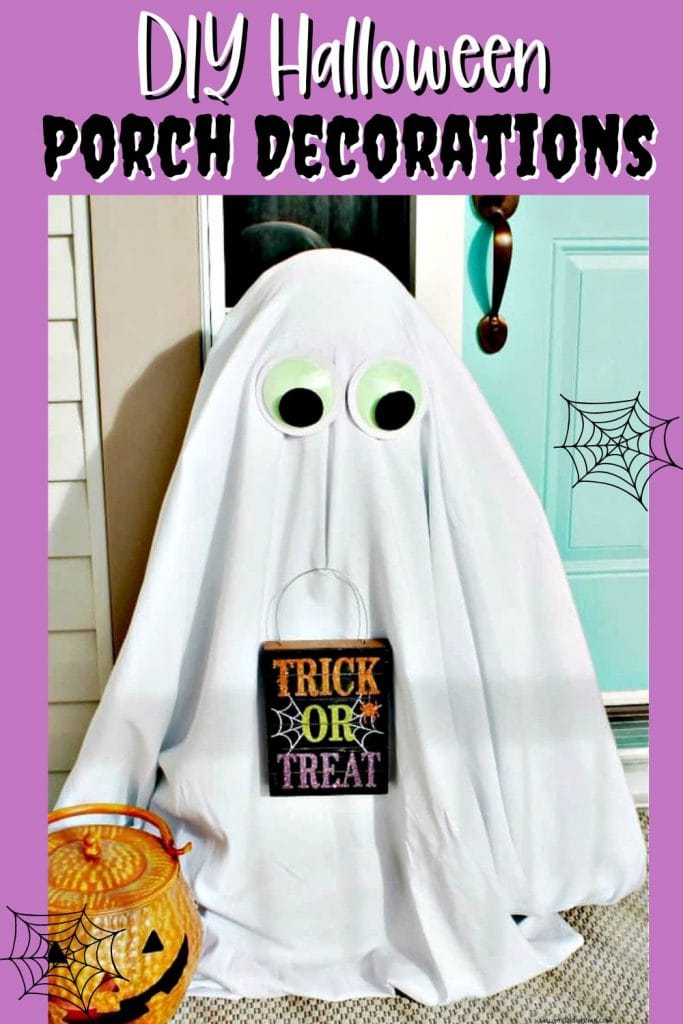 Happy Halloween!
Halloween Porch Sign with Free Printable
A convertible plant hangar in the summer, Halloween sign for the Fall DIY idea. Welcome to the Hiss and Scratch Halloween Inn