Mistletoe Christmas Chalkboard Sign for a Romantic Bedroom
A Christmas Chalkboard Sign in Half an Hour
This mistletoe chalkboard is for our Christmas guest room. My sons families have to travel to our home and I know carving up their Christmas schedule between families can be a juggling act. Making a special room for them is my way of saying thank you for finding some Mom time in those ridiculous holiday schedules.
This mistletoe chalkboard sign is easy because I create a pattern instead of free handing the lettering. Even with printing and centering the pattern it takes less than half an hour to draw.
Besides a chalkboard, the remaining supplies are super simple.
Chalk
Faux mistletoe greenery
Slightly damp rag
Q-tips
The chalkboard is a DIY chalkboard update project I created last winter. The chalkboard is 30″ wide by 19″ high so it fits very well in the space above the bed. .
How to Make a Mistletoe Chalkboard Art
Start by printing out the mistletoe template. Print the template out and tape together.
Center your template onto the chalkboard, I like to center it by eye and then use a ruler to make sure. Make some tiny chalk marks along the edges so you can refer to them.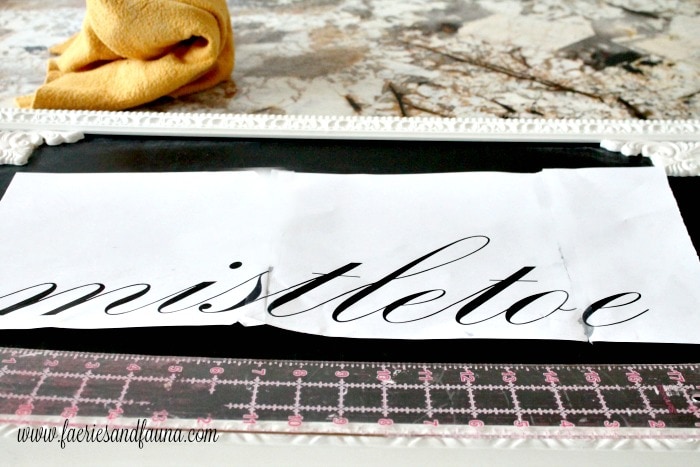 Place your template with the printed side against a window. Using chalk trace the letters on the backside of the paper.
Place the template onto the chalkboard chalk side down and rub with your fingers.
The chalk will transfer enough to provide you with a template to follow. Fill in your lettering using the chalk.
Once you like the lettering clean your board of excess chalk with a slightly damp rag and/or q-tips. In the above picture, you can see that the chalkboard is a bit messy. Chalk tends to be dusty and smudge, but its ten minutes to make it perfect.
Decorating the Mistletoe Chalkboard
To finish the chalkboard decorate with some faux mistletoe greenery. That's all there is to it.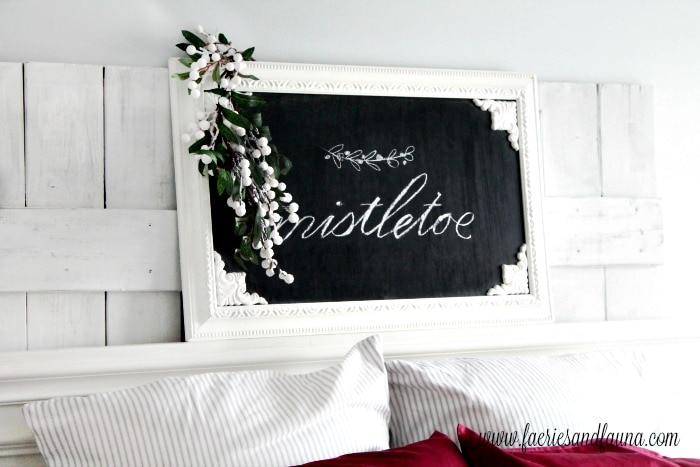 I think it looks both farmhouse and romantic over the bed. The room has the snuggle and cuddle cushions I made, a warm cuddly throw or two, and I will add candles and other decor elements.
This super easy and simple craft has lots of impact on the bedroom. It makes me smile every time I go in there. I hope they like it as much as I do.
Some parts of the house at least are starting to look like Christmas.
Leanna
Like it. Pin for Later!
"