Upcycled Large DIY Candle Holders from Old Table Legs
How to Make Upcycled DIY Wood Candle Holders
The old table legs for these upcycled large candlesticks are a gift from one of my very best friends. He is an antique dealer with 40 plus years of woodworking experience restoring high end antiques. Every once in awhile I am able to go visit him, ooh and awe at what hes making and and share some time in his wood shop. Its one of my favorite places to hang out.
His shop is full of high end antiques in various stages of restoration, his latest project is a old child's sleigh from the mid 1800s, and a wall high cabinet full of dozens of individual dove tailed drawers. (sigh). While sitting in dovetail and carved wood heaven I noticed a large box of odd antique table legs. I was excited about them he was generous enough to offer as many as I liked, and being polite I managed to hold myself to asking for four of them. I did explain I was going to paint them, and received permission as they are spare parts.
Supplies for Making Large DIY Candle Holders
This post contains affiliate links so you can see what products I used or recommend for this project. As an Amazon Associate, I earn a small commission from qualifying purchases at no extra cost to you.
2 wood plaque discs about 5″ across
2 matching table legs
Sandpaper, utility knife
TSP
White paint (I used Fusion Picket Fence)
How to Make DIY Candle Holders
Prep
Start by washing the wood off really well with TSP. Making sure to remove any built up gunk in the crevices and hollows. Using 120 grit sandpaper buff off any right edges or slivers.
Shorten the metal pegs in the legs to match the bottom of the purchased wood pedestal. Line the wood pedestal with the bottom of the table leg and using a jigsaw trim any excess bolts.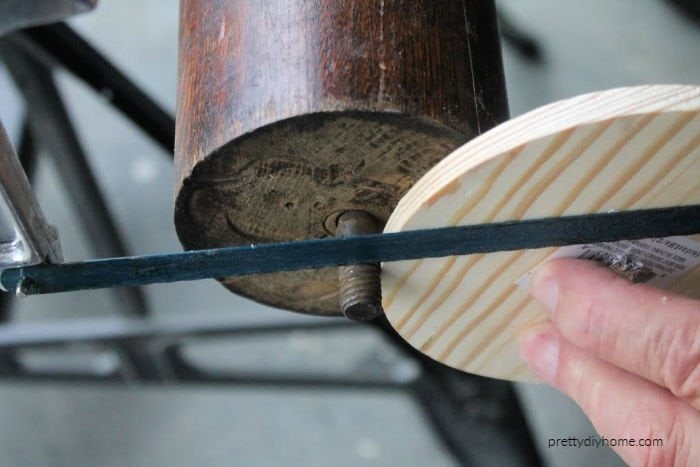 If your table legs happen to have drill holes and no bolts, I suggest using precut little wood dowels instead.
If you don't have a bolt already part of your table leg, just skip this step.
Attaching the Wood Base to the Candle Holders
Find the center of your wood platform, measure across the center in two directions and mark where the two lines meet to find center . Using a 3/8 inch wood bit, drill out the middle of the wood platform, leaving a hole in the center of the wood plaque.
Once you have the first wood plaque done, use it as a template and drill the hole in the center of the second plaque.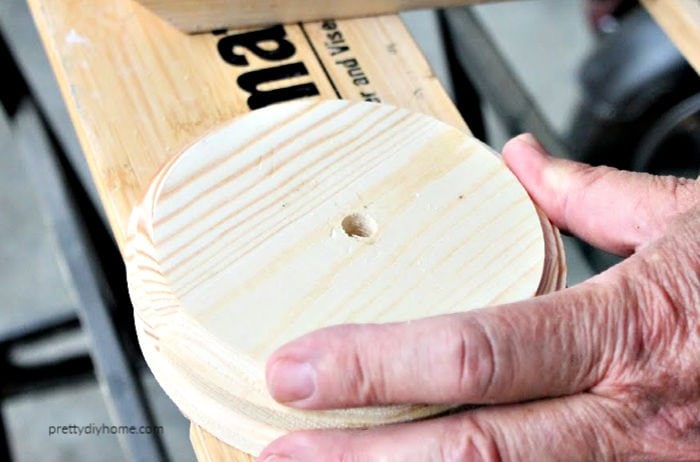 Cover the bottom of the wood table leg with wood glue.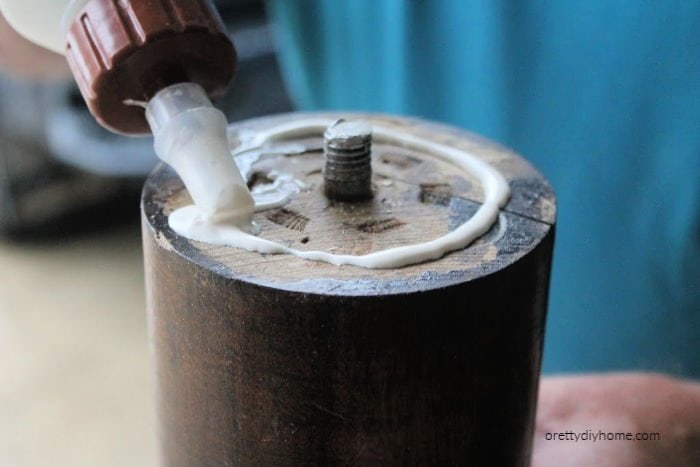 Attach the wood disc to the table leg.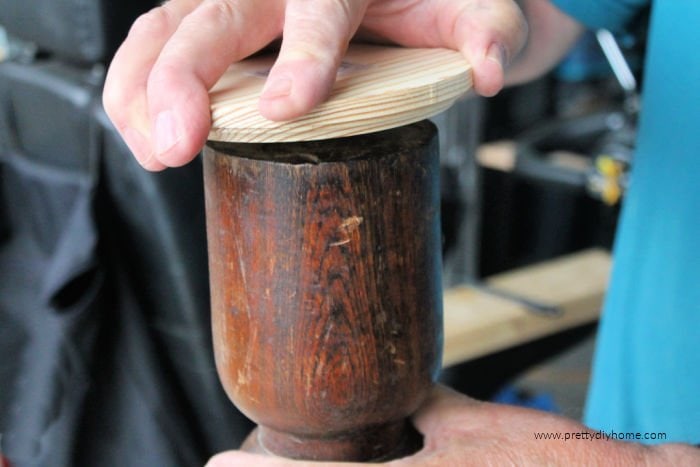 Make sure it is as centered as possible. Flip the candle holders over, apply something for weight and let dry. (Of course I forgot to take a picture of the table legs to start with, but you can see in this picture what they looked like before priming and painting)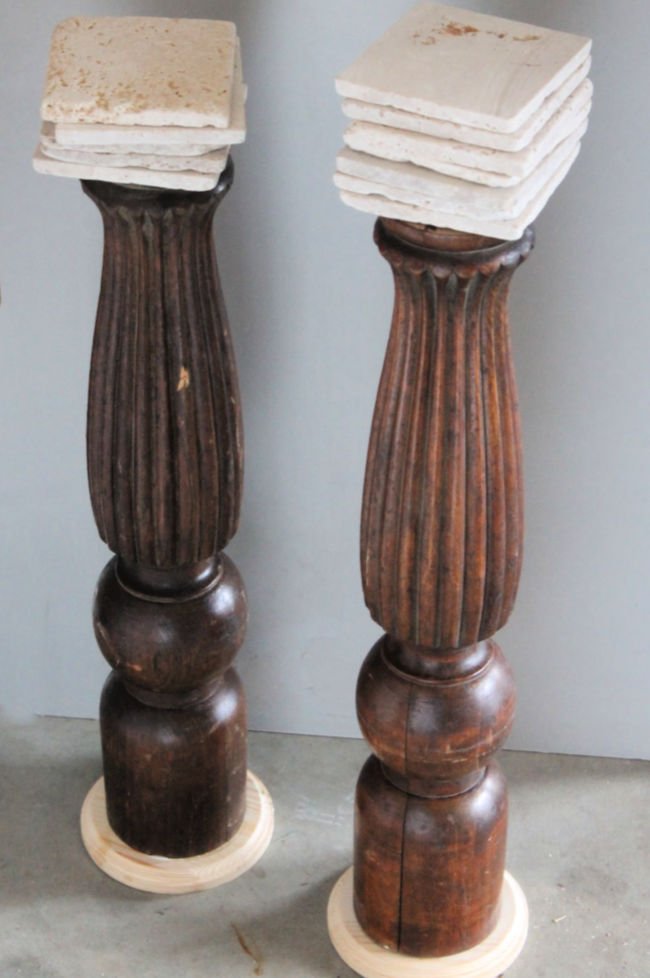 Attaching the Top of the New Candle Holders
My first thought was to attach a matching wood disc both the top and bottom of each table leg. I bought the last two wood discs I could find, and unfortunately I was not able to locate anymore at Michael's.
I finally decided to substitute by using terracotta pot saucers for the top of the candle holders and I am thrilled with how it turned out. The paint finish looks the same on the pottery as it does the wood, I didn't have to worry about it.
To attach the terracotta pot bases use E6000 glue, apply it evenly along the top of the table leg. Let dry thoroughly.
Once dry check for any glue drips on the outside of the candle, remove them with either a sharp utility knife or sandpaper.
Painting the Large DIY Candle Holders
Paint the outside of your candle first with one coast of white Binz primer. Let dry. I was still wondering if the texture of the terra cotta would look different, it still looked a little different after painting with the primer.
Repeat with two coats of Fusion Mineral Paint in Picket Fence, or other white latex paint you like. Let dry between coats.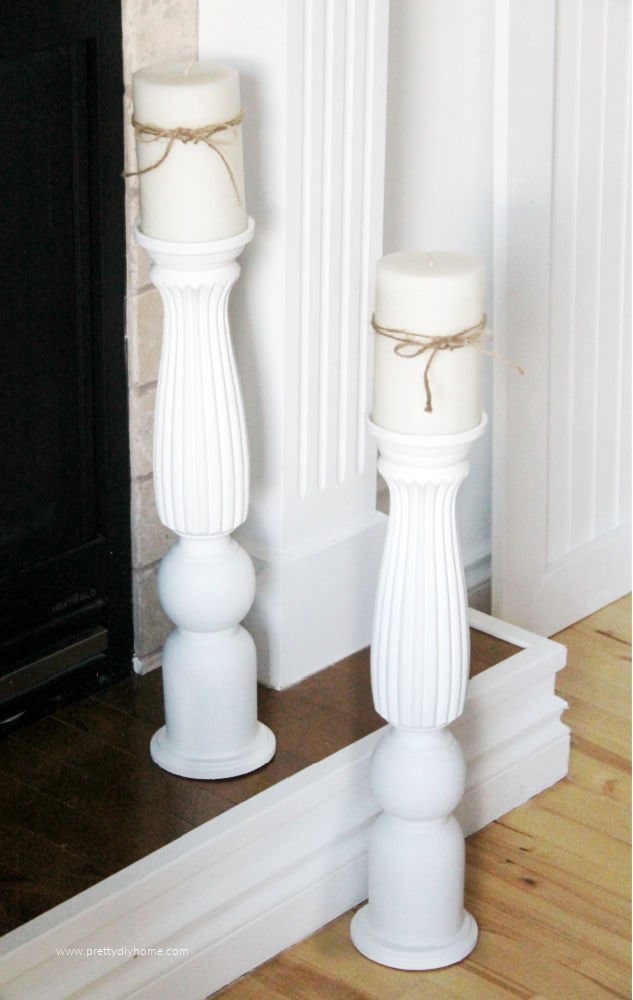 Don't you love how large these candle holders are? I don't even want to think about how much they would be to buy. They are one of those things I ooh and awe over at the gift shop and then wish I had a bigger budget.
For now I am going to place these white candle holders on each side of our fireplace screen. The extra bit of white helps brighten up the dark black screen. Once we turn the fireplace on I will need to move the real candles to the side of the heat source, but for now they are staying just like this.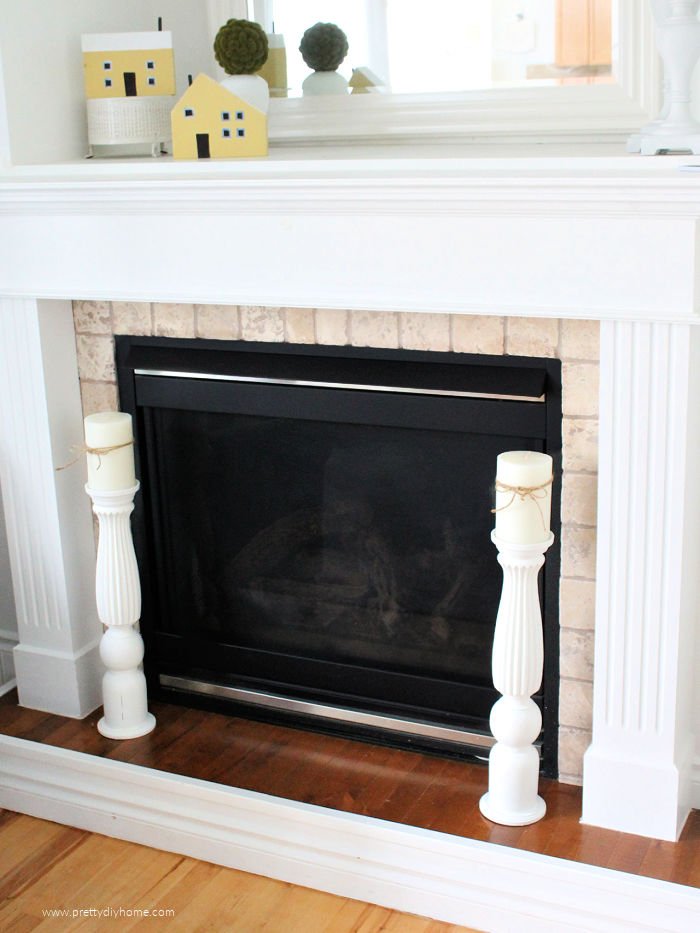 Related Posts
In the above pictures you may have noticed the little yellow scrap wood houses and the DIY faux farmhouse door backdrop. Here are the links to both.
How to Make Mini Wood Houses from Scrap Wood