Pumpkin Mousse with Brown Sugar Whipped Cream
Easy Pumpkin Mousse Recipe
I knew it was time to share a new pumpkin dessert recipe, like this easy Pumpkin Mousse recipe with brown sugar whipped cream. My social media started to show all sorts of pumpkin and pumpkin themed ideas, then my tastebuds got involved. This recipe for pumpkin mousse is an easy way to curb those cravings, its no bake and whips up in 10 minutes (plus chilling time.) Its all I needed to settle my cravings and I am sure it will help you tame yours as well.
Here are the Ingredients You Need to Make Pumpkin Mousse
1 pint whipping cream
6 tablespoons brown sugar (or maple syrup)
1 15 oz can pumpkin puree (not pie filling)
1 8 oz block cream cheese, softened
2 tablespoons pumpkin pie spice
1 tsp real vanilla extract
1/3 cup half and half cream For the Cinnamon Sugar Topping
1 tsp cinnamon
1 tsp white sugar
Gingersnap cookies for serving
Brown Sugar – The sweetener in this recipe is brown sugar, you can use either light or dark brown sugar. Or you can use equal amounts of maple syrup.
Pumpkin Puree – I used canned pumpkin puree but if you have homemade on hand you can use it instead, just thaw and strain with a cheesecloth first. Don't use the canned pumpkin pie mix.
Pumpkin Pie Spice – I used my own pumpkin spice mix, but you can use store bought mix if you have it on hand.
How to Make Pumpkin Mousse
In a large bowl with a hand mixer beat the whipping cream until stiff, it will be double in size. Add 2 tablespoons of the brown sugar and continue beating until light and fluffy. Cover and set aside in the refridgerator until ready to use.
Note: Choose a bowl a little bit larger than you think you need. I tried to create this recipe for you with video and the whipping got too messy. I nixed the video and next time I make it I am using a much larger bowl.
Making sure you cream cheese is soft and at room temperature place it inside a large bowl. Blend with a mixer until smooth.
Add the pumpkin purée, and remaining brown sugar. Mix well.
Once mixed, add the pumpkin pie spice, vanilla extract, half &half, and remaining brown sugar. Beat with a mixer until throughly blended.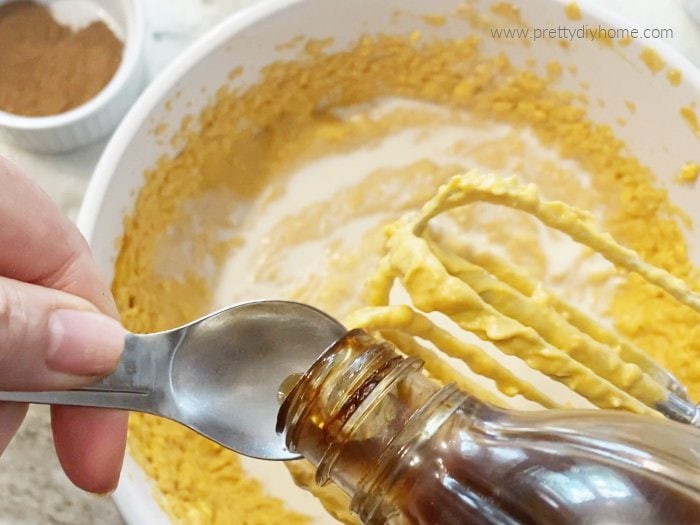 Taste test and adjust as needed, this dessert isn't very sweet, add a little more brown sugar if you like. Blend until very smooth.
Spoon into four serving bowls, cover and chill for a minimum of one hour.
To Make the Cinnamon Sugar
Add 1 teaspoon of both white granulated sugar and ground cinnamon into a small bowl. Mix together. in a large mixing bowl with a hand mixer until thoroughly blended.
To Serve the Pumpkin Mousse
Remove the chilled pumpkin mousse from the fridge, cover it with a large swirl of brown sugar whipped cream and sprinkle with cinnamon sugar.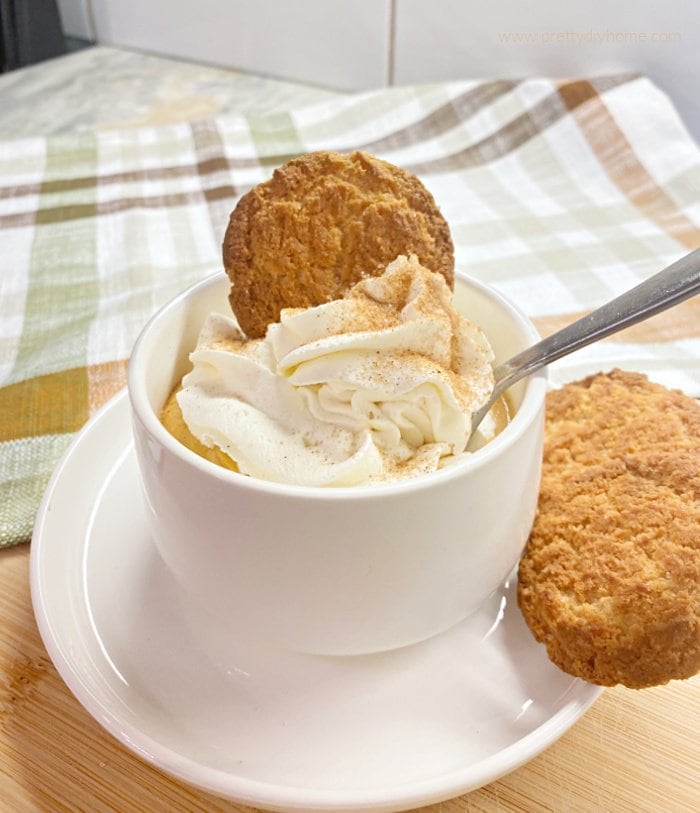 You may have noticed this pumpkin mousse recipe does not include a crust. You can serve it as is to those with gluten intolerance. For those without I served mine with purchased gingersnap cookies. Children especially like it because they can dip the cookies into the pudding.

If you love all things pumpkin spice as much as we do, you should check out my Pumpkin pinterest board dedicated to all things pumpkin, including pumpkin recipes and pumpkin craft ideas.
Storing Pumpkin Mousse
The pumpkin mousse can be stored for up to 1 day ahead. Leftovers will keep for 3 days. You shouldn't freeze it.
Other Pumpkin Dessert Recipes to Try
Once summer ends I am willing to start baking again, its starting to get quite cold and I find the spices and warmth of the oven cozy. Pumpkin spice recipes are always so popular, so here are a couple my other pumpkin dessert ideas.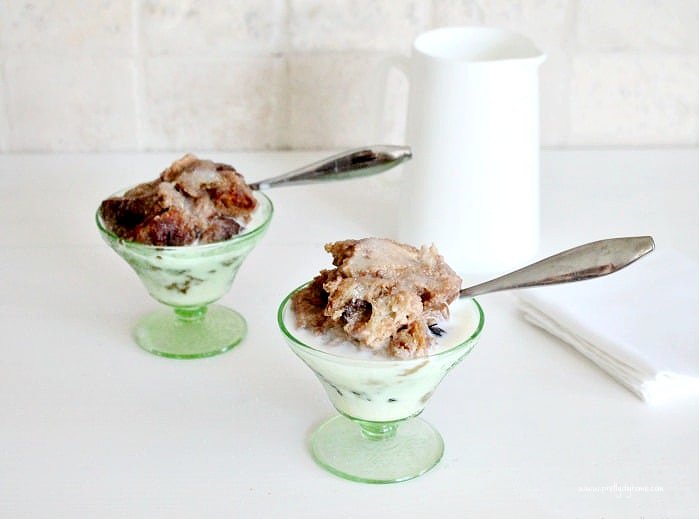 Pumpkin Bread Pudding
Nostalgic bread pudding is given a modern update with the addition of pumpkin. You can serve this pumpkin bread pudding as a dessert, or with milk for breakfast.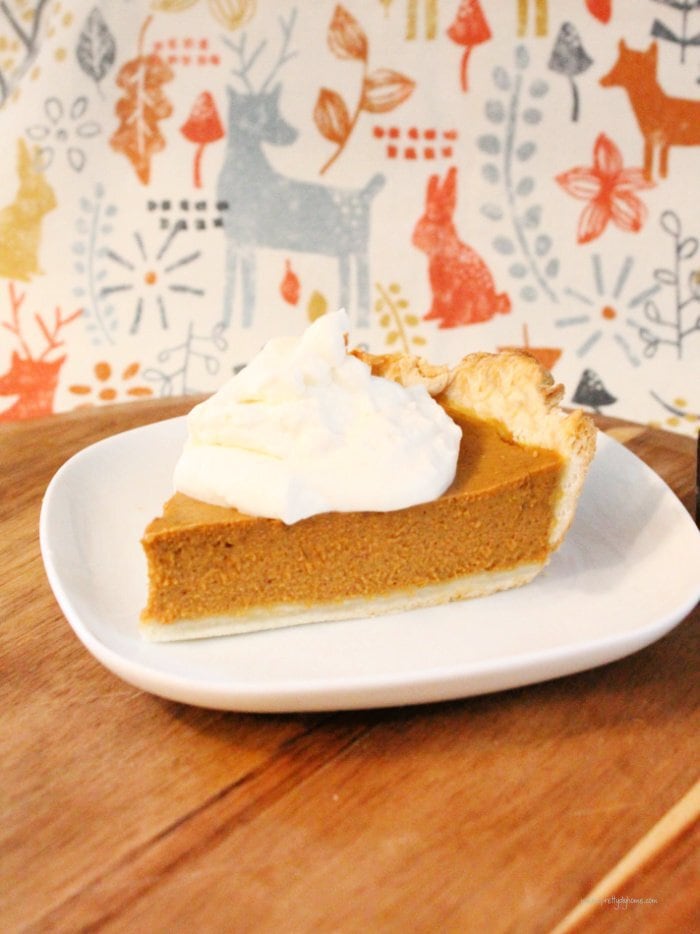 Pumpkin Pie Recipe
This is the from scratch pumpkin pie recipe your grandmothers generation made. I have been making this pie every year without any changes for decades. It a classic pumpkin pie recipe thats best left just as it is.