Rustic Outdoor Decorating Idea for Fall
A Rustic Front Door Wreath
Rustic decor rarely appeals to me except in the Fall. The idea of harvest and fields full of ripened grains, gardens and apple baskets all brimming with the harvest bounty is very rustic to me. Scarecrows, leaves, willow baskets, old wood crates, burlap, all look amazing in the autumn months.
I wanted to create a front porch vignette, and I find it easier to arrange vignettes when I have something high for the background. Last fall we made a tall welcome sign to go with pallet pumpkins, but this year I choose to try something a little bit different.
Fixing an Garage Sale Find
This piece was found at an garage sale and I bought it for the front porch. I planned on using it as a table for a front porch vignette, but it took up too much of our small porch. Determined to use it, I used it as a backdrop instead.
Can you guess what it is?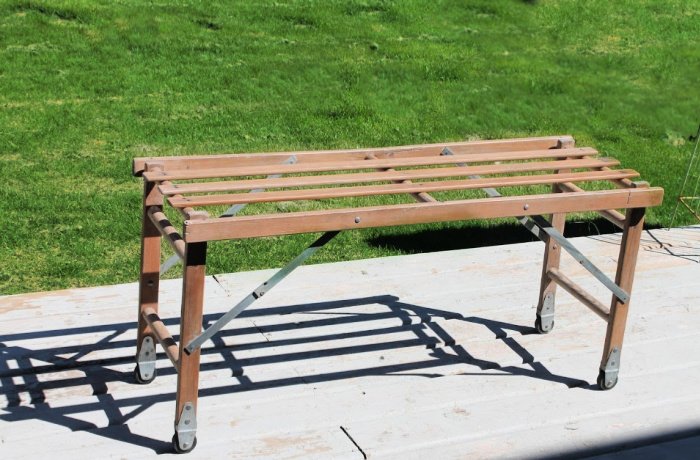 I appreciate its beat up look it obviously served its family well and I have no intention of trying to make it look any other way. I love how clunky and worn it is. The stand had been sitting in a shed for countless years and belonged to the owner's grandfather forever. Turns out its an antique laundry stand. Women would put two large galvanized tubs on it and clean with a scrub board.
The first step was to give it three good scrubbings with Murphy Oil Soap. The only way to describe the process is "Ick".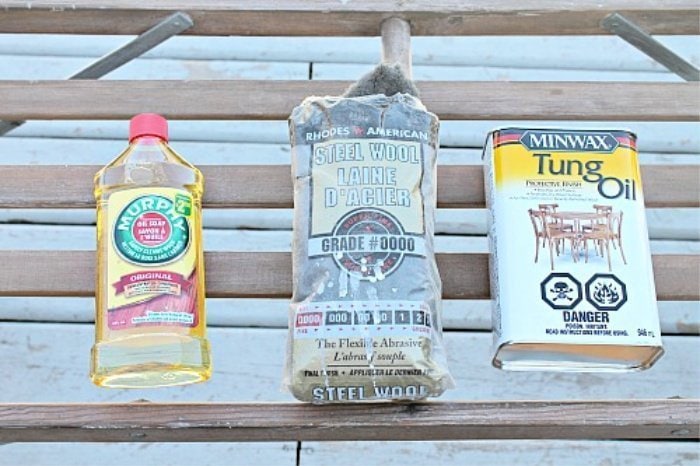 Once washed it was cleaned using steel wool and Tung Oil to protect the wood. The super fine steel wool works the Tung Oil down into all the wood cracks. Let it sit for five minutes and wipe off the oil. This was done twice, the tung oil darkened it quite a bit and hopefully added some much-needed moisture to the wood.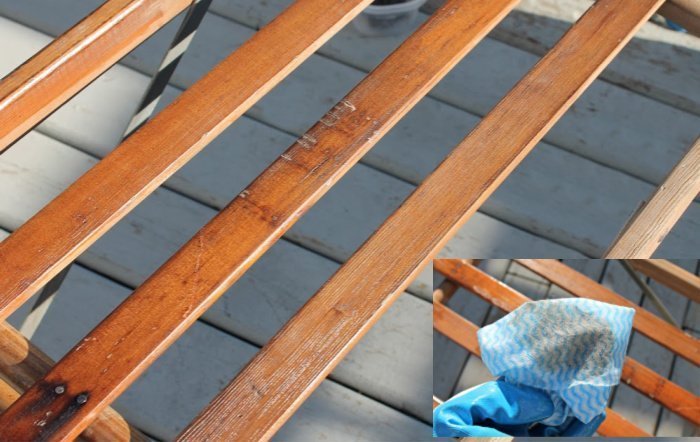 Once clean I folded the legs in and the used it as the tall back for the vignette.
The Wreath
The wreath takes about ten minutes to put together once you have all the different fall embellishments made.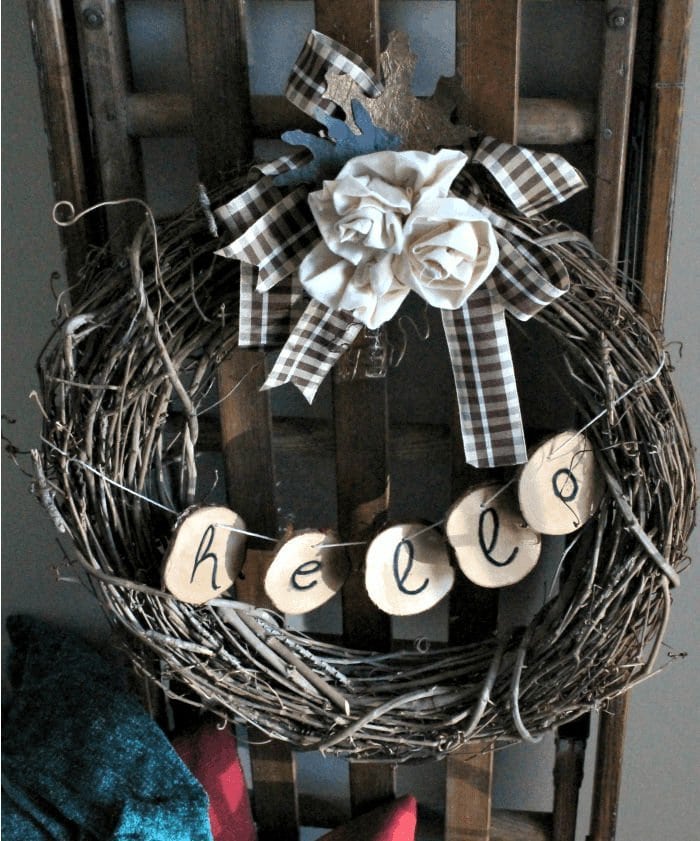 This grapevine wreath is purchased. We will start by making the hello swag.
Hello Swag made with DIY Wood Slices
[one-half-first]
Large birch branch
Cutting Saw (hubs used a chop saw)
Drill
Hot glue
[/one-half-first]
[one-half]
Clear polyurethane
Heavy string
Black Sharpee pen
[/one-half]
Cut the large birch branch into 1/4 inch thick slices. Hubs did this for me, but you can purchase precut slices if you want.
Seal both sides of the wood slices with clear poly. Do one side and let it dry before flipping it over and doing the other side. I applied poly to the bark edges as well.
Once the poly is dry, hand write the letters on the slices using a black sharpie pen.
Drill a hole in the top of every slice and thread with burlap string.
Hang the letters on the wreath. To make the letters stay separated use a hot glue gun and glue the thread to the wood slice on the back side.
The Rag Roses
Take a long piece of muslin about 18″ long or other leftover material. Fold the material in half lengthwise so you have a crease along one side. Seal the open side with a simple running stitch. Cut a small circle for the bottom. Roll into a rose and attach with glue.
Here is a video from Flower Art that shows how to roll a rag rose its the same process except she used chiffon.
The Paper Leaves
You will need some leathery style craft paper and leaf pattern of your choosing.
Print out any type of leaf you like, I found this one on Pixabay
Place a paper leaf pattern on top of the leathery type scrapbook paper and cut out with scissors.
The Wire Leaf
Hubs has a garage full of all sorts of wire and whathaveyous so I took a couple feet of thin copper wire and twisted it to match the printed out leaf pattern. I love these wire leaves, I made a few extra for my stash.
Decorating the Wreath
Tie the wreath to the backdrop with a plaid ribbon. Depending on the thickness of your ribbon you may want to tie on a second ribbon like I did.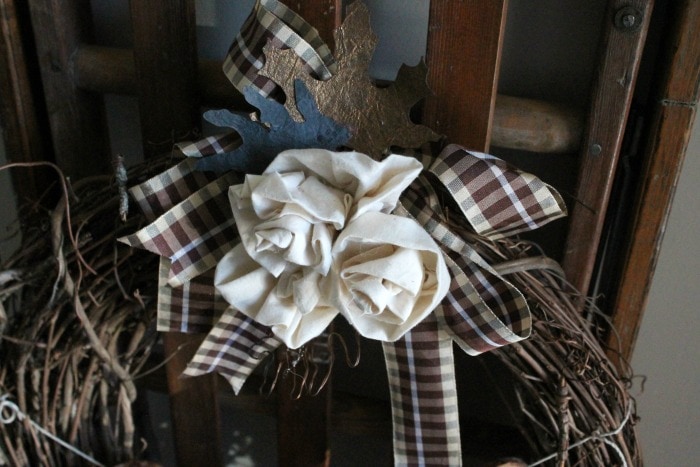 Place once embellishment (wire leaf) on the bottom right hand of the ribbon.
Place two leaves on the upper left hand side of the ribbon with glue.
Glue the roses together into a small bouquet first and then glue them to the plaid ribbon.
Depending on how your wreath hangs, you may want to wire it to different spots on your backdrop to hold it in place.
The final picture for the vignette on the front porch is not ready. I need to do some more DIY projects and shopping before I create it. Instead, I placed two cushions one in dark red, one in bright orange and a teal throw that are part of this year's colour scheme.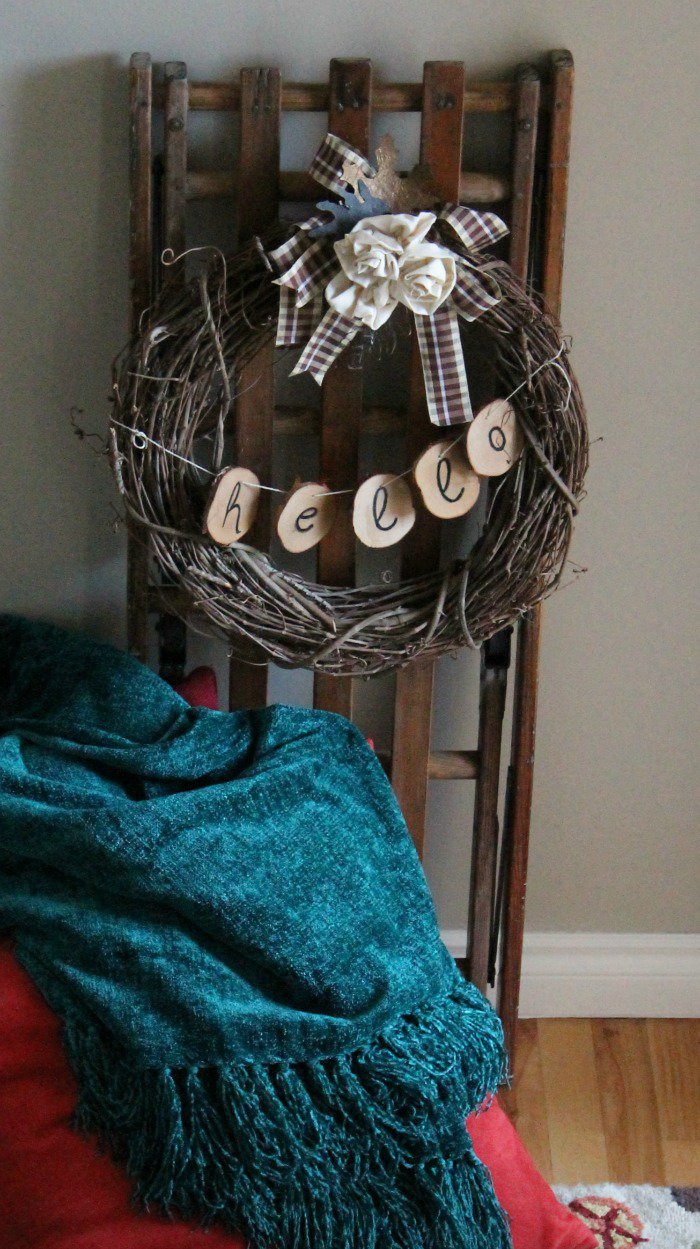 I am holding my breath waiting for my granite countertops to be installed. Thankfully I still have some time before the fall decorating season starts. When do you typically start your fall decorating?
Thanks bunches.