Scrap or Pallet Wood Flower Box
DIY Garden Projects with the Farmhouse Hens
Today is our monthly Farmhouse Hens collaboration, this month's topic is all about gardening and I am very excited to share what we have create.  My post is about a  scrap wood and pallet wood garden project.  The other farmhouse hen's posts are linked after mine, check them out I am sure you will enjoy it.
Our tiny backyard is a work in progress.   As you likely know I love our house, but the teeny tiny yard no so much.  Our backyard was a sea of grey with a grey fence, grey concrete patio, an old deck and not one tree or flower.  We have planted shrubs, flowering trees, added a fountain and some flower pots, but they all need time to grow.     I wanted something to add instant colour to the back corner and this pallet wood garden project is what I came up with.  The sweet peas still need time to grow up the pickets.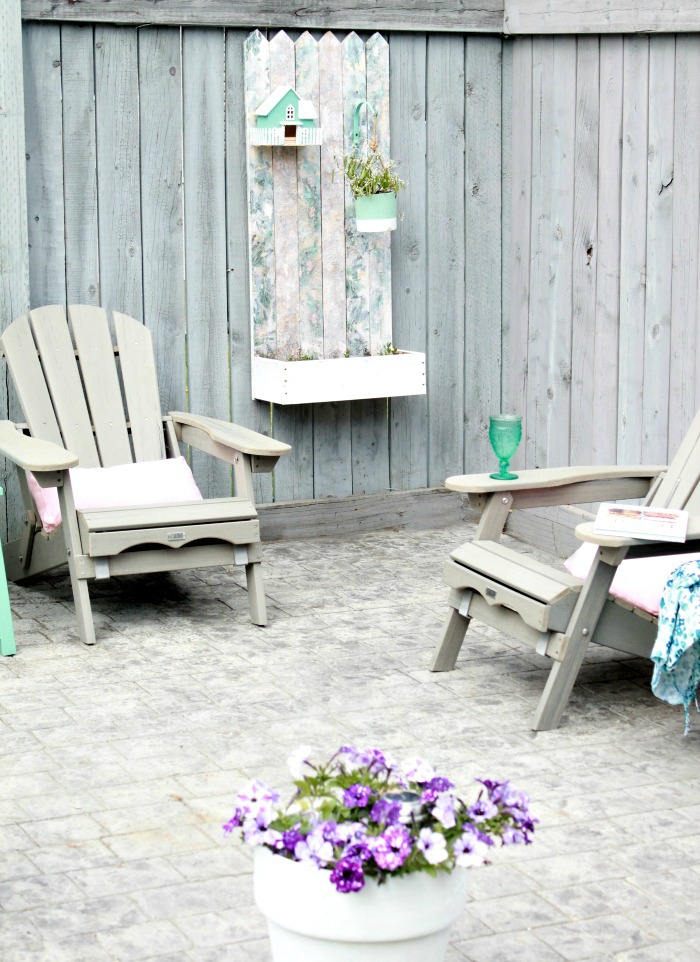 How to make a Colourful DIY Pallet Garden Planter
To make this flower box you will need, the following total lengths.
6 – 4   foot lengths of 1″ by 4″ boards,  pallet boards work well.
1 – 4   foot length of  2″ by 6″ lumber
1 – 4   foot length of 1″ by 2″ lumber
8″ by  40″ piece of plywood (any thickness, or a scrap of pegboard)
Mod podge and a foam brush
Napkins in coordinating colours ( Mine came from the dollar store)
Paint
150 grit sandpaper
This is a scrap wood project,  I  was able to grab what I needed from a pallet and scrap lumber.   We used trim ends for our flower box.  The flower box can be made of whatever size lumber you have on hand.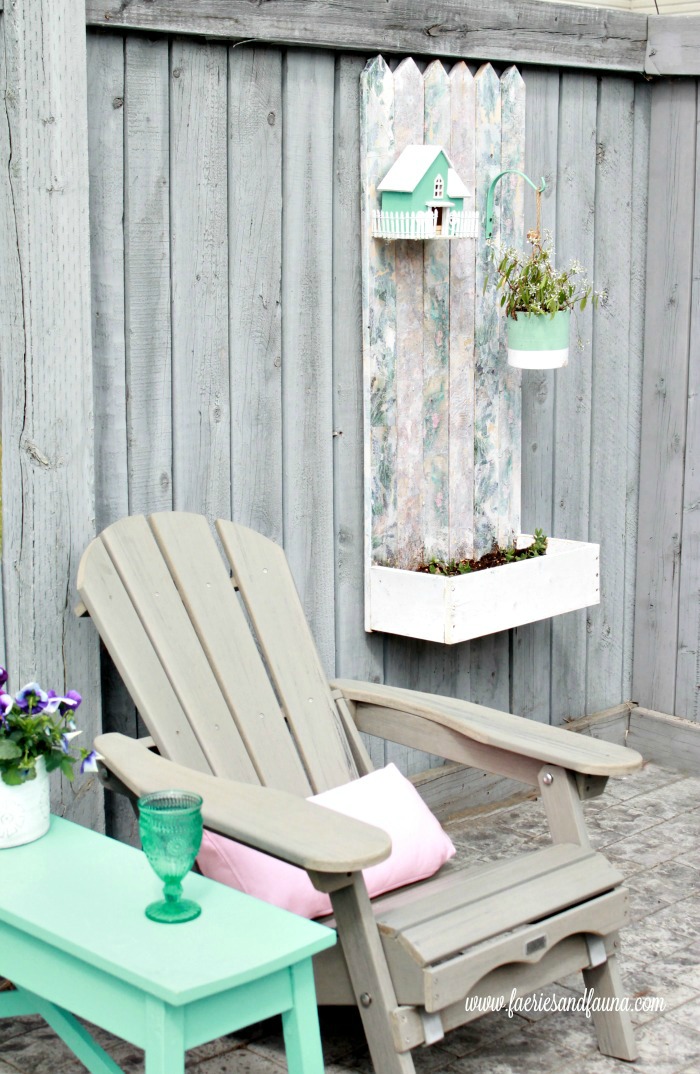 The Flower Pot Fence Background
Cut  6   1″ by 4″ inch boards into 4-foot lengths.    Sand them all very well to avoid slivers.  I cannot emphasize this enough, especially if using pallet wood.
Separate the layers of the napkins, keeping the top dyed layer only.  Tear the dyed layer into large raggedy edged pieces.
On each board, start with one side and the top, apply a thick layer of mod podge.  Layer the torn napkins on top,  lightly press into place.  Make sure the entire surface is covered.   Let dry several hours.
Flip over and do the other two remaining sides.  Let dry several more hours.
Once dry, hand sand the napkin covered wood with 220 grit sandpaper.  This removes the little bits of loose paper and lightens the colour.  Sand lightly until the wood is as distressed and shabby as you like.  Mine took about 15 minutes.  I love the subtle look of all the different colours.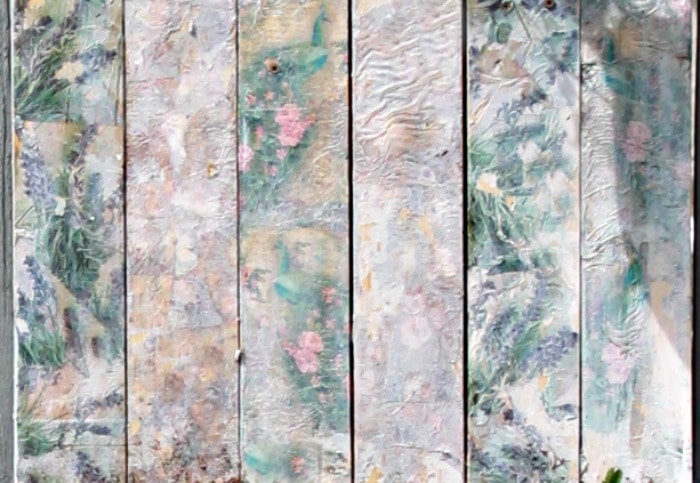 Once you have all the wood sanded, cut the top of the boards to resemble fence pickets.
Lay the six pieces of wood squarely next to one another.  Cut a 1 by 2  20″ long and nail it across the back to hold the top portion of the pickets together.  Make sure each picket is well attached using short nails so they don't poke through.
Making the Flower Box
Confirm the width of your flower box by measuring the width of the wood pickets attached together.   Cut a 1″ by 6″ to the same dimension.    Ours measured and was cut to 21″.   Cut two pieces of 1″ by 6″  9 inches long.
Attach the long front piece of the flower pot to the two shorter side pieces using screws.   Drill holes first and then using 1 3/4 screws attach everything together, forming a 3 sided box.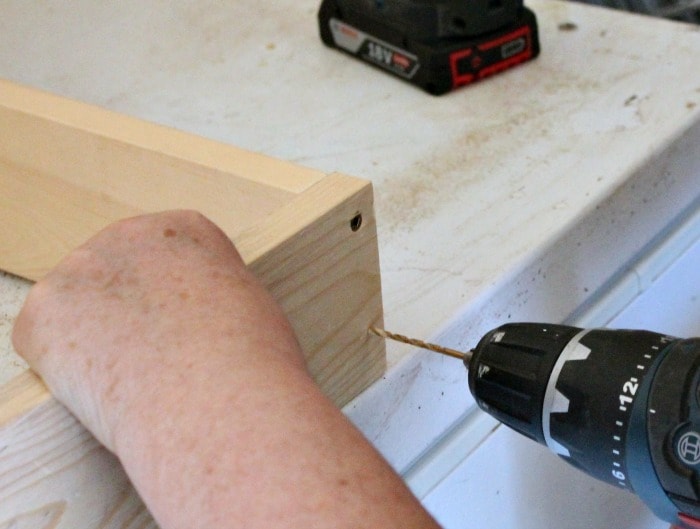 Once you have the box made attach it to the picked fence portion.   Screw from the back side of the picket portion into the upright portion of the flower box
Hubs helped me figure out how to brace the bottom so it was strong enough to hold the weight of the potting soil.  Measure out the inside opening of your planter box. Cut four pieces of the 1 by 2″ lumber to the same dimensions.  Nail these along the bottom edge of the planter making sure the bottom edges are flush with each other.   This makes a bracket to hold the bottom in place without showing from the outside.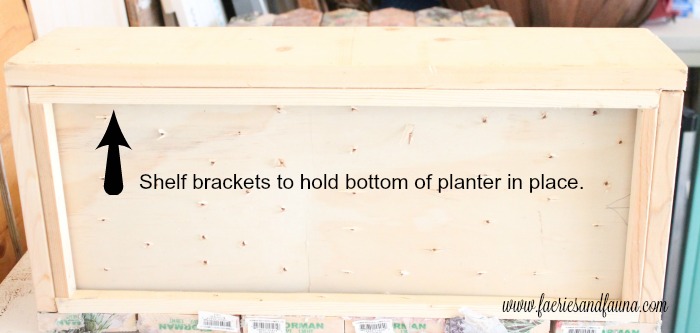 Using whatever plywood or pegboard you have,  cut it to match the inside dimensions of your flower box.  Ours was cut to 8″ by 19 1/2 inches.
Fill the bottom of it with holes using a drill to provide drainage.

Finishing and Hanging the Flower Box
The final step was to paint the flower box portion white.  We painted ours inside and outside.
These little sweet peas were started indoors in egg shells in March.  Unfortunately, our Winter lasted right through Spring so these little guys had to wait indoors until a couple of weeks ago.  I will add some photos once they are in bloom.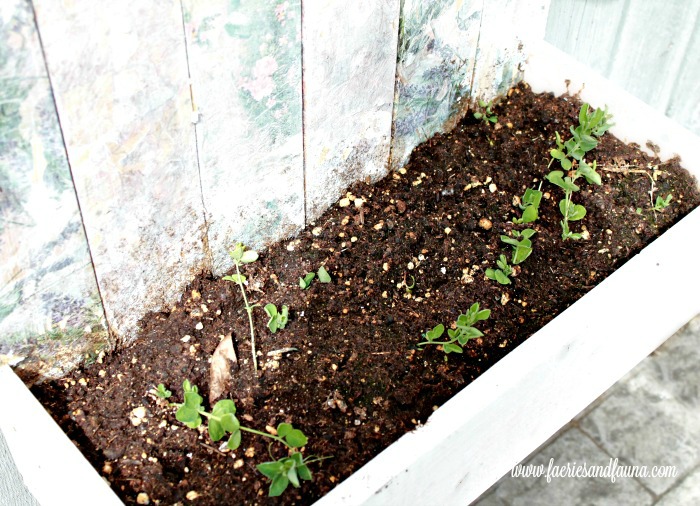 As a final touch, I added a little birdhouse using a dollar store house and fairy accessories and added a hanger to tie strings to for the sweet peas.
To attach it to the fence Hubs simply added four large screws through the picket section into our fence boards.
It's always very exciting for me to see what the other Farmhouse Hens have created for you.    Enjoy and please let me know which post your most likely to create yourself.
---
Stephanie at Abbotts At Home! Blog / Facebook / Instagram / Pinterest / Twitter
---
Denise at My Thrifty House! Blog / Facebook / Instagram / Pinterest / Twitter
---
Michelle at Our Crafty Mom! Blog / Facebook / Instagram / Pinterest / Twitter
---
Sam at Raggedy Bits! Blog / Facebook / Instagram / Pinterest / Twitter
---
Tarah at Grandmas House DIY! Blog / Facebook / Instagram / Pinterest / Twitter
---