Small Front Porch Ideas
Our home is part of the small front porch club; it is exactly 6 by 11 feet and is the main access to our home. It's true that curb appeal increases the value of your home and makes the neighbours happy, but it can also be a very pleasant outdoor space to enjoy.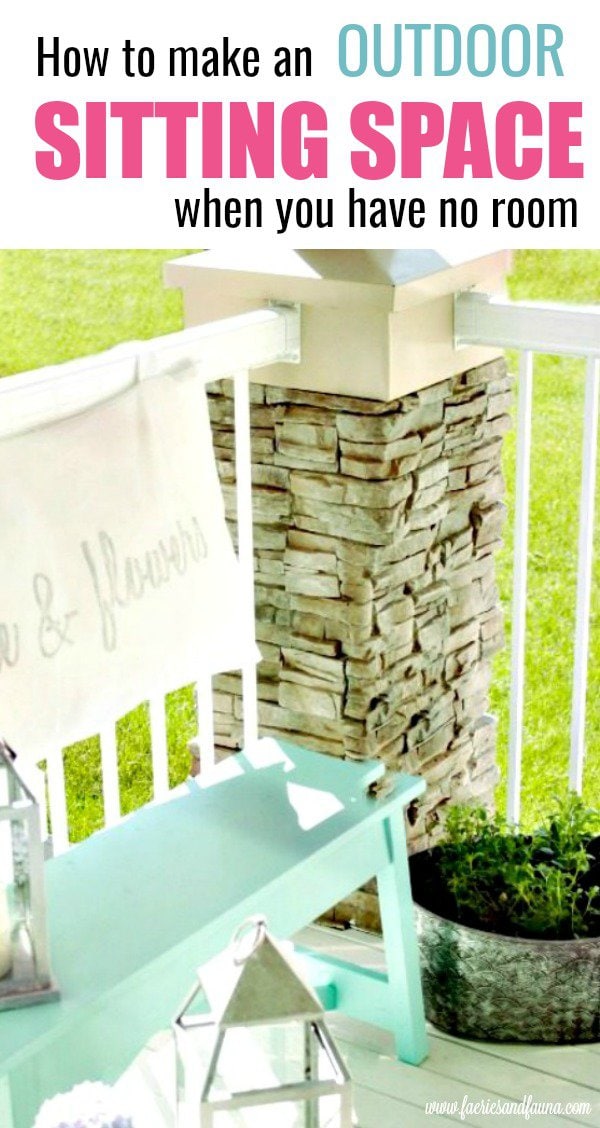 Sitting out on your front porch is a very pleasant way to get to know your neighbourhood. I hope with some pretty inspirational photos and a few DIY tutorials you will feel inspired to make the most of your front porch too.
As the porch is so narrow there is no room for a small table set or even a chair. I created a small sitting area using a DIY Bench and a fun waterproofed back cushion.
The DIY Bench

a
y
The Small Easy Rustic Bench is from the Ana White website. Hubs and I found it challenging to put together, but the final product is worth the effort. It looks nicer than the benches I saw for purchase, its made out of wood, not particle board and is very solid and stable.
a

p
The bench only takes up three square feet and the and the cushion works as a chair back. It is surprisingly comfortable and is perfect for a quick coffee break.
The DIY Cushion

g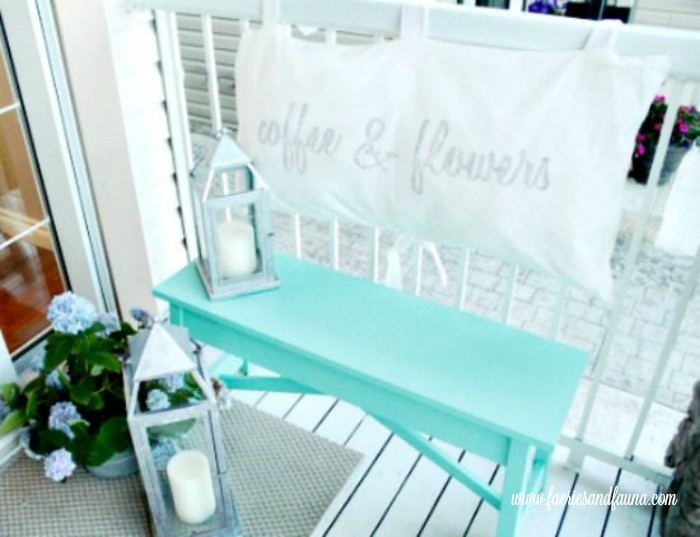 White is not the most sensible colour for the cushion, but it looks so nice. It has been water guarded for protection, but if its rainy weather I will bring it indoors. It ties on and will come off in a few seconds. Here is the tutorial for the DIY Comfy Cushion. (Update the cushion was outside all summer and I had no issues. It also washed up very nicely)
The Front Door
Our door is quite beat up. I would love a new door, but they are expensive and Hubs is concerned about our dog damaging an expensive new door. Instead, the door was given a fresh coat of paint to match the bench. The colour is Sherwin Williams and it's a Tiffany Blue I had them mix up at Lowe's.
As a final touch, I refurbished an old picture into a Welcome sign. Its small and quaint and the little painted pansy fits in with the flower theme.
a

s


The Final Touches

g
For safety reasons you want to make sure not to clutter or create tripping hazards in the pathway to the front door, but even a small front porch has some areas that are not used for entry. Fill these areas with flowers, plants, or lanterns.
g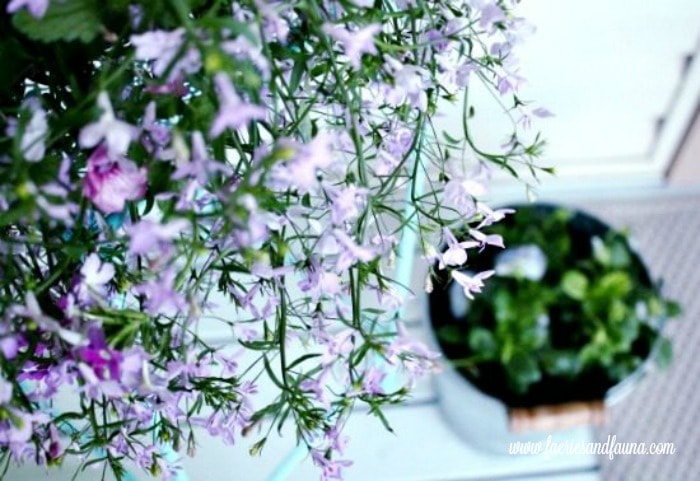 f
There is a picture of the little stand I found at Home Sense in almost the same Tiffany Blue colour. I added the other small decor elements to prevent to stand from looking stark.
d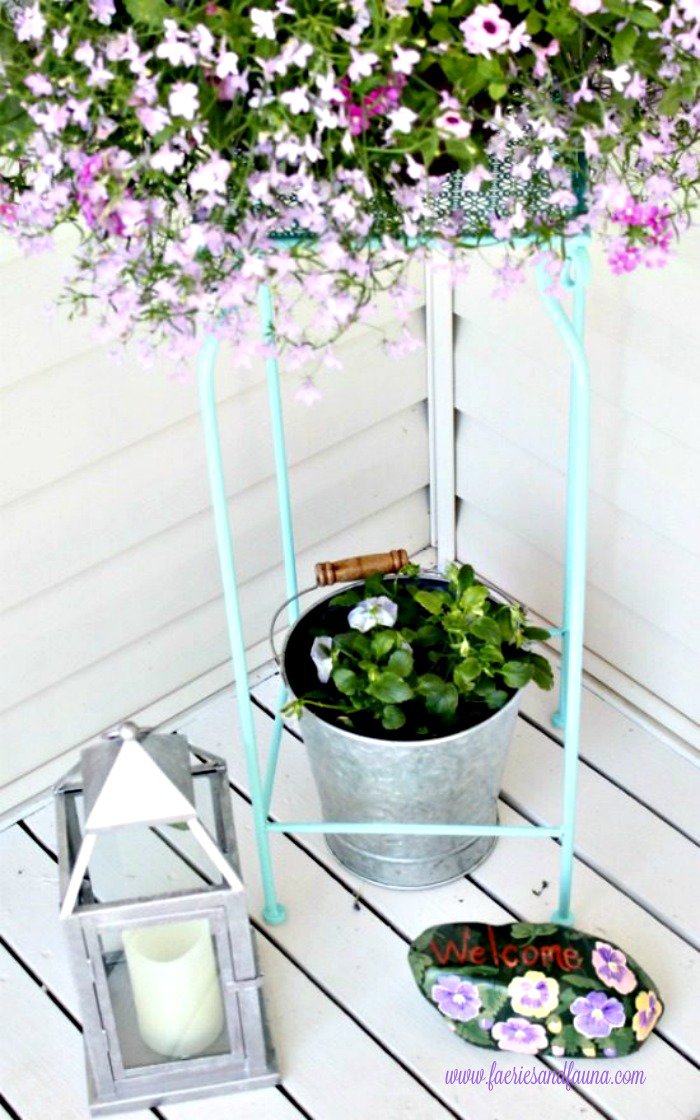 a
Lanterns add interest to the decor and a softer light if you want to sit out in the evening. The lanterns are a makeover project, they are about eight years old and they were getting pretty worn looking. If you want to update some old lanterns here is the tutorial for Diy Galvanized Lanterns.
a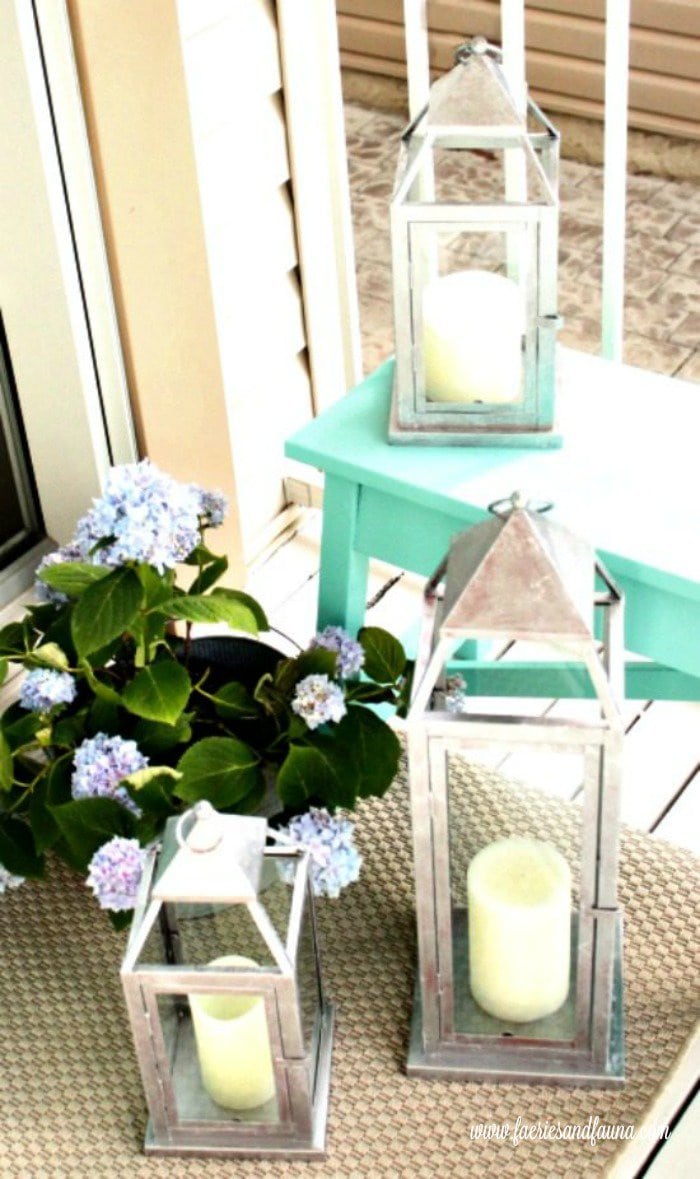 u
To make the porch into an outside living space, use a large outdoor carpet. A larger carpet avoids looking like a front door welcome mat. The larger carpet grounds the space as all the other elements touch it.
Here are a bunch of other beautiful Outdoor Garden Ideas.
Join us the last Friday of each month for a different Inspired Makers Challenge
Follow with #InspiredMakers and #InspiredMakersChallenge to see more amazing projects each month!
Lisa @ The Purple Hydrangea | Kim @ Farmhouse Made | Sarah @ 1915 House
Kimm @ Reinvented | Denise @ My Thrifty House | Anika @ Anika's DIY Life
Kellie @ Gratefully Vintage | Sam @ Raggedy Bits |
Leanna @ Faeries and Fauna | Vineta @ The Handyman's Daughter
Victoria @ Dazzle While Frazzled