Strawberry Shortcake Charcuterie Board
My mother always drilled into me that real strawberry shortcake is made with sweet biscuits, not vanilla sponge cake and certainly not those yellow cake like things I wanted her to buy as a child. When baking shortcake I jtook my Mom's word on it and have always used sweet biscuits.
Because I am sharing it with you I decided to look it up. The name "shortcake" is derived from an old English cooking definition of short which referred to something made crisp with the addition of fat. Shortcake is a crisp, crumbly cake made from butter which is how it got its name. (The Chicago Tribune) What can I say, other than my Mom was right!
As each biscuit is individual this recipe for shortcake can be frozen and served one biscuit at a time. Its perfect for a small family, if you don't want to make whipped cream every time you take out a biscuit, just buy prewhipped cream. For today's post I am serving our strawberry biscuits on a charcuterie board for a family gathering. It makes about 12 servings depending on the size of your biscuit cutter.
Sweet Biscuit Dough Recipe
Ingredients
2 cups flour
1/4 cup sugar
1/2 tsp salt
1 tbsp baking powder
Sweet Biscuit Instructions
1/4 cup butter
1 cup milk
rind from 1 lemon
Preheat oven to 400F. Line a large cookie sheet with parchment paper. Have a 2″ biscuit cutter, round cookie cutter or glass to cut the biscuits with ready.
In a large bowl mix all the dry ingredients flour, sugar, salt, and baking powder. Stir very well to disperse the baking powder.
Add the cold butter and blend into the flour mixture until its the size of small peas. You can use a pastry cutter, or your clean hands.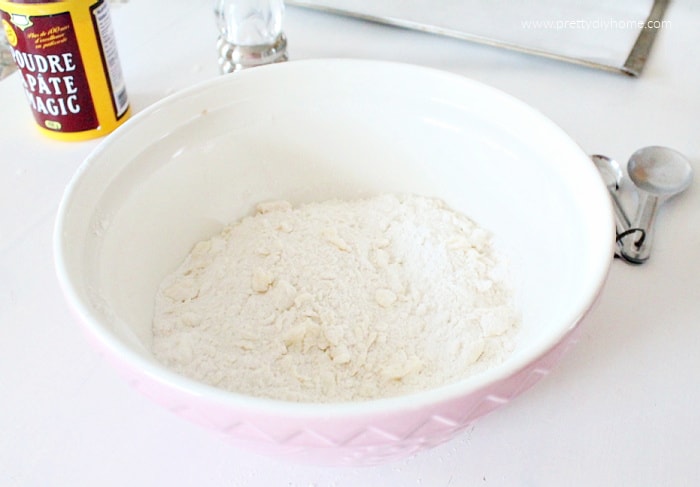 Grate and add the lemon rind. Mix into the flour butter mixture. Make a well in the center.
Pour the milk into the well in the center of the bowl. Mix together with a wooden spoon, a soft dough forms quickly.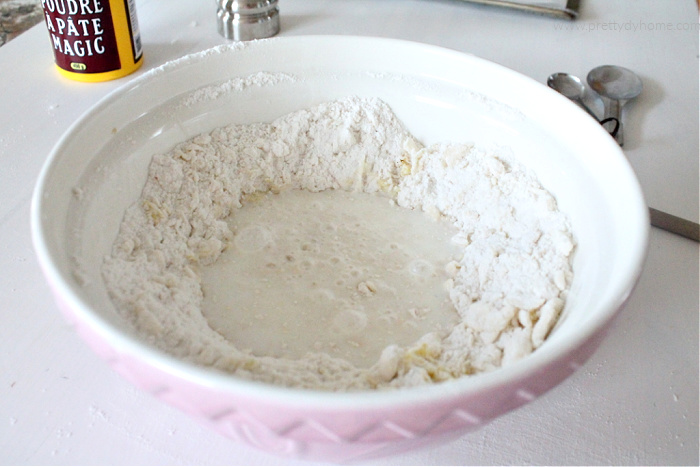 Hint: As soon as you add the milk the baking powder starts to activate, so you want it to work fast. Your biscuits will be lighter and more airy if the baking powder is still reacting when the dough hits the hot oven. Its better to work fast and have light biscuits them pretty perfectly round biscuits that turn out tough and chewy.
Sprinkle 1/4 cup of flour onto the counter, turn the dough out and shape it into a ball. Pat by hand or roll with a floured rolling pin until its about 1/2 inch thick.
Cut with a biscuit cutter or two inch round glass. Cutting the dough circles as closely together as you can.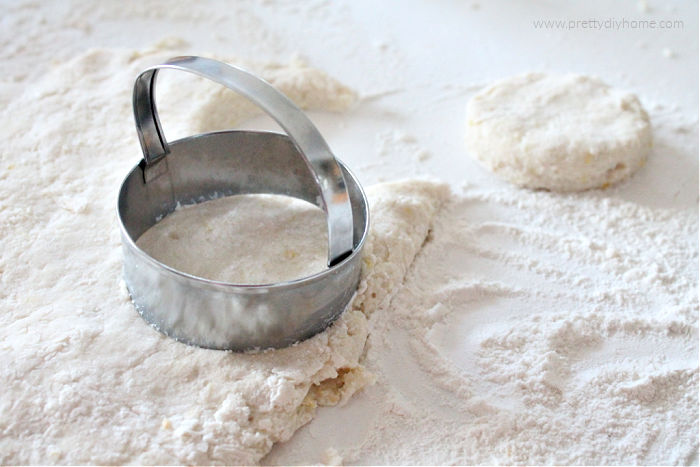 Quickly place onto a parchment lined baking sheet and bake at 400F for about 12 minutes until golden
Once baked dust your biscuits with icing sugar, and let cool while your prepare the whipping cream and berries.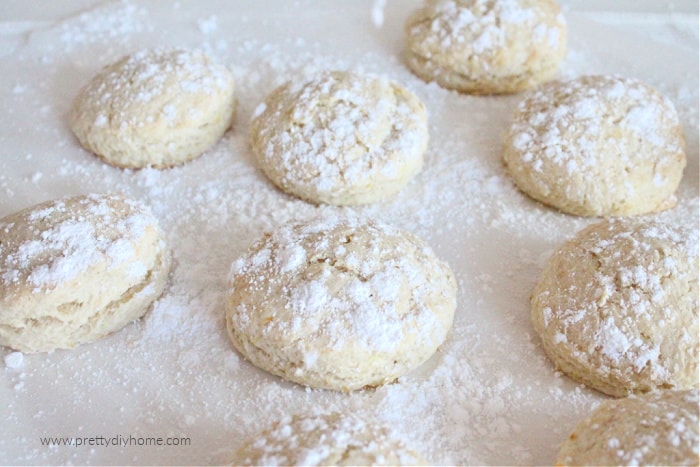 Whipped Cream
2 cups whipping cream
1 cup icing sugar (confectioner's sugar)
1 tsp vanilla
Place whipping cream in bowl, whip on high until it starts to thicken. Lower the speed and add the icing sugar a little bit at a time, add the vanilla. Beat until soft peaks form.
To make this as a strawberry shortcake wash four cups of strawberries, and slice thinly. Place in a bowl with 1/4 cup of sugar stir and set aside to let the sugar dissolve and form a juice.
Assembling the Strawberry Shortcake in Individual Portions
Cut a biscuit in half. The inside is so soft and tender, when you cut them.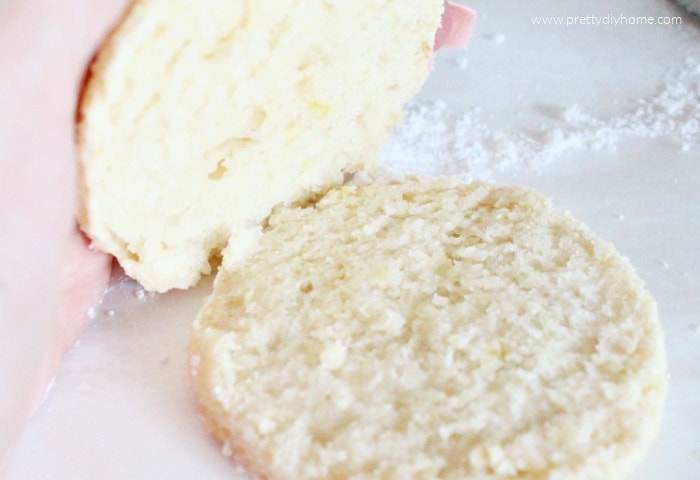 Place a spoon of strawberries and then cream in the middle. Top with the second half of the biscuit, add more strawberries and cream to taste and sprinkle with icing sugar.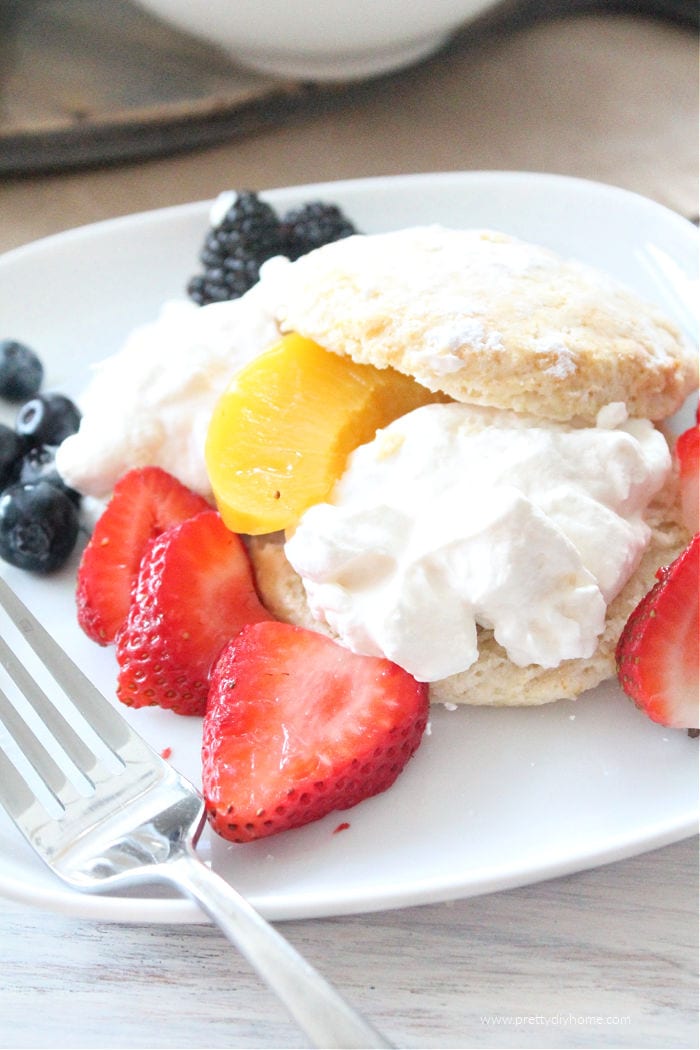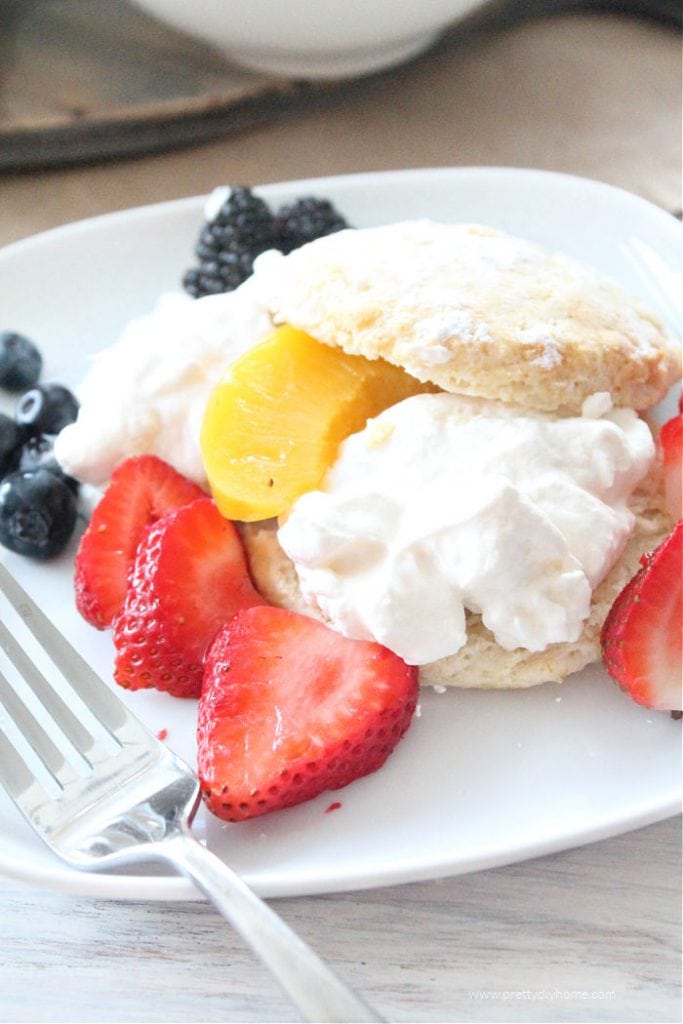 If your only serving a couple of people, the biscuits stay fresh for a couple of days wrapped in plastic wrap and freezer bags in the fridge. Your ready for easy seconds.
This batch of sweet biscuits is being used all at once to share.
Strawberry Shortcake Charcuterie Board
The amazing thing about serving strawberry shortcake as a dessert charcuterie board is that everyone can have their favorite fruit or berry. Its a wonderful way to serve a large crowd, and requires very little extra work.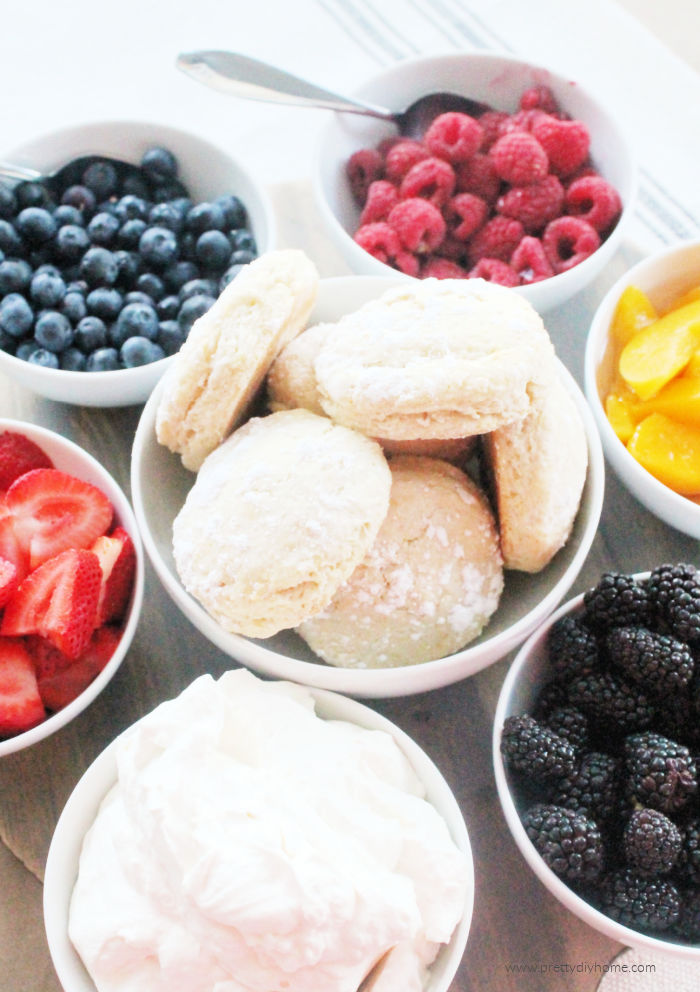 Use a selection of berries such as strawberries, blackberries, saskatoons, raspberries, and sliced peaches. Place the sweet biscuits in the middle and arrange the other berries in small bowls.
The picture shows an assortment of 1 cup portions of fresh berries, raspberries, blueberries, blackberries, strawberries and peaches, and of course whipping cream in small bowls. These are all my favorite fruits to make into shortcake, You could also add a bowl of lemon curd.
Guests just take whatever fruits they like ( its a good idea to have extra berries ready) people love to load their shortcake, and who can blame them. I do it too!
Makeahead or Freezing
You can make your biscuits ahead of time and store in the freezer for up to two months. Make sure to wrap the biscuits tightly in heavy duty aluminum foil and then a freezer bag or air tight container. Just pull them out of the freezer an hour before and let them thaw before serving with the berries.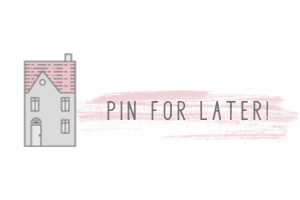 Related Posts
Berries are so delicious, especially during the peal Summer season when they are fresh and more affordable. Such a fabulous summer treat. Here are some other recipes I enjoy serving that feature berries.
These strawberry rhubarb handpies are made from scratch and are perfect for picnics. They pack well in their little parchment bundles and pie is always a surprise dessert when eating outdoors.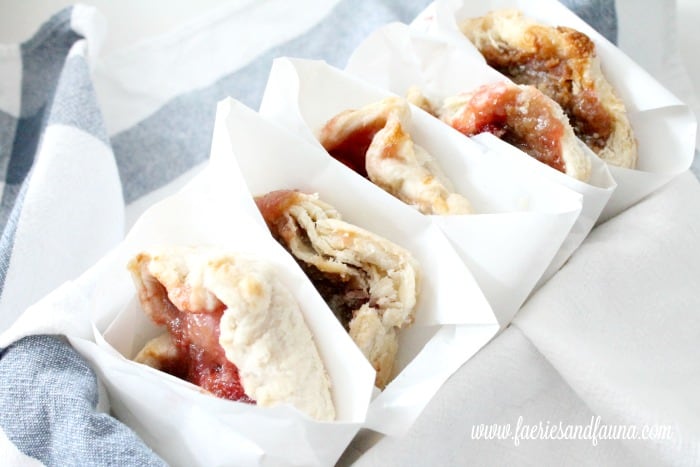 This recipe for homemade cream puffs with berries is a huge hit whenever I make them. A little more work than the sweet biscuit classic shortcake but the ooohsss and awesss are so worth it.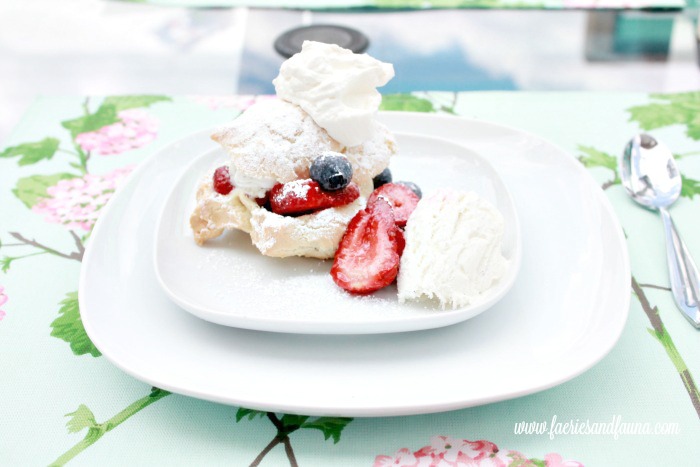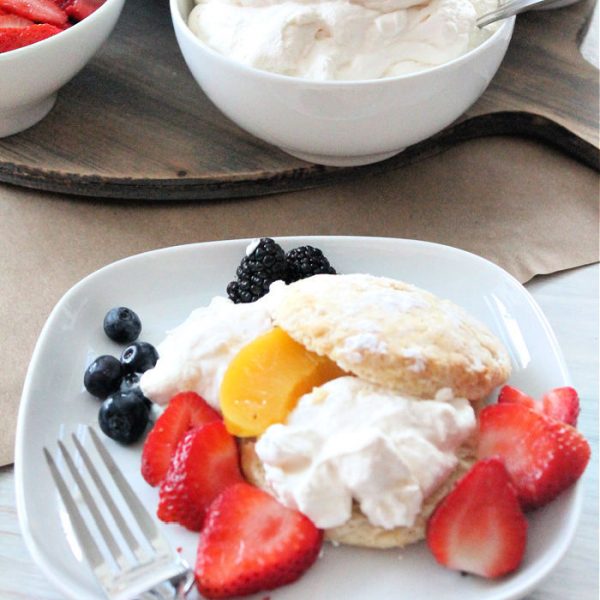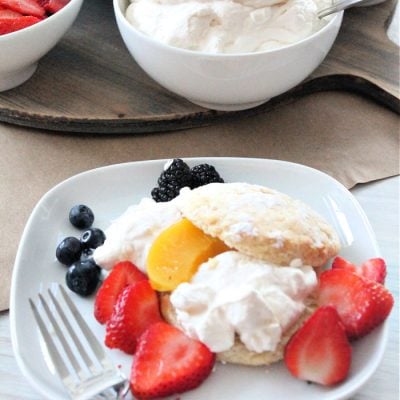 Sweet Biscuit Strawberry Shortcake
A classic recipe for strawberry shortcake made with sweet biscuits. This Summer Dessert makes for a simple easy to put together dessert charcuterie with various fresh berries and cream.
Print Recipe
Ingredients
2

cups

flour

¼

cup

white sugar

½

tsp

salt

1

tbsp

baking powder

¼

cup

butter

1

cup

milk

rind from one lemon
Instructions
In a large bowl, mix the dry ingredients together, to distribute the baking powder.

Add the butter and cut in using your hands or a pastry cutter until the flour mixture looks like a bunch of white peas.

Add the lemon rind. mix . Make a well in the center.

Add the milk, mix quickly until a soft dough forms.

Flour your counter and hands. Turn the dough out onto the counter and quickly roll the dough until its about an inch thick.

Cut the biscuits in two inch rounds. Gather the dough that wasn't cut back together. Pat out again and cut the remaining rounds.

Place on a parchment lined sheet,