Ten Beautiful DIY Clothing Racks Tutorials to Inspire
A Collection of Beautiful DIY Clothing Racks with Tutorials
Today I thought I would share a selection of different ideas I have been gathering for DIY clothing racks. We all need more storage, whether is for off season clothing in a storage room, a clothing rack low enough to encourage children to find their own wardrobe, or in my case somewhere to organize clothing items in the laundry room. I am certain there are a few DIY clothing racks with tutorials in this post that will inspire you.
It's been four years of waiting for a laundry room clothing rack, and I have recently decided to make one of my own. To find some new ideas. I originally planned on making one in wood, but I love the piping ones. Not sure exactly what materials I will choose for mine yet, but there are certainly some amazing DIY clothing rack tutorials to get us started. Let me know which one is your favorite in the comments and why you love it the best.
DIY Rolling Garment Rack
Tabitha Blue from Fresh Mommy Blog created this gorgeous large DIY Garment Rack using black pipe and spray paint. She also made a rolling bar cart at the same time, which I have to check out. The size of this rack is impressive along with not one but two shelves, and that its easy to move with casters on the bottom.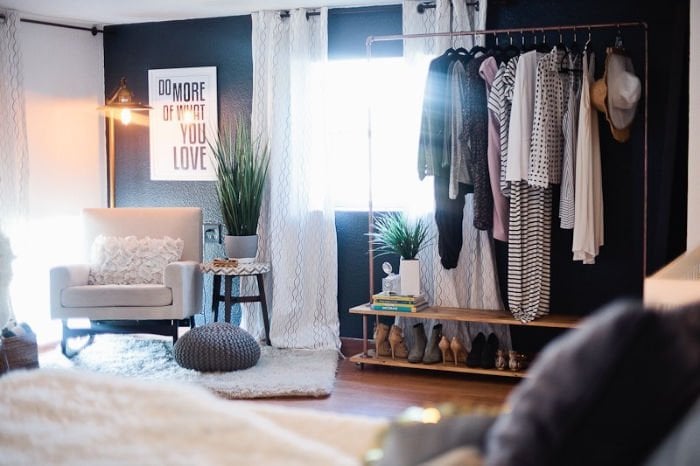 DIY Rolling Garment Rack : Fresh Mommy Blog
Wooden DIY Clothing Rack
This wooden DIY clothing rack from The Merry Thought has a nice minimalist feel to it. I think the design is brilliant because the base and the angle of the frame help counterbalance the weight of the items. I am loving the white colour, and how farmhouse style friendly this simple to build DIY rack is.
DIY Clothing Rack | The Merry Thought
Copper Piping DIY Clothing Rack
Isn't this rack beautiful! The copper piping with the pretty bridal decor setting is swoon worthy. This rack is perfection for my grand daughters guest room. The actual rack is simple to put together in minutes. Jen from Something Turquoise had her local hardware store precut the pieces to length for her, and assembly took less than an hour. I think the floral arrangement on top is a gorgeous addition to any clothing rack. Isn't it a fantastic final touch!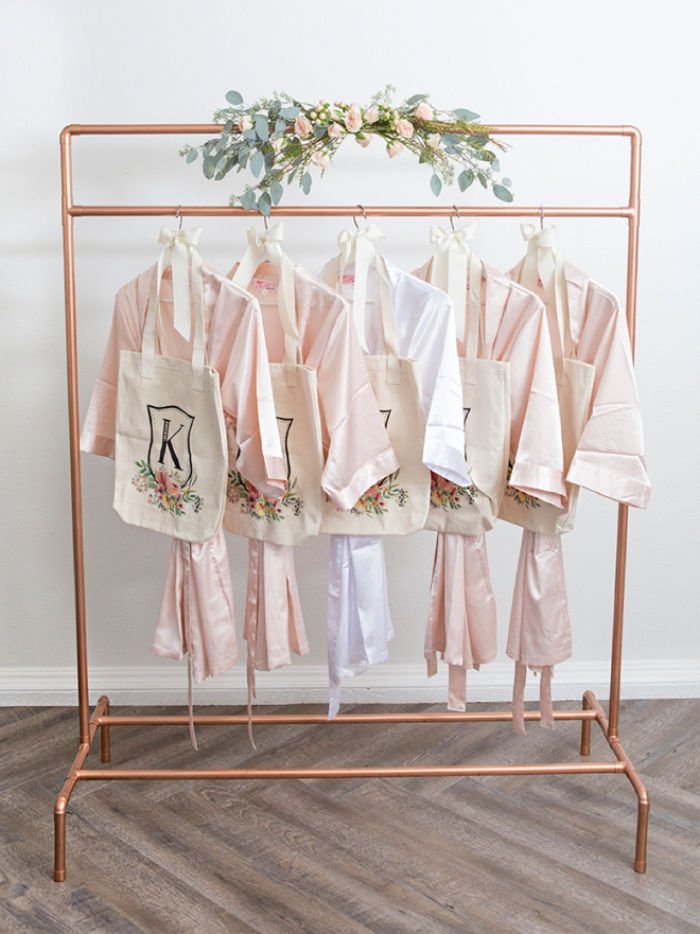 DIY Copper Pipe Wardrobe Stand | Something Turquoise
Thirty Minute DIY Clothing Rack
The title of this DIY clothing rack certainly caught my eye. Were all so busy and if it takes 30 minutes also means easy to do. Don't you love how she added little side hooks to her garment stand. So perfect for purses etc. I also really love the large casters she placed on the bottom of this stand. I love this one for industrial style decor, in a more masculine space, and it would be heavy enough to hand damp clothes or Canadian winter weight coats for storage.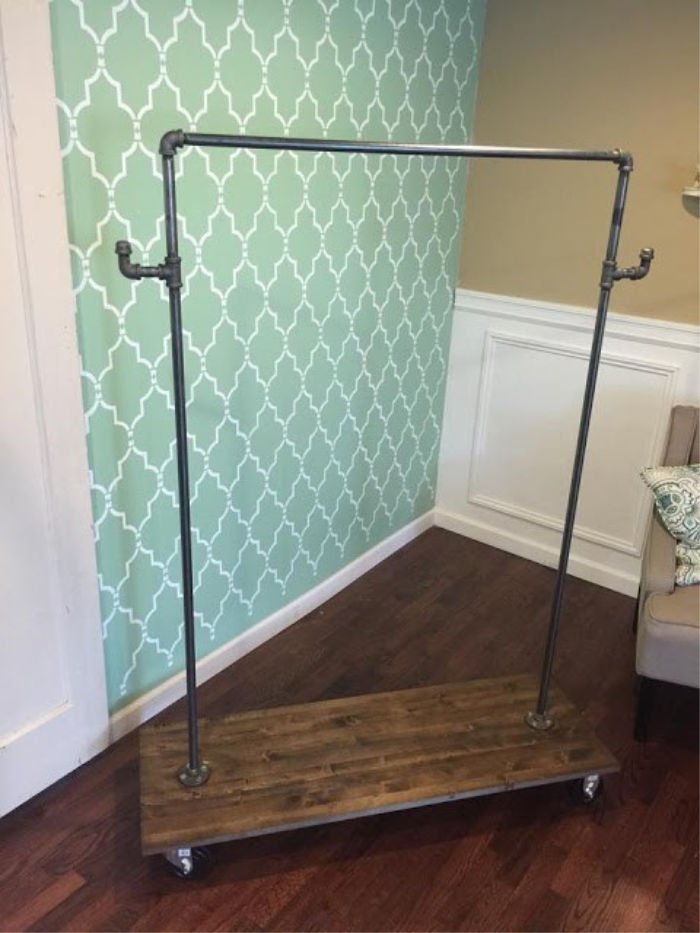 30 Minute Clothing Rack One Thrifty Chick
Galvanized West Elm Inspired DIY Wardrobe Rack
This clothing rack is a gorgeous temporary solution for extra storage. It looks wonderful in her daughter's bedroom. Brook from Start at Home was inspired by a West Elm rack she saw online, and made this one for a tiny fraction of the cost. I love her version, because the width of the base, and the size of the piping makes this stand not only pretty but functional.
DIY Clothing Rack | Start at Home Decor
Minimalist and Trendy Copper Piping DIY Clothing Stand
Sometimes less is more, such as this minimalist DIY Copper Piping Stand with capsule wardrobe. I am not a minimalist, but I would have loved this stand in my bedroom when organizing my weekly corporate outfits on Sundays. Of course the copper is just so beautiful with the soft pinks.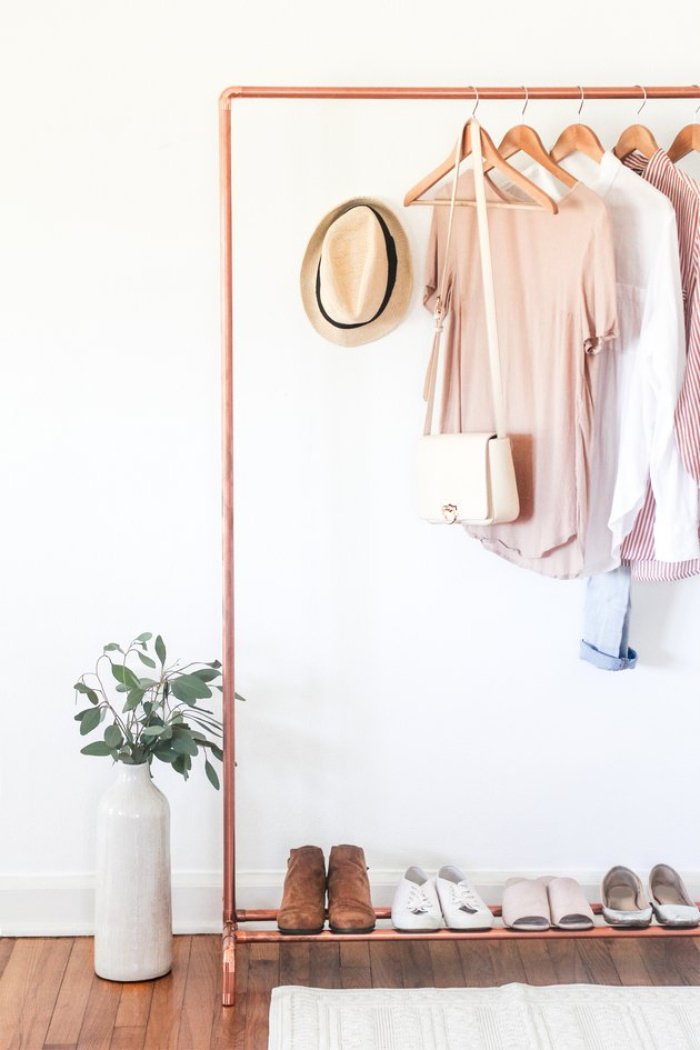 DIY Copper Clothing Stand | Hunker
Lightweight Ten Minute Dressup Closet Stand
Look at how sweet this little ten minute stand is from A Bubbly Life!!! How do you take wood and turn it into something so sweet? By adding pretty tulle pink accessories. This little stand won't be heavy duty enough to use in my laundry room, but I sure wish I had made one to go in my little grand daughters dress up closets. All those beautiful Disney costumes I bought them would be amazing on this gorgeous little stand.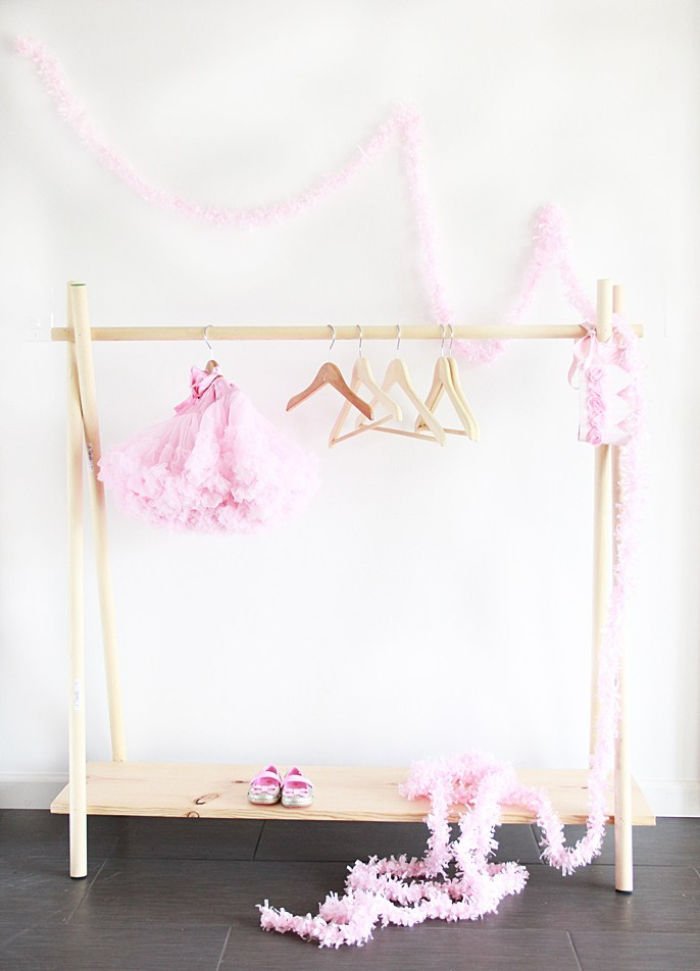 Ten Minute Wooden Clothing Rack | A Bubbly Life
Smaller DIY Clothing Rack Tutorials
For smaller spaces, like over a laundry room folding counter, a small entry way, or even the back or side of an existing closet, these little DIY clothing racks are a great solution. With the wide backings that could be attached to the studs in a wall, these are all heavy duty enough for extra storage, when available space is minimal.
DIY Industrial Pipe Clothing Rack
This wall mounted DIY Industrial Clothing Rack is part of a complete modern farmhouse laundry room makeover. This little sleek drying rack replaces one of those large fold out plastic drying racks, that I use and have had for eons. This is so much easier and space saving. It would also be great for hanging clothes warm out of the dryer.
DIY Wall Mounted Clothing Rack | Sammy on State
DIY Clothing Rack for the Laundry Room
Stacy from Wilshire Collections created this large wall mounted laundry room clothing rack to give her some extra space. By orientating her hangers this way she is now able to walk into her narrow laundry room without walking into hanging clothes. I love how wide this rack is, the width gives her lots of room to hang articles, while keeping the depth minimal she still has room to move in her laundry room.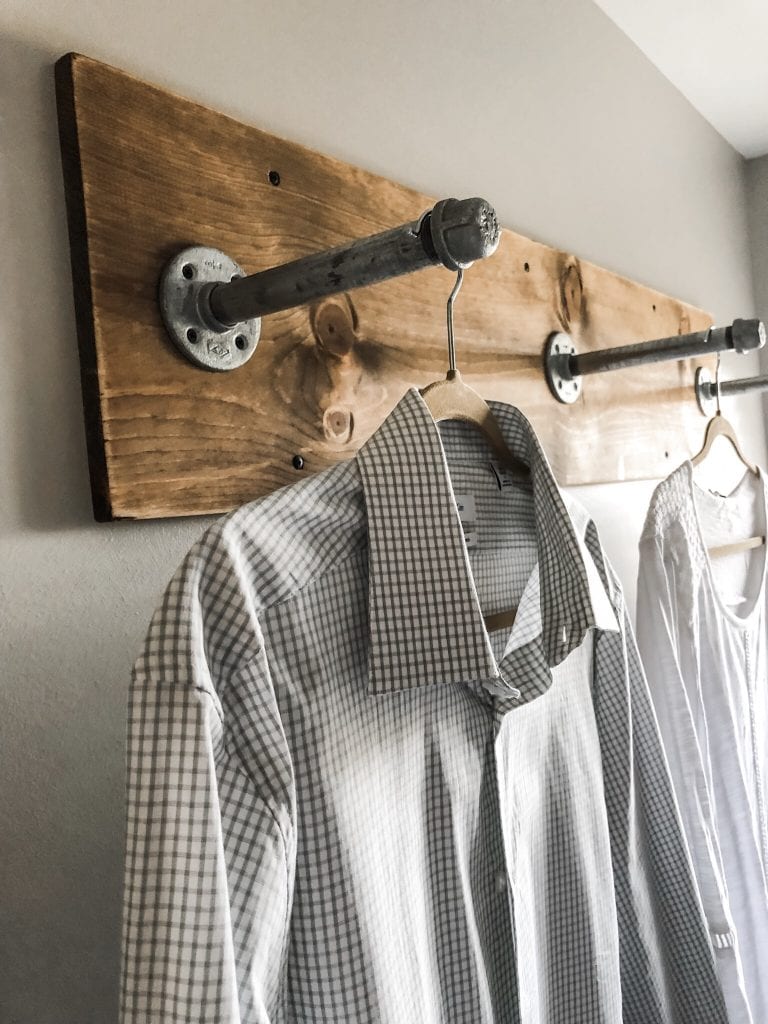 Laundry DIY Clothing Rack| Wilshire Collections
DIY Clothing Rack for Children
These pretty natural wood clothing racks are made for children to reach their little wardrobes. When my boys were little I would hide away there seasonal clothes so they could make their own choices wisely. (the shorts went away in cool months). These little racks not only make their clothes easily accessible, I think they are a great way to encourage wardrobe choices for independent little ones, while still having some control. The tutorial is fantastic as well, and the materials affordable. I think they are amazing.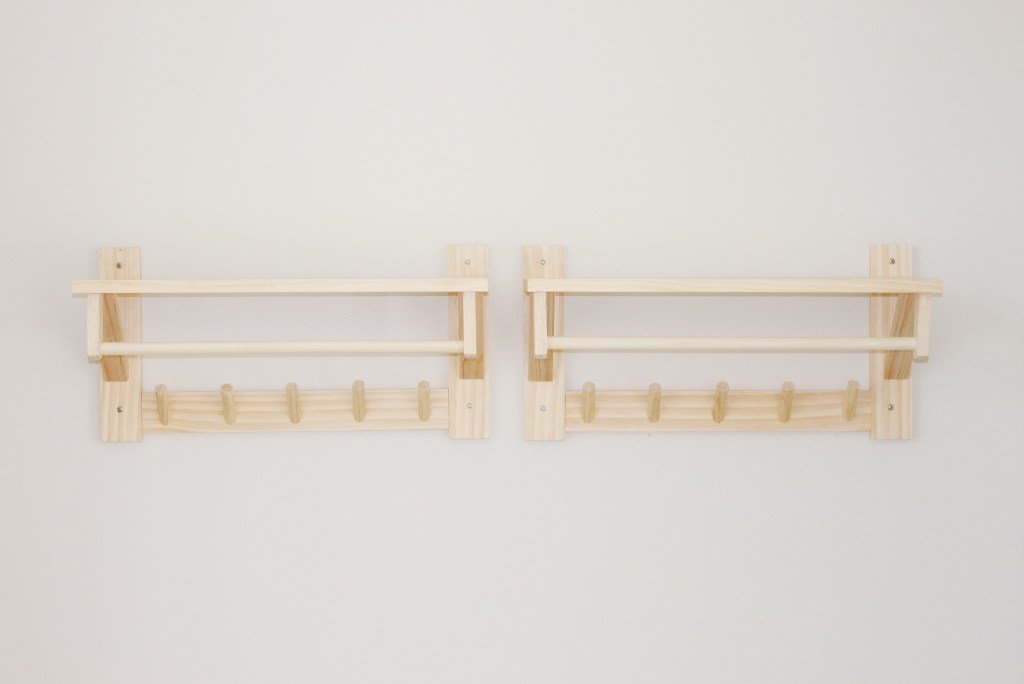 DIY Clothing Rack with Shelf | Free and Unfettered
I know you will find this post inspiring to either make one of these beautiful DIY clothing racks, or come up with your own twist to fit your circumstances. I know exactly what I am going to make now and am quite excited to start measuring, shopping and building. I will update the post with my DIY clothing rack for my laundry room, once I have it done.
Again, let me know which of the clothing racks you found inspiring, for your situation. I love to hear from you.