Huge Assortment of Apothecary Jar Ideas for Fall
 Apothecary Jars Ideas for Fall
Apothecary jars have to be the easiest and fastest way to add fall decor to you home.     Fill them, add decor onto them, or use them in larger arrangements with other items.  Often you can decorate a glass jar in less than five minutes.  In this post I  share many simple ideas for decorating with apothecary jars.  I am sure one of these apothecary jars will inspire you.
My  jars are all ready to be placed throughout our home in various areas.
Filling the Apothecary Jars
The fastest and most inexpensive way to decorate a apothecary jar is to search through what you already have.    Your craft stash or the pantry is the first couple of places to look, here are some ideas to get you started.
n
Shop the Pantry
Start by checking out your pantry.  Do you have any dry goods that you maybe forgot about and could use up in your jars?
To make this jar fill with dry kidney beans, then lentils, add the candle then fill with popcorn kernels.  With the exception of popcorn these beans had been sitting on my shelf for far too long.  Here is a list of apothecary jar filler ideas for fall from your pantry.  Most could be purchased at a bulk food store if you don't already have them.
s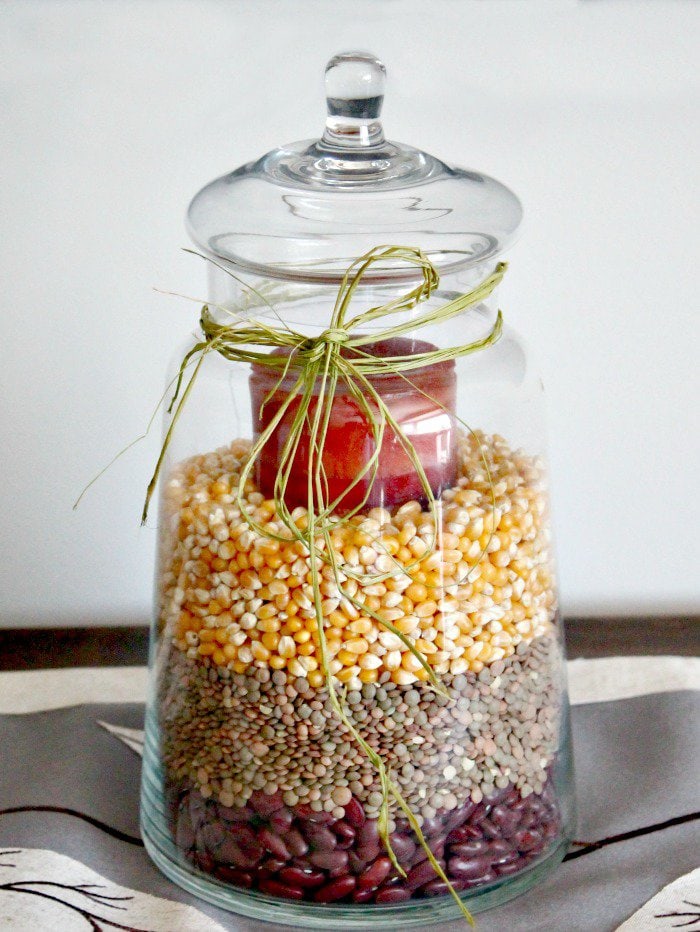 x
See what your pantry may have to spark your creativity.  Here here are some suggestions to look for.
[wc_row]
[wc_column size="one-half" position="first"]
Lentils
Coffee beans
Dried apricots
Sunflower seeds
Dried apples
Unshelled Nuts
Popcorn
[/wc_column]
[wc_column size="one-half" position="last"]
Cinnamon Sticks
Dried navy beans
Candy
Dried kidney beans
Anise stars
Green or yellow peas
Exotic rices ( i once bought red rice, not a fan)
[/wc_column]
[/wc_row]
Check out your Craft Stash
it is very likely that you have some leftovers from last year that you can repurpose this year into you apothecary jars.  Look through last years decor for raffia, small pumpkins, pinecones.
I found some raffia, gourds, mini lights to use in this large glass jar arrangement.
d
j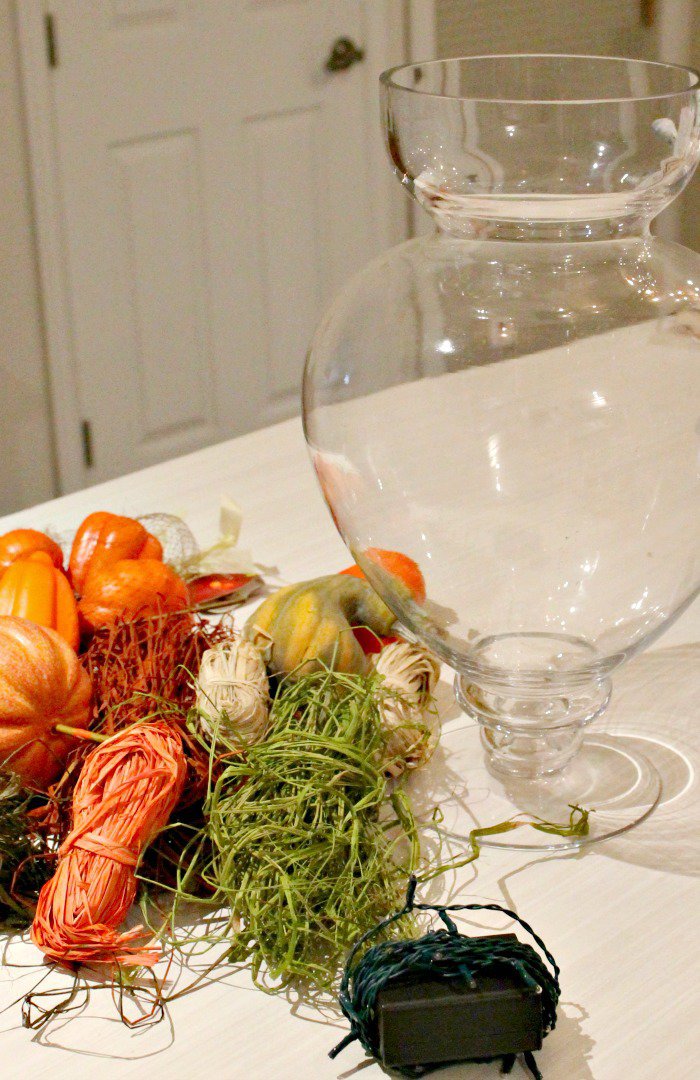 l
Lay the brown raffia in a strip. Cover with half the string of battery powered lights.  Bunch up tightly and place in bowl.
b
p
Pull apart green raffia, make into a strip and place in jar.
Arrange the raffia around the outside of the jar similar to a birds nest.
Add the rest of the string of lights and place the battery pack in the middle of the jar.
Arrange the gourds on top in a small arrangement to cover the battery pack.  You will need to move them to gain access to the light switch.  It easy because the gourd arrangement is simple.
s

a
Grab a coffee or a glass of wine and start digging through your craft stuff.  I hold on to all kinds of hings in little plastic containers. Here are some other ideas for fall.
[wc_row]
[wc_column size="one-half" position="first"]
Used small pumpkins
Leftover flowers in your fall colours
Fabric remnanst, sew mini pumpkins, cut into leaf shapes or sew fabric into ribbons.
[/wc_column]
[wc_column size="one-half" position="last"]
Fall coloured wool, wrap into small balls and place in a jar.
Old wood beads
Burlap, stored ribbons or raffia is perfect for fall apothecary jars.
[/wc_column]
[/wc_row]
Gather from the Great Outdoors
Nothing is better than a fall hike, gather some items while your out there.    Mother nature is generous with her bounty, please don't damage anything while your out foraging.  Take small sticks from the ground,  or fallen pine cones, or little seed pods.  Whatever is readily available in your area. or right in your garden.
m
v
The pinecones in the display came from a park a block from our home.  It only took about ten minutes to walk and gather them.  Once home I baked them at 250 for 15 minutes.
To make the vase glass arrangement start by putting a few of the lights in the bottom of the jar.  Then add the florals,  finally add the pinecones and acorns,  filling in the vase and adding the lights are you work up.
Finally place the battery pack in the middle of the vase right at the top.  Cover it with one or two pinecones.
l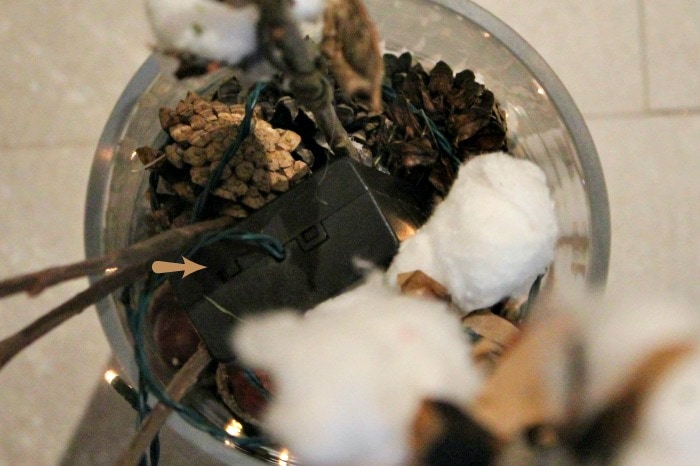 a
The switch remains right at the top of the vase and is very easy to reach and cover.
t
[wc_row]
[wc_column size="one-half" position="first"]
Small sticks
Dried flowers like hydrangeas
Fallen leaves
[/wc_column]
[wc_column size="one-half" position="last"]
Pretty rocks
Pinecones
Nuts
[/wc_column]
[/wc_row]
Shop the Bulk Food or Dollar Store for  Ideas
If you don't have enough variety in your pantry make a trip to the dollar store.   Look for things from the pantry ideas above, the dollar store is a great place to find these type of dry goods or the bulk food store.
The bulk food store has candies in ever colour imaginable.  Pick two of more colours of candy to match your fall theme.  Layer the candy into a jar add the candy jar label provided.
b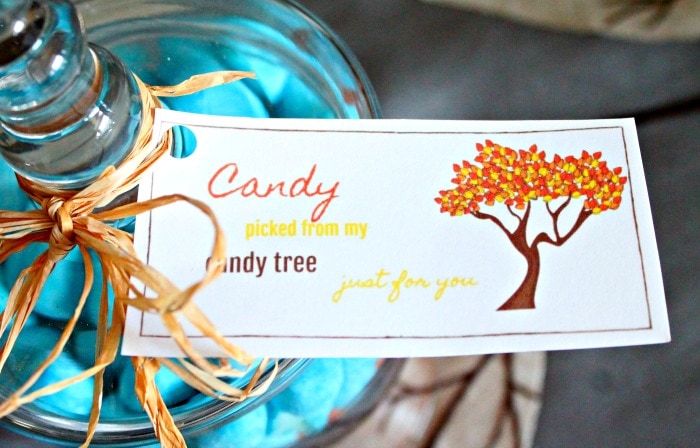 p
Here are some other ideas.
[wc_row]
[wc_column size="one-half" position="first"]
Commercial jar fillers, coloured sand glass beads
Candy including pumpkins
Buttons
Buy some jars
Candles
Moss and other dried florals
Wood beads
Artificial leaves
Raffia
[/wc_column]
[wc_column size="one-half" position="last"]
Artifical acorns
Corks
Small fall ceramics
Burlap ribbon
Twine
Wool
Pine cones
Artifiicial small pumpkins or ghourds
[/wc_column]
[/wc_row]
Other items
My two favorite things to put in apothecary jars are battery operated lights and battery operated candles.  You can also use real candles but you need to be cautious of flammability.  The leaf jar is lit with a battery operated candle.
t
There are so many ways to decorate apothecary jars.  They add variety and are neat and tidy.  All the little bits stay within the jars, they can be moved easily, don't take up much space and add height or variety to your fall arrangements.
Our home is still in renovation mode.  The granite is installed and I am so excited about the natural patterns in our stones but the chipped it a little while installing it.  So we have no kitchen sink and they need to come back and see if it can be repaired.  I truly hope we don't have to replace the stone they gave us.  The slab is beautiful
In the meantime I am making decor projects and storing them.  Hopefully I get the chance to decorate soon.
If you like this post, please pin it.