Colourful and Casual DIY Fall Centerpiece
Create a Cozy Atmosphere with a Fall Table Decorations DIY
Now that the crisp autumn air is beginning to set in, school is reopening and the stores are full of vibrant Fall colours its time to create a warm and inviting Fall feel to our homes. What better way to do this than with your own DIY Fall centerpiece? Fall is always foreboding in Canada because of its colder brother Winter, days shorten quickly, we reluctantly return to the indoors and its more important than ever to make our indoor living areas more welcoming and comfortable.
Whether you're hosting a dinner party, want to add a touch of seasonal charm to your home, or spend an afternoon creating, this DIY fall centerpiece is the perfect solution. Beginning with a charcuterie board base, some fall fairy lights, and beautiful rustic pumpkins and leaves you will be able to recreate this easy fall centerpiece in your own home.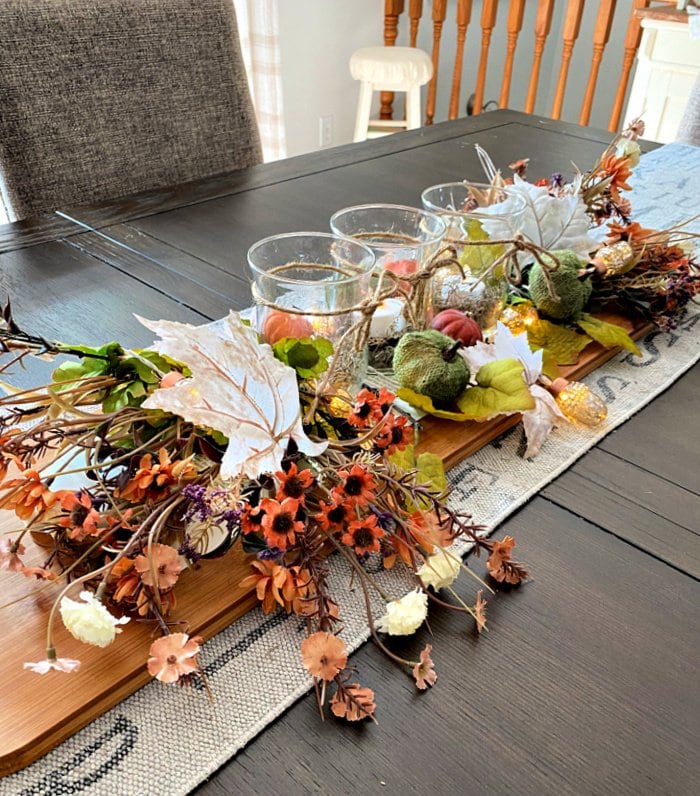 Benefits of DIY Fall Table Decorations
Fall is a season that brings with it a sense of warmth and coziness, and what better way to embrace these feelings than by creating your own fall centerpieces? DIY fall centerpieces offer a range of benefits that go beyond just adding a touch of seasonal charm to your home.
Creating your own fall centerpiece is a fabulous way to share you creativity and express your style. You can choose from a wide variety of materials, colors, and designs to create a centerpiece that perfectly complements your personal taste and the overall aesthetic of your home. They can be created in a rainbow of colours, and textures.
Additionally, DIY fall centerpieces are a cost-effective option compared to store-bought alternatives. With a few simple materials and some creativity, you can create a stunning centerpiece that rivals those found in high priced home decor stores, all while saving money.
Whether you're crafting centerpieces with your family or enjoying some alone time, the act of creating something beautiful with your own hands is incredibly rewarding, and a fantastic way to remind ourselves of how much fun crafting indoors can be.
So lets get started.
Creating a Simple Fall Table Decorations DIY
DIY Fall Centerpiece Supplies
Feel free to swap out any of the materials I used for something you have on hand, or like better. For example I didn't think of paper leaves ahead of time and wish I had used them instead of dollar tree leaves. If your lucky and have a wood dough bowl, use it instead of the wood charcuterie board I began with. Or you can use something more rustic like a large piece of wood. Here are the supplies I used for mine.
A wood charcuterie board
3 dollar tree glass jars (mason jars work as well)
Dollar tree burlap twine (ribbon)
Fall foliage, flowers and dollar tree pumpkins in pinks, greens and peach.
Dollar tree candles
Raffia
String of battery operated fairy lights.
This fall table decoration diy is made with faux florals, but you can use natural elements like real leaves, small branches, and real nuts. The choices you make will depend on how long the centerpiece will be displayed, but natural elements are fabulous for Fall centerpieces. They are also a great way to get the kids involved by helping you hunt for leaves, branches, or berries.
Step 1: Choose the Base
Begin with choosing a base that suits your style and color preferences. The base will define the size and general shape of your centerpiece. Instead of a charcuterie board you can use a slab of wood or a rustic wood box are other ideas. Use whatever appeals to your making sure it clean and ready for decorating.
Step 2: Lay Down a Small First Layer
I used three old book pages for my first layer, other ideas include printed song pages, brown paper, pretty craft paper, or napkins. This second layer acts like a central focal point for the three jars with lights.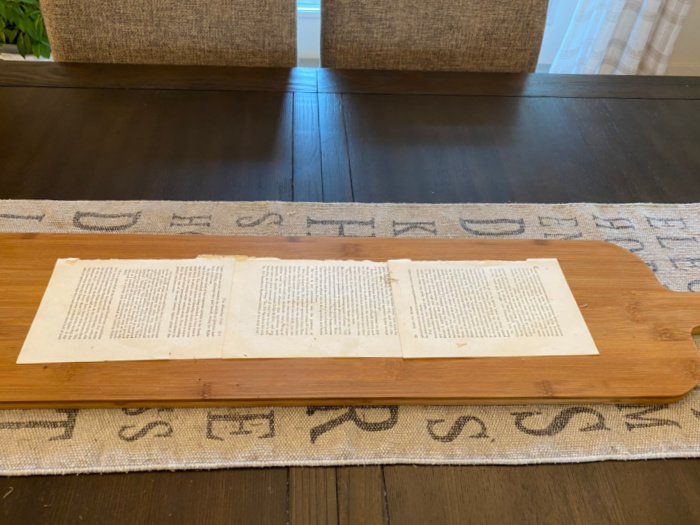 Step 3: Add the Lights and Candles
I highly recommend using faux candles and small fairy lights for Fall diy centerpieces. The evenings are getting much longer and having the twinkling pretty lights make them more appealing. Candles add a coziness to the room.
Faux candles reduce the fire hazards and mini lights are easier to camoflage than the plug in lights. For my centerpiece I used dollar store lights inside my jars. If using mini lights as well add them after the large flowers (step 4)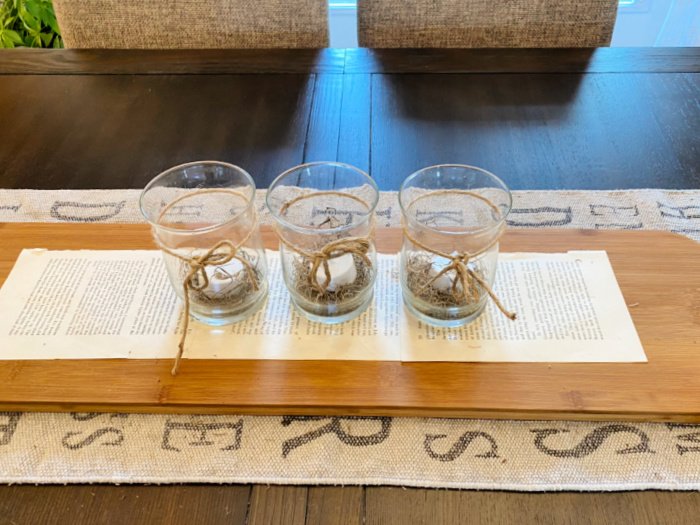 Step 4: Arrange the Large Foliage and Flowers
Start with the larger floral pieces, leaves and branches placing them towards the ends of your centerpiece. Snuggle them in against the outer sides of your jars to define the ends of your centerpiece.
The focal point of this fall centerpiece is the glass jar candles. Dollar tree jars, small clear candle holders, or mason jars will also work. Fill the jars with raffia, and embellish with either twine, ribbon, or ripped fabric. You can even add some labels with simple autumn sayings like grateful, blessed, and gather if you like.
Step 5: Finish and Adjust
If using add a string of lights add them now, then camoflage the light strand with smaller flowers, leaves, and pumpkins.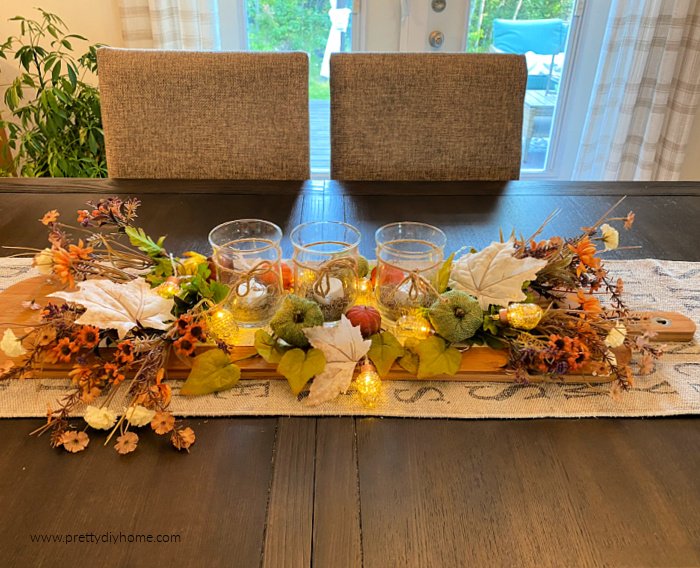 Once done step back and look at your centerpiece. Are there any gaping holes that need something. Is it centered and balanced. As my centerpiece was on a table I looked at it from both sides and made tiny adjustments moving the small pumpkins into gaps on the back side.
DIY Fall Centerpiece Video
I have created a video of myself making the Fall centerpiece. It takes you through the same steps, but you may find it helpful.