10 Painting Terra Cotta Pot Design Tutorials
Terra Cotta Clay Pot Painting Projects
Terra cotta pots have been around as long as I can remember. And no wonder, there are so many things you can do with them, and they are affordable. I was surprised to learn that terra cotta has existed as a pottery material since 3000 B.C. I bet those ancient civilizations enjoyed painting terra cotta pots, just as much as we do now.
j
While researching terra cotta crafts I saw terra cotta clay pot projects on making animal sculptures, lighthouses, bird baths, wind chimes, lamps, heaters, fountains, planters of all kinds, clay bakers and even a fire hydrant, but I plan to make some simple to do painted pots, so those are the examples I am sharing.
Metallic gold and white paint terra cotta pots in geometric designs are very popular and with polka dots, these pots are both artsy and fun.
y
White and Gold Terra Cotta Pots | Pastels and Macarons
y
This super adorable version of polka dotted clay pots are made with vinyl circles. They remind me of the bingo dabbers my Mom had, fun magenta pink dots. These would be perfect in a work cubicle, who could feel stressed after looking at these.
Terra Cotta Pots | Sarah Hearts
These simple painted pot hanging from even simpler macrame hangar are perfect for hanging outdoors for plants. I really love this idea because you could use simple hangars like these to make a suspended herb garden in any size yard.
h
DIY Painted Terra Cotta Pots | Lovely Indeed
The internet has many different examples of stacked pots displays. Topsy turvy pot arrangements, some with house numbers painted on them, I included this one from Home Jelly because its pretty with the black pot matching the door handle, and she included a really good tutorial
t
DIY Stacked Planters for Your Home Sweet Home | Home Jelly
These little rustic pots are so easy to do. I think it's a perfect Mother's Day gift or family project.
DIY Rustic Succulent Pots | Pink When
Creative Rambling explains the products she prefers for painting pots. Her examples are modern and pretty, and I really enjoy how she lined just the inner rim with a touch of gold metallic.
How to Seal and Paint Flower Pots | Creative Ramblings
Terracotta Flowerpot Windchime | House of Joyful Noise
These modern geometric painted pots in gold pink and white are another version of a very trending look. They are so pretty And modern.
DIY Colorblocked Geometric Vase | Proper
These little terra cotta pots are painted simple white then a glass lantern is added. Simple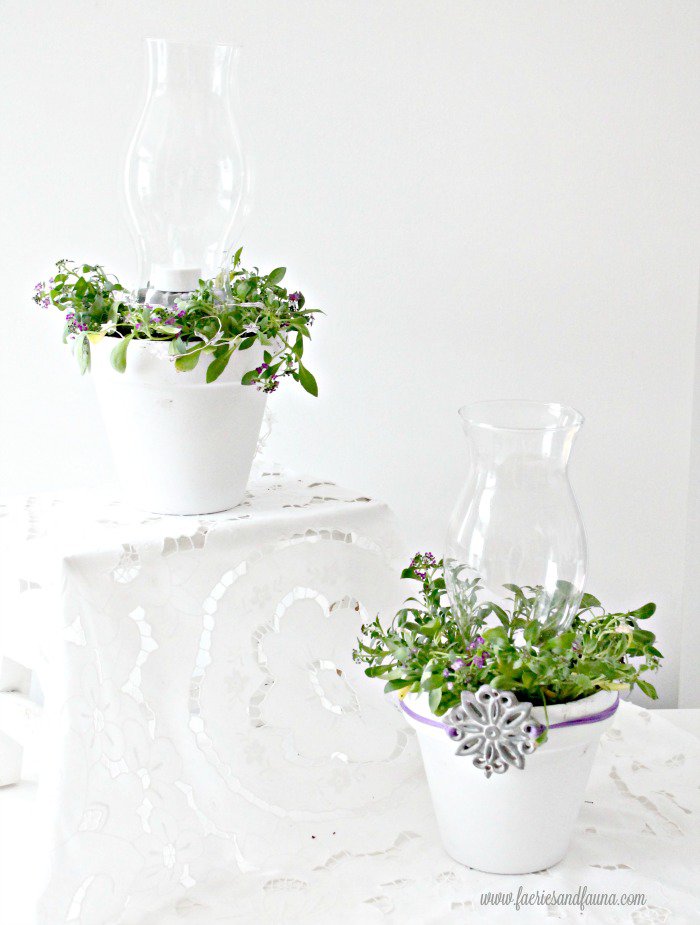 DIY Terra Cotta Pot Lantern | Pretty DIY Home
Moss Covered Clay Pots | Refresh Restyle
Yeah for chalkboard paint.  These chalkboard birds are so both functional and cottage style.  It's a brilliant variation to add the stenciled bird shape.Mo
Chalkboard Planters with Folkart Stencils and Paint | Tried and True Blog
This really cheerful and bright windchime is another great family craft idea. Its rainbow colour palette really appealed to me, and its created by children.
How to Make Fabric Covered Planters | The Country Chic Cottage
These terra cotta pots are several years old. Last summer I gave them yet another makeover with a quick dry brush painting technique. They spent the winter outside in 167 consecutive days of below zero weather. I hope the makeover is intact, but if not I will enjoy giving them a quick makeover. Although I promise to do a nicer background for the photo.
Dry Brush Flower Pot Painting | Pretty DIY Home
Today was the first day it finally felt like Spring where we were able to enjoy the outdoors a bit. It certainly felt good, it's nice to look forward to flowers and gardens and green grass. Enjoy your weekend. I am hoping to spend mine outside puttering at something.