How to Make a Lantern with a Painted Terra Cotta Flower Pot
Terra Cotta Flower Pot Lantern
Lately, I have been concentrating on larger projects, like the DIY wired laundry basket and the floating shelves in the bathroom. So for today's post, I am sharing a super easy terra cotta pot craft idea that you can make in less than half an hour with an extra hour in drying time for the paint.
t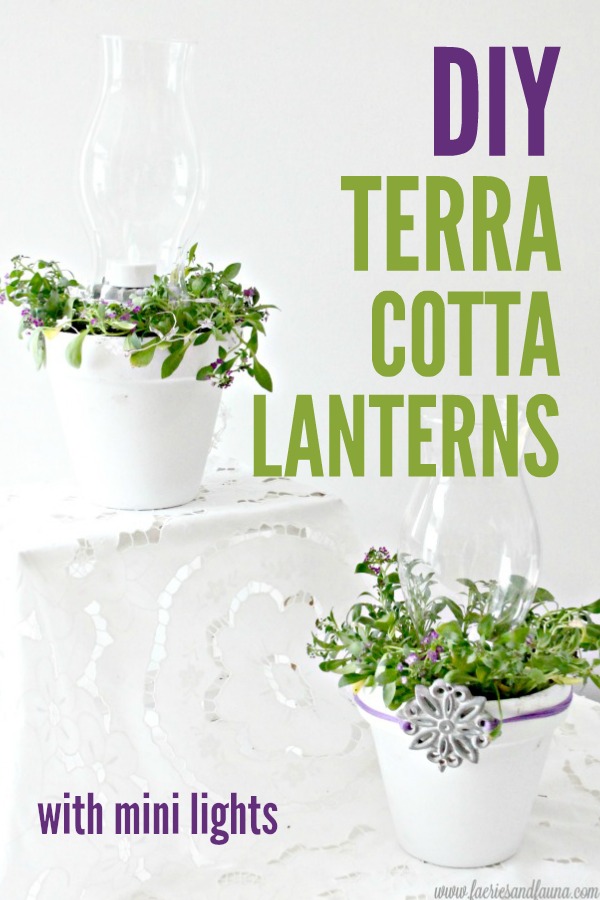 c
A couple of week's ago I purchased a small stack of terra cotta pots for crafting, painted them white and then did nothing with them until I saw the hurricane lantern tops at Michael's on sale for $2. Swoop in the cart they went.
z
l


Tutorials for Two Styles of Lantern

As you may know, I love using miniature lights in my flower arrangements so the first style I made using the lights. The mini light version is perfect for a covered porch, a cabin, or indoors, but I also wanted one I could leave outside so I created a second version.

With the exception of the mini lights, both lanterns require the same supplies.
Terra Cotta Flower Pot Lantern Supplies
One Small and One Medium Terra Cotta Pot
White Chalk Paint
Glass hurricane lamp shades
Small concrete medallion (with holes for attaching)
Small annual garden flowers, potting soil
Embroidery cotton and sticky putty, or miniature lights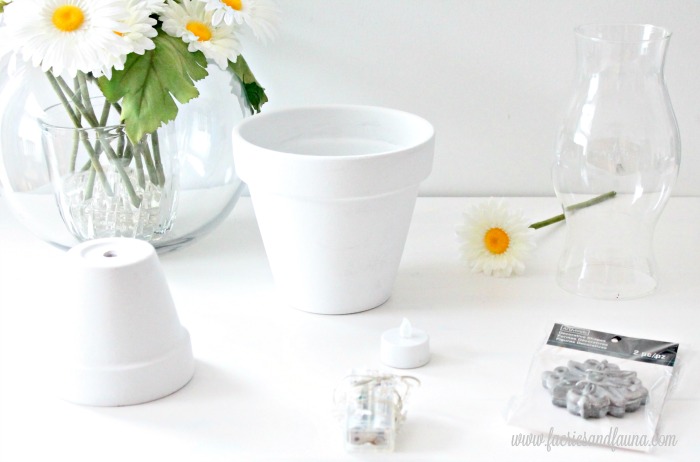 o
Paint the flower pots inside and outside with two coats of white chalk paint. Let dry between coats.
Place the small pot open side down inside the large pot.
s
Fill the space around the smaller pot with small annual garden flowers like allysums. Then add any extra garden soil. I only used a couple of tablespoons of soil to fill my pot size. Make sure that the soil is lower than the center of the small pot. To fill the pot and make them pretty today, I used 5 plants. As the flowers grow I will need to trim and/or remove some of the plants.
Mini Light Terra Cotta Pot Lantern

t
u
Place the battery pack for the mini lights on top of the terra cotta pot. Hide the top of the battery pack with the medallion. The flowers will hide the sides of the battery pack. Place a faux candle mini light on top. Then add your hurricane lantern cover. To protect my miniature lights I won't leave this version outdoors permanently where it can get rained on.
Outdoor Terra Cotta Pot Lantern

z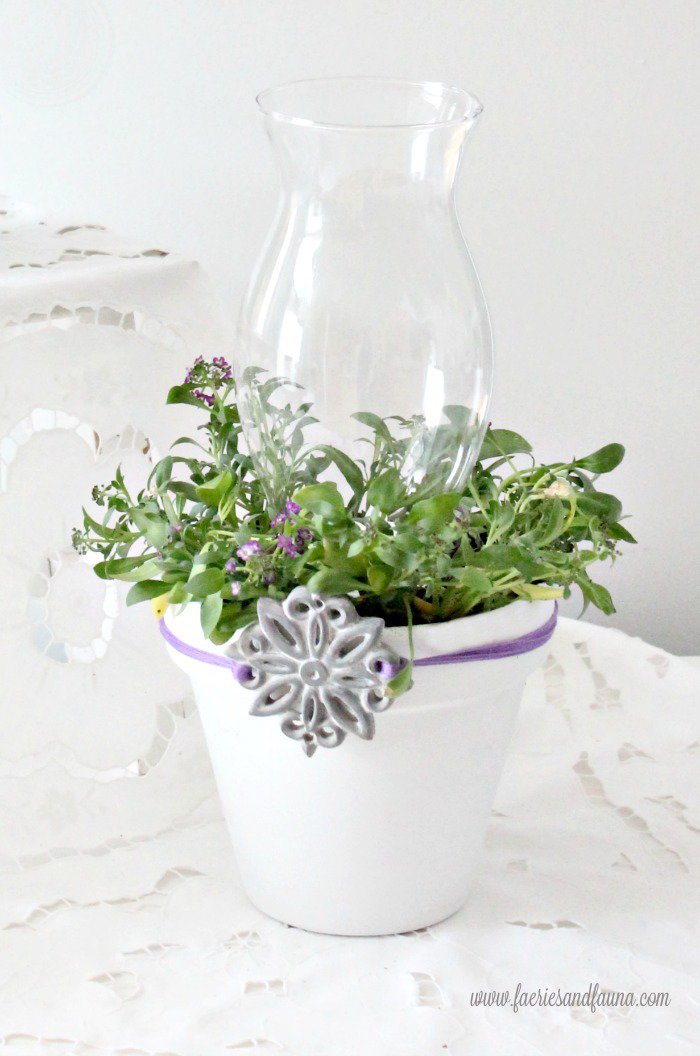 g
As you don't need the medallion to camouflage the battery pack I used it as an embellishment. It would look really nice tied on with twine or gingham ribbon as well, but I chose purple embroidery thread from the dollar store to match the purple allysums.
c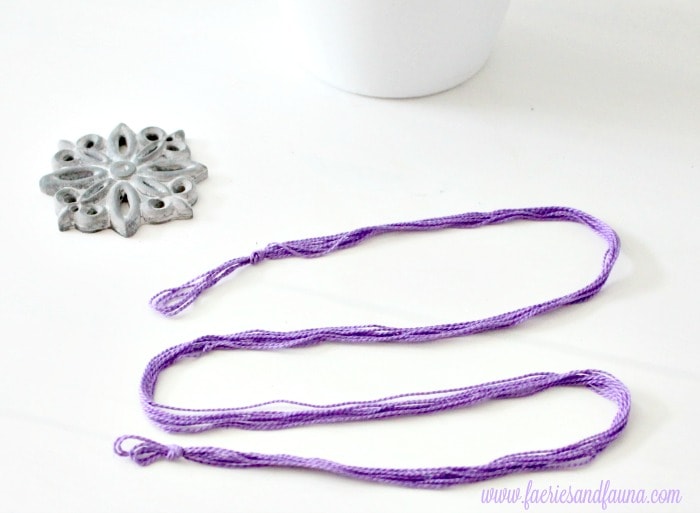 y
To attach the medallion use the whole length of embroidery cotton. To open it without tangling I looped mine over a knob on the cupboard, opened it and then repeatedly folded it in half. Once it was refolded I tied the ends into small knots.
j
j
Weave the thread through holes in the medallion. Tie on to the front of the flower pot. To keep it secure I added some putty to the back of the medallion as an afterthought. I did not glue it.
The lanterns are really pretty at night, I am hopeful that the photograph gives you an idea of just how nice they are.