A Broken Mirror becomes a Farmhouse Bulletin Board
Decorative Bulletin Board from a Broken Mirror
This farmhouse bulletin board has been waiting in the garage since last Christmas. This really nice mirror was placed behind one of my Christmas trees to reflect the light. Loved it, in a few days later I went to "adjust" it just a tad and knocked it over smashing the glass.
When the Farmhouse hens decided to do a roundup on making something broken new, I knew it was time to update my broken mirror. The Farmhouse Hens projects are included at the end of this post, make sure to check them out.
The frame was still good so I kept it and was sad every single time I saw that empty frame. This week I repurposed it and am much happier with it. This decorative bulletin board would be very handy in a family office, or even a kitchen for school artwork etc.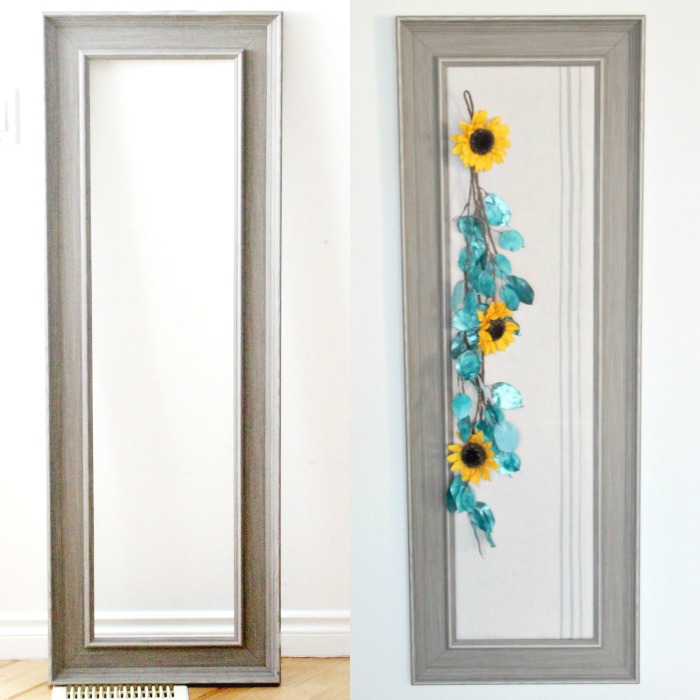 If you don't have a frame you can build your own using the instructions from this DIY Welcome sign first. Once the frame is made continue on with this post.
This makeover is very easy to do. It took about 2 hours to do because I had to let the farmhouse stripes dry. It cost me nothing to make it, and now if not a mirror at least the good quality frame is being used.
[one-half-first]
Unwanted Frame
Cotton batting
Drop cloth or thick muslin fabric
1/4 inch plywood, or thick cardboard
[/one-half-first]
[one-half]
Grey chalk paint or craft paint
Pencil and Ruler
Brush and green Frog Tape
Small paint brush, stapler
[/one-half]

Measure the size of your open frame, and cut the plywood or thick cardboard to size. My frame opening is 48″ by 12″
Add the Batting
Next, cut your quilt batting an inch smaller. (ex. 47″ by 11″) You want your batting to be close to the edge, but it does not wrap around. Wrapping the quilting around the back would make it hard to fit your frame neatly.
Attach your batting with staples. You don't need to place in many staples just enough to hold it in place while you work with the fabric covering.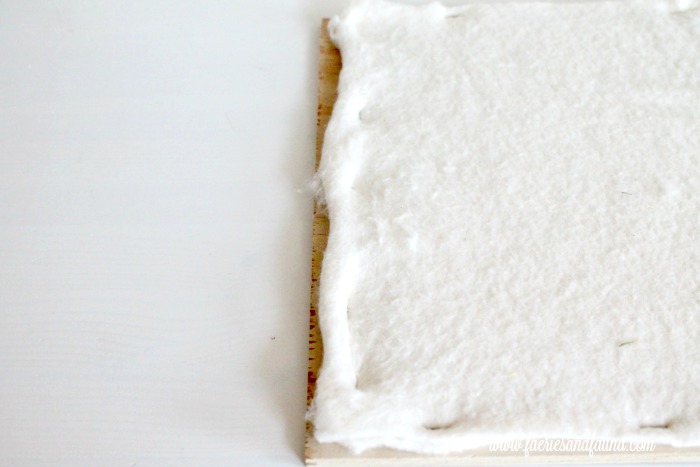 Adding the Stripes to your Decorative Bulletin Board
Cut your fabric to be 5 inches wider and longer than the opening (ex 53″ by 17″) as this will wrap around and needs a finished edge.
To finish the edge of your fabric you need to do a neat folded seam, roll it over 1/4 inch and press, then roll it over half an inch and press. Do this on all four edges
Iron and lay your fabric out on a flat surface.
Measure the placement of your stripes, I am sharing detail instructions but basically you draw three straight stripes where you like them along one side of the fabric.
The stripes on my board consist of a central 1/4 inch stripe and two 1/8 inch stripes evenly spaced on each side of center. To replicate measure in 3 1/2″ from the edge of the fabric and make a mark, repeat this a couple of more times along the length of the fabric. Once done draw the first line.
A clear good quality ruler makes this much easier, as your able to line up the cross marks along the stripe. If you do lots of crafts I recommend buying one, you will LOVE it.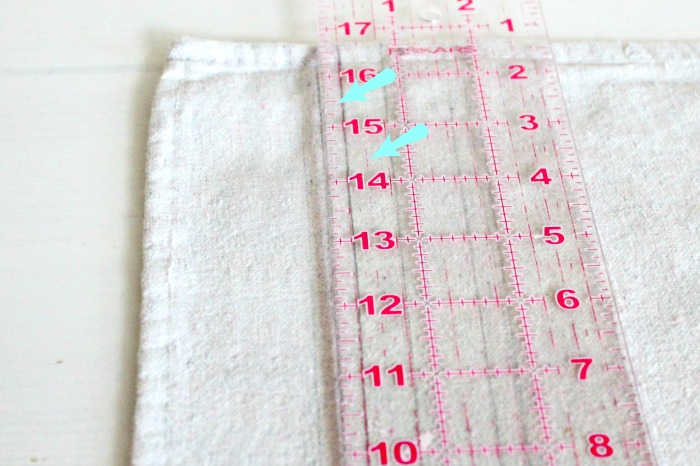 Repeat the process by measuring 1/8″ in for the other side of the first stripe. Draw the second line for the first stripe.
Then measure in half an inch and do the first side of the second stripe, then 1/4 inch for the other side of the second stripe.
Measure in half an inch from the second stripe and draw a line for the last stripe. Then measure in 1/8 inch and draw the final line.
If you make an error, no biggie, use an eraser and remove the lines. Worst case scenario wash it and start over, that's why I started by drawing the lines first.
This is what the stripes looked like before painting.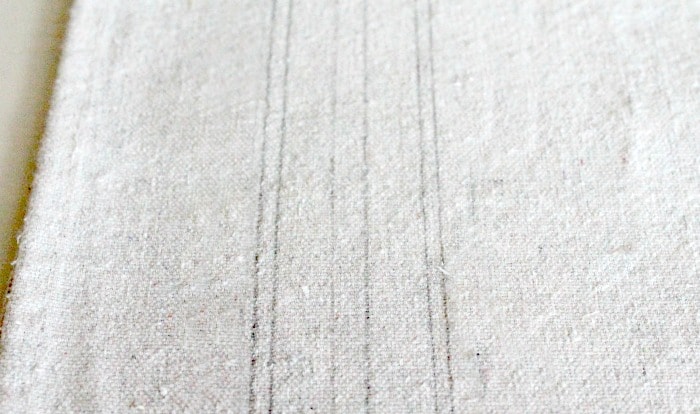 Run tape along the stripes, make sure that the tape is adhered along the edge being painted.
Load you brush with a tiny bit of paint, dab off any excess and then paint the stripe. If you have to add a second layer to make the paint as dark as you would like. Wait until the first layer dries, it only takes ten minutes. I only used one coat.
You may find that your tape is too wide to do all three stripes. I painted the inside stripe first, removed the tape. Let it dry and then taped the two outside stripes.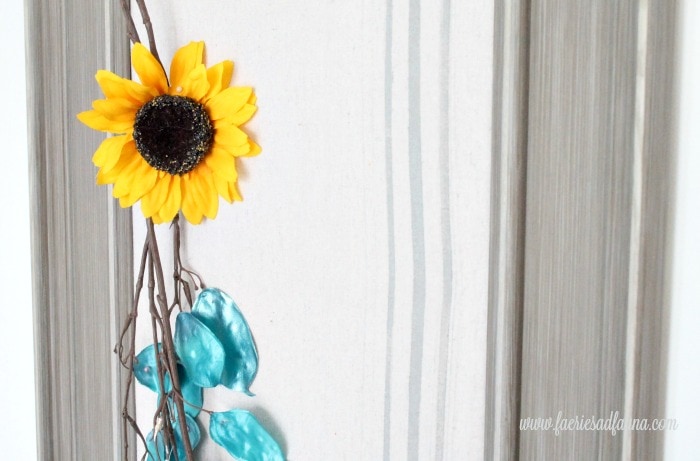 Finishing the Decorative Bulletin Board
Once your stripes are finished, wrap the fabric around your backboard, place in the frame and staple.
Attach staples to secure the board to the frame, and to secure the hem of your fabric.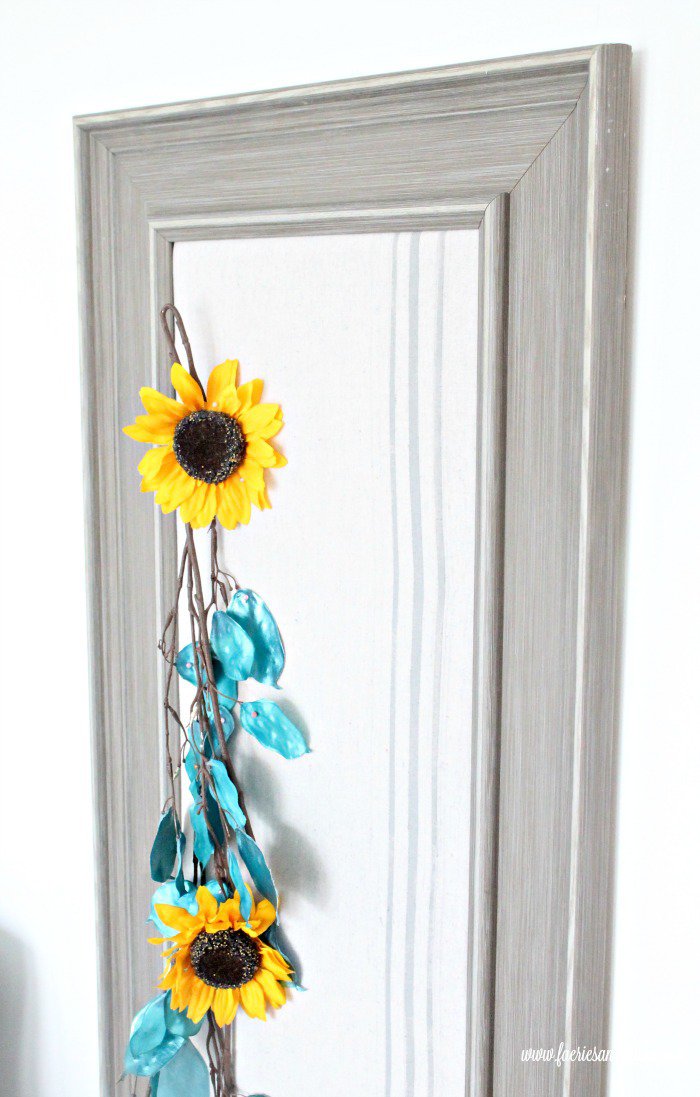 To make the bulletin board more decorative I simply pinned some long branches and some sunflowers down one side using sewing pins.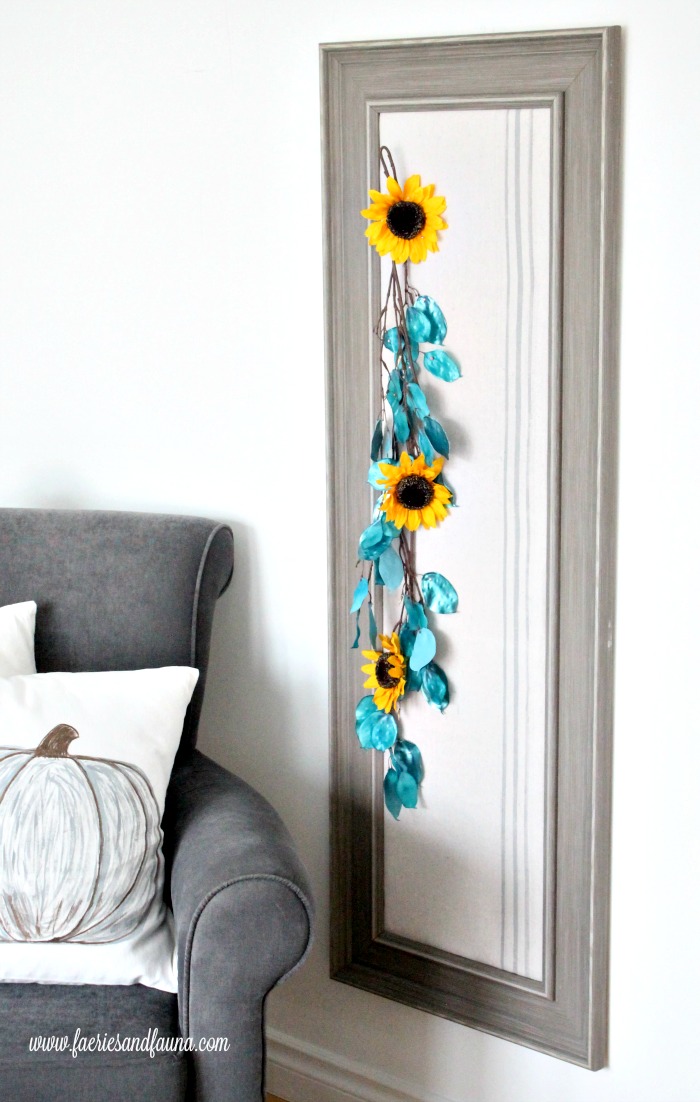 This decorative bulletin board can be decorated with flowers, banners, printables, letters etc. I think the simple farmhouse faux grain sack background gives it just enough decoration to be pretty, yet neutral enough to fit in with whatever extra decorations you want to put on it.
This month's posts look wonderful, we have everything from Country Clocks to Architectural Finds. Enjoy! and thanks for joining us!
Stephanie at Abbotts At Home! Blog / Facebook / Instagram / Pinterest / Twitter
---
Denise at My Thrifty House! Blog / Facebook / Instagram / Pinterest / Twitter
---
Michelle at Our Crafty Mom! Blog / Facebook / Instagram / Pinterest / Twitter
---
Sam at Raggedy Bits! Blog / Facebook / Instagram / Pinterest / Twitter
---
Tarah at Grandmas House DIY! Blog / Facebook / Instagram / Pinterest / Twitter
---