20 DIY Fall and Halloween Wood Craft Ideas
Fall and Halloween Wood Crafts
Fall is the perfect season to create some Fall and Halloween wood crafts. Puttering outside in the garage with scrap wood is one of my favorite activities. The temperatures just right for puttering outside drinking coffee, Christmas rush hasn't started and we can usually find some time to be creative.
I will start by sharing several Fall craft wood ideas, the Halloween wood crafts are shown afterwards. Every wood craft is inexpensive and each one has a tutorial.
Simple Fall and Halloween scrap wood craftssigns and cute characters have been around for a while. I know that soon we will see painted rock pumpkins, monsters, and ghosts everywhere, but I think the warm feel of wood suits our home better. You may have already seen some of these designs before but here are some of my favorite ideas for simple wood Fall and Halloween Crafts
Fall Wood Craft Ideas
These white pumpkins are made using some pieces of 4 by 4 lumber. I added some gold spray paint and modern flowers.
The last couple of week's had me brainstorming what kinds of different materials I could use for a banner. As always I went to see what Marie from the Interior Frugalista had made and found this fun wood Scrabble blog banner, something about scrabble always reminds me of the past years as a kid and make me feel cozy. I also love how clean and crisp it is.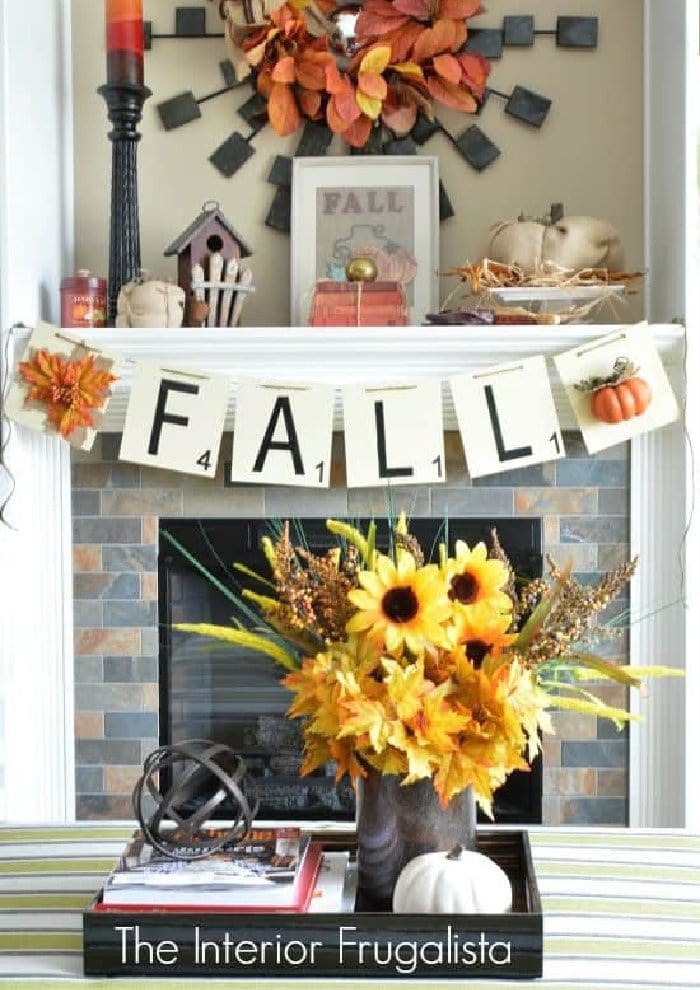 Scrabbling Fall Banner | The Interior Frugalista
A few simple embellishments and some orange paint are all Holly from Ribbons and Glue needed to create this sweet centerpiece. It would also be easy enough to do for Halloween with different colours and maybe a Boo sign. Love it.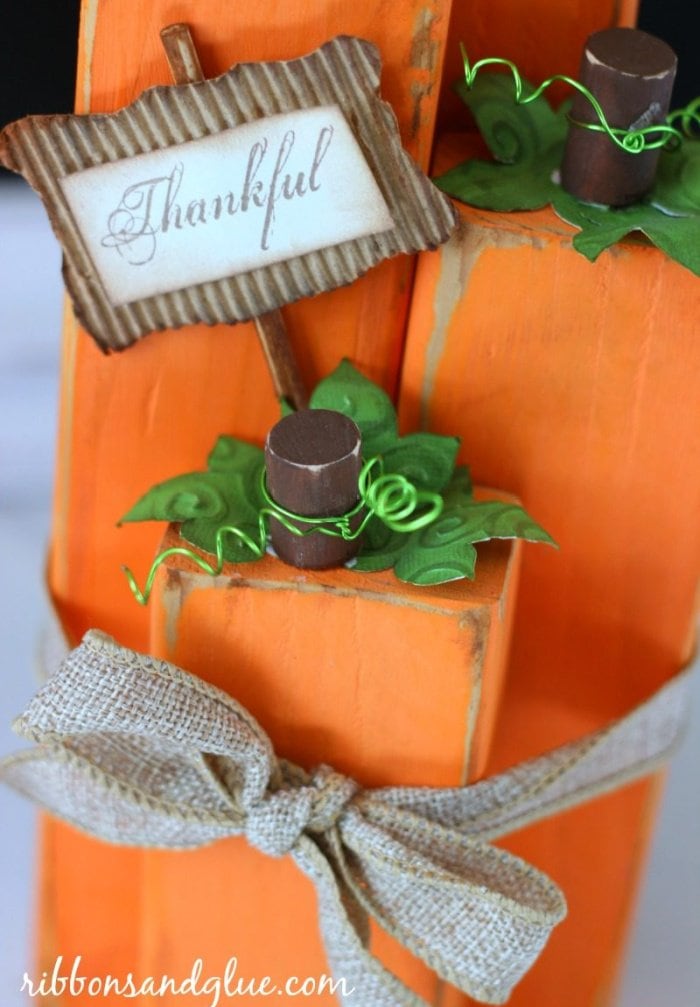 Wood Block Pumpkins | Ribbons and Glue
The leather straps between the pumpkin sections bring so much style to these wooden pumpkins. The rustic colours are perfect with the simple wood grain sign.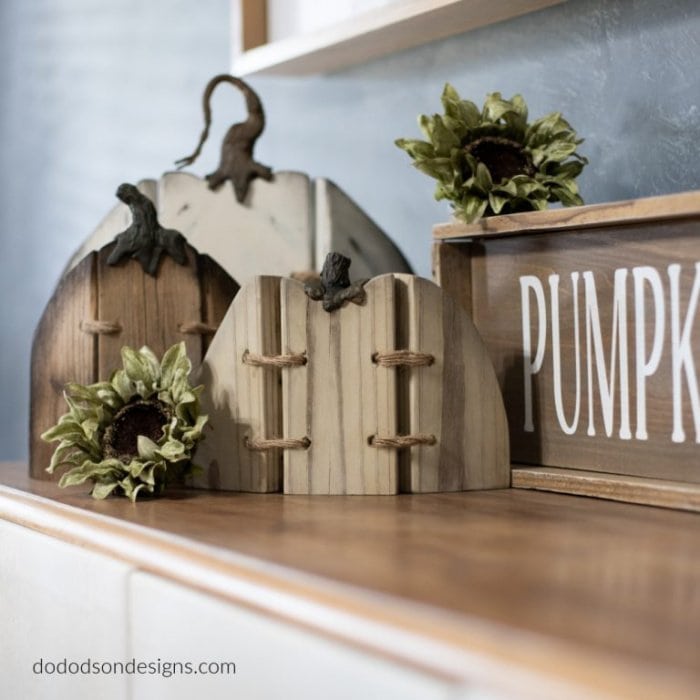 Rustic Wood Pumpkins DIY Fall Craft | Do Dodson Designs
With a pallet and some scrapwood, we made these neutral pumpkins.  They are much easier to paint then you think.
Neutral Pallet Pumpkins for Outdoors
The proportions in this arrow are perfect, you can see the grain of the wood. I love it because the signs would look perfect with tradition or neutral fall colours, and it's classic enough to fit in with all sorts of different decor styles, from classic to rustic.
Easy Fall Craft | Craftaholics Anonymous
A thrift store lazy susan and some pallet wood become a moveable fall centerpiece for the kitchen table.
DIY Pallet Lazy Susan for Fall Decor
The PinkWhen blog uses a wide assortment of different sized wood blocks to make this Fall sign. It's adorable because each letter is so unique and fun. This is gorgeous as is, but would also be great hung from twine as a banner either horizontally or vertically.
Fall Mantel Craft with Blocks | Pink When
This post from Today's Fabulous Finds has two versions of the same vignette. She first shows you this adorable fall vignette, and them with a few cobwebs voila spooky pumpkins for Halloween. What a great tip for reusing fall decorations.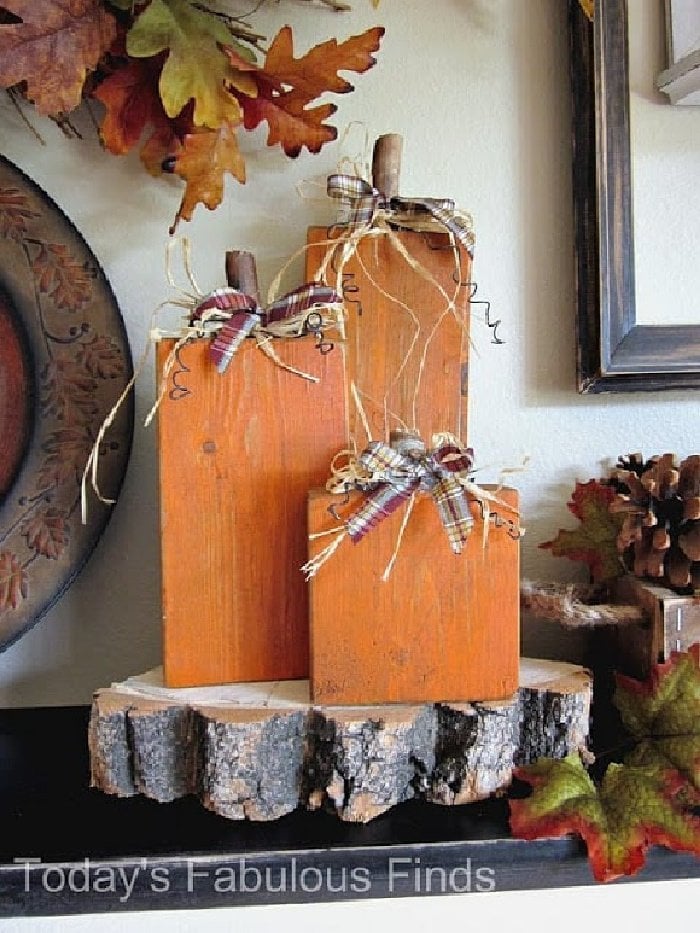 Wooden Pumpkins | Today's Fabulous Finds
These little wooden coffee sign decorations were shared on the blog a couple of weeks ago. The tall and thin lettering is modern and of course, I love white. To use them I snuggled them as decor into a small Fall coffee station.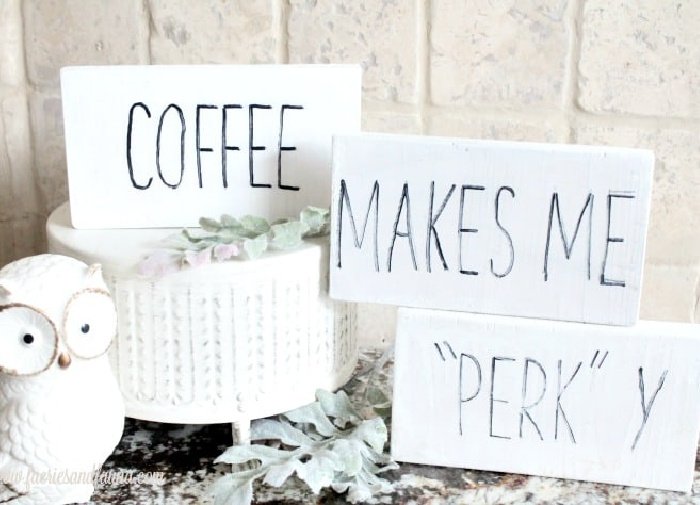 Neutral Coffee Signs for Fall Decor | Pretty DIY Home
Halloween decor is every bit as much on my brain right now as Fall decor is, for us bloggers this time of year is so busy, it makes sense to create new decor items early. Here is some of the scrapwood posts that have inspired me for this years Halloween decor.
Halloween Wood Crafts
This idea is so handy for Halloween night, but I can see me hanging it on the pantry door as well. We are very fortunate to have lots of trick and treaters in our neighborhood. We live on the outskirts of the city and nearby farmers bring their children here as the houses are close and there are street lights. It makes for lots of fun, and the need for lots of candy. Last year we had 200 kids then I really needed this little wood sign project.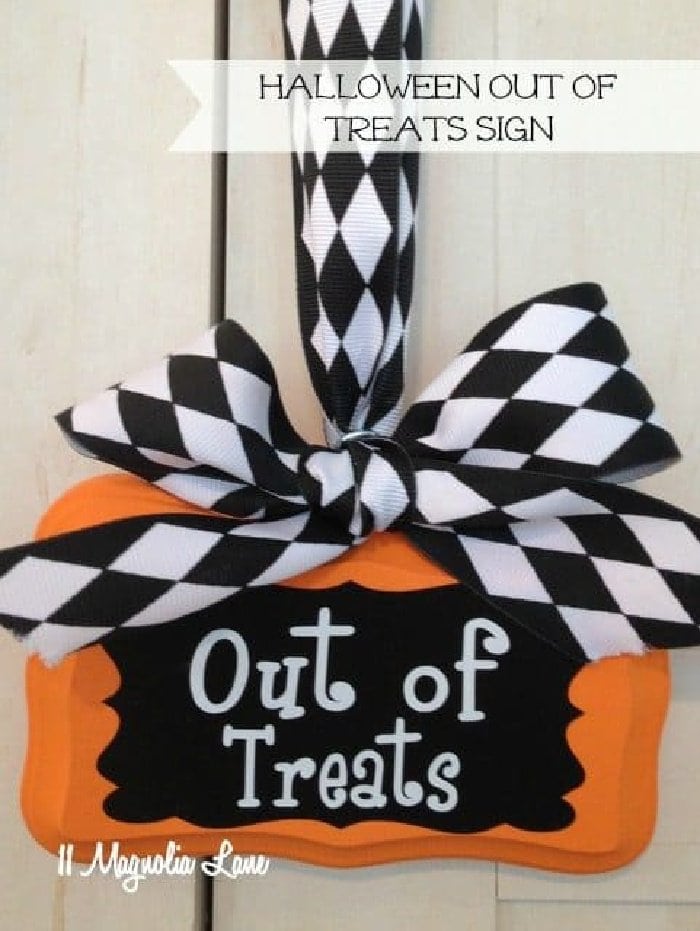 Out of Candy Door Sign | Magnolia Lane
Wood tags are a great way to use up smaller bits of scrap wood. I would buy a little bit of lumber to make this Halloween wood craft and they would be so worth it.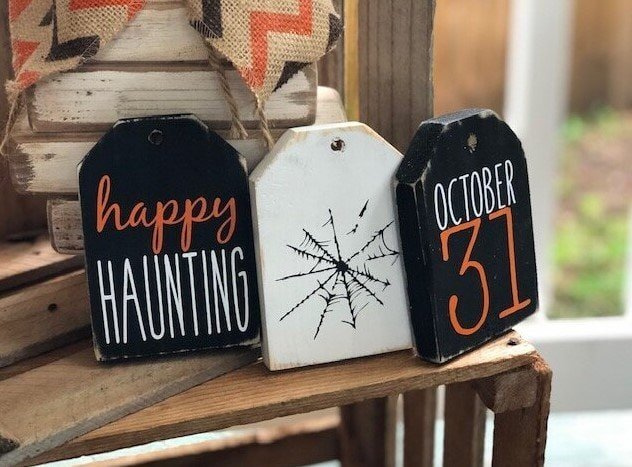 DIY Halloween Wood Tags | Megan Plus Five
These jacks and ghosts can be made out of one 4 by 4 wooden posts. Years ago I made something very similar using glow in the dark paint. These little decorations are great because they aren't too scary for the littles coming to the front door.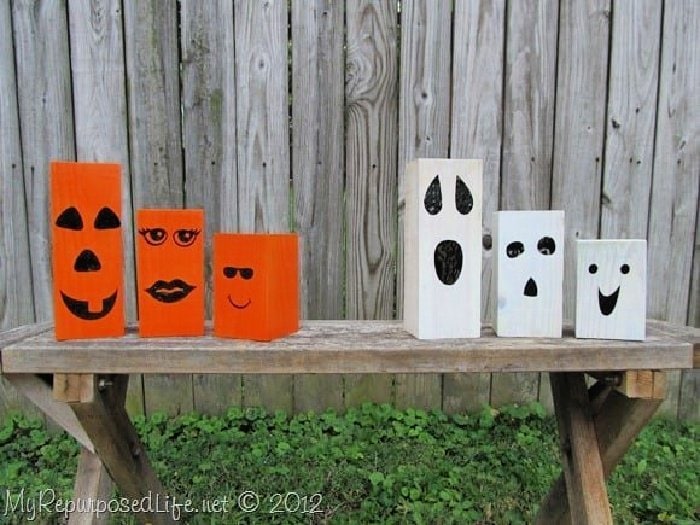 Ghosts and Jacks | My Repurposed Life
These kind of Halloween decorations are perfect for all the trick and treaters. Spooky enough to be Halloween and too adorable to be truly scary.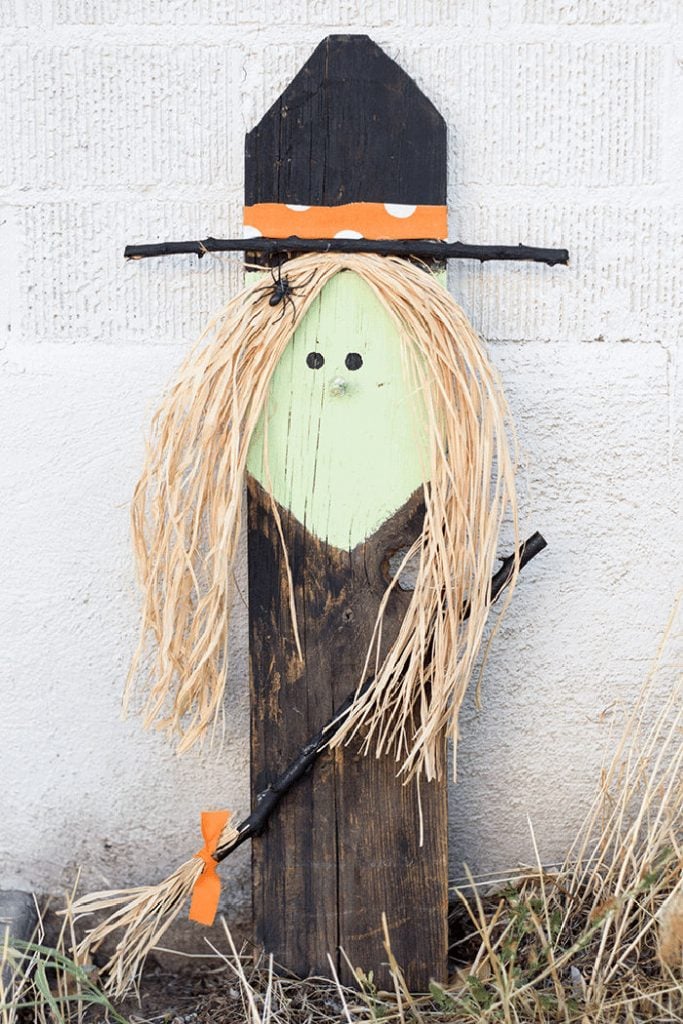 $5 Halloween Witch Craft in Less Than an Hour | So Festive
These fun little wood ghosts made me laugh when I first saw the picture. Don't they look full of mischief and fun.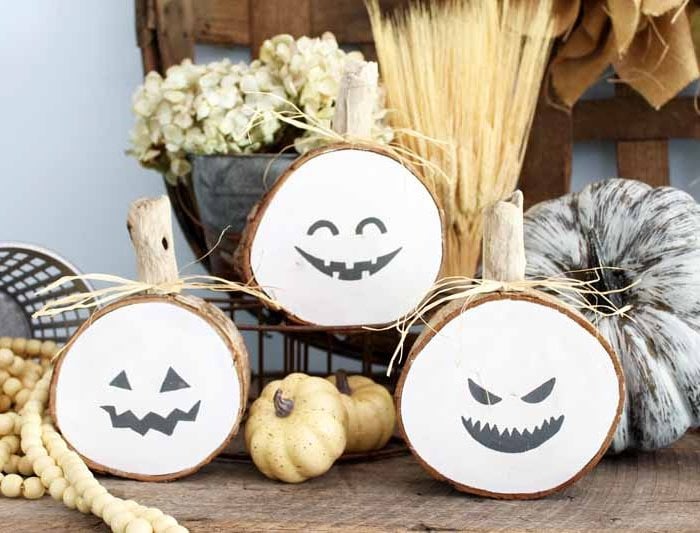 DIY Wooden Pumpkins | The Country Chic Cottage
All these different Halloween characters are so adorable and fun. I think they would make a great Halloween table decorations running along the center of a table runner. Adorable little characters.
Halloween Craft Blocks | The Keeper of the Cheerios
This BOO sign is so cute, minus the icky spider. The use of cobwebs for these signs is a fantastic idea. I cannot believe I have never thought of it, must be my arachnophobia. I am freaking terrified and I mean terrified of spiders.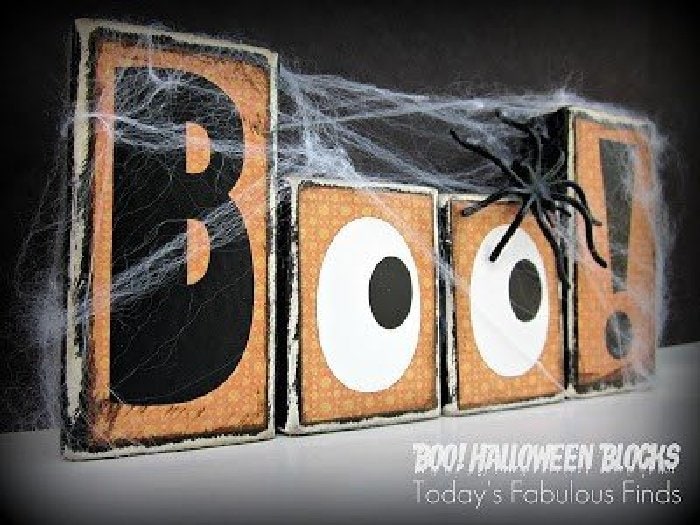 Boo Halloween Blocks Printable | Today's Fabulous Finds
There are so many ways to use old cutting boards, what a simple fun idea for Halloween.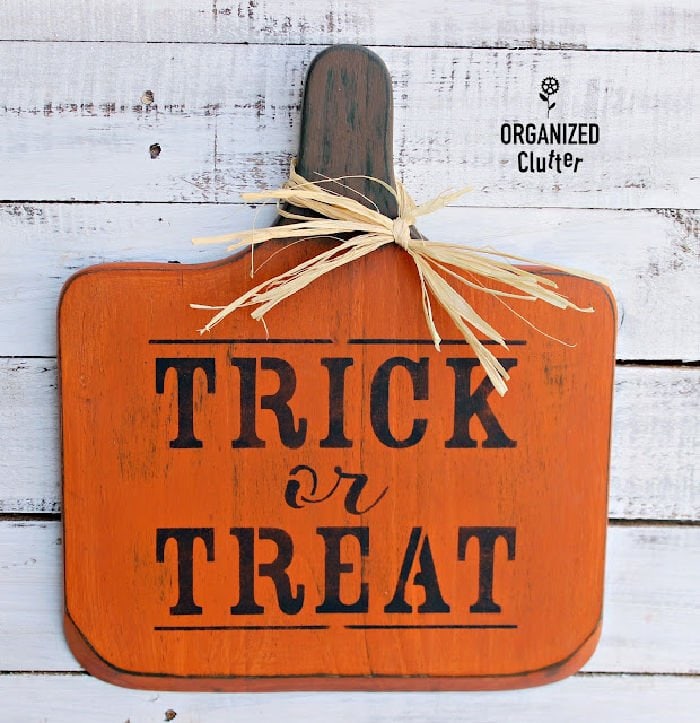 From Garage Sale Cutting Boards | Organized Clutter
This little family is so sweet and cute. It would be the perfect family Halloween activity. I think you could make these with one 2 by 4 and about $5.00 of dollar store supplies.
Wood Block Halloween Pumpkins | Ribbon and Glue
I made this Halloween sign with wood cat mascots named Hiss and Scratch. The sign is hanging from a plant hanger and the Hiss and Scratch wood cats patterns are included as well.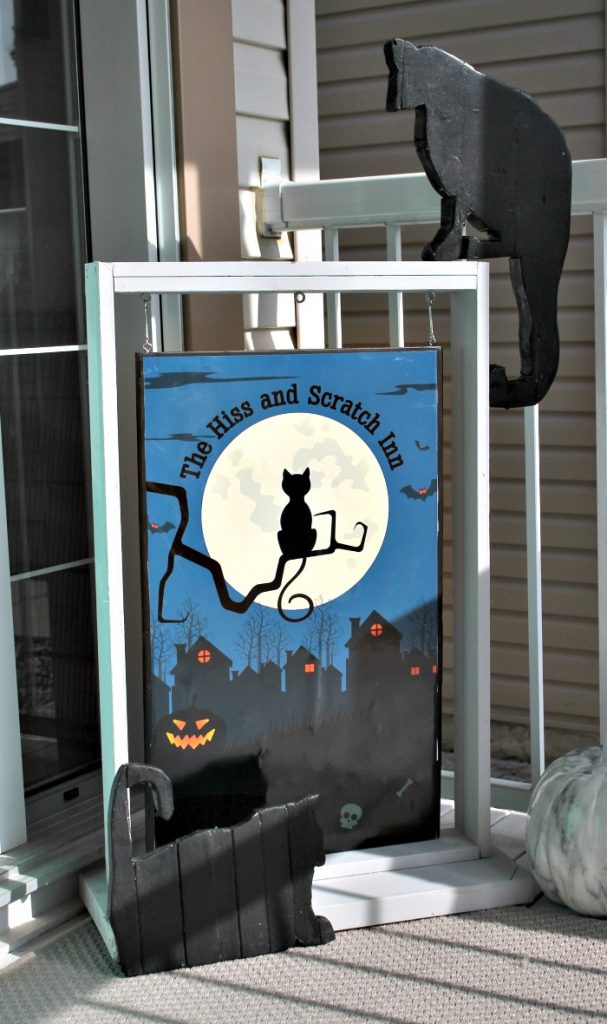 DIY Wood Sign and Cats with Free Halloween Printable | Pretty DIY Home
How creepy is this graveyard made with old pallets from Twelve on Main.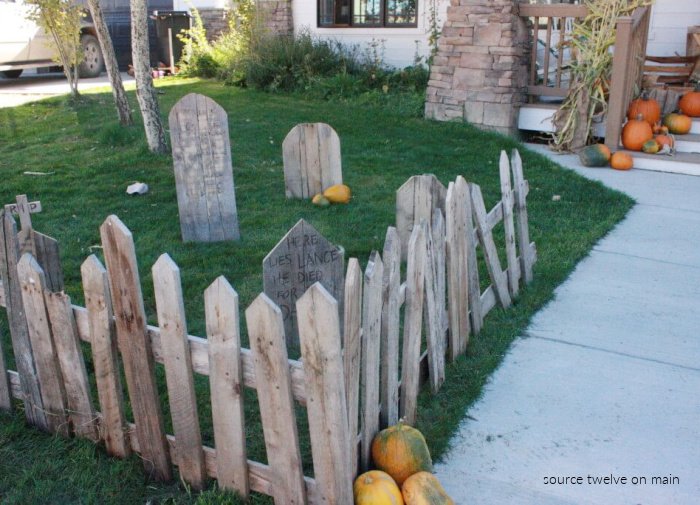 My Spooky Pallet Graveyard | Twelve on Main
How fun is this wooden Halloween village idea, what a fun way for children play trick or treat while they wait for Halloween. One of those ideas I wish I had thought of when my sons were little.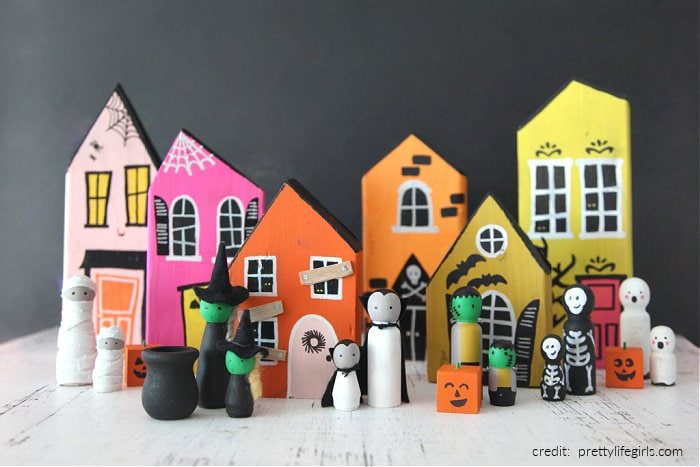 How to Make a Wood Block Halloween Village | Pretty Life Girls
Affordable Halloween decorations and scrap wood go together like Witches and brooms. Such an inexpensive and fun way to have a one of a kind house for Halloween. Check out this simple how to for DIY Candy Corn.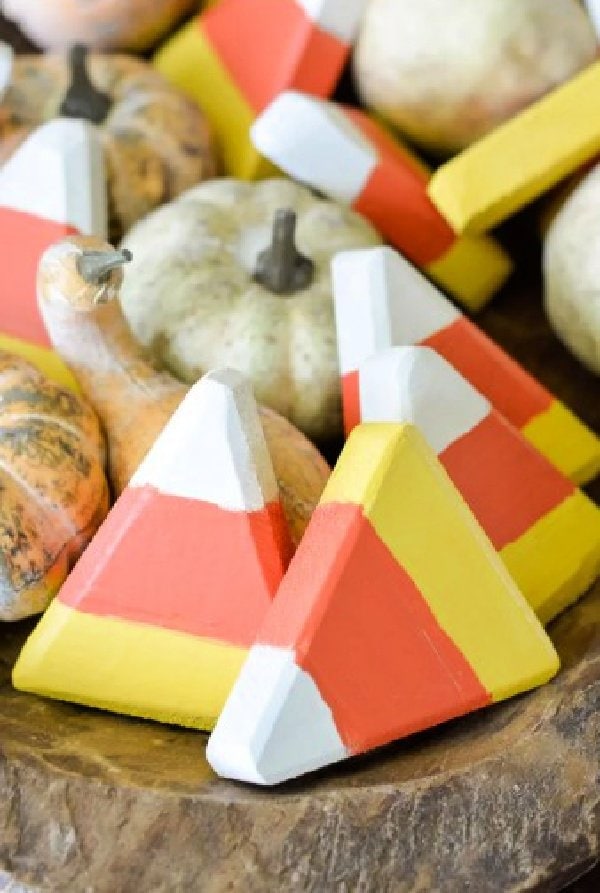 DIY Candy Corn Decor | Farm Life DIY
These mod podge Halloween Blocks look good enough to be in a high-end shop. Finding the graphics will be the hardest part, I would start by looking at the Graphics Fairy, Pinterest for free printables, or a scrapbook store. They are likely to be a bit more expensive to make, but I bet to buy they'd be expensive.
DIY Mod Podged Halloween Blocks | Mod Podge Rocks Blog
These crate pumpkins are so cute and versatile I want to run out and see what scrap wood we may have in our stash. A great way to use up some bits of pallets, and sood trim pieces.
DIY Crate Pumpkins | Crafty Morning
Simply Crafty Life shares a tutorial with everything you need to know to create this and a couple other Wood Halloween Houses. They are all adorable and affordable.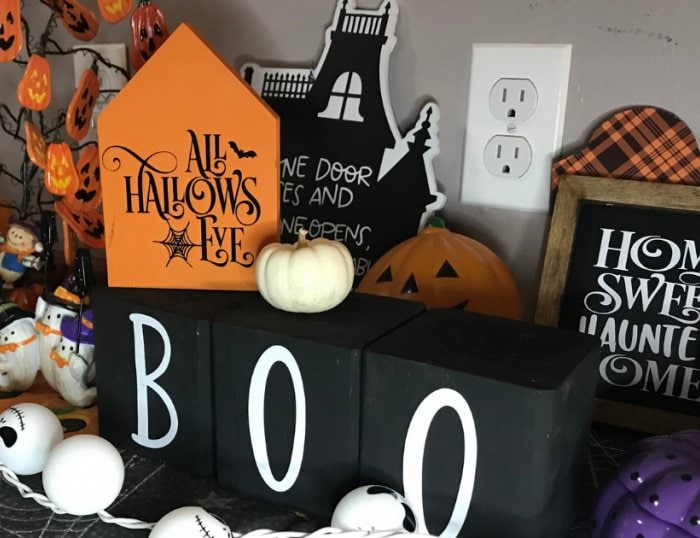 Cute Halloween Houses Halloween Wood Craft | Simply Crafty Life
Not sure which one you want to make? Pin it until your ready.