Before and After Nightstand Makeover
We are redoing our bedroom on a tight $500 budget and we only have one nightstand. We chose an antique cabinet I had previously chalkpainted for a lovely printer stand to makeover into a nightstand.
This nightstand is really pretty with lovely detailed legs and embellishments, it deserve to be upstairs instead of hid in our too cold basement craft room. The problem was the chalk paint.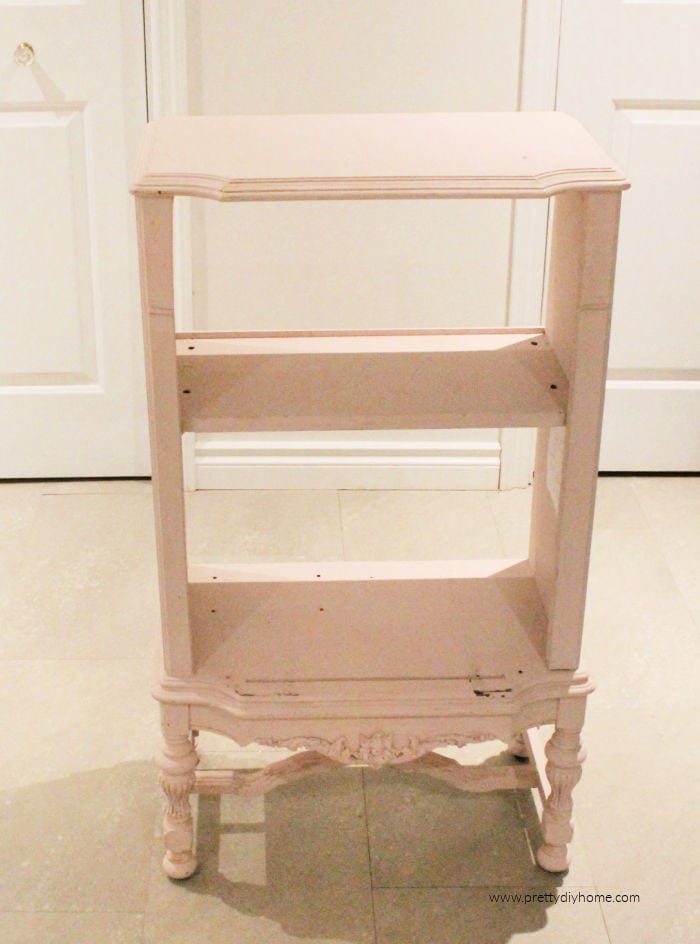 How to Strip Chalk Paint to Natural Wood
Can you strip chalk paint to the natural wood? Yes you can! I did not think it was possible, but asked around and checked out Pinterest and decided to give it a try. Surprisingly the process is very simple. But it is lots of work, especially if your furniture piece has lots of pretty embellishments like this blush pink painted printer cabinet has.
The process is pretty typical of furniture stripping with a little extra effort in crevices etc. Let me show you all the steps Hubs took in stripping this piece down to a natural wood surface. Full credit goes to Hubs on this makeover, he took the challenge while I was working on the computer beside him.
Supplies for Stripping Chalk Paint
Paint Stripper
Wire Brush
Large paint brush ( low quality is fine)
Small artist brush (low quality is fine)
120 and 150 grit sandpaper
Rags
Start with using your favorite regular stripper. I love Citristrip, but with the American border being closed to Canada for well over a year there are no much needed shopping trips south for us and I ran out. Hubs used Heirloom Pure Paint Stripper instead. It works but has got a strong smell. If you have access to Citristrip I would try using it instead.
Whatever stripper you use, brush a thick layer on the cabinet surface. Then cover it with plastic wrap to prevent evaporation. Doing this not only makes the job wayyy easier, it keeps the stripper from evaporating and a little goes much farther. Leave it to sit for an hour, using a paint scraper remove the paint. It lifts right off like regular latex paint, it shocked me that it worked. Yeah.
If your furniture piece has curves or embellishments like ours does, use a wire brush to scrape out the small tight areas .
Then dip a paintbrush in more stripper and use the bristles to wipe any extra bits of paint out of the way. I like to use little dollar store paint brushes for this.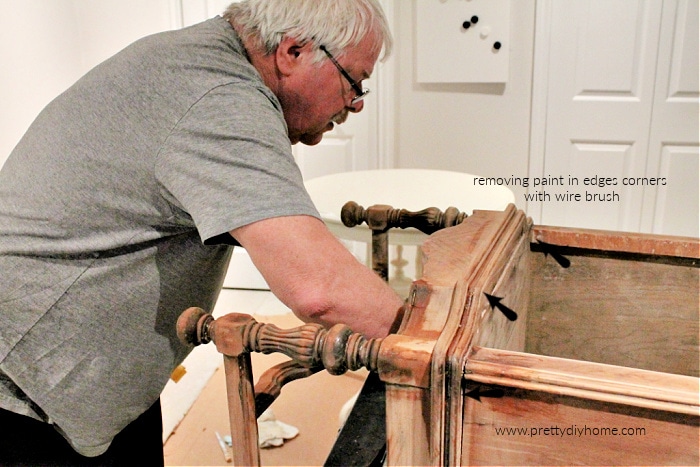 Turn your dresser over and repeat this until all the furniture sides have been done.
Once he stripped and scraped the furniture the first time, the majority of the chalkpaint was gone, but he repeated the process once more to finish removing the chalkpaint and the majority of the origional antique finish.
Again, using a wire brush dipped in stripper work off the remaining little bits of paint. When the brush is full of little paint bits wipe it on a rag redip and keep working. This process is repetitive and took him a couple of hours. Like I said its not hard, but it is work.
By this time all the paint has been removed, but their were still darker shades especially in the curved and grooved areas. Hand sand all surfaces with 120 then 220 grit paper. For the grooves we folded the sandpaper into little sugar pack sized bits s and then worked the edges and corner point into the tiniest of spaces.
Once it was all done, wipe it down with a damp cloth. Its sanded and ready for staining, or bleaching.
Beaching the Side Table
You will need a Brand Name Household Bleach, and an old brush.
I did lots of reading on various ways to bleach wood, unfortunately in Canada none of the products were readily available so we ended up just painting on regular strength household bleach. It did lighten the wood significantly, but not the very dark corners.
Place your side table on plastic covered with cardboard to protect the flooring. I suggest the garage for this. Make sure your work area is very well ventilated.
Paint the wood with the bleach avoiding runs. Let it soak in overnight. Sand with 150 grit sandpaper, and rebleach until the wood is light enough.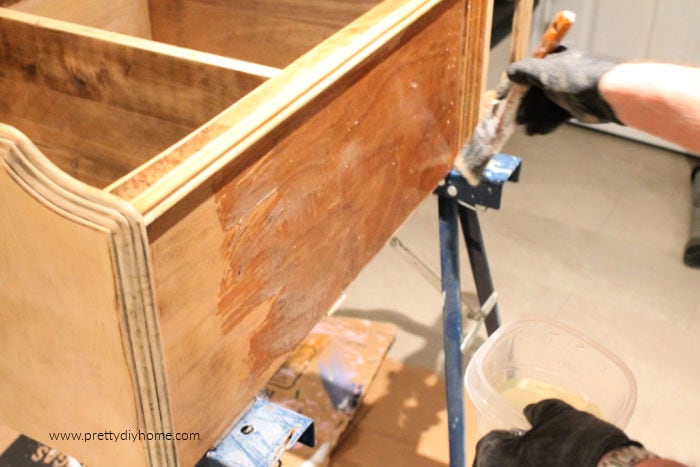 This is how our wood looked once bleached. I like the light parts, but not the dark spots. I would have preferred to remove the dark spots, but it was too stubborn, so I used two tbsp of water and one tbsp of Fusion Paint picket fence white and lightly white washed it.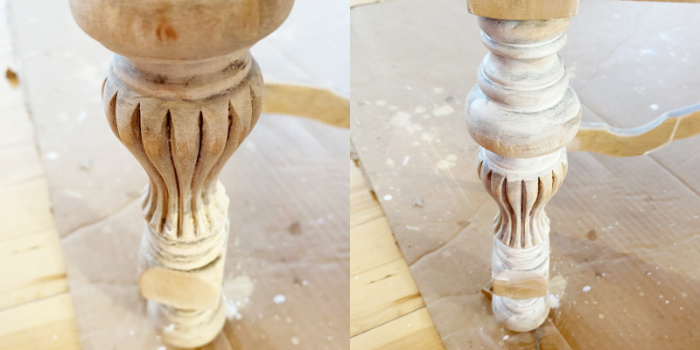 Once the corners were white, I used 150 grit sandpaper to distress off any white paint I didn't want.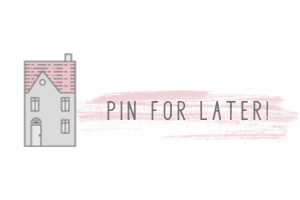 Related Posts
Bright white farmhouse decor is always welcome in our house. Here are some other simple farmhouse makeovers that match this nightstand.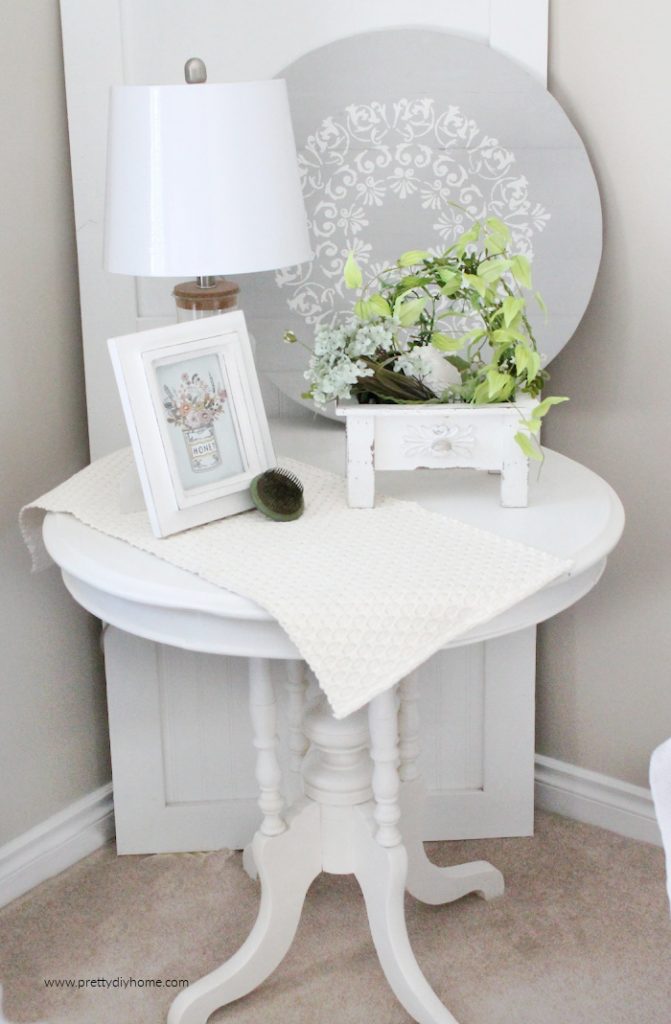 Round Farmhouse End Table Refinishing
This little white farmhouse table riser is made with dollar store beads, and a precut wood round.