Using Books to Decorate
Have you ever thought about decorating with books? Other than a stack of pretty coffee table books curated to look nice, but inexpensive thrift store books that with a little effort become usable again.
Recently I purchased an old secretary and the lady wanted to get rid of the old encyclopedias she had stored in the cabinet. I was only too happy to scoop them up.
When I excitedly showed Hubs all the wonderful old books I got for free, he thought I had lost my mind, but he just accepts they will be a new project. If you're not aware I promise that old ugly books have all kinds of decor uses.
I am going to share with you several different decor uses for old books and then a quick tutorial on how I updated the books in the photos.
h
Use Books to Add Colour
My favorite way to use books is to add colour. I love neutral décor especially white décor, but a pop of colour really helps add contrast and can make the white décor look even more white and bright.
c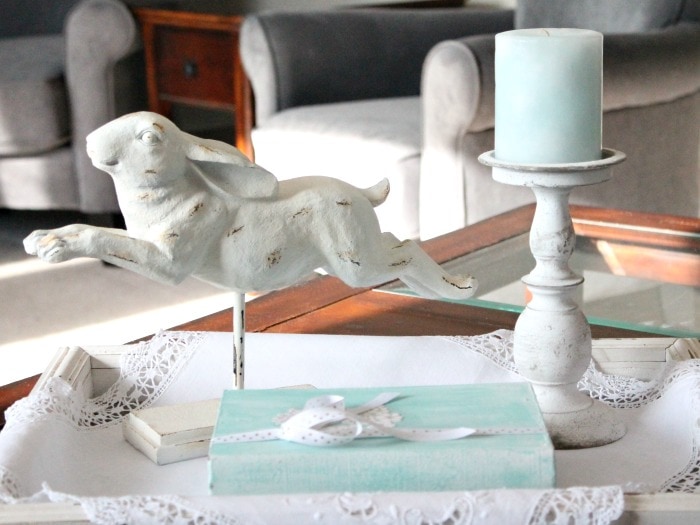 gh
Books are also a very inexpensive way to update your colour scheme, this year I am updating our interior décor to match the aqua exterior décor I updated last year. Adding aqua coloured books is a simple inexpensive way to introduce aqua into the new interior colour scheme.
Books are Perfect Risers
Use books as risers to add interest to displays, or height to a backdrop. I often use books to reuse a set of matching candlesticks, you can switch them up by giving one candlestick more height. I find it a little more interesting and certainly cheaper than buying another set of candlesticks in different heights.
h
o
Sofa tables are also a great place to add books as risers, I will use books to add some height to display pieces on the sofa table that otherwise would be hidden behind the couch.
Use Books to Add Dimension to Smaller Decor Items
If you have a décor piece that is too small, you can add size and weight to it by displaying it with books.
h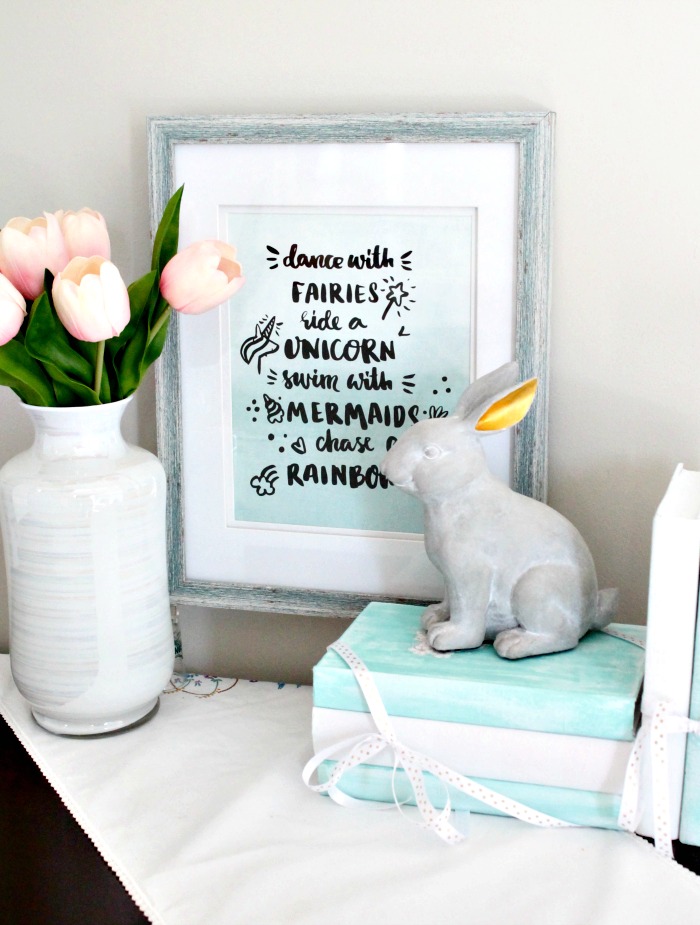 The rabbit would look diminutive against the taller background. Adding the books made it more proportional to the other decor items.
Organizing with Books
If you have a collection of books with a general theme consider putting them together on a shelf, or together in a basket like I have done. My favorite place for this is in my kitchen.
a
I keep my favorite cookbooks in a pretty basket above my fridge but I have this thing about clear counters. If you don't mind things on your counter think about putting some cookbooks in a basket with your cutting boards and some seasonal napkins.
Or in a little farmhouse shelf, this is where I like to keep my everyday cookbooks.
s


Other Decor Ideas for Books
Some other ideas that you may find useful. If you like French country décor, keep an eye out for French script wrapping paper. If you love Shabby Chic decor how about pink paper and lace. Farmhouse decor, you can use grain sackcloth or flour sackcloth. Then there is leftover wallpaper, sheet music and plain brown paper.. Were only limited by our imagination, so look for different items to try and see how you like them.
Simple Painted Book Tutorial
The books in the decor examples were really simple to complete. The books started out as a small encyclopedia set from the 1960s. They are well used and the pages were very yellowed. You could read them I guess, but I certainly never will.
Supplies
[one-half-first]
White chalk paint
Aqua chalk paint
Small paintbrush
[/one-half-first]
[one-half]
Paper cutouts & mod podge (optional)
Ribbon
Unwanted hardcover books.
[/one-half]
If your books are yellowed like mine you will want to start by painting the book's page edges white. Let dry.
w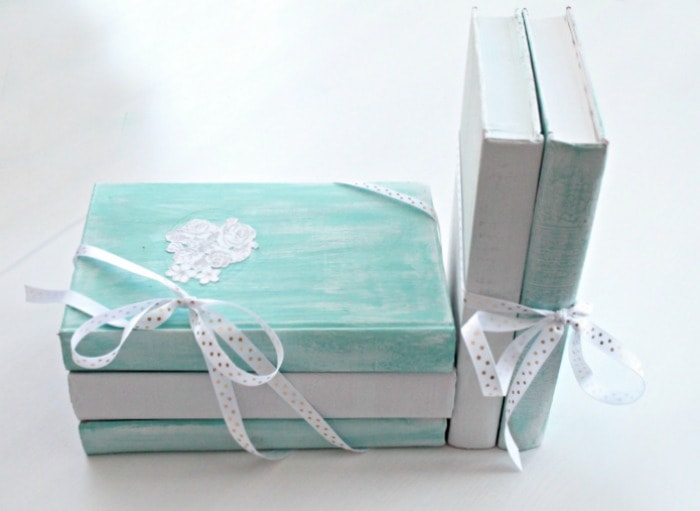 f
Paint all the surfaces of each book with white chalk paint, let dry thoroughly. Repeat with a second coat of white paint.
Once dry, dry brush the books with the aqua paint. Dip your brush lightly into the paint, dab off all the excess onto a paper towel.
Once you have just a tiny bit of paint left on your brush bristles, paint the book with feathery light strokes. Repeat until the book is covered. If you add too much blue paint, touch it up by dry brushing with a little white paint.
e
f
After the books are dry you can add some paper cutouts using mod podge. If you don't have mod podge you can just apply them using white glue. These cutouts come from a wedding banner I found at the dollar store.
I did not finish these books with waxes or poly or anything else at all. If left them as they were.
I made three turquoise coloured books and left the other two plain white, I chose to make two stacks of books adding ribbon to them like they were gift boxes.
I love preparing for Spring decor, even if we are still snow covered. How about you?

s