Cheap Fall Decor Ideas That are Beautiful
Best Cheap Fall Home Decor Ideas with How Tos
Wondering how you can make Fall home decor cheap and still beautiful? I sure was. Whenever I see all that beautiful Fall decor with beautiful fall branches, faux pumpkins, and large fall displays I feel a twinge of jealousy. We simply cannot afford to have beautiful displays of faux fall branches, tubs of fresh Mums, and the medalta crockery I want these year. I went to look at dollar store branches and they work alright for small touches of colour and I did buy a few ceramic green pumpkins and craft supplies, but I am not capable of making a large arrangement with them. I did come up with a few cheap fall decor ideas that I will share, and as always hope you find them helpful. Lets begin with fall greenery.
Fall Greenery Ideas
You may laugh but I thought and thought about how could I get some large fall foiliage branches in soft oranges and greens. I took out some old tall teal coloured branches but felt weak at the thought of replacing them all individually from dollar tree branches. I am a bit embarrassed to admit it took me a few days to think of harvesting real branches for my Fall decorations.
Preparing Natural Fall Branches for Indoor Use
The price is right when using natural fall branches but there are a few things to consider when using real branches in our fall decor. Here's what you need to know.
Select and Gathering the Branches
The first thing to consider is if you have permission to gather the branches. We live next to a nature park full of gorgeous greenery, I don't think the town would appreciate me going out and snipping branches off any of the trees or plants. Close by and I wouldn't actually harm a the plant, but people can be protective so I decided against it.
As I live in Alberta we have all kinds of pipeline right of ways that your allowed to use for walking dogs etc. Its a little bit of a drive to the nearest one, but I grabbed a bag to carry the branches home, my clippers, some gloves and our dog and went for a walk. It was a fantastic way to spend an hour outdoors enjoying the last days of summer in Canada. Other ideas are road right of ways, your yard, or ask a friend or neighbour if you could have a couple of clippings.
I knew I wanted tree branches that were a couple of feet tall, and had multi coloured leaves. While walking just look for branches that catch your eye. Making sure not to too much off of one plant and wearing gloves I snipped off a branch. Here is one of the clipping added with a free fall kitchen printable and a dollar store pumpkin.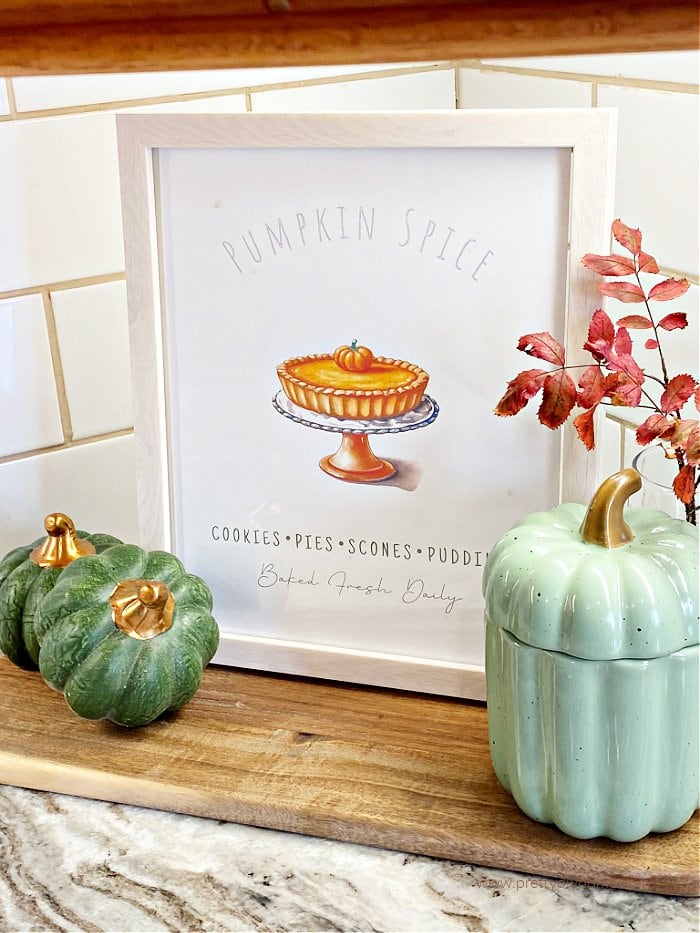 Before Bringing Your Fall Branches Indoors
Before bringing wild outdoor branches inside check them outside before bringing them in. Look for bugs especially, or eggs on the leaves. If you find any I would just leave them outside. Its not worth bring infestations indoors, or spraying them and bring the chemicals indoors.
Cleaning the Fall Branches
Even florists inspect, clean and trim growers flowers before using them. We need to do the same for real branches. Remove any leaves that don't look perfect, little bits of bark etc. Trim the branches if necessary.
To clean the entire branches fill a tub with warm water and submerge the branches. I used my bath tub. Let them sit in the water for a few minutes to drown or evict any insects that may still be hiding. Pull the plug on you tub to remove the water, leave the branches for a couple of minutes to dry, and then gently spray them with mild soapy water. Set aside to dry and they are good to use.
Place water in the vase your going to use and then measure the height of the water. Trim off any secondary branches and leaves that are beneath that mark. You don't want small secondary branches and leaves in the water.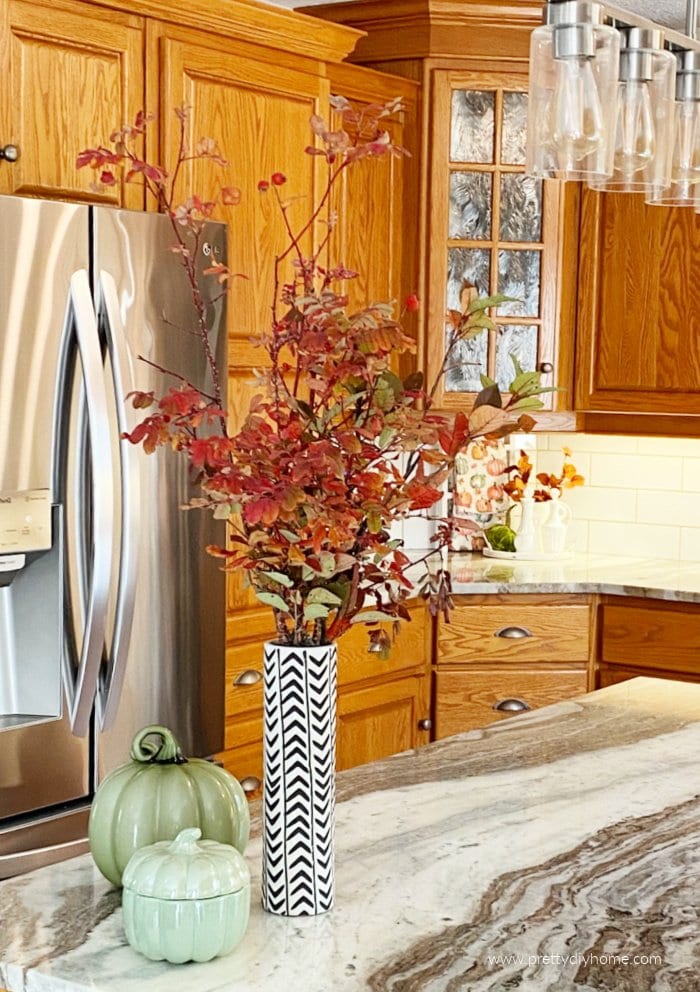 Finally you want to cut the end of your branches on an angle. Then you cut a strip 1 to 2 inches up into the branch, and smash it with a hammer. Sounds mean I know but it helps the water diffuse into the branch.
How Long do Fresh Branches Last
I did some looking and couldn't find a specific answer. Generally branches with thicker bark last longer than those with thin barks. Different varieties last longer than others and it depends on other things like house temperature. I suggest changing the water every couple of days, inspect the branches and clip off anything that seems to be whithering. By doing this most fall branches will last two weeks.
Other Natural Elements for Cheap Fall Decor
Real pumpkins and ghourds, even squash work for Fall decor. My fall porch isn't ready yet as its September, and I am waiting for my pumpkins in the garden to grow more. I grew green pumpkins this year especially for my fall porch decor. They are getting stacked on my porch and wrapped in pretty lights. I will share the porch once done. Other ideas are apples and pears stacked in a bowl. The colours look nice on the counter with a pretty towel and done.
Cornstalks, we also grew these in our garden, but I am saving them for Halloween I think. Check out fall cornstalk decor onlines for more ideas.
Hay Bales are great if you live on the prairies like I do. You can get them for cheap especially if you have a neighbour you promise to return them too.
Grain stalks you can gather them just like the leaves, I have a post on how to dry wheat for decorations a couple of years ago, here are the bundles this year on my mantel. The mantel isn't finished yet I will link it once the book page garland is finished.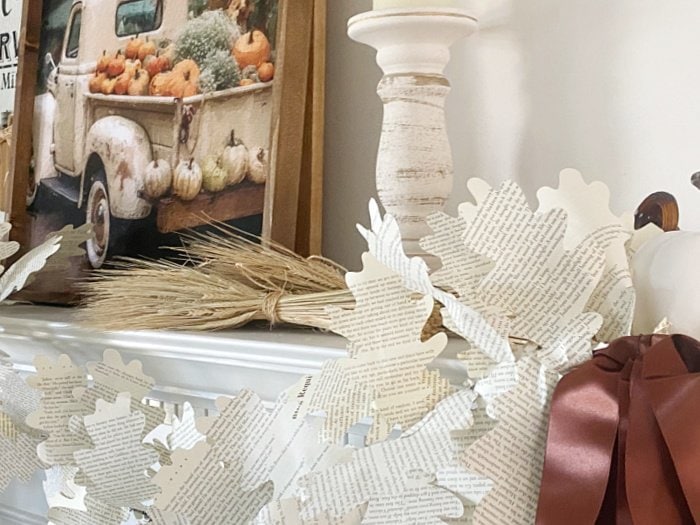 Sunflowers, are another suggestion, but again for real sunflowers you need to be aware of the pests. If you don't have a garden real ones are always much cheaper than the fancy purchased ones are.
Typical Tidbits for Decorating on a Budget
I am hesitant to repeat the typical budget decor ideas, as I think we all know them. They are true though, so I am quickly repeating them.
Dollar Tree Decor
For my fall decor I use dollar tree decor sparingly, and use some craft supplies to DIY fall decor. When I use it I make sure to surround it with the more expensive decor, or a beautiful decor find. The hop branches in this image are from a favorite local gift shop, if you want to make the fall plaid pumpkin it is an easy update from a dollar tree wood pumpkin.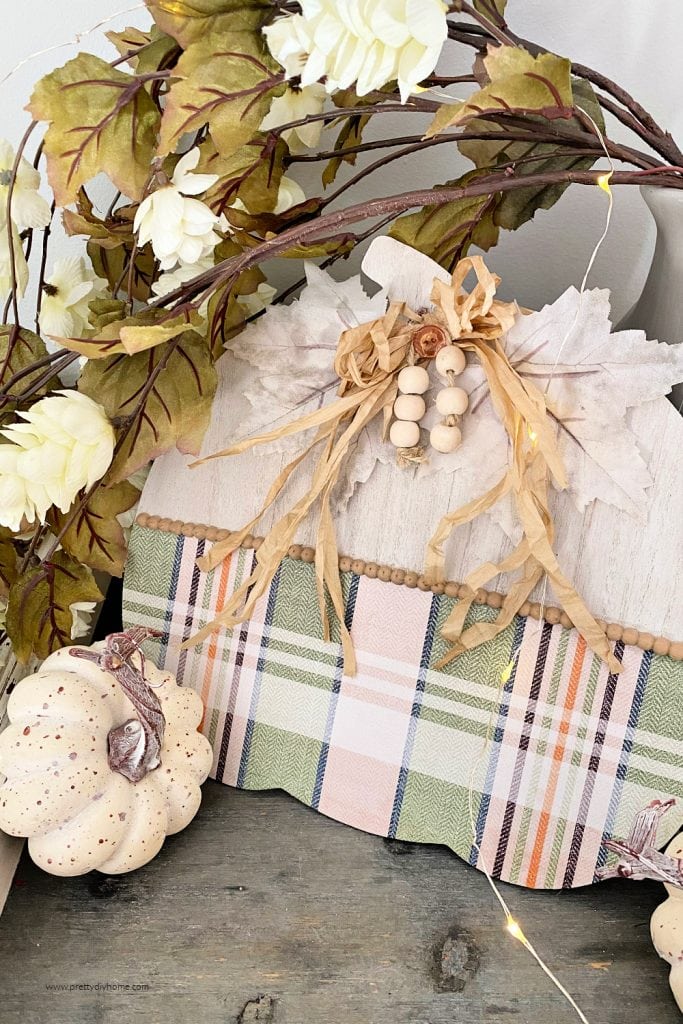 Don't forget to check out their towel section as well, I am not crazy about the bright oranges etc, but I did find some soft striped green towels that I made into a pumpkin, you can also use them as a layer in your decor arrangements.
Garage Sales, Thrift Store Decor
With some looking and luck you can fall branches at both garage sales and thrift stores. If you find one you like I suggest using a small paint brush, wetting it with soapy water and brush the leaves clean.
I recently found an antique store that has some vendors with really good prices. I saw two of these dark brown large glass jugs one for $20 and one for $15. Another vendor had this one you see in the picture. Its olds enough the cap it solid metal, and it was $2. The bottom still had lots of old wine residue in it. Three days of soaking the bottom with a mixture of hot vinegar and Dawn soap. Then I used the spray washer to get the rest out. The greenery is dollar store, but I love the colour and how it hangs in the jar.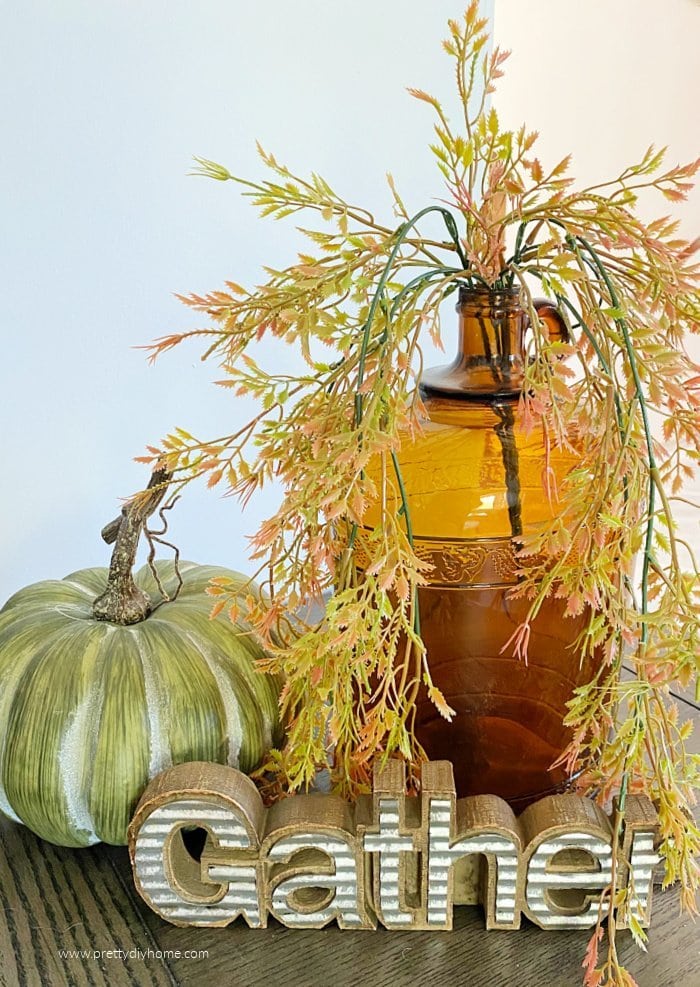 Vintage and clunky is perfect for Fall decor, we all see the amazing diy fall decor ideas on Pinterest one year only to see them smaller and reproduced at a gift shop the next. Think anything wood, its already brown. Or heavy pottery, I am always on the look for sauerkraut pots for fall, no luck yet.
Shopping What You Have
I am 100% sure you know this, start with what you have in your stash. Even if its a small stash use what you alread have first. You can create some diy fall decor very cheaply albeit with some effort. I do that every year and it leaves my budget to buy something I really want. The gather sign above is one of those items, although lettered decor is no longer trending I love it none the less.
Candles and Mason Jars
Taking a mason jar, place a faux candle inside, add some fall leaves and wrap it with burlap or twine. So easy and pretty on a coffee table. I put this one together while writing the post, and placed it on the coffee table.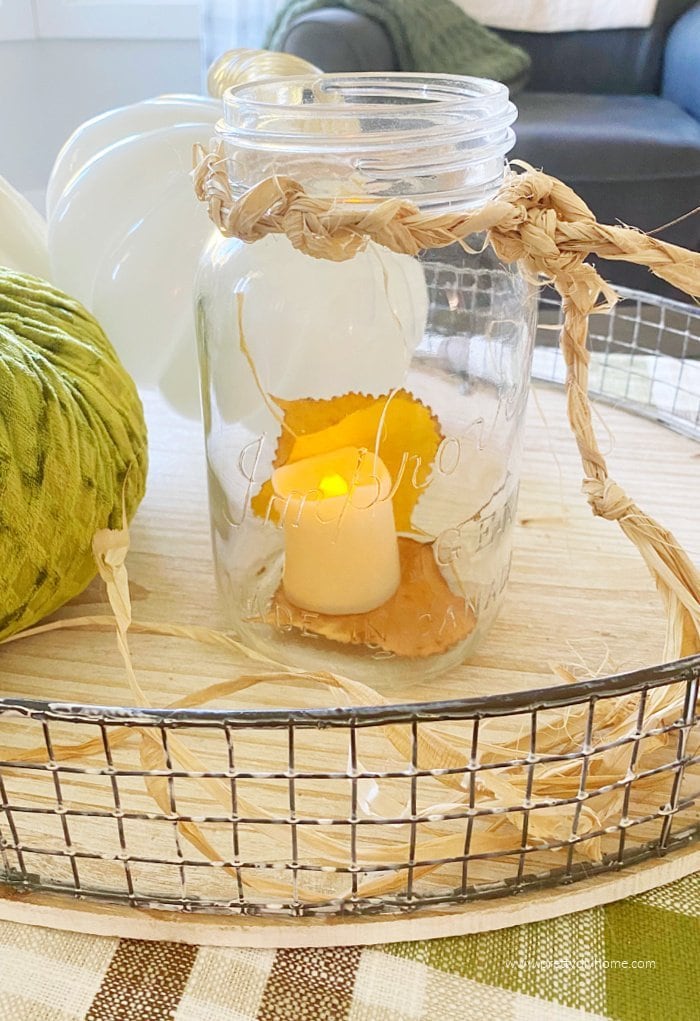 Twine, Burlap, Raffia, Mini Lights
You can purchase twine, burlap, raffia and mini lights inexpensively. Burlap makes a nice diy table runner, or book wrap. I love tying it around a ugly plastic plant pot as camoflage. I couldn't write a post about cheap fall decor without mentioning how great mini lights are for those lengthening evenings. The dollar store has some that I haven't boughten yet, but I have a set several years old from Costco that I use each and every fall. The lights bring magic to the simples fall decor arrangements, it has to be my favorite item for fall decorating. Have you tried them?
Free Printable Art
You can use the free printables provided or make your own. The Rise and Shine Coffee Printable and the Pumpkin Spice Printable both print out on letter size paper, then I used a paper cutter to cut them down to 8 by 10.
If you want to make some of your own for free, check out Canva (not an affiliate link) just sharing what I love. For my fall kitchen decor I purchased the two white frames from Home Goods, used Fall mugs from last year (we each pick one so mine don't match). Placed everything on a tray for a quick coffee area.
Tea Towels
Pretty tea towels are typically affordable as long as we stay clear of the kitchen specialty shops. Eons ago we build a simple easy to make farmhouse mini ladder to hang tea towels on. Its made with one 1 by 2 and square brackets, I love it for kitchen decor and have used it repeatedly especially when taking pictures. Take two pretty tea towels drape them over the ladder and you have a pop of colour anywhere you want on your counter.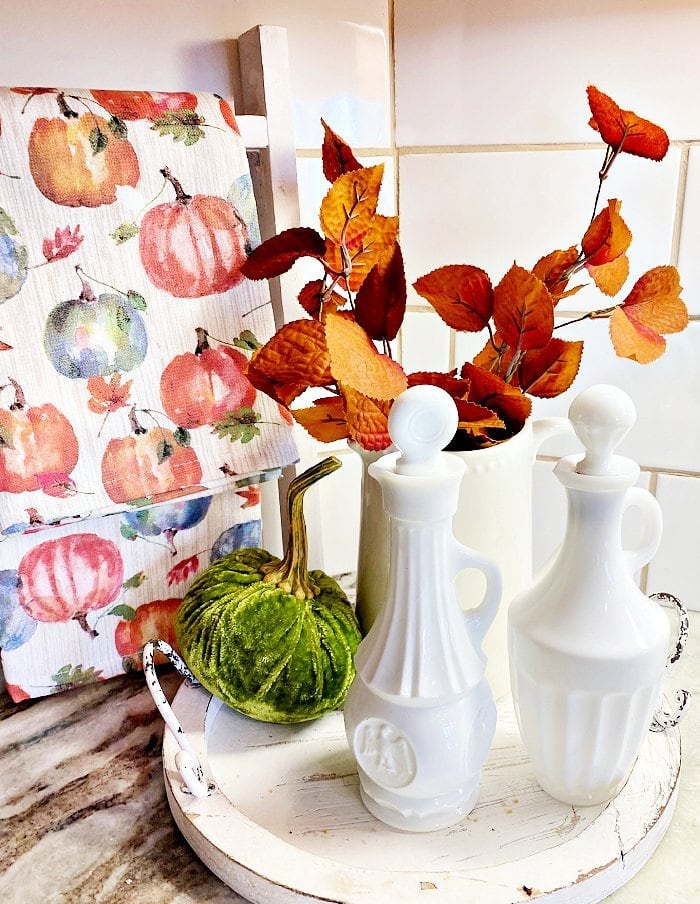 Fall is a beautiful easy to decorate for season, that comes too close to both Halloween and Christmas. Having cheap fall decor ideas can look nice with a little bit of effort. I prefer to be frugal for both Fall and Halloween decorating so I am able to splurge on Christmas.