Cheap Ways to Update a Builder Grade Bathroom
We are finally done refreshing our entire top floor and I am over the top excited to share some of the simple ideas we created. Today I am sharing the first of several room makeover posts, starting with our builder grade bathroom makeover.
Our builder grade bathroom came with the cheapest light fixtures, dark laminate counters, a single bar towel holder, glued on plate mirror, and a low end faucet. We are slowly upgrading our bathrooms, and today I am sharing all the little touches we gave to our bathroom over a weekend and for about $600. Its not a complete demo but the boring builder bathroom is gone.
Planning our Builder Grade Bathroom Update
When planning a room update its always easier to grab a paint brush and just get going. Or allow Pinterest to inspire you and voila you have a mountain of to dos. With our home I am always hesistant to just fly at it, as we are always considerate of resale value, budget, and I am really stuck on having cohesiveness throughout our home.
When updating your own bathroom I think the first step is to spend some time deciding your own priorities and budget. Check out some ideas on Pinterest, look through some blogs for inspiration, and then make some choices. Through the years I have learnt I can have pretty much any One thing I want, but not everything. There is always next year. I am not saying the choices are easy, I always struggle with leaving something I want for another time. But it is always better to have a plan before starting.
Let me start with the things we chose not to do and why.
What We Kept
We choose not to paint the cupboards, I think they would look wonderful painted white, but we have lots of white painted furniture and I don't want everything to look madeover. Besides that all the other cupboards are birch and I am don't want to change the look of continuity throughout our home. Hubs always prefers wood, so it was an easy decision.
Last year we saved up and added granite countertops, and had to add a backsplash. Just like the wood cabinets, this tile is throughout our home, and I love the natural look of the stone.
I really thought about hanging pretty shower curtains that split in the middle along the edge of the tub. I even bought a push rod to hang them, but there isn't enough room between the toilet and the edge of the tub for them to hang freely. I wish there had been room, but cleanliness first. I mention it as it may be something you want to consider in your bathroom.
The flooring tile, was a hurdle. Hubs was Not willing to do it, and although I want some dark grey hexagon tiles, inspite of my best efforts he was not budging (yet lol) and the new stair bannister took up any budget we had for contract work this year, so the tiles are delayed. How do you deal with waiting for upgrades?
The tiles got a seriously good scrubbing with some industrial strength orange cleaner and that was all.
Paint Bathroom Walls
Goodbye biege, in every single room of our home. It is finally this bathrooms turn. Using drywall compound we repaired any holes, gave the walls a quick wash with TSP. We painted the entire room in three coats of Sherwin Williams Snowbound. Its much lighter and brighter and it matches much better with the granite, paint is always a great fix.
Builder Grade Mirror Upgrade
Instead of replacing aboring flat builder grade full sized wall mirror, think about adding a simple frame.
There are many different frame choices you can DIY for a builder grade mirror. We gave the mirror a basic frame using white wood trim. We spent a bit extra using wood trim, because of the possibility of water damage if we used the cheaper paper mdf moulding.
Measure your mirror for width and height.
Purchase two plain pieces of flat three inch molding for the sides based on the mirror height.
Make sure both the upper and lower moldings have flat edges top and bottom for they match squarely with the side molding (no 45 degree cuts). Our top molding is four inch molding, the bottom is a smaller three inch moulding. Measure both moldings to the width of your mirror.
Attach them to the wall with small nails making sure not to hit the mirror. Fill the nails holes, and paint. The moulding cost $60 for our mirror.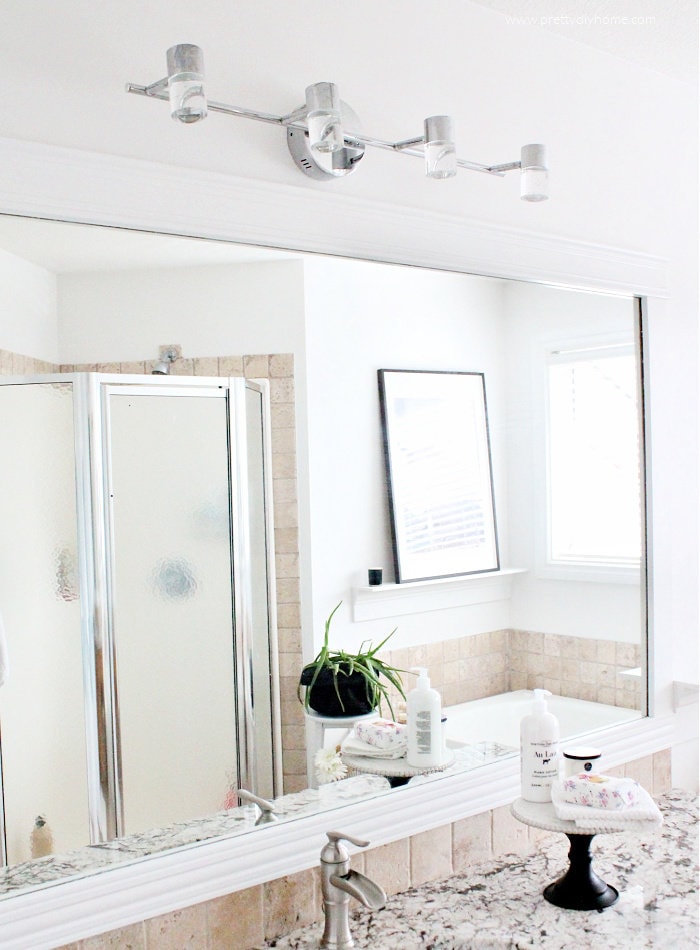 Its so easy, once assembled we painted the frame with Sherwin Williams Extra White and filled the edges with silicone. Its a subtle change, but fresh and clean and no longer screams builder grade.
Adding a New Light Fixture
We added the exact same light fixture to another bathroom last year and I really like it. Maybe we should have added a more farmhouse themed light, but again consistency matters, and I love the bubble lights we installed in both the kitchen and the other bath. The new light fixture was $150 at Rona Canada.
Waterfall Faucet Bathroom Upgrade
Check out the new waterfall faucet in the above picture. A couple of years ago we stayed in a hotel with a waterfall faucet. I had a wait and be persistent to get this upgrade, the catch was convince Hubs as he does the plumbing around here. Now that we installed the waterfall faucet we both love it. He found out it doesn't spray or make the bathroom any messier than the typical basic faucet styles do. We waited until it was on sale, its a Moen from Lowes and cost $150 on sale. So much nicer than the cheapo faucet that came with the house.
Peg Shelving for the Bathroom
The idea for shelves peg shelves began in our bedroom makeover. I love having the extra display space, and the ability to swap out decor in the bathroom. Especially when it has its own designated shelf and isn't in the way of getting ready.
This faux chicken feeder was in my stash, i just lined up all the perfume bottles, the bathroom sign is a new find from Urban Barn. Its a simple way to update the bathroom, but for the inexpensive cost I think it made the biggest improvement.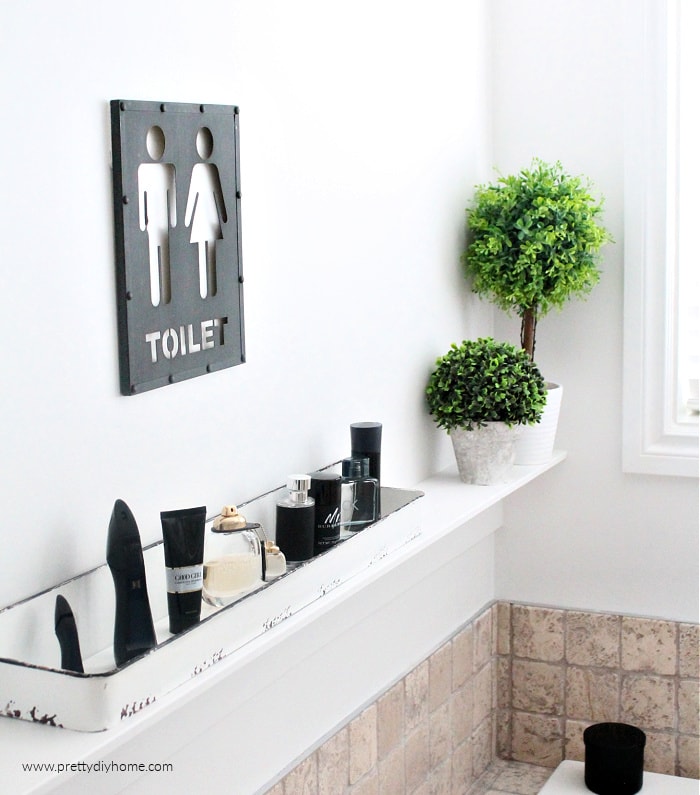 Adding Bathroom Art Work
On the second shelf I added a large Highland cow picture. I saw similar ones online for $250 and was not willing to pay that much for something in our damp bathroom. I found it online for $40 and placed in a large IKEA frame. He is so fun.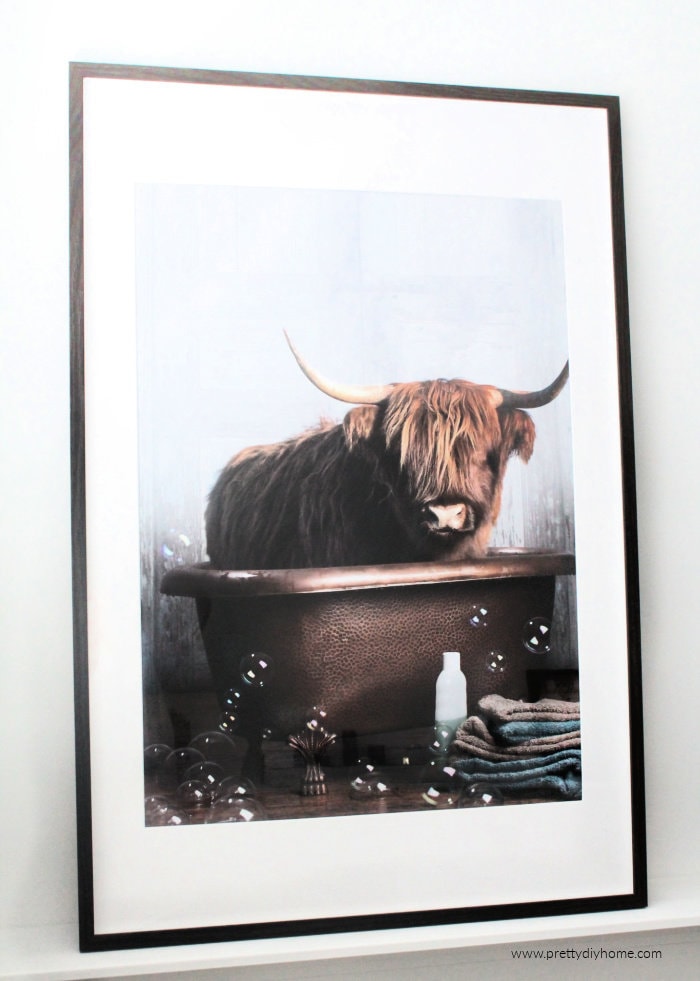 Simple DIY Towel Rack
Our original towel rack was over the large tub and nowhere near the shower that we use regularly. We removed the basic towel rack from over the soaker tub, and added this small DIY towel rack in a handy spot beside the shower. I love it,and because no folding is required I am able to convince someone to hang it up instead of tossing it on the counter. This was made from scrap wood, the back is a 1 by 6, and the top is a piece of molding from an old thrifted frame. The two hangers we purchased at a gift shop for $18.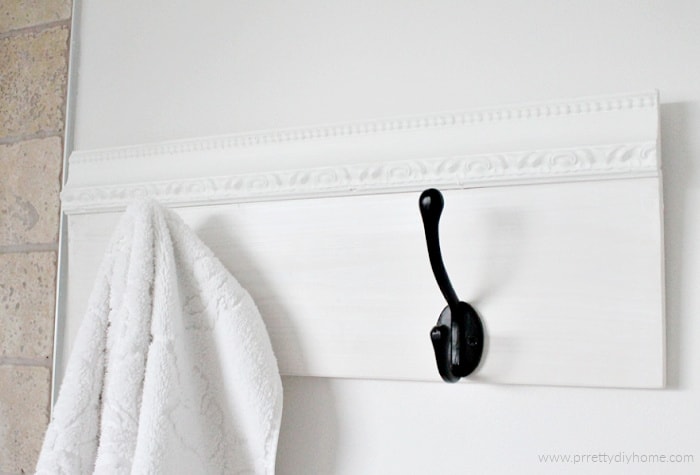 Farmhouse Stool and Plant Holder
This is a combination of two earlier blog posts. The stool is a garage sale makeover, and the little scented pouch with the daisy makes the bathroom smell nice using cotton balls and essential oil.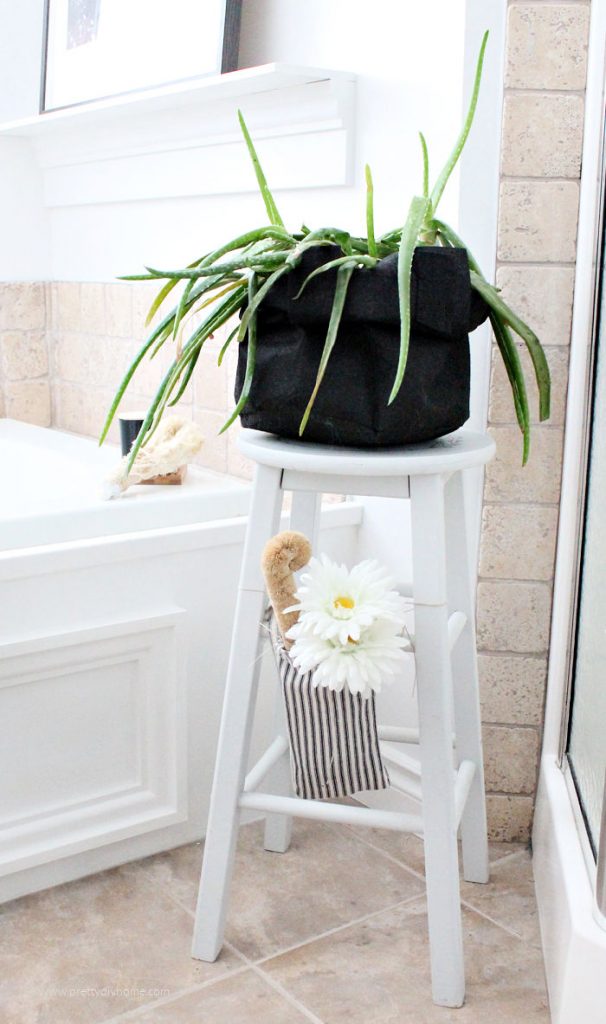 The flower pot was a turquoise blue so I wrapped it in a black felt outdoor potliner I found at the garden center for $4. I had considered sewing a round paper bag for it, but was thrilled to find one to purchase.
Simple Bathroom Decorating Final Touches
A couple of years ago I stopped using various colours of towel, now I consistently use white. White is easy to clean, it does great on the sterilizing wash cycle, and having one colour greatly reduced the amount of decor towels I had in storage, and eliminated the mismatching towels, handtowels and face cloths.
Our drawers are well organized with assorted small dollar store containers holding sorted toiletries including toothbrushes and tooth paste. Because the toothbrushes are in the drawer I don't need a toothbrush holder in our bathroom so I added a small black candle to this tray. I have two other black jar candles around the tub that I do burn. Having an elevated tray looks fancy to me, and I often splurge on pretty soaps at Home Sense.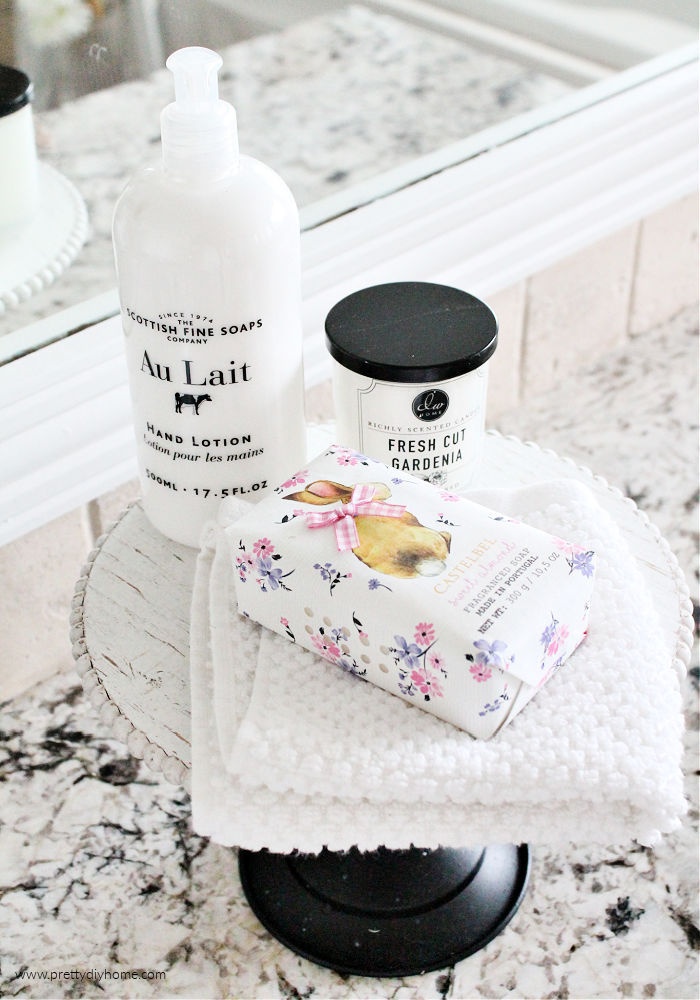 On the back of the toilet I have a little basket to hold toilet paper, and my collection of essential oils. They leave a nice scent hanging out in the basket, and it keeps the oils handy for adding to water or the scented bags on the plant stand.
I hope you found some simple achievable and inexpensives ways to update your bathroom on a budget.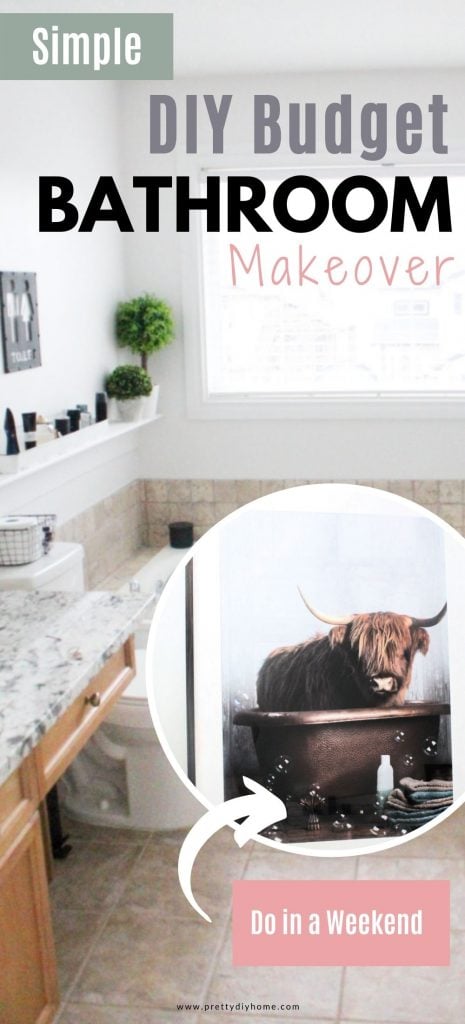 Some Other Bathroom Upgrade Ideas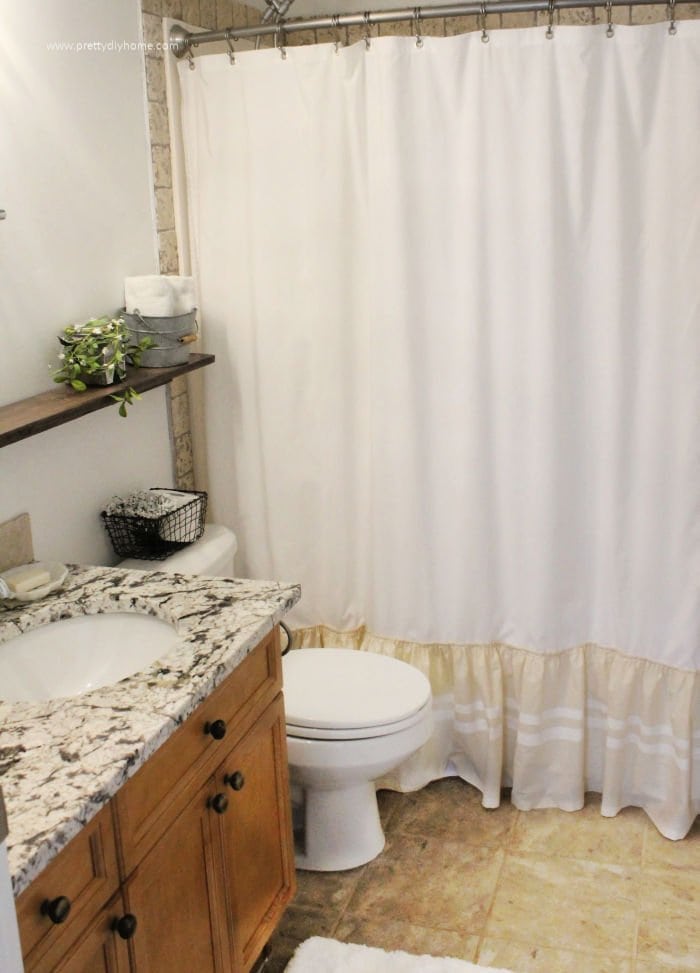 Easy DIY Farmhouse Shower Curtain
A money saving farmhouse shower curtain using an inexpensive basic shower curtain and adding a grain sack muslin frill to the bottom.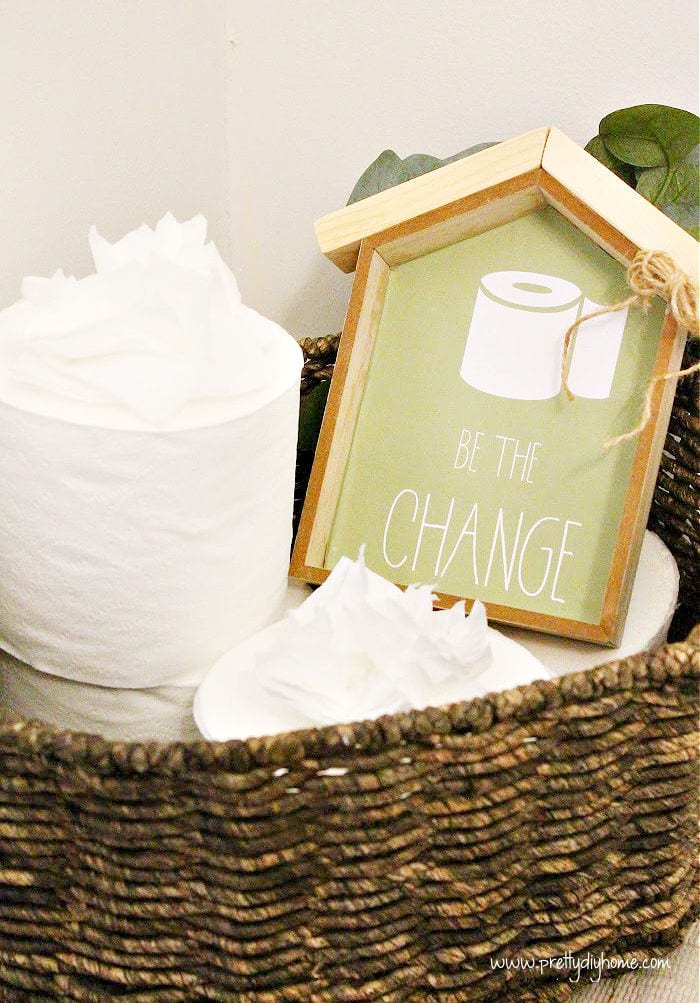 Dollar Tree Wooden House DIY with Free Printable Sign
Fun and whimsical signs for the bathroom. These signs are made using dollar store house frames and some free printables.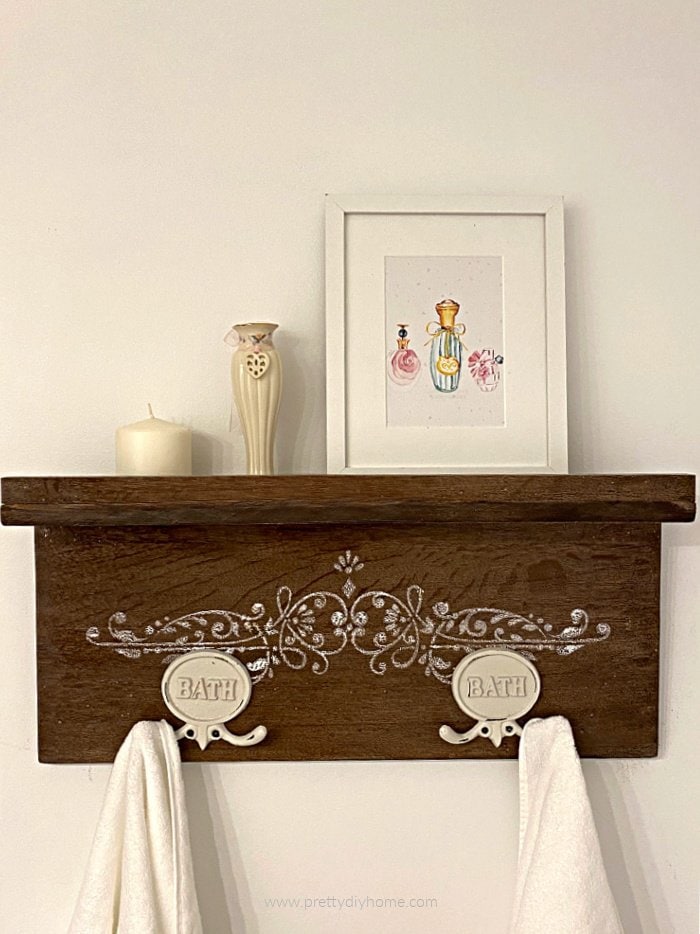 DIY Farmhouse Shelf for the Bathroom
Using wood from an old broken table we made a simple DIY wood shelf and towel rack for our tiny half bath. I love how it functions as wall decor, a pretty shelf and a towel holder.