Makeover Last Years Traditions into this Years Favorites.
Deciding on an annual Christmas theme and playing with new ideas is a lot of creative fun. So is browsing stores for inspiration and making over past years decor to fit this year's theme.
Sort through your Christmas stash, I bet you can find a bunch of stuff that can be revamped. Here are seven little makeover examples for you. I found some metal stars, a gold sleigh that didn't quite match so I had never used it. A sign from spring, a chalkboard, a pumpkin patch sign that was only lettered on one side, a little brown tray and a wooden organizer.
The Stars
In April I found a set of three metal stars at a garage sale of a home stager. They were basic brown and a little beaten up. Five minutes, a set of pliers and a little straightening with pliers and the dents were gone.
Next came two coats with some leftover very very light grey house paint.
a
a
The stars have a really nice texture. To emphasize the texture I choose pure white paint for the top coat which I applied lightly on the upper surfaces only.
a


a
With the paint still wet, I totally covered it in iridescent glitter and l let it dry overnight. Once dry I removed the excess glitter and recycled it back into the container. This process was repeated for all three stars.
Grama Kitchen Sign
I removed the silhouette vinyl and gave the sign a very light sanding to get rid of any glue residue.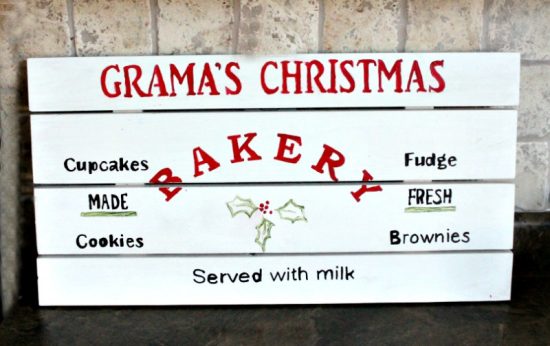 a
Using the silhouette I created the stencils in freezer paper. Using the stencils as a guide, I painted in the Grama's Bakery text. As the text for cupcakes, brownies etc letters were too small to paint, they were coloured in with a black jiffy marker.
Once I got to this stage I looked at the sign and it was missing something. Using a small paintbrush and some craft paint I painted the holly sprig in the middle.
The sign will hang above the stove for the holidays so I gave it one coat of varethane for protection.
Reindeer Sleigh
Reindeer are the theme for the upstairs living room this year. The sleigh was great but needed to be red. I had to purchase red spray paint and glitter. I applied two complete coats of the red spray paint, two for the top and two for the underside.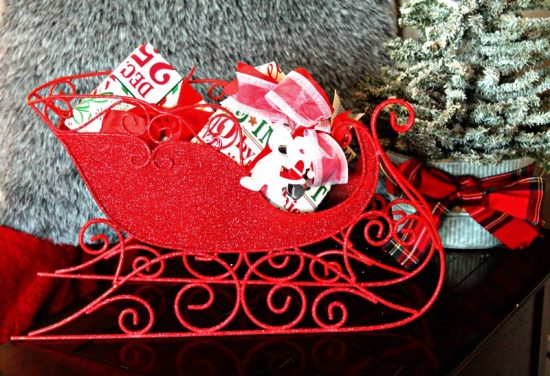 a
As I had to apply paint from two sides I was not able to use wet paint to adhere the glitter. I let the paint dry completely, applied spray-on adhesive and finally the gorgeous red glitter.
If you choose to update one of your pieces with glitter make sure to place your piece on top of parchment paper prior to sprinkling it with glitter. That way you can recycle the glitter back into the container.
Touch up any spots that lack bling with more glitter and let dry overnight before using.
Foal Chalkboard
To understand the saying on this sign I need to give you some background. Herman's horses live with the trainer as we are in the city. My dream is to have a small acreage with two fillies that never have to leave home. They can have oh so beautiful little foals. It's been a long term dream of mine I likely mentioned before.
My son will do anything for his girls. Every year I get the girls a horse toy of some sort and tease him that "if" he really loved them they'd find a live pony under the tree. I get a chuckle out of his annual groan. This sign is my way of teasing both of them.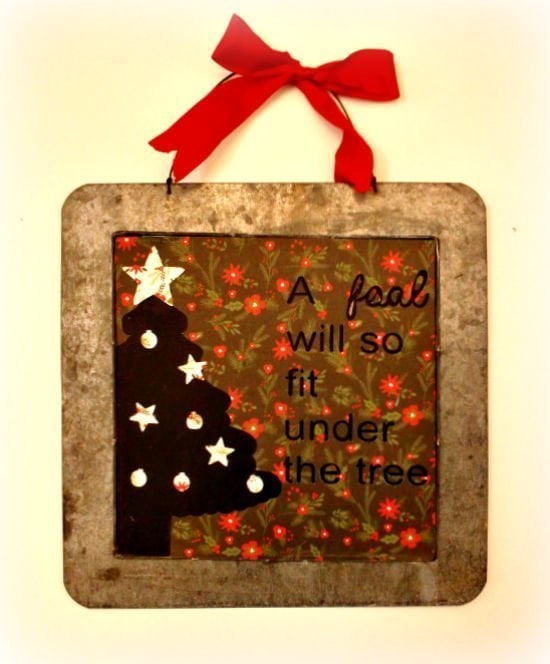 a
To make a cutout sign of your own. Create a design with your Silhouette, cut it out on card stock and place over your chalkboard so the black shows through. If you have a small chalkboard like this one that needs sizing, rub the edges of the board with white chalk, press the paper down on it to transfer the chalk, then cut along the chalk marks.
Sleigh Ride Sign
As I removed the horse theme from Herman's man cave for the holidays, I decided it would be a nice gesture to put them back in our room. This was a pumpkin patch sign painted on both sides with no lettering on the back.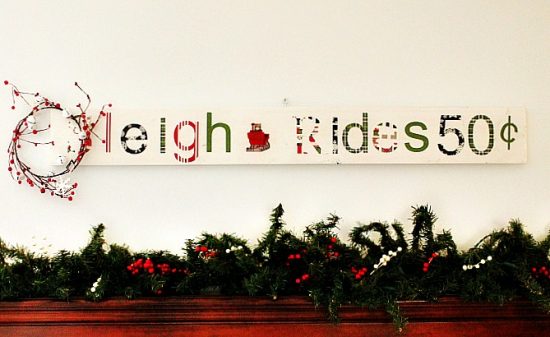 a
My silhouette has been working pretty hard the last couple of weeks and the blade has gotten dull. To make this sleigh ride sign and the foal sign match, I used coordinating paper instead of paint.
I designed the letters on the computer, printed them out on cardstock and cut them out with an Exacto knife.
Once your letters are cut cover the entire wood surface with Mod Podge. Apply Mod Podge to the back of every letter and place wet side down on the wood surface.
When all the letters are placed where you want, apply a second coat of Mod Podge to the entire surface. Let dry.
Little Red Tray
This little tray was a garage sale find for two dollars. It served as a coffee station for the fall in brown, but I was not enjoying having it on my kitchen counters.
a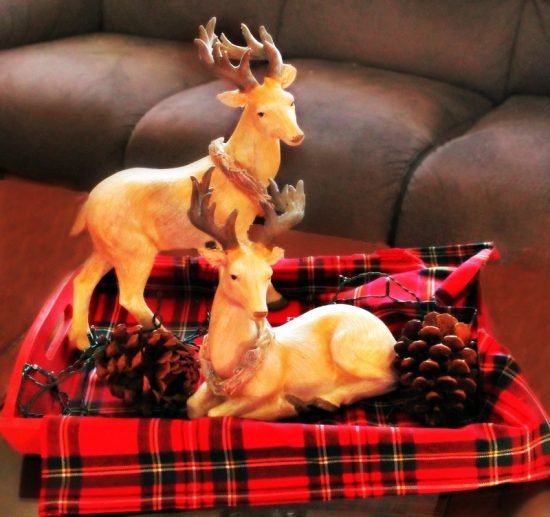 a
It is great for a little Christmas vignette so gave it three coats of red craft paint and one coat of semi-gloss varathane for protection.
Table Centerpiece
We do not have a dining room with a separate table. Because our table is the center of activity I chose to keep the centerpiece very simple and functional. I found this little stand at a garage sale for cheap.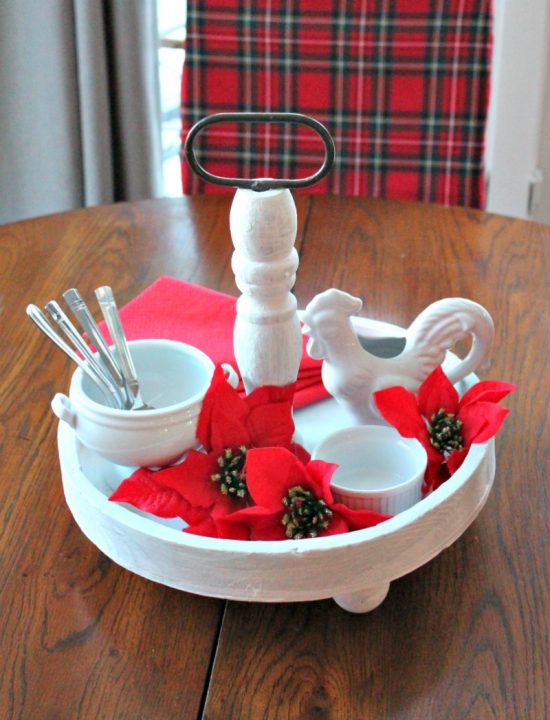 The wood is very light but sturdy. I chose to paint it white to bring white into the kitchen along with the red tartan chair covers. By filling it with a sugar bowl, creamer, spoons, and napkins its using valuable table space, but has a practical purpose. The handle makes the centerpiece easy to move out of the way if I need to.
a
I was able to make seven Christmas decor items to enjoy over the holidays. I hope I inspired you to see what you could makeover in your homes.