DIY Christmas Tartan Afghan Throw
A Soft and Snuggly DIY Double Sided Fleece Blanket Throw
During the winter months I have blanket throws all over the house; in the family room, the living room, the craft room, and every bedroom. This double sided fleece blanket with crochet edge is for our girl's guest room but I am sure it will find its way to the living room when they are here.
This throw to be extra warm, soft and cozy with double layers. The polar plaid fleece coordinates with my other tartan Christmas linens and pillow. A large piece of polar fleece is a tiny bit expensive, so I cut the cost by using a cheaper plain red polar fleece for the lining. You could even use a heavy flannel sheet if you like.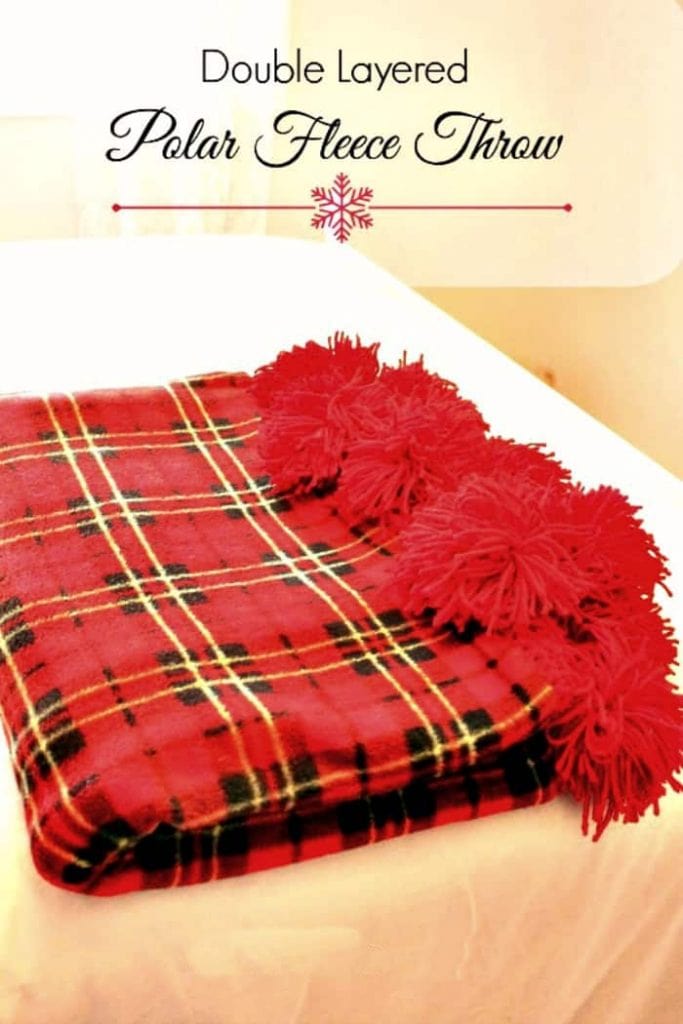 How to Make a Double Sided Fleece Blanket
Plaid Throw Blanket Supplies
1.5 yards (x2) of coordinating polar fleece
Coordinating thread
2 skeins of Size 5 bulky yarn.
Clear dental floss.
Decide what size you would like your plaid throw blanket to be. This one is 50″ by 60″.
Once you know the size you want for your fleece blanket, cut the fleece material 1″ larger on both sides to allow for seam allowances. (51″ by 61″)
Lay the plaid fleece good side UP on your working surface.
Cover it with the coordinating fleece good side DOWN.
Polar fleece is a stretchy material, its best to take extra time making sure the fleece is totally flat, and not stretched. Pin the two layers of fabric throughout to reduce the possibility of stretching. Being careful at this stage you avoid the puckering of seams and lumps you sometimes see in polar fleece throws. The next picture outlined the placement some of the pins with black circles so you can see how thoroughly you need to pin it.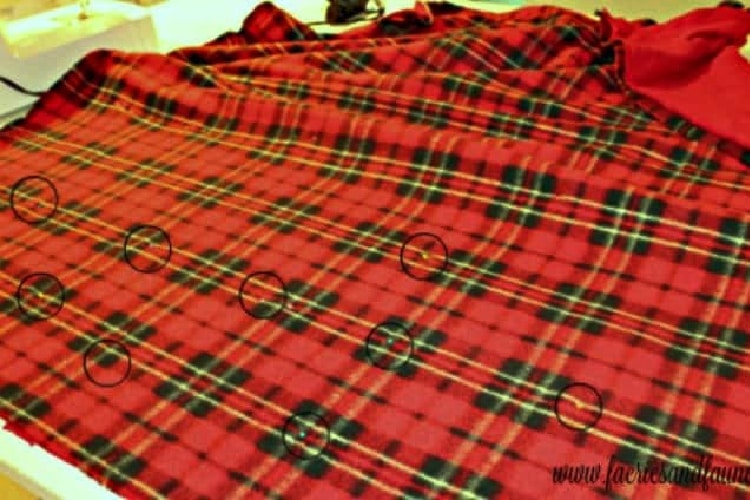 Sew the fleece blanket together, do the long seams first and check them to make sure the blanket throw is perfectly sewn without stretches, then continue with the short seams. Leave a 12″ gap in the last seam.
Turn the plaid throw blanket right side out by pulling it through the 12 inch gap you left in the last seem. Make sure to push out all the corners. Once turned right side out, pin the gap together and sew to close.
You can leave the blanket plain if you like it as is. This particular plaid throw blanket is a handmade gift for my daughter in law so I went ahead and added a decorative crocheted edge and pom poms.
Adding Crochet and Pom Pom to your Plaid Throw
Using wool, blanket stitch along the two short sides of the fleece throw.
Do 1 dc in each blanket stitch all the way across, ch 1 turn.
Do 1 sc in each dc across, tie off.
I am hoping Santa will provide me a lighting system, but until he does this girl makes do with what she has (Herman's mechanical flood lights) The Pom Pom how to video is a bit dark, but it shows I made my pom poms.
Spread your fingers to make the pom pom as large and fluffy as possible.
Hold the end of the wool between your thumb and palm. Wrap the wool around your hand about 200 times.
Carefully pull the loop of wool off your hand. Clasp it in the middle and hold in place. With your other hand grab a piece of wool about 18 inches long and tie it tightly around the middle of the wool loop securing it in place.
Update: Since first writing this post I learned a fantastic hack. Instead of tying pom poms with wool, use a thick dental floss/tape. You can tie the pom poms much tighter and threads hold in better.
Cut the loops and fluff your pom pom.
Give it a little haircut to tidy up any obviously over long pom pom threads.
I used up the extra fleece and made some matching pillowcases and a toy cradle bed cover to match. The old teddy bear was given to their Dad his first Christmas. The bed is his special place every Christmas.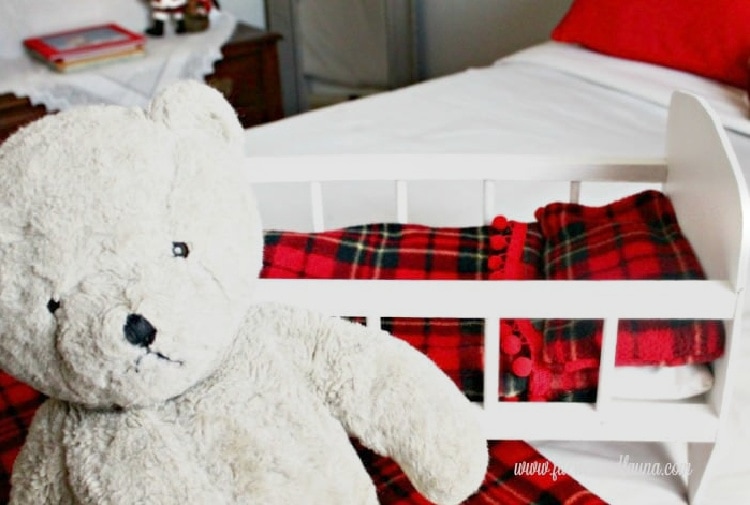 The rest of tidbits of leftovers I used to make these Tartan Hand Warmers.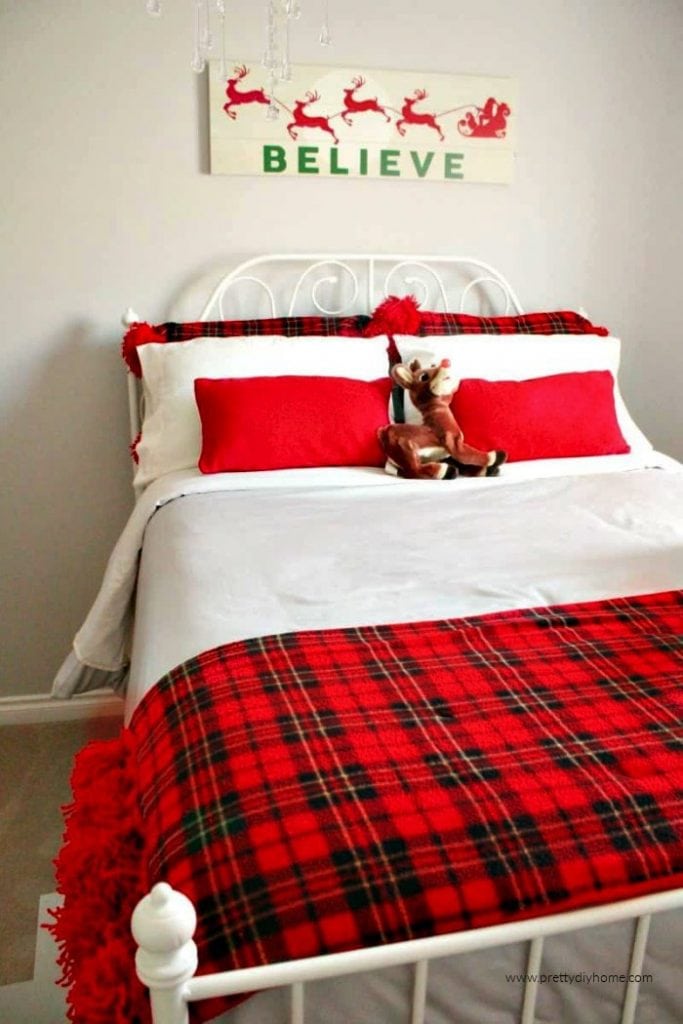 This year my theme is tartan plaid, I have a few other projects to share with you. I hope you love them.
Plaid DIY Christmas Cushions Everywhere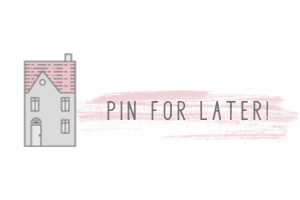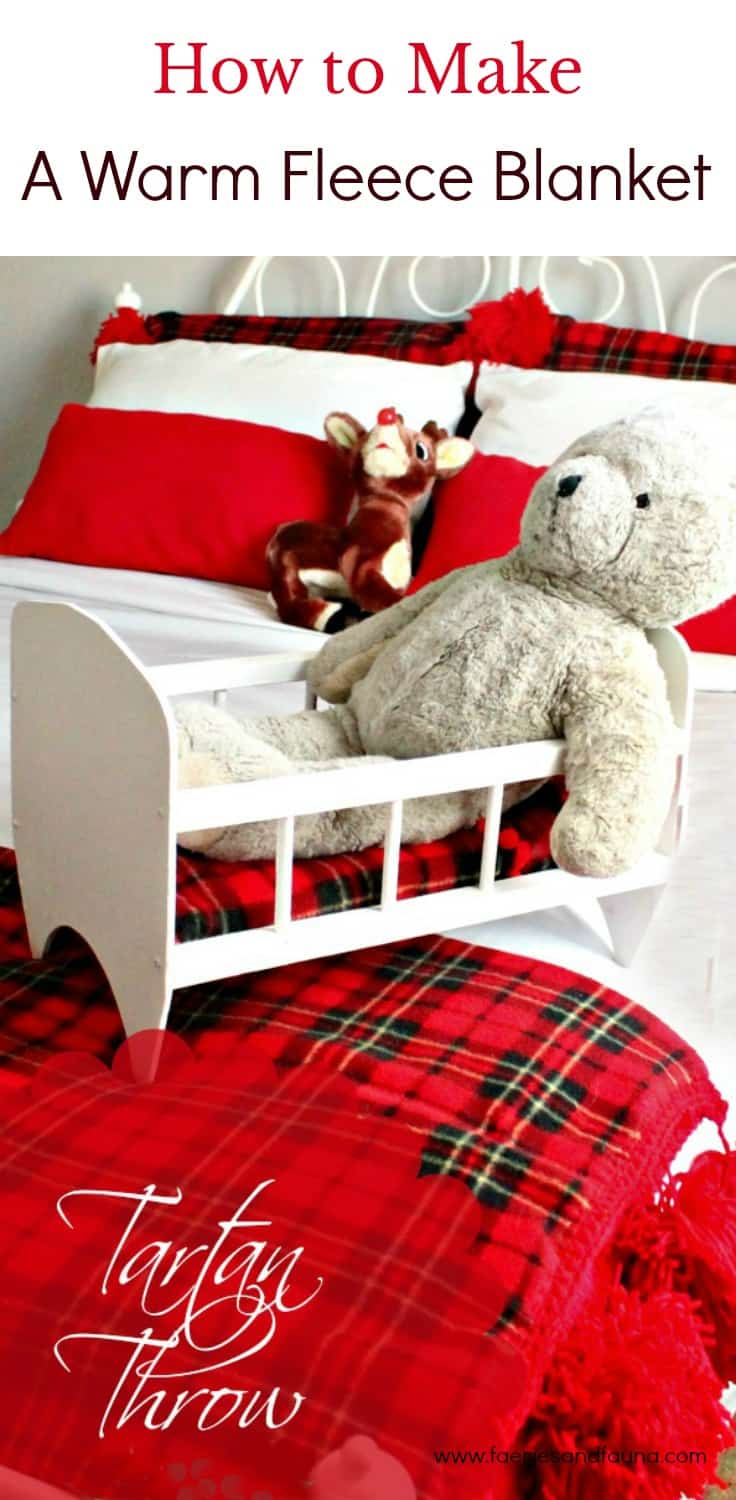 aStay Warm and Snuggly