Christmas Decorating Themes – Traditional Christmas Decor
The first part of decorating for Christmas is choosing a theme. What style of Christmas decorator are you? Are you a traditional decorator who gathers up all last years treasured keepsakes and adds new mementos to your collection every year? Are you a trend setting decorator wanting have fun creating the latest Christmas looks? Or are you like me and decorate by feel, one year its all glitz and glamour, and the next year you want quaint and quiet, or cozy and rustic? This year I am an undecided Christmas decorator, who needed to start by sorting out which theme and trying to define what that will look like exactly.
As my home is not a estate with a name, I am not sharing pictures of those gloriously decorated historic mansions, but I do wish…sigh.. Instead I am sharing ideas for the average on a budget homeowner who wants practical ideas, preferably with a tutorial.
Traditional Christmas Decorating
To me traditional Christmas decor is mulitcolored or a simple red and green colour. There are handmade decorations, gathered over the years sentimental treasures, handmade wool throws, comfy cushions, table centerpieces, poinsettia, greenery and candy canes. Traditional Christmas décor reminds us of our childhoods, loved ones who may no longer be with us, and cozy, comfy, cheerful memories.
Christmas Trees
A traditional Christmas tree is whatever style of tree You remember from your childhood. A fresh tree is usually preferred especially for the smell. For me its a less than perfect fresh Christmas tree that was gathered from the forest. A perfectly groomed nursery tree is gorgeous, and I love them but only a forest gathered tree gives me nostalgic memories of bitterly cold tree hunts in northern British Columbia.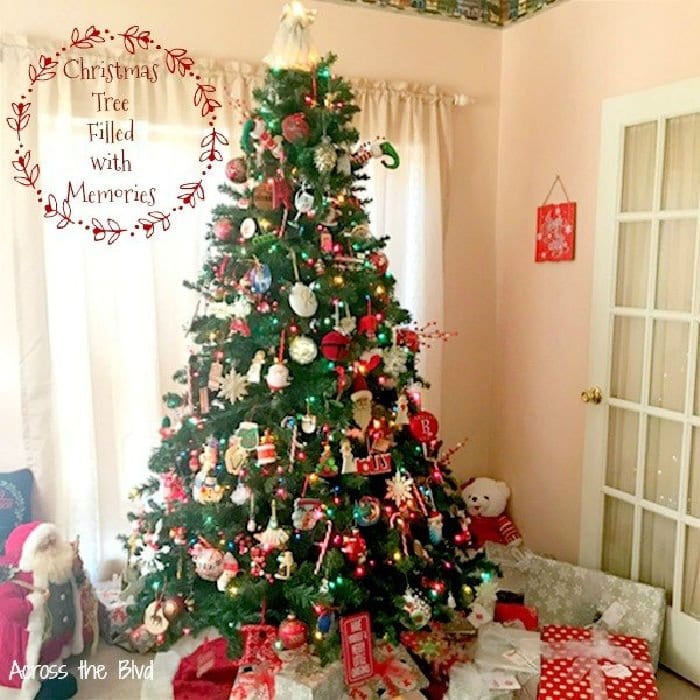 Traditional Tree Full of Memories | Across the Boulevard
Artificial trees can work as well, you can always get the loved scent of trees from a candle, or wax melt. As a blogger I need to have my greenery up early to take photos etc., so for most of the season I really on wax melts. Real greenery doesn't last long enough, but when Hubs is home, we sometimes take a drive and grab some fresh branches and place sprigs of the real spruce boughs into the faux greenery just for the smell, and to reward ourselves with some quiet time as we started and finished Christmas preparations early.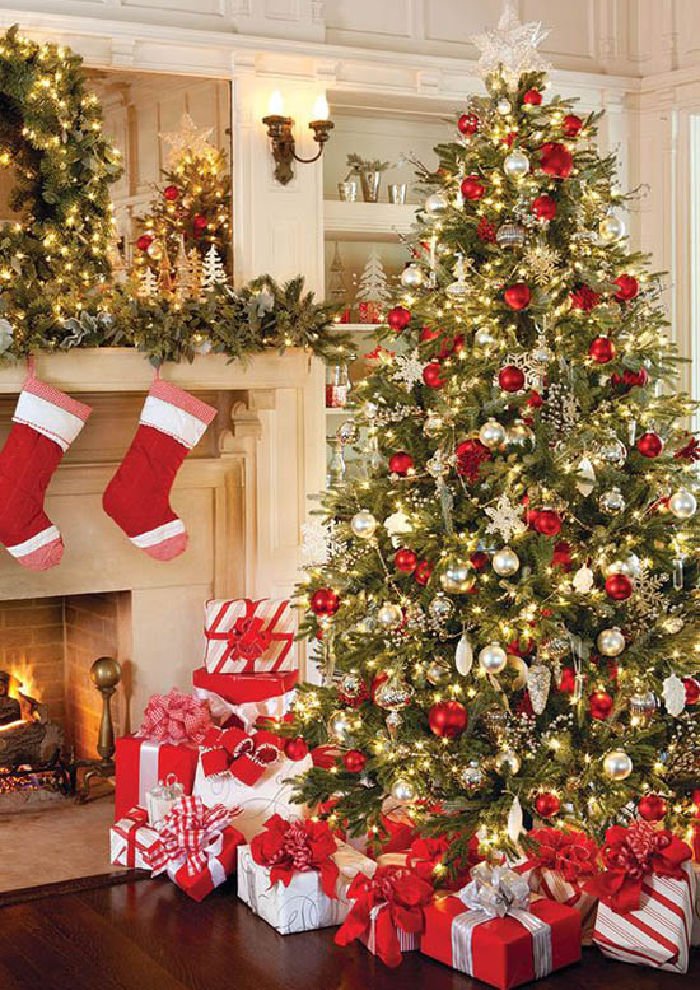 Vintage Style Decorations
Opening up a box of vintage much loved sentimental Christmas ornaments is always a good time. Whether its a loving made salt dough ornament from someone's childhood, or Grama's vintage hand blown antique glass ornaments, a traditional Christmas tree is decorated with memories in a variety of styles and colors. If someone else scored Grama's vintage Christmas treasures, keep an eye out for something that reminds you of them.
For me its glass tree birds, or vintage Shiny Brite ornaments, I do not know what happened to my Mother;s ornaments, but to this day I remember them even the boxes they came in.. This Christmas tree by Kelly Elko is exactly what I remember.
My Vintage Shiny Brite Christmas Tree | Kelly Elko
Let me know what it is that brings you back to your childhood trees? I would love you to comment on it.
Once your tree is decorated consider adding some candy canes, the tinsel and the tinfoil garlands I will leave up to you.
Decorate the Banisters, Mantels and Doors
A traditional Christmas has flowing green tree bough decorated with ribbons, Christmas balls, candy canes, glittering snowflakes, and pinecones,. You name it, feel free to add layers of beautiful decorations.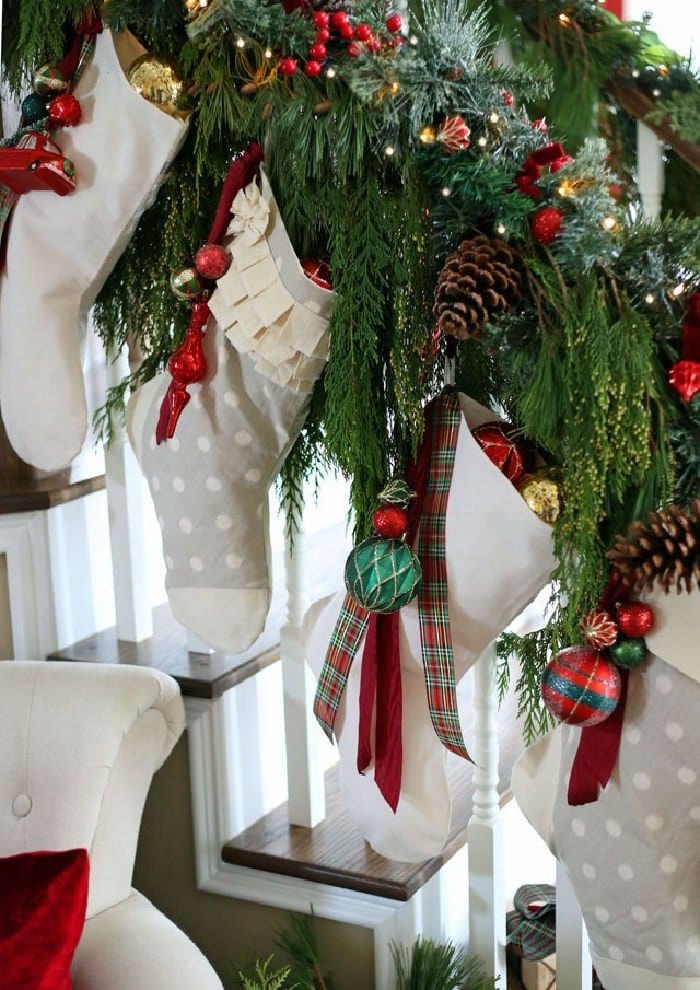 Tips for Hanging Banister Garland | Fynes Designs
Decorate Your Bannister for Christmas | Between Naps on the Porch
Every traditionally decorated home welcomes guests with a beautiful front door Christmas Wreath
Charming Christmas Front Porch| Worthing Court
Christmas Home Tour Part 3 | Craftberry Bush
Christmas Cushions
Pile on the cushions, especially in traditional colours, solids, plaids, snowflakes. Cushion with wording is more farmhouse than traditional, but no one says we have to stick to just one style.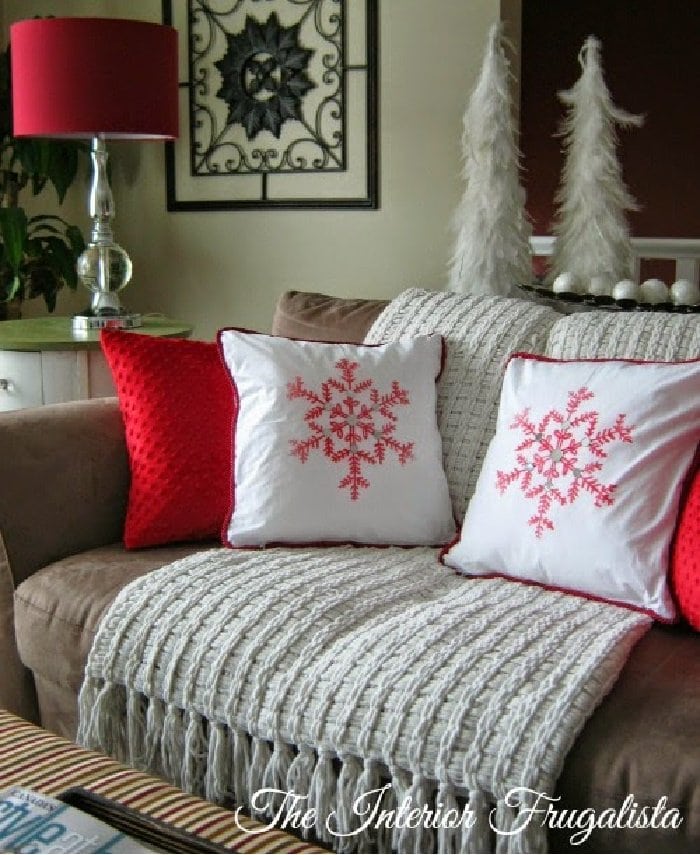 DIY Snowflake Throw Cushions | Interior Frugalista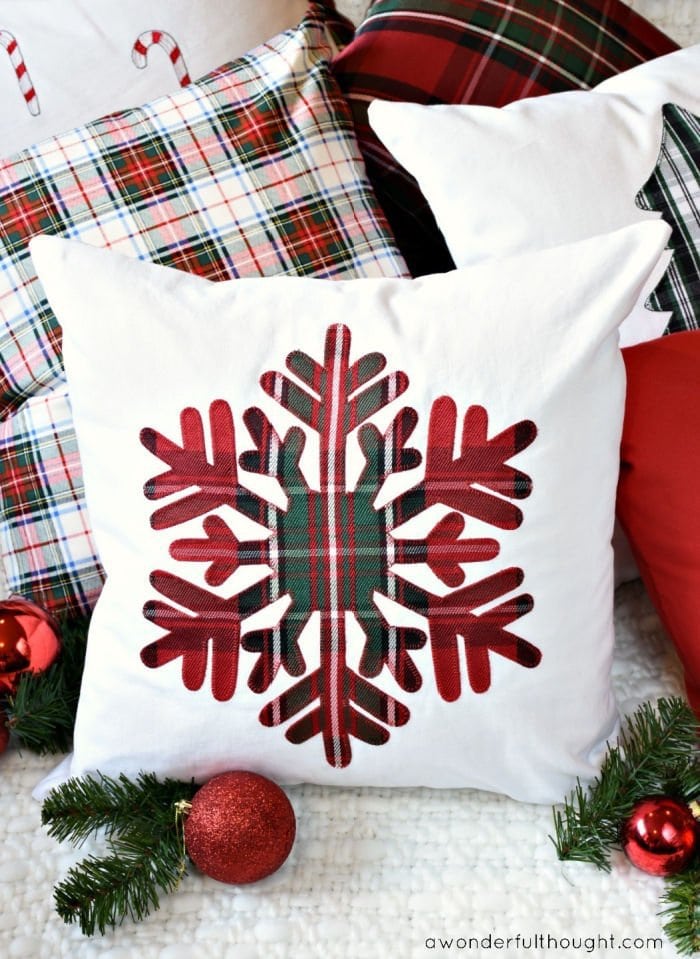 GO TRADITIONAL WITH YOUR TABLE SETTINGS
If your fortunate enough to have a separate dining room, set it with some fresh greenery, berries, and glass globe candles.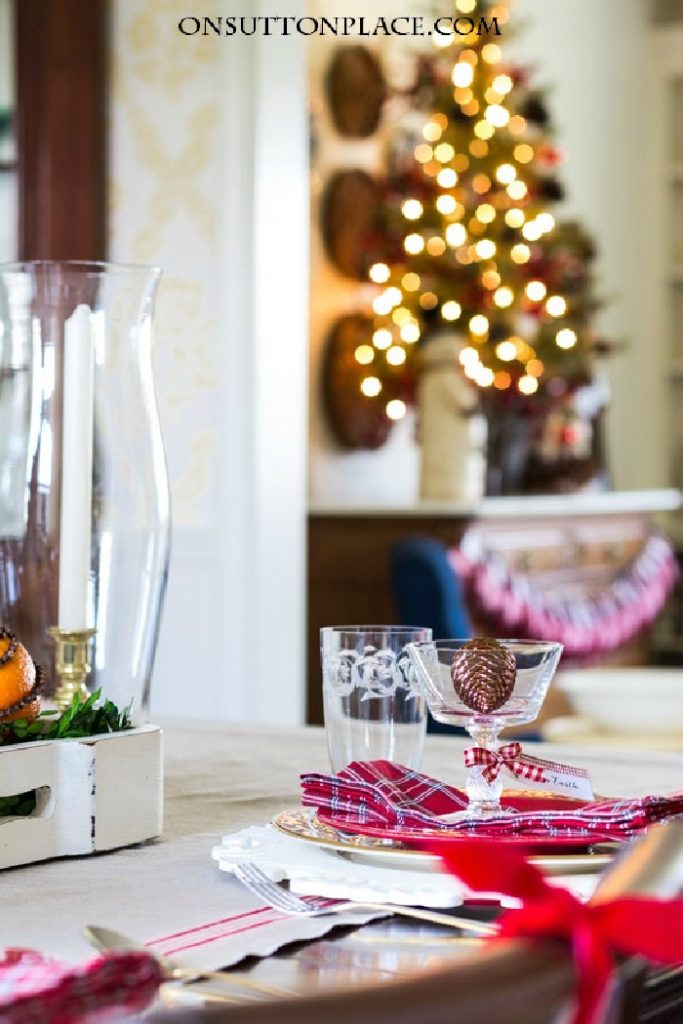 Dining Room Christmas Decor | On Sutton Place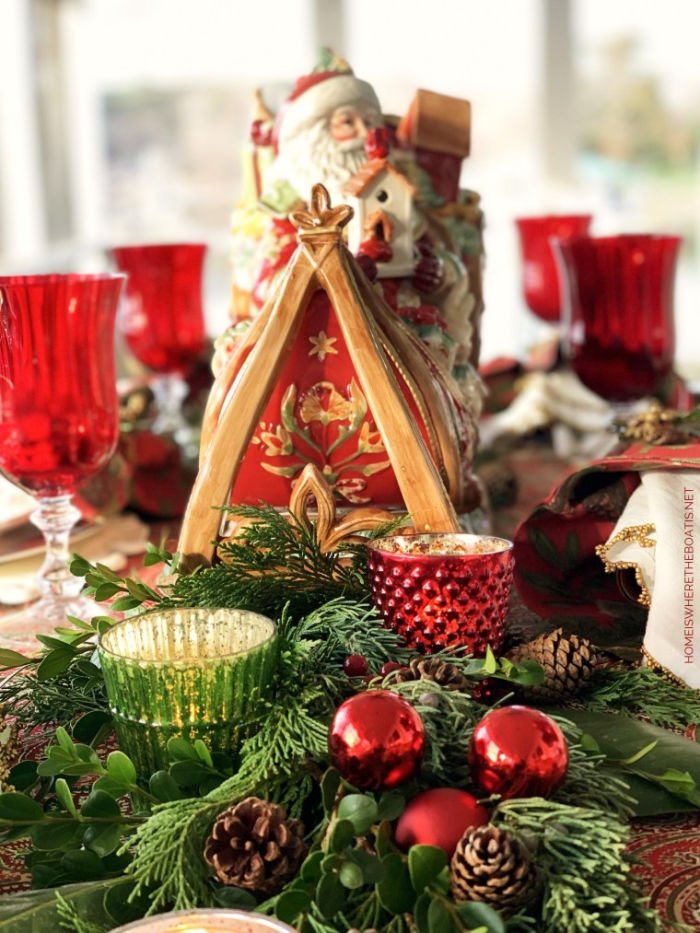 St. Nicholas Christmas Table | Home is Where the Boat is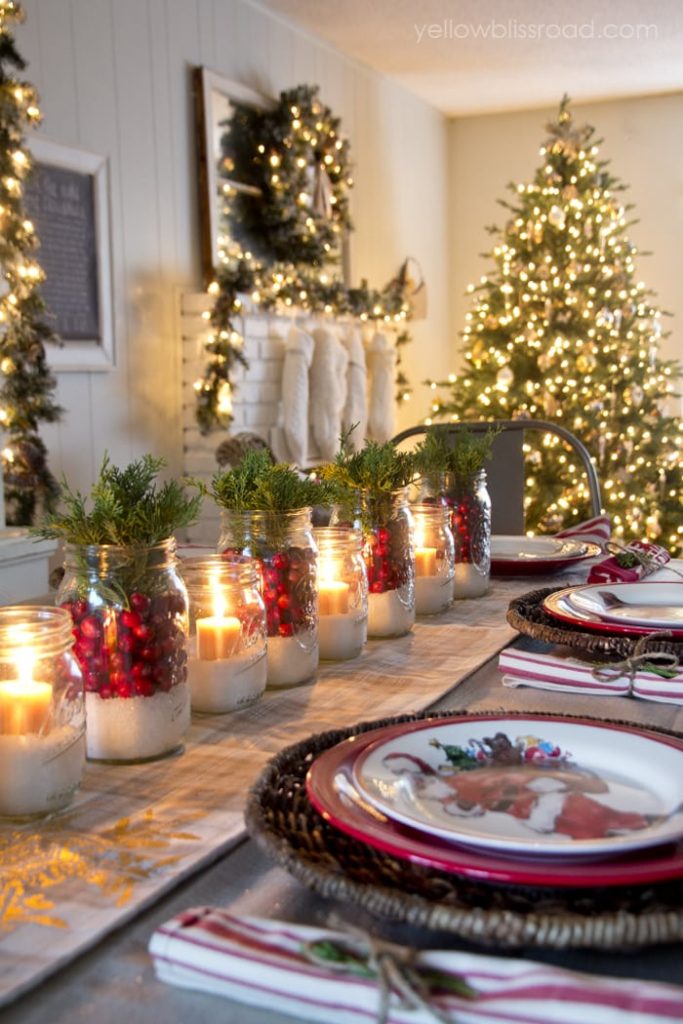 Christmas Home Tour | Yellow Bliss Home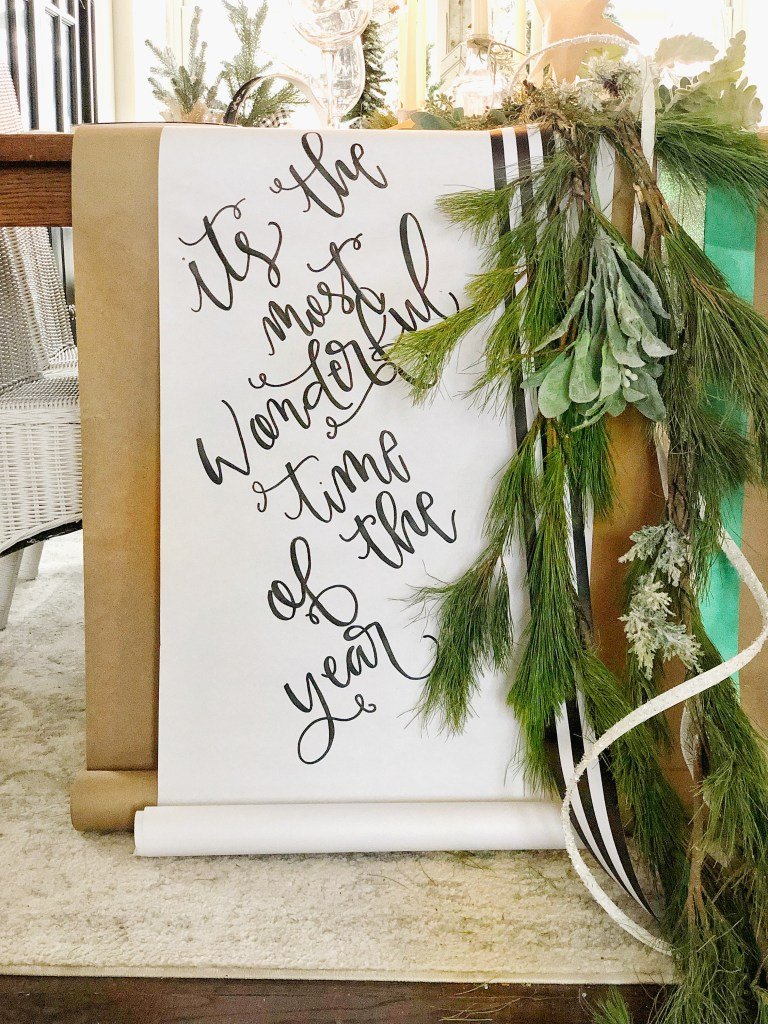 Holiday Progressive Dinner Blog Tour | The Pickled Rose
Traditional Christmas Small Centerpieces
Sometimes its just the simplest of little touches that makes all the difference. Add some small centerpieces anywhere in your home, from the bathroom, bedroom dressers. and side tables.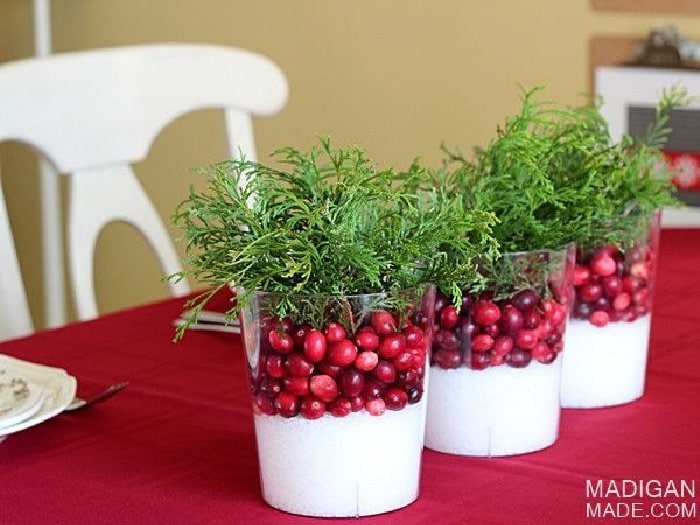 Easy Cranberry Centerpiece | Rosyscription
Holiday Roses | Not Your Standard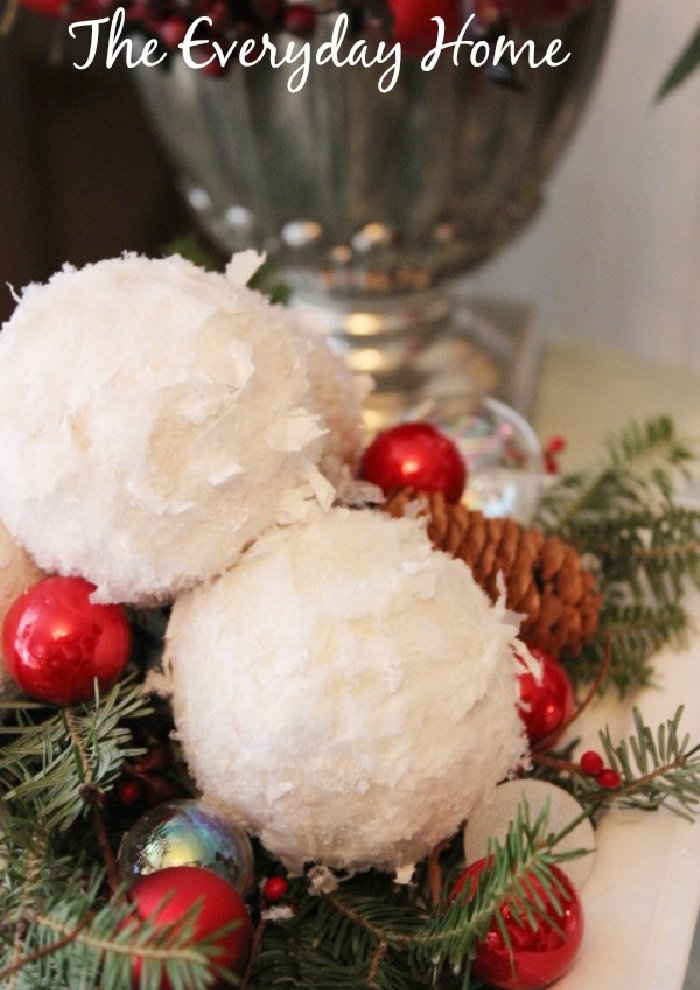 Homemade Snowballs | The Everyday Home
While writing this post and searching through way too many images to find ones with original sources I find a few examples of traditional decor that did not include red. Most of the traditional decor I found to be rich and lavish, in luscious jewel colours, and mountains of decorations. The bottom line with traditional Christmas decorating is to create memories with decor the makes you feel nostalgic, cozy and comfortable.
Love these Ideas? Pin them to save!