Christmas Mason Jars for a Hot Chocolate Bar
Christmas Mason Jars full of Homemade Chocolatey Treats
Christmas Mason jars are perfect for arranging and storing treats for Christmas. As we have a new DIY hot chocolate bar so I knew right away what I would be making Christmas mason jars for the hot chocolate bar on Day 8 of the 12 Days of Christmas.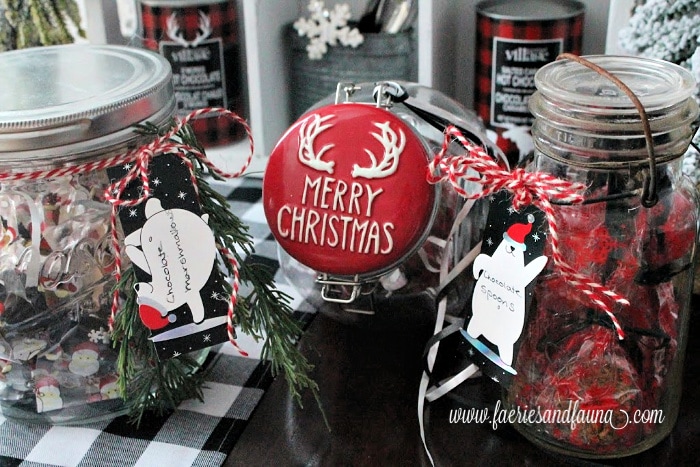 Welcome to Day 8 of the Fourth Annual 12 Days of Christmas Series!
We have teamed up with 50 plus bloggers to bring you a oodles of DIY Ideas and Recipes to make your holiday season merrier. There are 12 different posts in the series and we have spread them out over a four week period with three posts per week. Now is the time to subscribe!
GO HERE for the complete list of Dates and Topics plus a collection of most popular holiday ideas including ornaments, games, recipes and more from all 50 plus talented bloggers!
On the first Day, we designed Wreaths
On the Second Day, we made DIY Christmas Gifts
On the Third Day, we created Christmas Countdown Calendars
On the Fourth Day, we put together Christmas Crafts for Kids
On the Fifth Day, cooked Party Food
On the Sixth Day, we did craft DIY Christmas Ornaments
On the Seventh day, we shared Holiday Decor Ideas
It's Day 8 and we are sharing Christmas In A Jar Ideas!
---
Mason jars are both inexpensive and durable, making them perfect for popping onto a hot chocolate bar. The food stores well in them, and you don't have to fret about fragile favorites getting broken.
The Christmas Mason jars are filled with pretty chocolate goodies and then tied with kitchen twine and cute tags. For a rustic hot chocolate bar, nothing more is needed.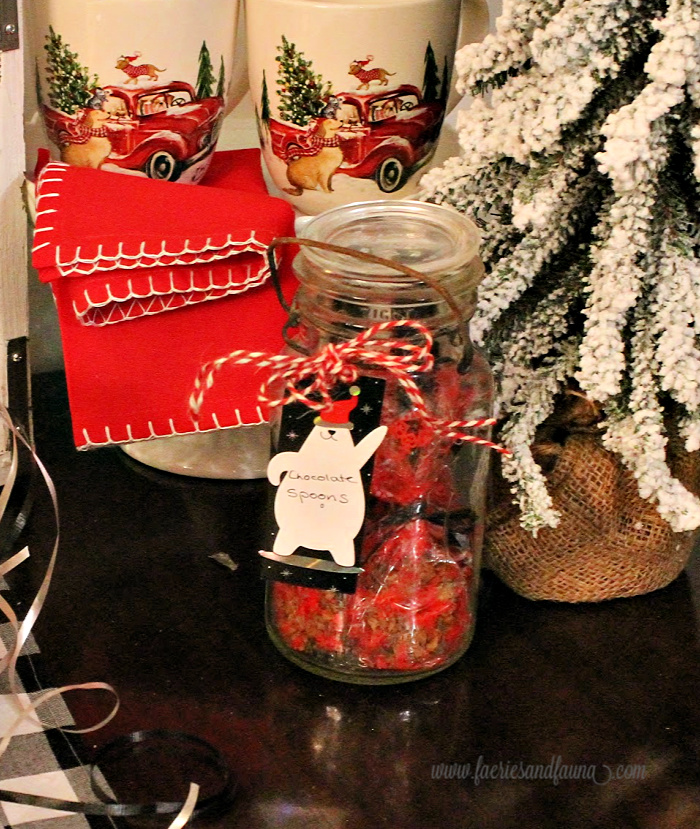 I made the following treats: homemade marshmallows balls covered in chocolate, Chocolate covered spoons with peppermint and Skor sprinkles. Fresh marshmallow squares with candies and chocolate dipped pretzel rods.
Supplies For Chocolate Treats
The chocolate treats to fill the jars are made with homemade marshmallows from a recipe book called Butter, but you can use good quality marshmallows.
Other than that you need good quality melting chocolate (I bought Belgian), assorted sprinkles, and candies.
Assorted plastic bags and accessories (I got mine at Party Land). The spoons I bought are plastic, but have pretty black handles.
Recipe
There really isn't a recipe, all I did was melt the chocolate until soft in the microwave and cover the various items with it. It can't be easier, but I will share a couple of hints I learned with you.
I found out it works much better and faster if I put the chocolate in the fridge to set. It does harden on the counter but takes eons.
I found it best to work on parchment paper on top of a cookie sheet and then pop the cookie sheet into the fridge.
It took me a few tries but I figured out how to keep the chocolate dip end off of the parchment paper until it sets. This makes the spoonfuls smoother.
Placed a cooling rack onto the parchment paper and then another one across it. This allowed me to tuck the ends of the spoon between them and the slight weight held the spoons level.
Spend a little extra time finding cute and fun accessories. Your actual treats don't need to be so perfect if you have a fun way to make them special.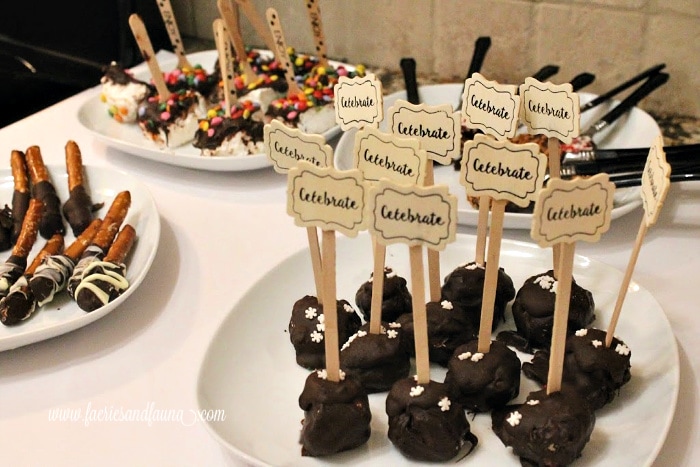 The little bags and ribbons make the Christmas mason jars festive.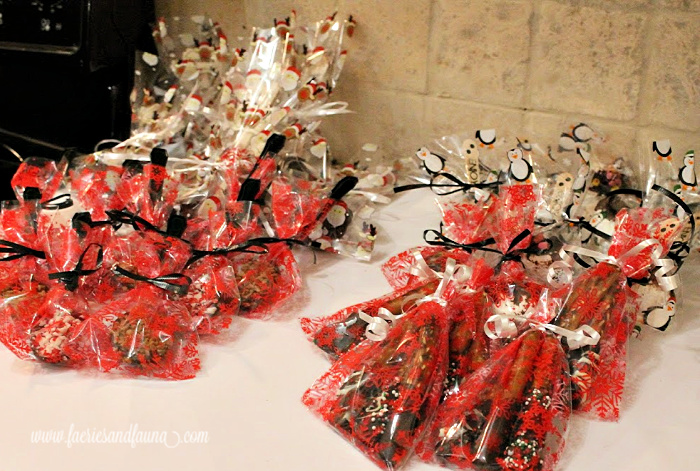 A Side Note
While making the marshmallows my almost 30-year-old Kitchenaid mixer started to act funny, and then wouldn't start. Funny what we get sentimental about. I was really upset, that mixer can't be replaced. That mixer and I are partners. It helped me fed hungry boys when I didn't know how I was going to do it.
The mixer was a Christmas gift from my boys when they were still in elementary school. The little guys worked and saved hard to give it to me. While I did this post, Hubs had my mixer torn apart on the counter behind me, and Eureka eventually fixed it for me.
As I was distracted by the mixer and memories, the goodies aren't as perfect as I would want them. But the pretty little bags and ribbons saved me. They look really great in their pretty shiny individual packages.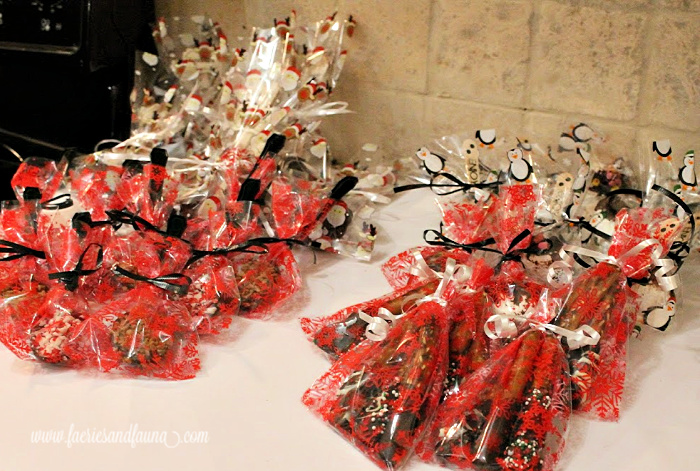 Thank you for joining in.
Scroll down for many more Christmas In A Jar Ideas you are sure to love!
---