Decorating a Christmas Tree in Buffalo Plaid
Decorating a Christmas tree in black and white buffalo plaid is such a trendy farmhouse theme, plaid is always one of my favorite patterns so was excited to decorate with it. Wanting to look for different ideas on decorating a buffalo plaid Christmas tree? Welcome to Our Annual Christmas Tree Decor Blog Hop!! Today were sharing all kinds of ideas on Christmas tree decorating and I hope you love my buffalo check Christmas tree. You will see all the other on Christmas tree decorating styles after my decorated Christmas tree.  
Buffalo Plaid Christmas Tree
This year I am trying something very different for our holiday decorating. Instead of glitz and sparkle, I am doing a more rustic farmhouse look with birch branches, buffalo plaid ribbon, and grain sack dollar store ornaments. I love the process but because of cost, I am reusing what existing ornaments I can, and making others.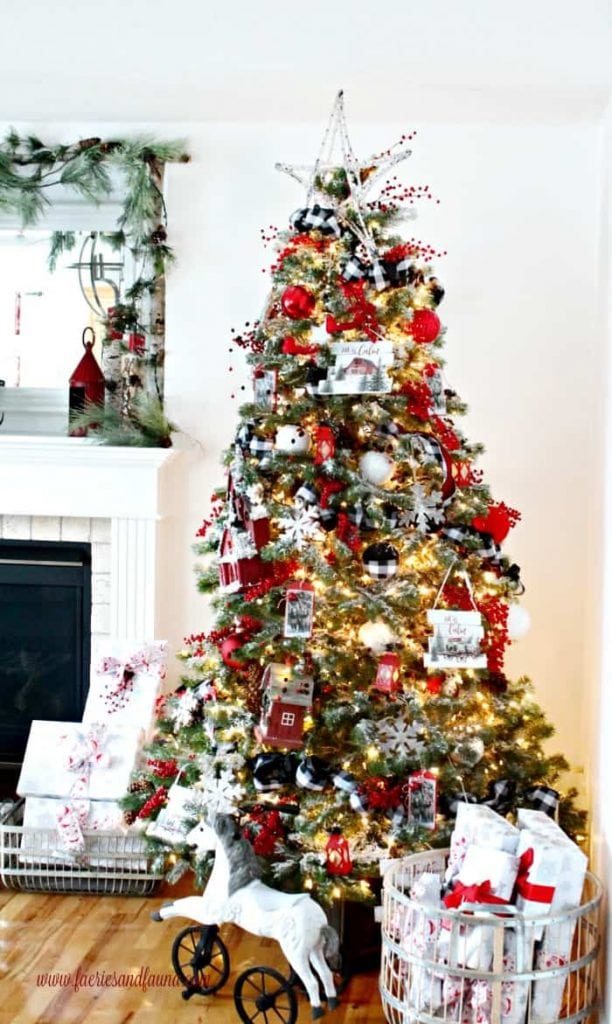 The DIY projects started with flocking the tree.  I love the way it turned out but wish I had purchased more flocking powder.   There's always next year, right?  You can read about how to flock a tree here.
What Colours Go Well with Black and White Buffalo Plaid?
Black and white buffalo plaid is surprising easy to pair with other colours. Personally I enjoy using buffalo plaid with red, green, white, and neutral beige. Think of Christmas decor DIY options like brown paper Christmas wrapped gifts, or adding wood ornaments like snowflakes,.
To make a Christmas tree look designer elegant I like to create a focal point. This year I placed a large church and a pretty farmhouse red barn on the front of the tree. Other years I have used reindeer, or stuffed bears, or even signs. It makes you tree look fancy designer, and you can use other Christmas decor you have in your collection.
In Canada, red and black buffalo plaid is very traditional and much easier to find, but I chose black and white buffalo plaid because it's lighter and brighter. The days are very short here now, we get less than 8 hours of daylight. You may notice it in the pictures.
The farmhouse theme is carried through using new white Christmas ornaments with different types of barns and sleighs.  One decor rule I follow is to put at least six of each type of christmas tree ornament.  I bought all the store had left, and love them I would have liked a few more.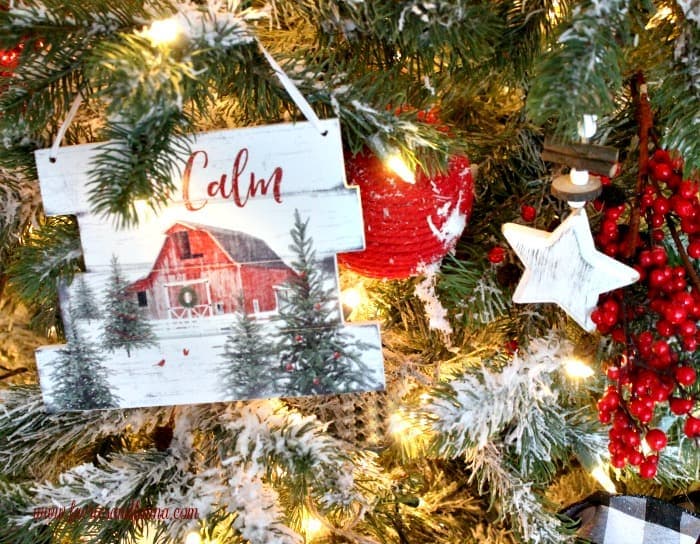 When deciding what other kinds of DIY ornaments I could make for the tree, I chose to avoid any more ornaments with lettering. We have lots of Christmas signs with wording and I was afraid more lettering on the tree would be too much. Instead, I made simple wood ornaments painted red to match the barn and added horse prints as horses are our favorite farmhouse animal. Red, soft browns, and green all go very well with buffalo plaid.
Buffalo Plaid Tree Ornaments
The large black and white buffalo plaid ornament in the back of the photo is also a DIY ornament idea made using dollar store Christmas ornaments. Beside the buffalo plaid ornaments I created these sleigh ride christmas tree ornaments starting with dollar store supplies.
The tree was finished with birch bark snowflakes, red berries, red ornaments balls and glittery white snowball ornaments that I had in our collection.
When I was little they would hoist me way up in the air, so I could pin two little birds to the top of the Christmas tree. We always have at least two birds on our tree, up by the star.
Finally, the new Christmas tree stand Hubs built with me. The grain in the wood was too beautiful to cover up, so I just emphasized it with dark espresso stain.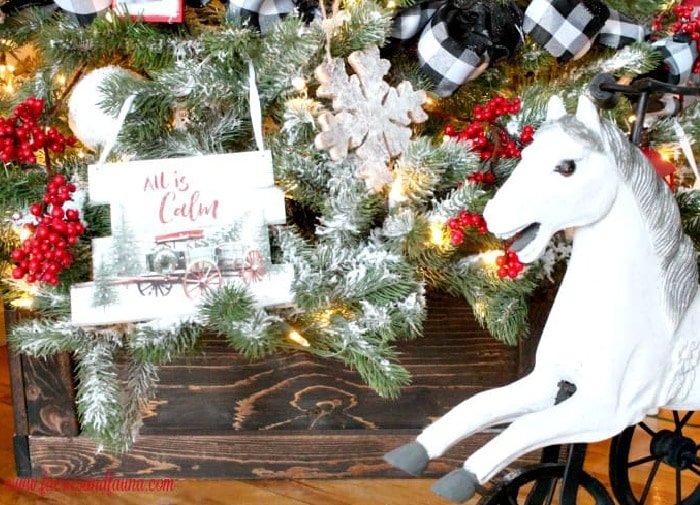 Thank you for stopping by,  and have a great Christmas. I hope your holidays are the best, I cannot wait until the family starts to arrive.
Christmas Tree Blog Hop
Now let's check out all the other beautiful ideas on christmas tree decorating!
Elegant Christmas Tree With Blush And Metallics – Our Crafty Mom
Blue and Silver Christmas Tree – 2 Bees In A Pod
A Christmas Tree Without Charisma – County Road 407
Rustic Christmas Tree Decor – Polka Dot Poplars
2018 Christmas Tree – Welcome To The Woods
Candy Themed Christmas Tree – Celebrate And Decorate
Flocked Buffalo Check Christmas Tree – Weekend Craft
Vintage Christmas – Upright And Caffeinated
The Perfect Christmas Tree For A Small Space – Create & Babble
Rustic Modern Christmas Tree- Modern On Monticello
Christmas Tree – Adams And Elm Home
Handcrafted Coastal Holiday Tree – Simple Nature Decor
Christmas Tree Blog Hop – Simply Beautiful By Angela
Blush, White and Black Christmas Tree – From House To Home
Tropical Ocean Christmas Tree – My Pinterventures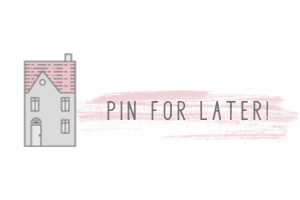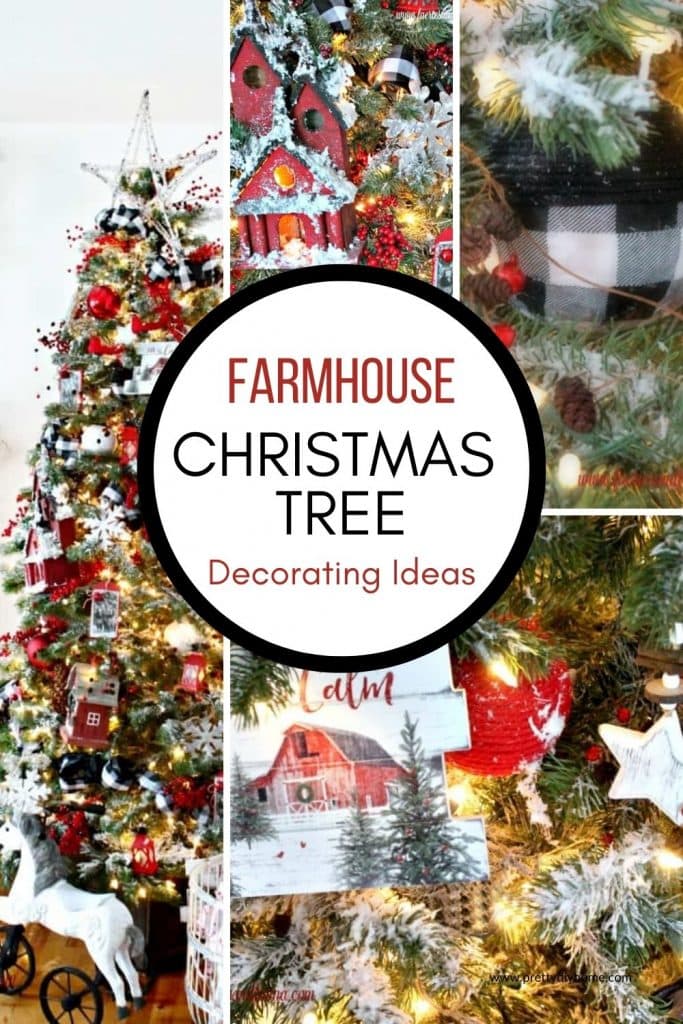 If your looking for more Christmas tree inspiration I have created a new Christmas Tree board on Pinterest. This board is where I collect all the Christmas trees that inspire me.