Christmas Tree Decorating
Decorating a Christmas Tree
It does not seem to matter how many vignettes or displays I create, my families favorite Christmas decor is always the Christmas Tree, I bet your family is the same. Whether its trendy or traditional all families love to gather around the tree. Christmas tree decorating is easy and the variety endless but there are a few basic steps to a well decorated Christmas tree. Regardless of your theme, or colour scheme choices there are some general hints, tricks and guidelines for decorating your tree.
a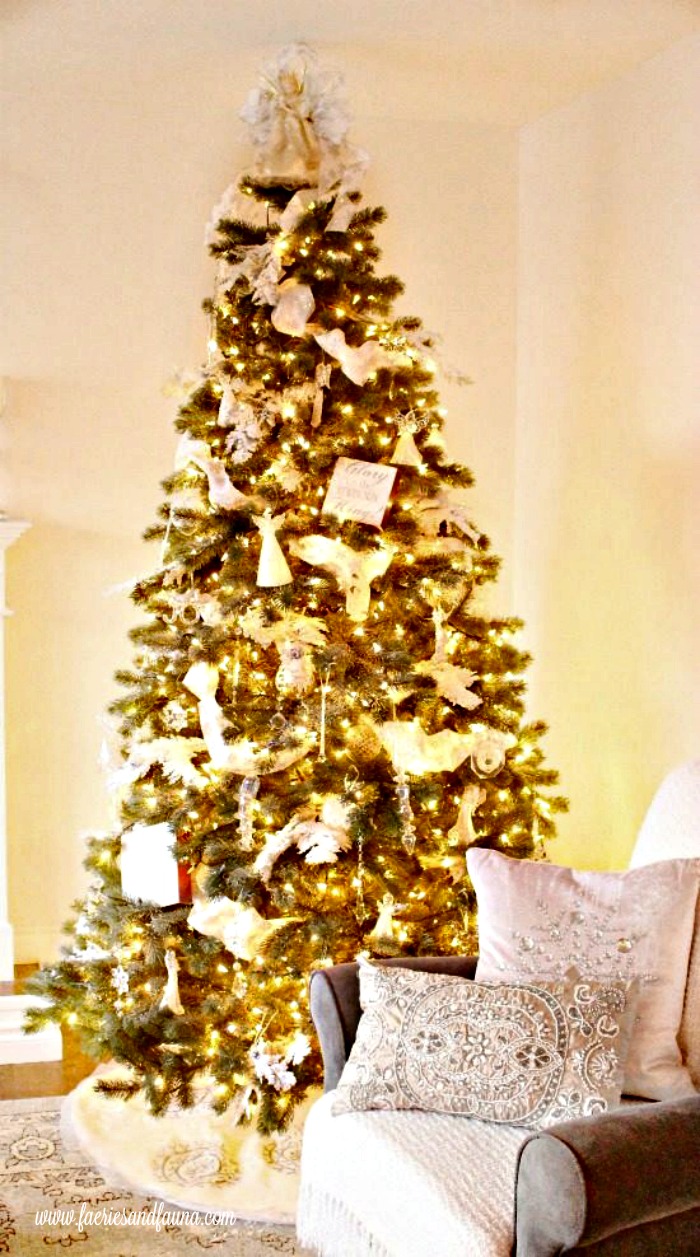 Get the Best Quality Tree You Can
For me, a quality tree means a real tree if you have access to wilderness go on a tree hunt and gather a tree. Or go to a tree farm and purchase one still in the ground. Did you ever know someone who fixed a real Christmas tree? Grampa Dan would come and set up the real trees for us. He would cut all the lower limbs off to make room for the tree stand. If there was an empty space in the natural tree he would trim up one of those the extra limbs, then drill a hole and glue the branch in the open spots. The fixed Christmas tree kept well, the branches stayed in and no one could tell.
If you're like us and have an artificial tree, make sure to get one with plastic tip ends. The most expensive artificial trees are all plastic tips, the cheaper variety like ours just have plastic tips on the ends of the limbs. After you assemble your tree fluff out each branch to look as natural as possible. The trick is to fluff out each and every branch from the trunk towards the front of the tree. Then on to the next branch. Fluffing an artificial tree makes a huge difference.
Accessibility
There is nothing worse than decorating the tree and then having to move it to make it accessible. We learned this lesson having to carefully adjust and move a fully decorated tree so we could unplug the lights. So much easier to do it at the beginning.
Add Lots of Lights to your Christmas Tree
The general rule is 100 lights per vertical foot of your tree. Our Christmas trees are prelit but don't come with nearly enough lights, we add an additional 100 per vertical foot.
Check for burnt out lights on the light strings. Replace the bulbs or add more light strings if necessary.
Begin at the top back of the tree. Start at the trunk, weave your lights in and out through each branch. Move on to the next limb and repeat. It's surprising how many lights this uses and how long this step takes. If you have woven them in and out of every branch they should be fine as is, but step back and double check. Make sure the lighting is even and adjust the light placement if needed.
a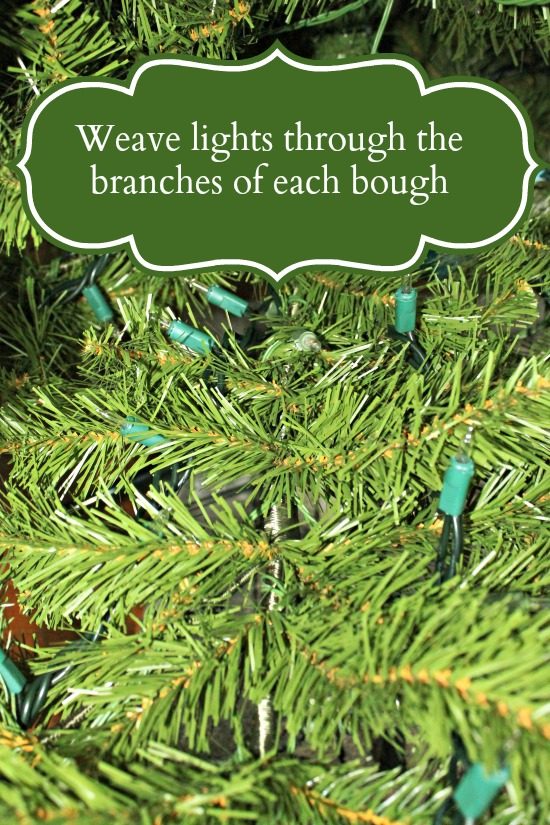 a
Typically I complete the first two steps one day as this part can feel like a chore. You can do it all at once, but I believe you will enjoy decorating your tree more, if you fluff, and set up and lights one day, and leave the actual decorating to the next day.
Add Garland, or Ribbon on the Christmas Tree
Garland can be draped along the outer edges of the limbs, whereas ribbon cannot. The ribbon must be started from inside the tree near the trunk and worked outwards, it looks funny hung on the outside of the tree. Keep an eye out when you see professionally decorated beautiful trees, you will notice the ribbon isn't on the outside.
The amount of ribbon you need depends on the size of your tree, how many other ornaments you have etc. As a general idea for a six-foot tree you need at least 75 feet of ribbon and for a 9-foot tree 150 feet. This is a general guideline depending on how you apply ribbon. If you put your ribbon on in clusters like I did this year, you don't need as much ribbon. I used 120 feet for our 9-foot tree.
Wired ribbon is much easier, I never use anything else and I don't recommend decorating a tree with unwired ribbon. If you have unwired ribbon you love, you can add wire by wrapping the ends of the ribbon over a florists wire and hot gluing it.
Whether you apply ribbon vertically, drape it around your tree or add it as clusters, remember to anchor your ribbon to the center of your tree first Use the last branch closest to the trunk to attach the ribbon and then work your arrangement outwards. When you do it this way you won't have to premeasure sections for poofing and your ribbon won't ever look like its hovering on the outside about to come off.
Adding Picks to the Christmas Tree
This is optional. Picks can be very pricey, I got twenty of them at a half off sale. Having just a few picks looks funny. If you can't get a bunch of them, don't worry about it and just skip them.
If you do have picks spread them out throughout your tree. Make sure they are not directly next to each other or directly above and below each other. They are really handy to fill in some of your open spots.
Hang Ornaments on the Christmas Tree
Place your large ornaments and your very special ornaments first, then follow with the rest. Remember to place ornaments inside the tree as well on the edges. A new trend is nestling large ornaments in your tree. I love that style, this tree has two little signs nestled in the branches.
a
a
a
Finally, finish off with your smaller ornaments.
I do a theme every year because it gives me a focus and I find it fun. Remember this is your tree if you think purple eggplants look great go for it. There is all kinds of inspiration on Pinterest of beautifully well done Christmas trees.
These are some special ornaments my children and my grandchildren gave me. They go up every year regardless of my theme. This year I saw the little signs to use as focal points, so Angels became my theme. The little white deer and clear Santa Claus icicles stayed in storage, but not these ones with special memories attached.
a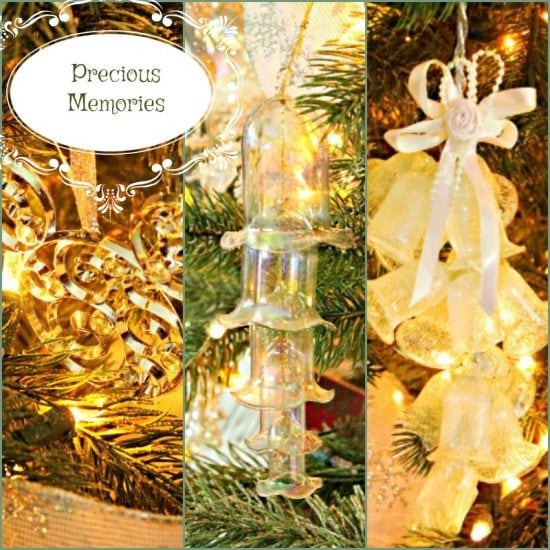 a


Tweak your Arrangement

Once you have the entire tree decorated step back and look at it, rearrange to make it just right. This tree doesn't receive presents so it has a fancy tree skirt instead.
a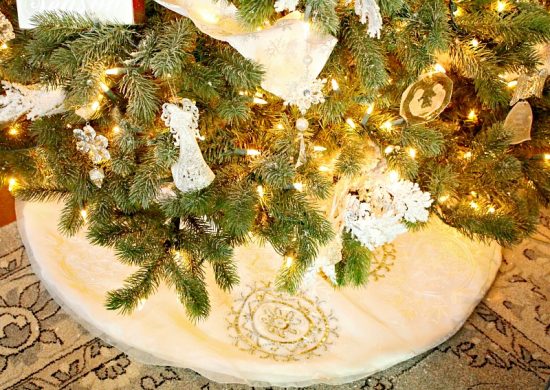 Like the Idea? Pin for Later
a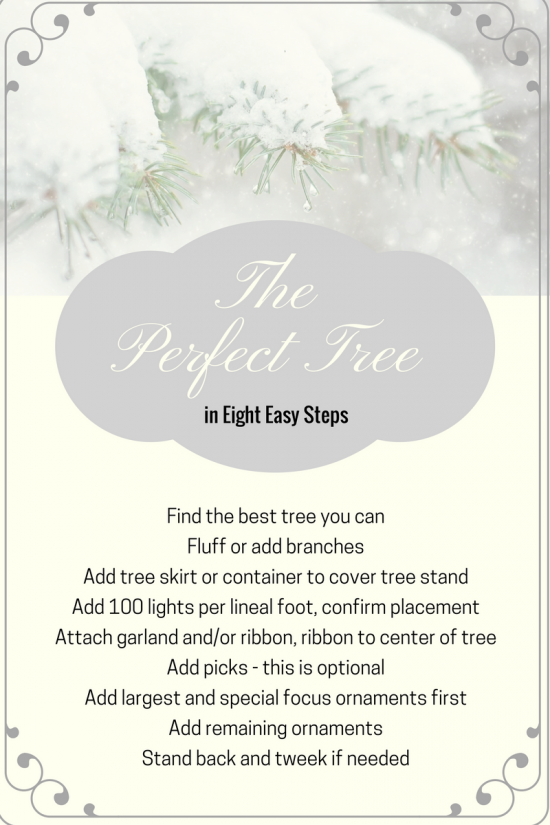 a
I will have pictures of the other two trees on my home tour.
Enjoy the twinkles and glitter.