Classy Halloween Decorating Ideas
Classy Halloween decor is pretty easy to put together, the main thing is to keep the Halloween theme fun without being oppressive or creepy. Add some colour and light to your home with elegant Halloween decorations while staying away from anything ugly scary or macraber.
We may not want to have cute Halloween kittens everywhere, but how about spooky black cats? Skip the black plastic dollar store candle holders and use Grama's silver ones, or haunt some garage sales for them like I did. For classy Halloween decorating you don't even need to polish the candlesticks, let the tarnish stay. Replace plastic caution tape, with bits of velvet.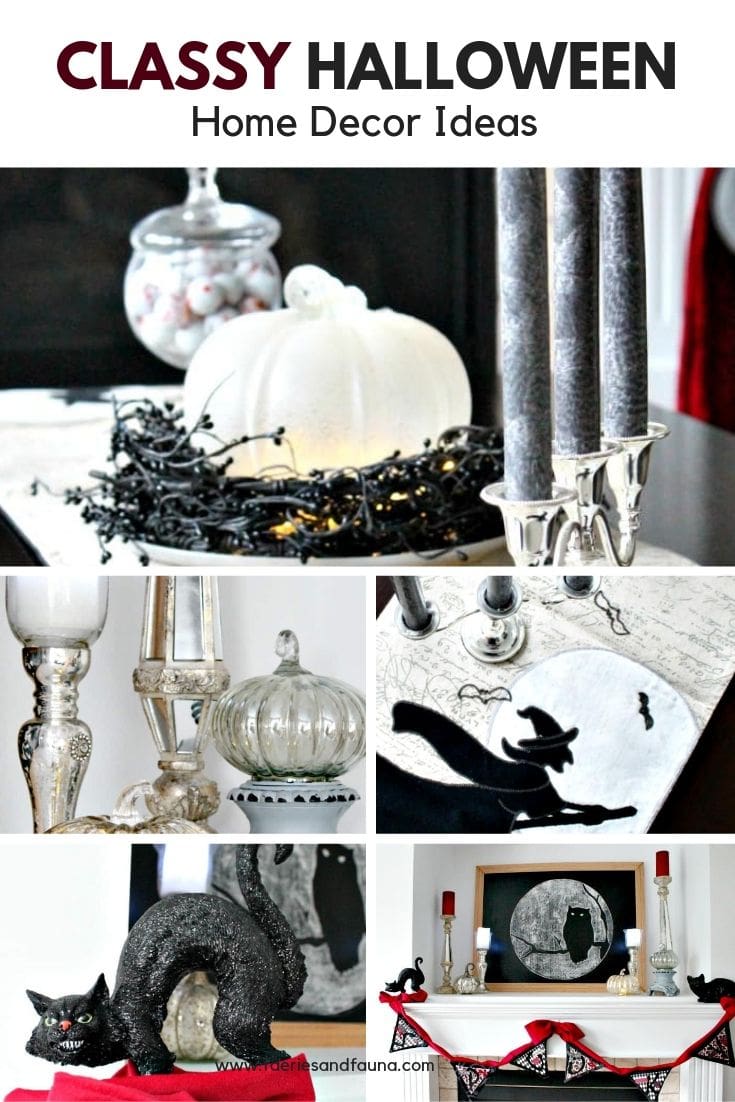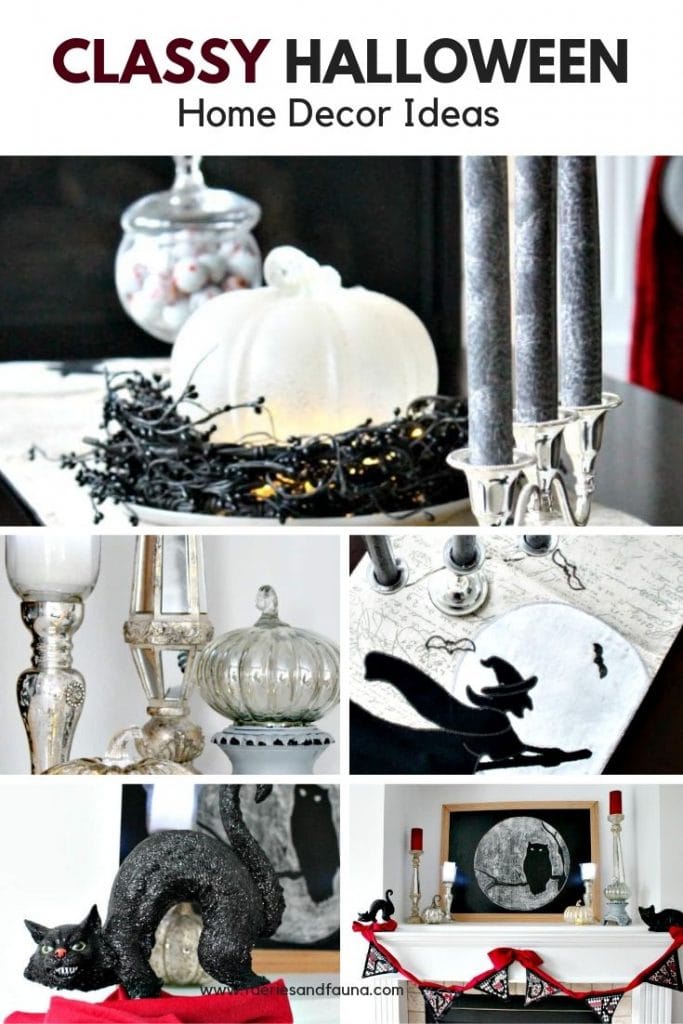 f


Shop at Home

For classy Halloween decorating, the best place to start is with what you already have have. With Christmas approaching very few of us have a budget to run to the store and buy a bunch of new stuff for Halloween. From past Christmas holidays I have loads of sparkly white Christmas decor, I brought out all the metallic candlesticks from the Christmas boxes. In the neutral Fall decor boxes I grabbed some metallic pumpkins. Any kind of pottery or glass pumpkin could be brought in and used for Halloween, orange pumpkins are especially suited for Halloween decor. If you haven't put your Fall decor away, bonus, its a great place to start. Look around you house for anything black, black cushions, throws, rugs, black decor items are fantastic for layering.

Of all the holidays decor don't you find Halloween needs a little more "pretty"? If so, come along my pretties this blog post is written for you.
The Classy Halloween Mantel

f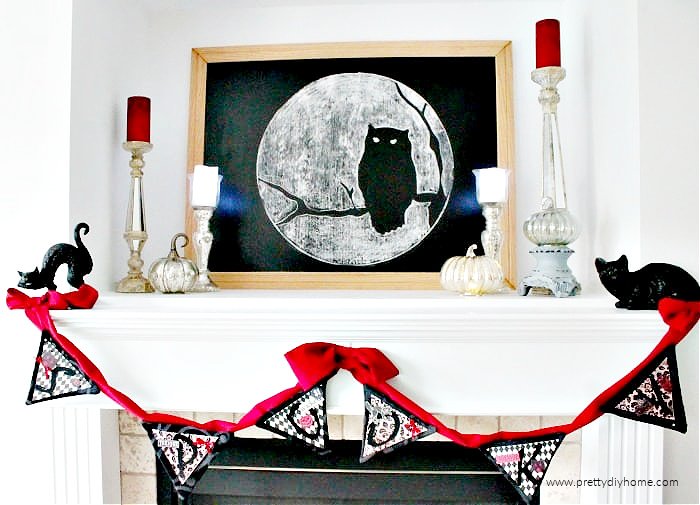 s
Our main floor fireplace has a large alcove where I consistently keep a large piece of artwork to avoid Hubs placing a TV up there. My first plan was to make a large black chandelier painting but I ran out of time, so I created a Halloween simple owl chalkboard instead.
x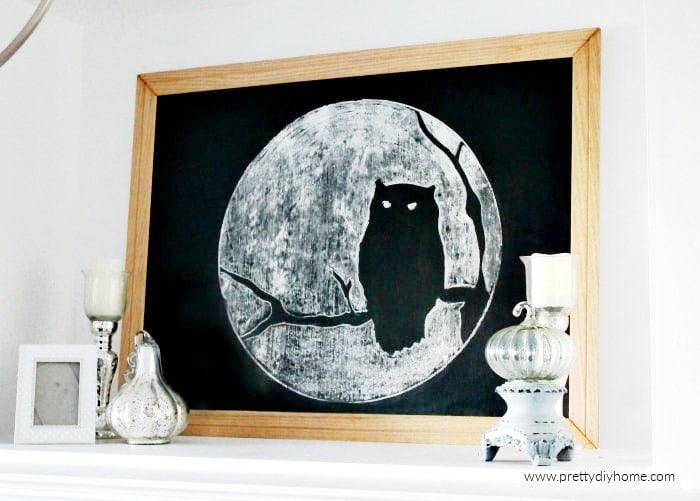 f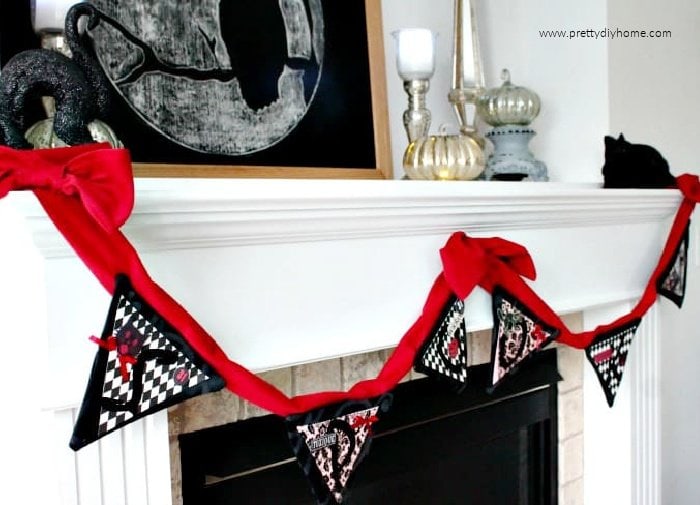 The inexpensive spooky banner is a Halloween craft project I made using scrapbook supplies and velvet. If I had purchased more velvet I think nice long dramatic tails on the bows would have been a pretty addition. d
a
The ends of the banner are held in place with two sparkly black cats. One is sitting calmly and the other one is more of a rascal. At this age I think black cats may be my favorite Halloween character? But I am pretty fond of sparkly witch accessories as well. a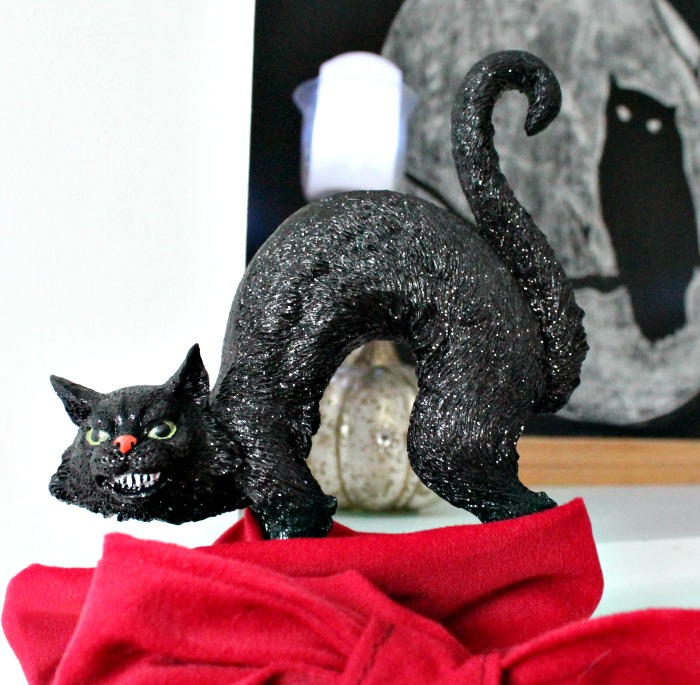 a


The Halloween Coffee Table

The coffee table is decorated with a purchased runner from Home Sense, and the only silver candlestick I was able to find garage saling all summer. I really would love to have many more.
g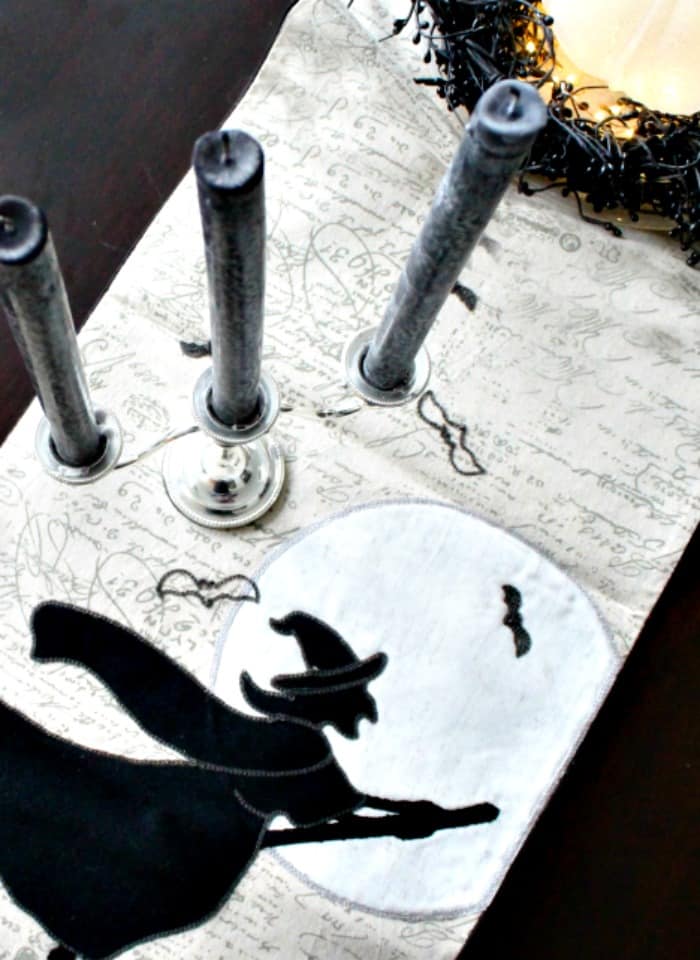 a
You may have seen my Fall home tour with a very easy to do pumpkin centerpiece with lights. I created another Halloween version using a white plate, white pumpkin, battery pack lights and a black sprig. This black and white Halloween centerpiece only takes about ten minutes to put together. Most of the time is spent gathering the supplies, and its especially nice in the evenings.
h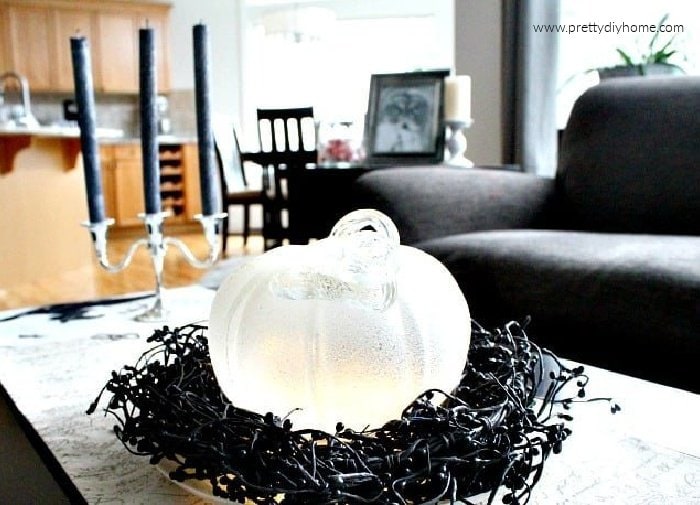 g
If you choose to do a classy Halloween decor theme in black and white,add some bowls of bright red candies. I unfortunately am deadly allergic to food colouring, in particular red food colouring, so no in our home, but it would look fantastic! On the other end of the coffee table I put a pretty candy jar full of foil covered eyeballs. I liked the metallic shine they had for my Halloween theme and chocolate is always a good idea.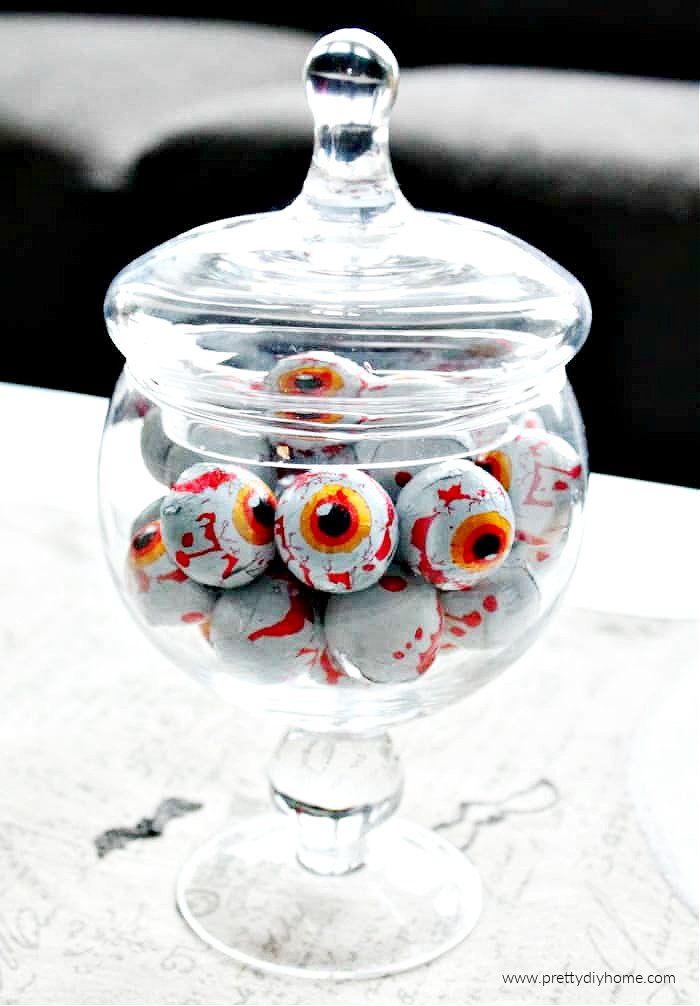 a
a
The remainder of the living room is decorated with some red cushions left over from Christmas, a black cushion cover I had long before I started blogging and dark burgundy throws.
Assorted DIY Classy Halloween Accessory Ideas
Finally the last coffee table I filled with some DIY artwork. The printables are in the Pretty DIY library.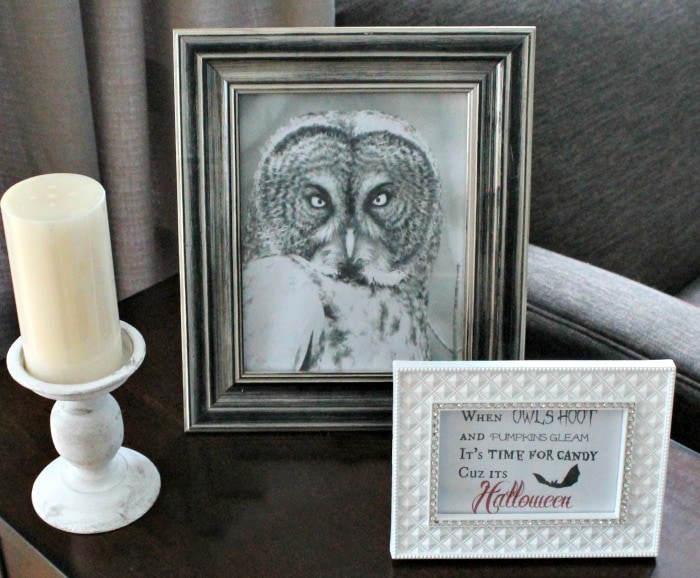 a
These frames are both shiny, the one for the owl is metallic silver and the little white one is a dollar store find from eons ago. It has little rhinestones all around it. If you have a frame you want to use here is the free Owl's hoot printable for you.
Over the next week or so I have a few more Halloween posts for you. Please comment and let me know if you are enjoying my classy Halloween decor series.
Pin this post for Classy Halloween Decor Ideas