Dollar Store Halloween Wreath
Have you seen the gorgeous black feather wreaths in the fancy Halloween stores. Wow those wreaths are beautiful, full of shiny black feathers, they absolutely glisten. But unfortunately they have the price tag to match. I really wish I could splurge for one, but instead I am making this knock off using mostly Dollar Store supplies.
l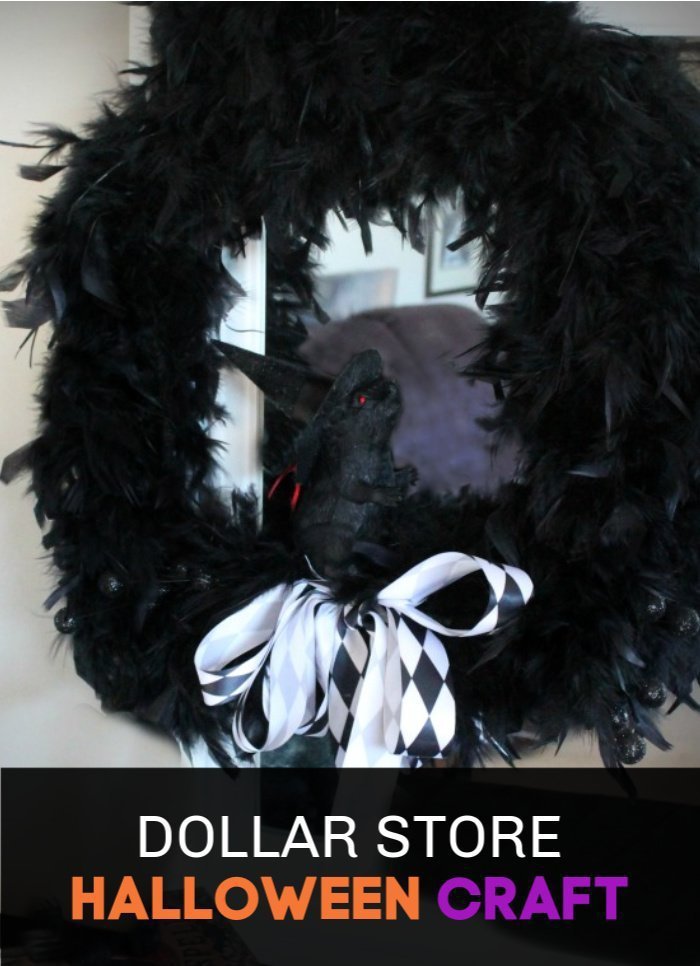 d
This little Halloween wreath whips together in about an hour from start to finish. I am very glad I came across the expensive feather wreaths to inspire me. The dollar store feathers on this wreath are soft and shiny and fun.
My craft room has an assortment of different wreath forms that I reuse many times with new wreath ideas. The wreath form is from that stash, the little sparkly which hat is from Michaels with coupon, and the remaining supplies are dollar store. You should be able to put this Halloween wreath together for less then $10. You got to love that.
d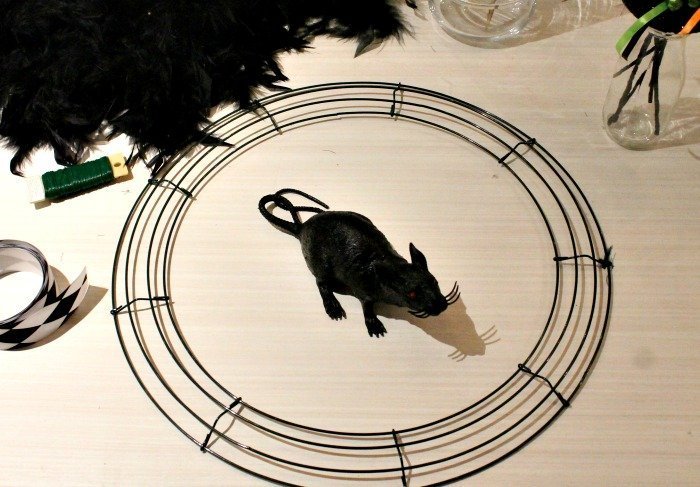 Dollar Store Halloween Wreath Supplies
18″ wreath form
Florist's wire
Two black feather boas from the Dollar store
A Dollar store black rat or owl or kitten
Dollar Store Halloween Ribbon
Lay your wreath form flat on a table. Cover it with one of the feather boas. Attach the boa to the wreath form using wire ribbon. Make sure that the wreath form is covered. This is what the Halloween wreath looks like with only the one feather boa. The wire blends right in but the feathers are a bit thin.
d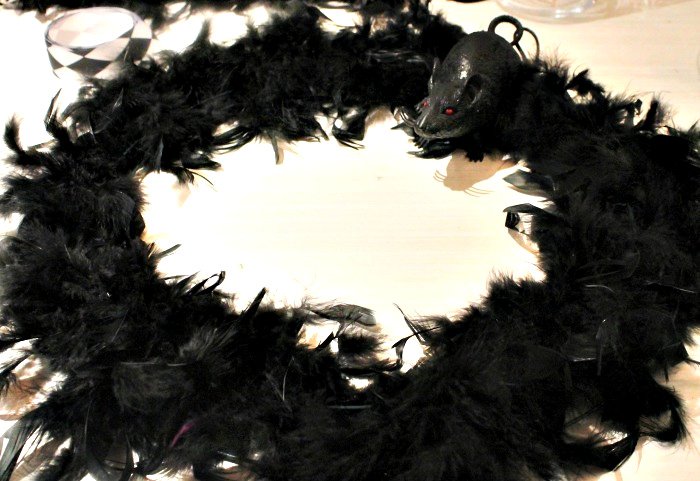 F
Add a second black feather boa to the wreath and attach with florists wire.
Hang up to make sure the feathers stay in place. If not attach them with more wire.
Make the Bow
This ribbon is the pattern I was looking for and I love it. Unfortunately the ribbon is not wired so I was not able to fluff the ribbon as I usually do.
a
Wrap the ribbon into 3 about ten inch loops. Secure the middle with wire and then knot a shorter piece of ribbon around the wire. Secure it to the frame with the wire.
Create the Centerpiece
It does not matter what you use for the centerpiece. I chose a rat and added a sparkly black witches hat for party flare. You can use whatever you think is fun.
t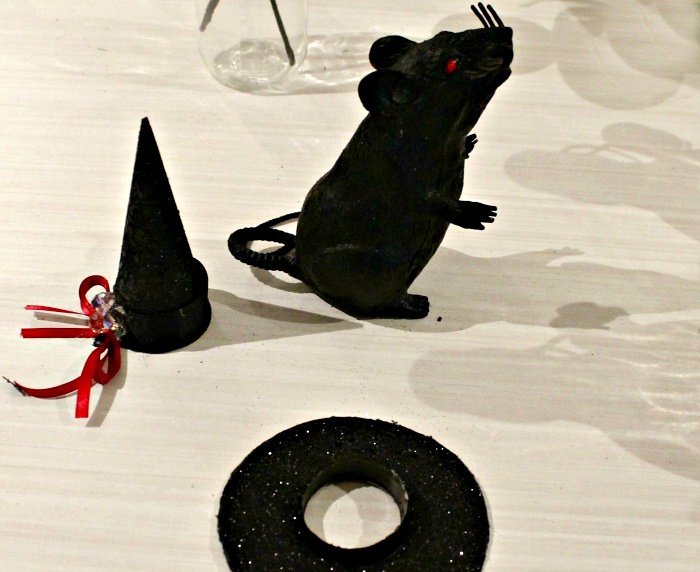 f
The plastic rat has very hard ears so I was not able to remove the hat stem and attach it to the rat. I went ahead and cut out the middle of the hat. Then I glued the hard brim around the ears with hot gluegun and then reglued the top back on to the hat brim.
I think he's a debonair little guy all dressed up for Halloween fun.
f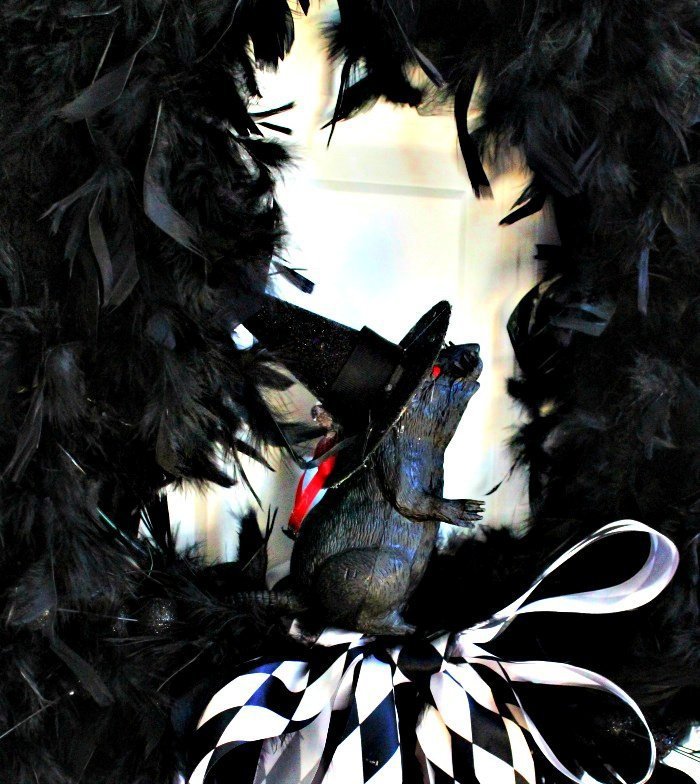 f
The little rat was attached by wrapping his little tail through the wiring and then a second bit of wire over his foot.
The little vignette I created is for the pictures only. I will likely hang him up on the dining room window, but that makes for awful pictures. He does look cute hanging off the mirror though and with this little sparkly hate I think he is down right adorable.
A True Rat Story
I use to volunteer at a animal shelter doing laundry. One day they told me they had put a little rat in there because it was warm for him sitting right beside the dryer. I was creeped out but went in the room anyways. He was the ugliest thing I have ever seen, not only was the poor beastie a rat, he had spent his life in a glass enclosure on a bed of cedar chips that he was violently allergic to. Poor guy was covered in bleeding scabs, he had no hair left on his body. All there was was scabs and a pink nose.
They changed his bedding to shredded newspaper and gave him cream for the sores. Poor little guy, can you imagine how much he suffered. I actually fell in love with him and tried to talk my landlord into letting me have him as a pet. I saw him twice a week for six weeks while he healed and shed a couple tears when he got adopted out.
Moral of the story, not all rats are bad lol
d
a
The actual purchased feathered wreaths are very elegant but plain. This wreaths feathers are more tousled and fluffy looking but its lots more fun with the little sparkly rat.
Happy Halloween
Leanna
Related Halloween Posts
I hope you enjoy some other ideas I created for Halloween.
Halloween Mantel with 3 Easy Craft Ideas