Winter Cowl Scarf
Like most people I am in the middle of the post Christmas decluttering season. I found a garbage bag of wool I haven't put to use yet. I cannot believe I have that much unused wool, shame on me. The farmer's almanac predicts an exceptionally long cold winter in Edmonton, so I decided to make a extra large warm cowl.
I would much rather have my little ones model my crafts, but they aren't available so here I am. My hair is very thick so I threw it up in a granny bun so you could see the cowl.
a
a
This cowl is really warm, and it is large enough to stay in place when tucked in. I made a little shell pattern along the edge to make it feminine.
As it is made with chunky wool, it only took me one evening to make.
For this pattern I used 2 skeins of Wool-Ease Thick & Quick brand and a 6.5 mm crochet hook.
This picture shows you how big the cowl is. The pattern is repetitive and simple so you could easily change the size to make it smaller. I love it big, as you can see it goes from shoulder to shoulder, perfect for those extra cold February days.
a


Cowl Crochet Pattern

Chain 30. Turn.

In the 2nd chain from hook, crochet a hdc in the back loop. Repeat until end of row. Ch 2 turn.

Doing the stitch in the back loop gives the cowl the rippled look you see in the picture.

Again in the 2nd chain from hook, crochet a hdc in the back look. Continue doing hdc in the back loop of every hole across. When you reach the end of the row, ch 2 and turn.

Continue for 50 rows, or until the cowl is 11 inches long.

Ch 1 and turn, work around the entire cowl doing a shell pattern. *sc, hdc,dc,hdc,sc ch 1 skip one loop* repeat around all the edges. Tie Off.

For fun I thought I would share another local winter picture of the frost on the trees. It is so pretty as long as you dress for it. Hope you like it.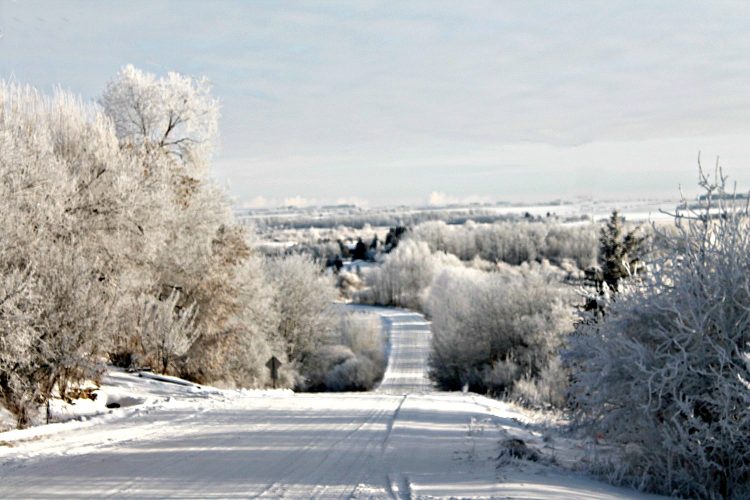 .Stay Warm