DIY Birdhouse Inspired Yard Art using an Old Ornate Frame
DIY Bird House Yard Art
This year I have decided to create Spring crafts, like this birdhouse inspired yard art, when most of the world is making them. It's time to be enjoying warm weather, when gardens are starting to grow, and Spring is in bloom. Unfortunately, northern gardens are still brown and its too cold to wash the outside deck or porch because the water will freeze. Were hopefully in our last cold snap with snow so I don't have the opportunity to create beautiful outdoor pictures for a few weeks yet.
The little birdhouse inspired yard sign is just going to have to wait to be outdoors but it can brighten up the indoors for the time being.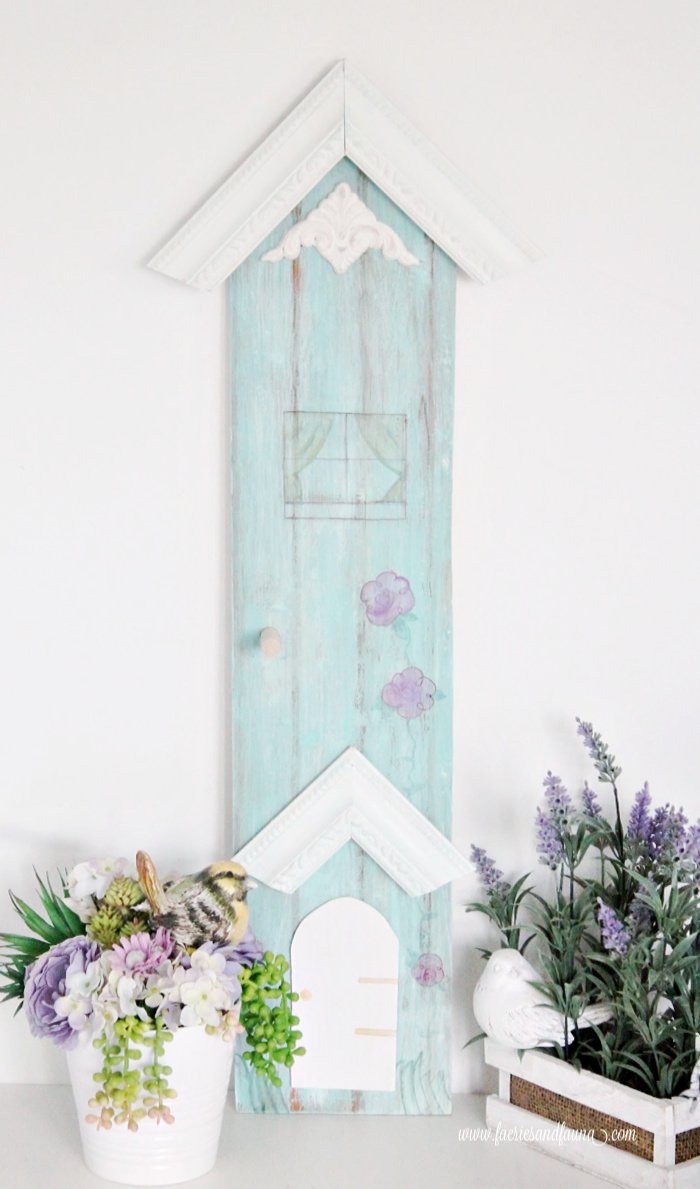 DIY Yard Art for the Garden Tutorial
If you love buying old garage frames, especially ornate old frames as much as I do, you just might have a few of them collecting dust in the basement. Messing around with a box of old frames lurking in my storage area, I was twisting them this way and that, stacking them, looking for an idea to leap out at me on how to use them.
I noticed that each frame has four 90 degree corners, or eight 45 degree angles already precut and ready to use. My large frame is perfect to use as moulding for a DIY Birdhouse inspired yard art, but smaller frames could provide perfectly sized moulding for an ornate birdhouse project
Yard Sign Art Supplies
My vintage frame is 24″ by 18″ but an 8 by 10″ frame will work.
Other than a frame you will need one long board at least 8 inches wide.
Some way to cut the wood on an angle. We used a miter saw, but you can use any saw you have available.
Ruler, pencil.
1-inch screws and screwdriver, and drill
You will small amounts of assorted paints. I used an espresso stain, turquoise paint, and white paint.
Cutting the Wood for Birdhouse Yard Sign Art
Start by cutting your lumber, this one is a leftover piece of 1″ by 8″ lumber, cut to 33 inches long.
Upper Roofline
Cut the picture frame. To make the top roofline cut one corner of the frame 8 1/2 inches from center on both sides.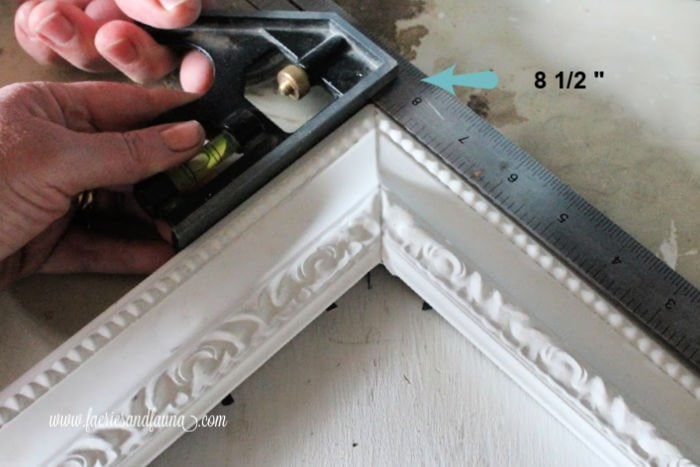 As the one end of the corner is at a 45-degree angle we cut the outside edges at 22.5 degrees.
Lower Roofline
For the second smaller roofline cut a corner of the frame at 4 inches from the center and again make your cuts at 22.5 degrees. To make it easier you can use the upper roofline as a template and draw a line before cutting.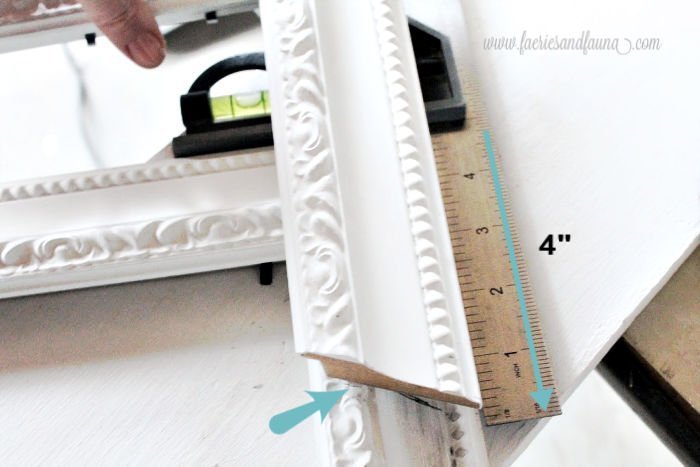 Top of Backdrop
As the upper roofline is angled you need to trim off the corners of the squared backdrop. To do this find the center of the 1 by 8 board and line it up with the center of the cut frame. Using a pencil mark off the two edges, and then cut them off.
Cutting the Door
I hand drew a 7- inch door with a circular top on a piece of paper. Start by folding a piece of paper then drawing half the width of the door. Cut out the double layers getting a full door and then using carbon paper transfer it on to a thin piece of plywood or balsa wood.
Cut the door, we used a scroll saw but a jigsaw works as well.
I then drew on some simple hardware using a pencil and then felt pens.
Painting the DIY Sign Art
I wanted the sign art to resemble a fancy birdhouse made with old slats of wood and bright white trim.
Paint the door and the two roof lines with two coats of white latex paint. Letting it dry well between coats.
To get the finish on the main backdrop piece, I chose a dark stain, with turquoise paint and white paint.
To create the illusion of wood strips use a long straight edge and a small artist brush, paint long thin lines with dark brown stain along the full length of the board. Do this every couple of inches across.
Next, apply the turquoise paint. Dip just the very ends of the brush into the paint. Remove the excess on a rag and then paint the board. Paint in wispy layers, if you end up with a blop of paint remove it with a wet rag and continue. It's fun to do, so don't take it too seriously, just keep your paintbrush dry and apply the paint with light strokes. Let dry.
Using the same technique as the turquoise paint, add a layer of white paint, I put much less white on the board then turquoise. Let dry.
Assembling the DIY Wall Art
Center the upper roofline and decide where you want to place the lower roofline. Predrill the holes for the two roof lines through the backdrop. Make sure the screws are short enough to not pop through to the front of the yard art. Then starting from the back, screw in place.
Attach the decorated door to the front of the yard art with wood glue. Add any extra embellishments you like.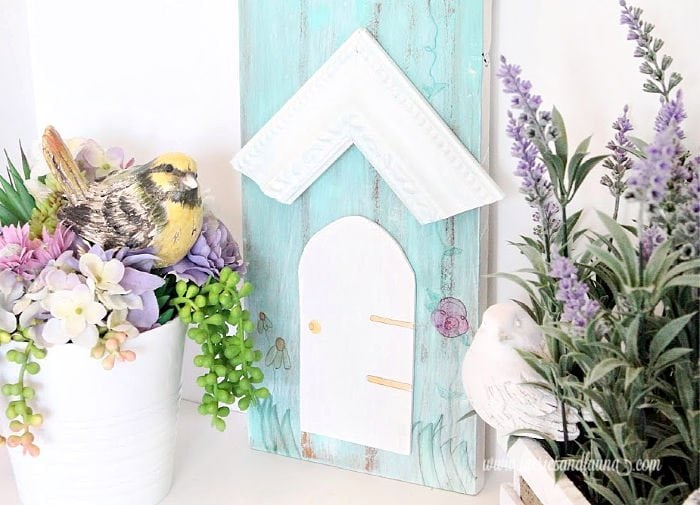 Decorating
For my yard out, I used a stamp as my inspiration for the simple roses, and hand drew the other flowers and grass. First draw with pencil, outline with felt tip markers and then fill in with Tombow watercolor pens.
Finally, I drilled a hole and inserted a doweling to resemble a bird perch, and drew a window on the upper portion.
Making the Window
Starting from the center I drew a 3-inch square box and then using watercolour pens and felts I coloured in some curtains. I considered cutting the window out and lining it with miniature curtains but for this DIY garden sign I just drew them on.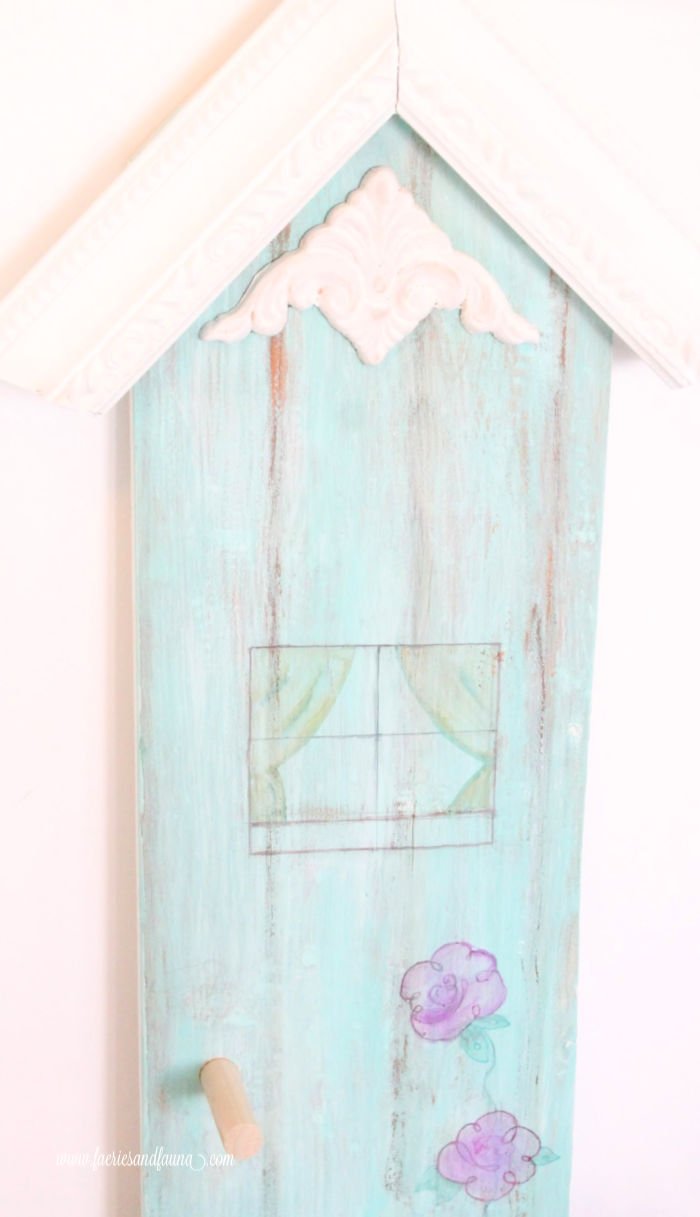 Once it warms up this garden sign is going to be hung from our patio fence to brighten up a too dull corner of our yard.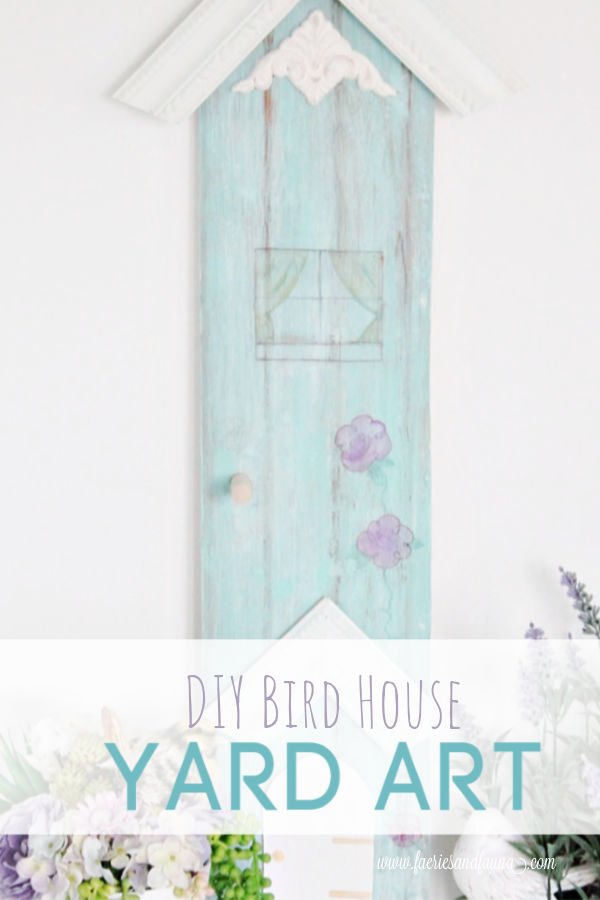 Related Posts