Decorative Skis Christmas Front Porch Ideas
All year I search for vintage items that give me front porch Christmas decorating ideas. Decorative skis is one of those items, especially really old wooden skis. This is especially true for Christmas in July. My family thinks its hysterical that I search year around for thrift items for the holidays. And work on DIY Christmas decorations in July. I tell them don't laugh, it makes perfect sense to do one or two Christmas themed ideas in July. There are loads of garage sales, thrift stores discount off season items, and its perfect weather for puttering outside in the garage.
My inspiration for these decorative skiis was a very antique pair of skiis I spotted at an antique store for $235. Undaunted I kept looking and eventually found old fiberglass skiis for ten bucks at the thrift store and turned them into Christmas ski's for our front porch.
Decorative Skis Upcycle Tutorial
I have seen lots of beautiful Christmas porches featuring painted skis, with various signs and decor hanging on them, but those vintage Christmas skiis I wanted were wood so these ones are mod podged with wood grain paper. You can use them with any colour of Christmas decor you love, blue, red, white, green, I just love them.
Supplies Needed
Cheap skis
80 grit sandpaper
Wood filler, or drywall patch
Wood grain paper
Zinser 123 primer
Brown paint (sample size)
Mod podge
For my wood grain paper I used a bulletin board backdrop I found I found at Michaels for $10. But you can use wood grain drawer liner as well, or even contact paper. Just make sure the roll is long enough to cover the entire length of your skiis.
Removing the Skiis Hardware
In order to make the skiis appear vintage begin by removing the modern hardware.
Begin by removing all existing bindings with a screw driver.
Lift off the hardware, if you find a second layer remove those screws as well.
Take a hole punch or a screwdriver and pound down any high edges around the holes.
Preparing the Skiis for Mod Podge
Give the skiis a thorough cleaning with hot water, vinegar, soap and a scrub brush. Let dry.
Fill the holes in your skiis with filler, let dry,
Sand both sides of the skiis down really well with 80 grit sandpaper to remove any ski wax.. Mine also had lots of packing tape residue. Wipe down to remove the sanding dust.
To ensure the paint and modpodge sticks to the fiberglass paint the front and back of each ski with a layer of paint primer. I don't typically sand and prime but I haven't mod podged anything fiberglass and I wanted to make sure it adhered.
Painting the Underside of the Decorative Skiis
In order to make the sides of the skiis as smooth as possible paint the back of the skiis (only one layer of paper on sides). I chose light brown paint I had on hand, but dark brown exterior paint would work better.
Paint the underside and both edges of the skiis. Let dry. Apply a second coat.
Applying Mod Podge and Wood Grain Paper
Cut two lengths of paper a little bit longer than your skiis. Make sure the paper is wide enough to cover the top and both sides of each ski. Roll the cut strips up and set aside.
Work on one ski at a time. Apply a thin layer of modpodge to the top and side of the ski. Start at the pointed end.
Apply a thin layer of mod podge as you work down the ski, unroll the paper a little bit at a time and smooth down to remove all wrinkles.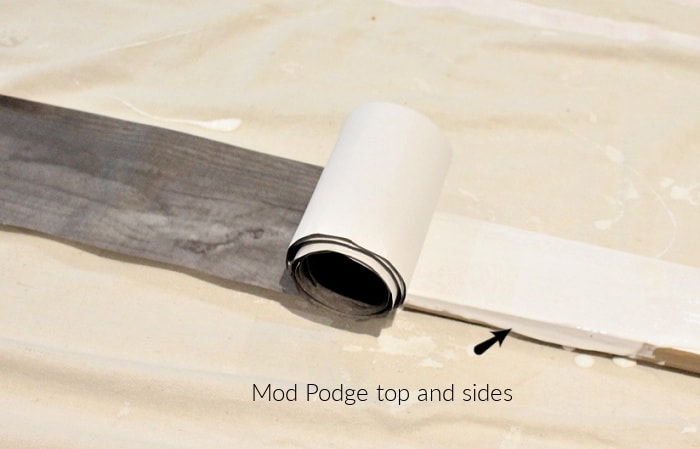 Fold over the sides of the paper to cover the sides and make sure it sticks well.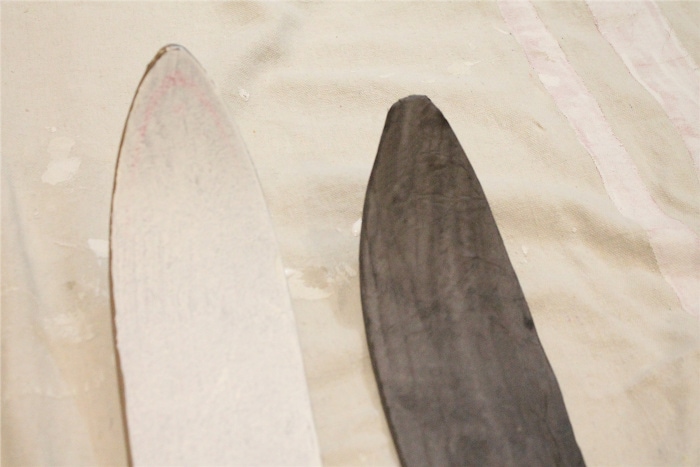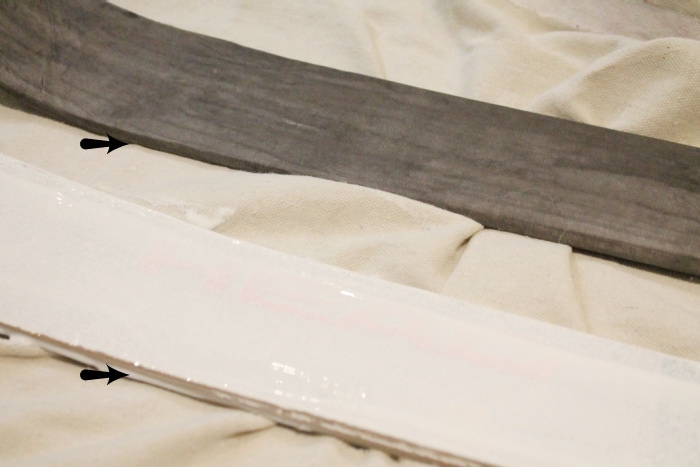 Once dry double check all the edges and add extra mod podge if needed.
Using scissors trim off the edges of the paper and touch up the paint if necessary.
Skis Decorated for Christmas
Decorating the skis for Christmas is the funnest part. If you decide to place your skiis in a criss cross pattern. Cross them to see where you want the cross position to be, making sure they are set wide enough at the bottom to be stable.
Once I had that figured out I got Hubs to predrill them and then put them together with a nut and bolt. Hubs
Once crossed and attached it was super easy
Decorating the ski's for the holidays was a two minute task. Grab a small wreath and ribbon like I did, or a small farmhouse sign, use the nut and bolt for an attachment point and you have fabulous decorative skis for less than $20.
Displaying Front Porch Christmas Skis
I admit my front porch picture is rather Ba Humbug, what can I say its for Christmas in July, but it does show you how nice the decorative skiis turned out and their full size.
Other DIY Outdoor Wood Christmas Decorations to Try
Although I wouldn't put this no mess DIY Outdoor Wood Christmas Sign near the Christmas skis it is a easy Christmas sign hack you may like to try.
These DIY Pallet Christmas Trees are another fun Outdoor Christmas Decoration you can make very cheaply. Build the tree, decorate with things on hand like an old tree star and done without loading up the charge card.
Let's check out my friend Sam's Farmhouse Stamped Santa Bags. Christmas themed projects can feel out of place in July, but creating some simple gift bags to stash away for a few months is a great idea, especially when supplies can behard to find during the Christmas rush.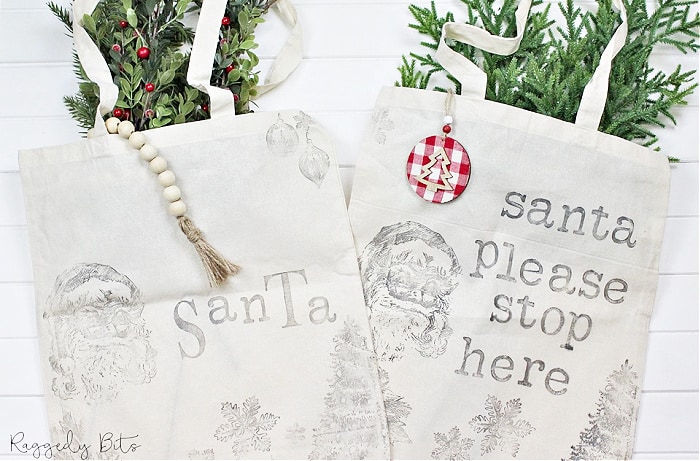 Christmas Vintage Farmhouse Santa Bags from Sam at Raggedy Bits