Halloween Mantel With Easy Crafts
DIY Halloween Mantel Ideas
This DIY Halloween mantel post came about as a personal challenge after going to the dollar store.  Wow, they have so many shop and drop products for Halloween it made me wonder if there was any benefit to sharing my DIY ideas, especially this time of year when we're all so busy.  There is no point in DIY  a holiday decor item if it costs way more than buying it does especially when we are all either saving for or preparing for Christmas.
As a result, I made this Halloween mantel for $20 bucks, it's simple but pretty.  As always I did it with simple DIY projects focusing on supplies  I already have.
Black Cat Wreath – Free
Supplies
You will need a wreath form, I have a few that I constantly makeover.  Look for one at the dollar store, or cheaper yet make one out of cardboard.  Just draw two circles and cut out.
Two or three dollar store feather boas, depending on how big your wreath is.  My feather boas are dollar store ones that I bought last year.
Halloween embellishments that you already have.   The black cat is from last year's more expensive Halloween mantel and it has a broken foot so I hid the missing foot in the feathers.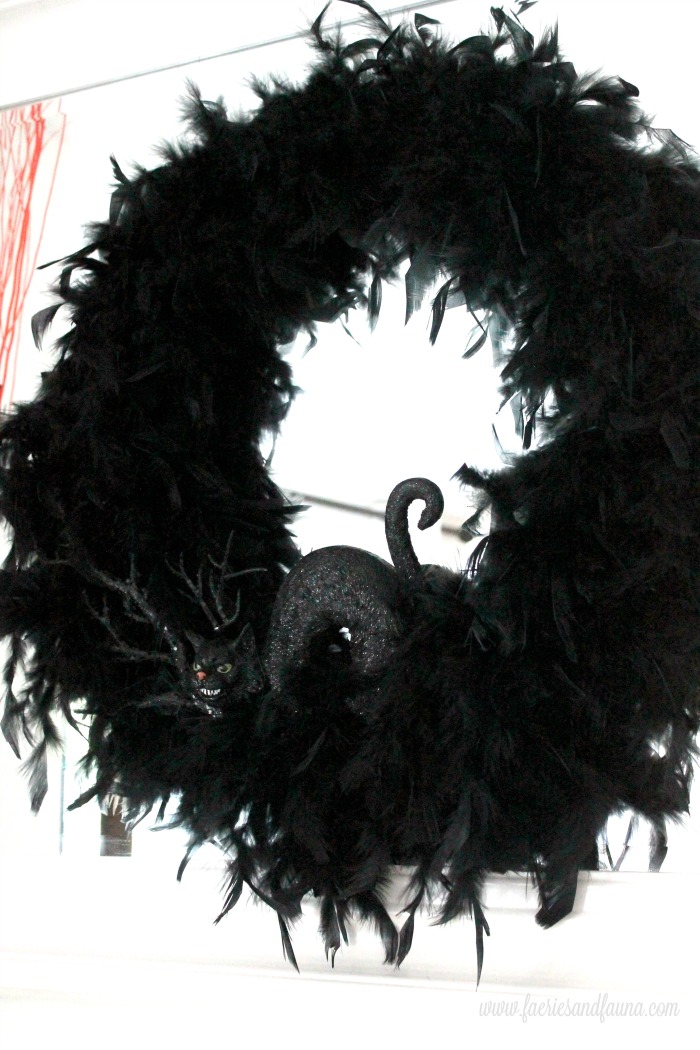 Directions
Super simple, wrap the feathers around the wreath form, tuck the ends underneath the wrapped sections.  Adjust so there are no bare spots.
You can hang the wreath as is or shop at home for something small to accessorize your wreath.  Black branches, a nice simple black, white, purple, or neon green ribbon.
Two Tall Halloween Decor Vases – $10
Supplies
Branches, Spray Paint, Vases
Directions
The dollar store typically has long branches, otherwise, go gather some.  Spray them with bright orange safety paint.  Let dry.  One coat is adequate.
If you already have some pretty glass vases eureka.  Unfortunately, I only had one, the second purple one is purchased ($10).  It's much nicer than anything I found at the dollar store and will keep very nicely in my Halloween stash to use again.   The vases don't have to be matching although it's wonderful if they are.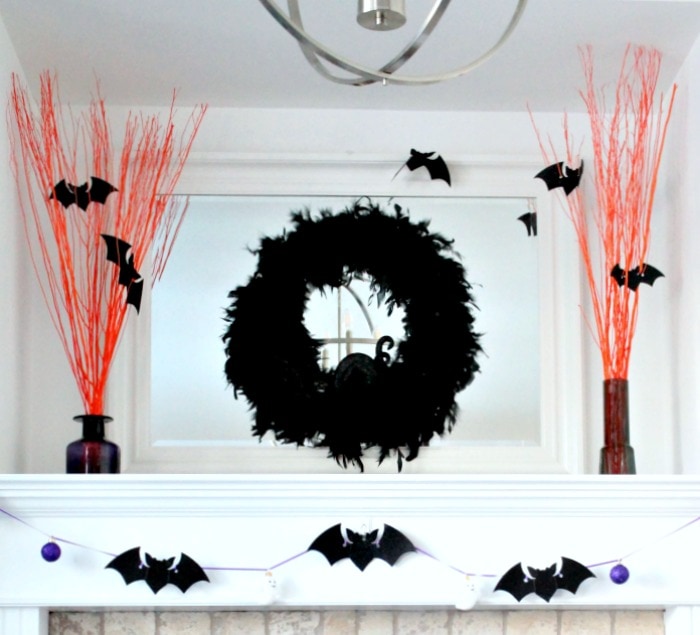 Alternatively, I suggest cutting and painting one-quart milk boxes, fill them with sand and add glitter to decorate them.    I chose to spend the coin on a vase.
Pretty DIY Halloween Banner with Bats – $12
For this DIY Halloween banner, I would have preferred to string the bats on black beads.  To save on cost I chose plain thin dollar store ribbon.  The beads would be gorgeous though, just saying.
DIY Halloween Banner Supplies
Purple ribbon, black bats or black paper, small Halloween or Christmas ornaments, hole punch, ruler
Paper bats and paper bat templates are readily available this time of year depending on your budget.  The least expensive version, of course, is cutting them out from construction paper.  Unfortunately, I don't have minions in the form of little children to make these with me as a fun Halloween craft.
My schedule is nuts so I bought some with my 50% coupon at Michael's  I also bought a small package of the cute tiny ornaments, causing me to go over my $20 budget by $2 bucks.  White Christmas balls would work just as well, unfortunately, I didn't have any small ones.
Halloween Banner Directions
Obviously, you string all the ornaments on a ribbon and voila' you're done.  I was a little fussier than that, so if interested here are some tips.
Make one hole on your first bat.  Then you that as a template for the hole on a second bat.  Now you have two bats with one hole.  Helpful so far eh?
Flip one of your bats over so the punched hole is on the unpunched side and cut the second hole.  You now have a template for all the remaining banner bats.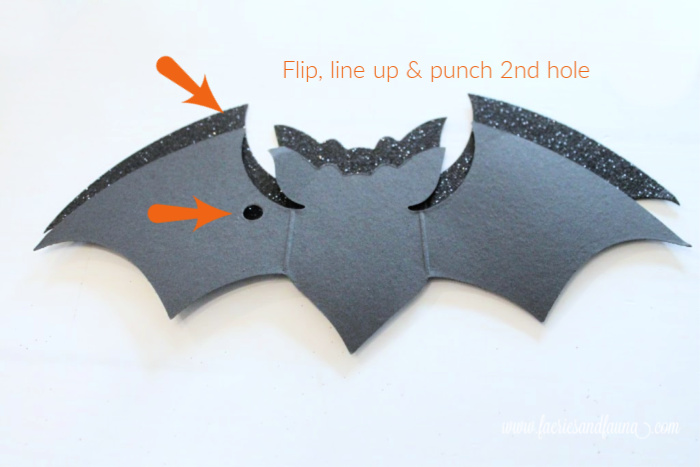 Start in the middle and work outwards.  Measure the width of your mantel, add two feet and cut your ribbon, fold the ribbon in half.  Make sure the center point of the ribbon is behind the central bat.
Thread your ribbon from the front and wrap it around the top of the wing to hold it in place.  Pull it across the back and repeat on the other wing.  Tape in place.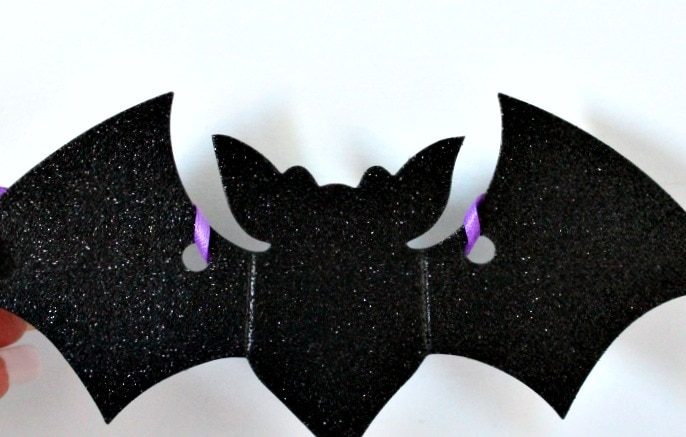 As you work along inevitably the ribbon gets twisted, just adjust it so that the twists are behind the bat and tape it that way.
My bats and ornaments are separated by four inches between the tip of the batwing and the ornament.  The ribbon is looped through the top of the Halloween ornament to hold it firmly in place.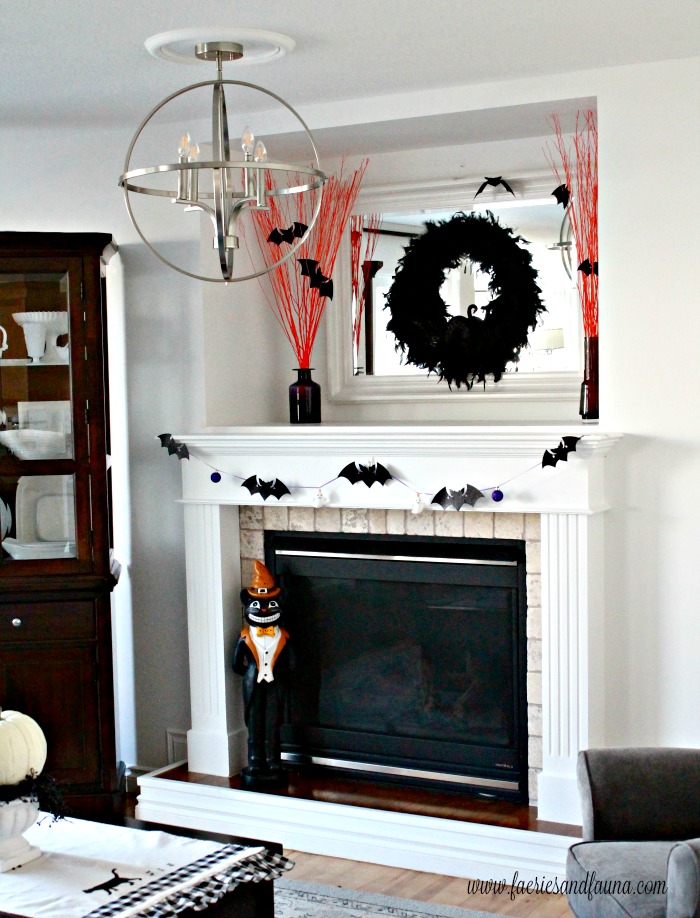 Remaining Halloween Mantel Ornaments
I added a Cheshire cat to the bottom of mine,  some white pumpkins I have was a thought,  or a basket of pillows but kept it simple.   Anything large and Halloween coloured works, even something as simple as a large real orange pumpkin.

Do you think it's worth creating a DIY budget version for Halloween decor or are you more likely to just shop on a budget?
I would love your feedback, it helps me plan for next year.
Happy Halloween
Leanna