DIY Paper Loaf Pans for Picnics or Gift Giving
These mini paper loaf pans work really well to wrap and store quick breads. These particular loaf pans are made to wrap up banana bread with lime glaze and coconut recipe, the recipe is special enough for simple gift giving. It is my favorite banana bread recipe, (yes even better than chocolate chips ) If your making quick bread loaves for yourself, the little DIY paper loaf pans are a fantastic way to prevent your loaves from being crushed in a picnic basket.
My favorite kitchen supply store has mini loaf pan liners at $6.00 for 4 pans, so I kept moving along. There isn't much point in spending more on the gift box then the gift, at least I don't think so. As per usual when I can't find something that fit my cheapskate budget that's pretty enough and available, I made some of my own.
These simple little boxes don't require a fancy cutting machine, the first one took a few minutes to figure out a sized template for my particular loaf pans. After that it took me a couple of minutes for each paper liners.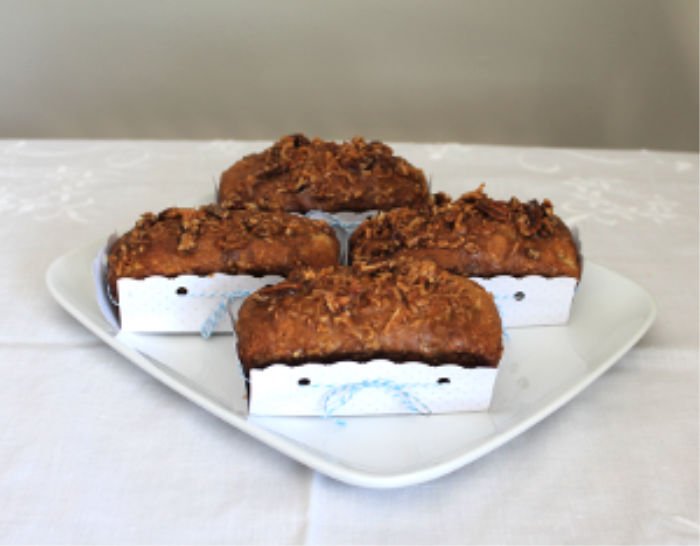 You can make these on your silhouette machine, but not everyone has one, so this time I decided to go traditional.
Basic Supplies for Making a DIY Disposable Loaf Pan
[one-half-first]
paper for the template
card stock paper
string
ruler
[/one-half-first]
[one-half]
pencil
measuring tape
hole punch
[/one-half]
Creating the Paper Loaf Pan Template
Measure the dimensions inside your pan. My mini loaf pans are 8″ long by 5 1/2″ wide, and 1 5/8″ deep.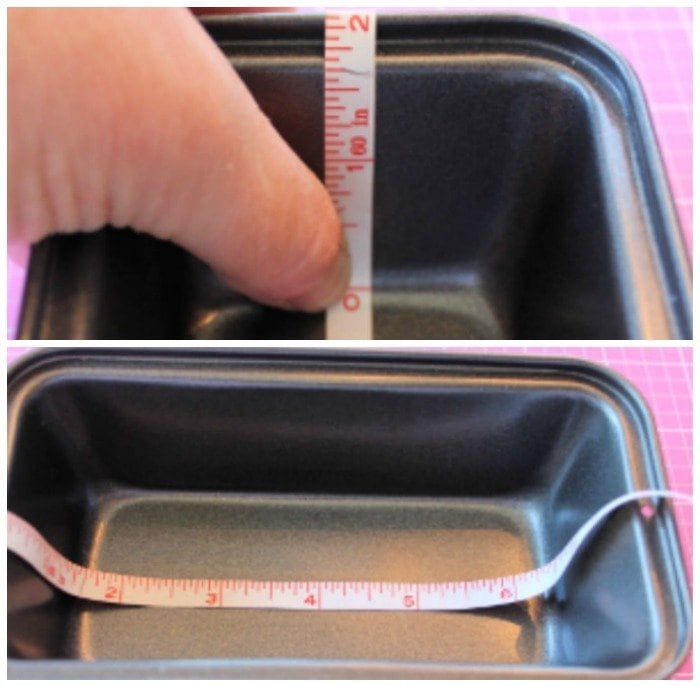 Measure and mark out the loaf pans dimensions onto plain paper. If you happen to have graph paper that makes it even easier. Cut out the outside dimensions.
Fold and form creases along all the markings.
The corners are made with little slots. In the following picture I have marked the cut marks with a little X for you.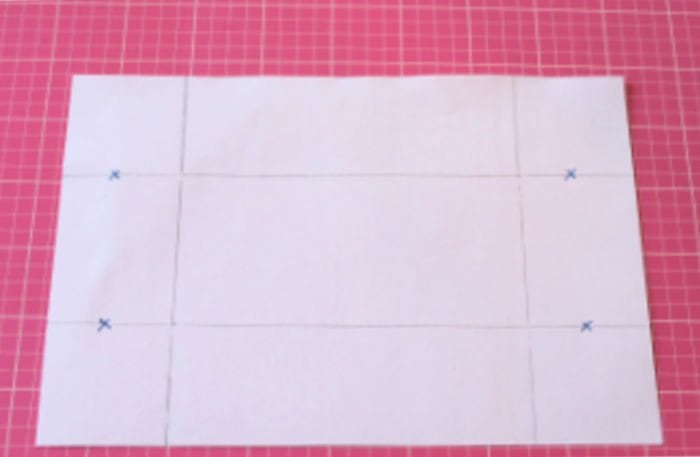 Fold the end pieces outside the longer side pieces and tape in place. This leaves you the little square end as shown.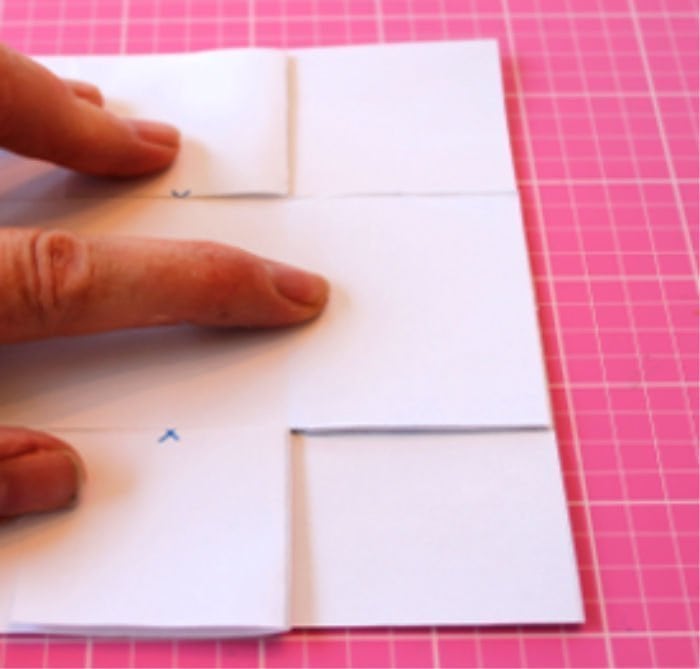 Now that we have the paper template done we simply trace it out onto the back side of pretty cardstock paper.
Mark out the corner squares (as shown above).
Make fancy cuts along outside edges. (optional)
Punching Holes in the Mini Loaf Paper Liners
Fold paper in half lengthwise being careful not to crease, cut the first 2 punch holes.
Unfold and use placement to make the four remaining punch holes.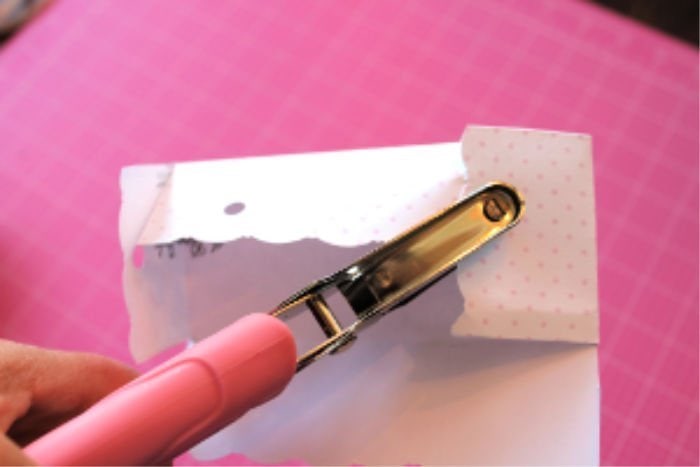 Your box will look something like this.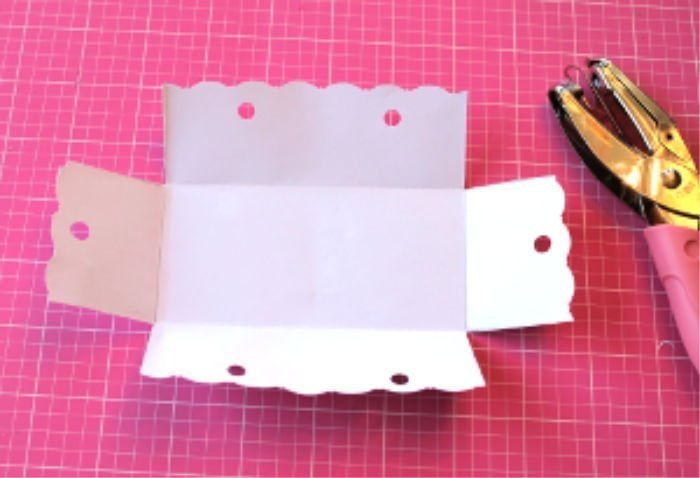 Starting from the front left hole, weave the string front to back. You will end with the string going back to front in the right front hole.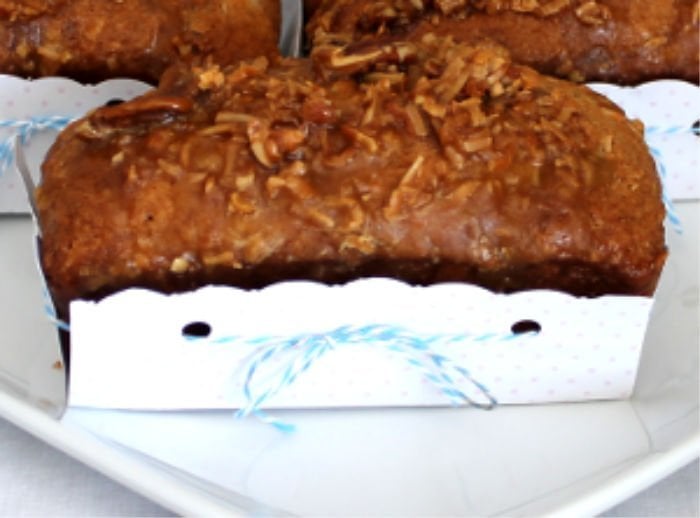 Place your loaf into a box, tie the string tightly with a little bow.
I hope you think they are as pretty as I do.
Like this idea? Pin for Later!