Twenty Beautiful Easter Eggs with Tutorials
Easter Egg Decorating Ideas
Blogland is full of stunning Easter Egg projects and understandably so. They are a Easter tradition, they are gorgeous, they are fun to create and they are inexpensive. This post compiles my favorite Easter Egg decorating tutorials.
Today's post is a round up of modern Easter egg designs; the posts all include tutorials and directions so you can make your own, not just pretty pictures.

At the end of the post you will find instructions on how to hollow an egg, cut the cap off an egg and hard boil an egg. It's always good to have instructions on the basics.
Edible Easter Eggs
Some Easter eggs are just too dyed or glued or painted to be eaten. There are even pretty Easter eggs made out of styrofoam, plastic, wood, or even cement.
All of these eggs are made with boiled eggs in either natural dyes (love that) or just plain hard boiled (easy peasy).
Martha provides full recipes and directions for a wide variety of colours to add to a boiled egg. Granted its more expensive than a dye kit, but you know whats in it.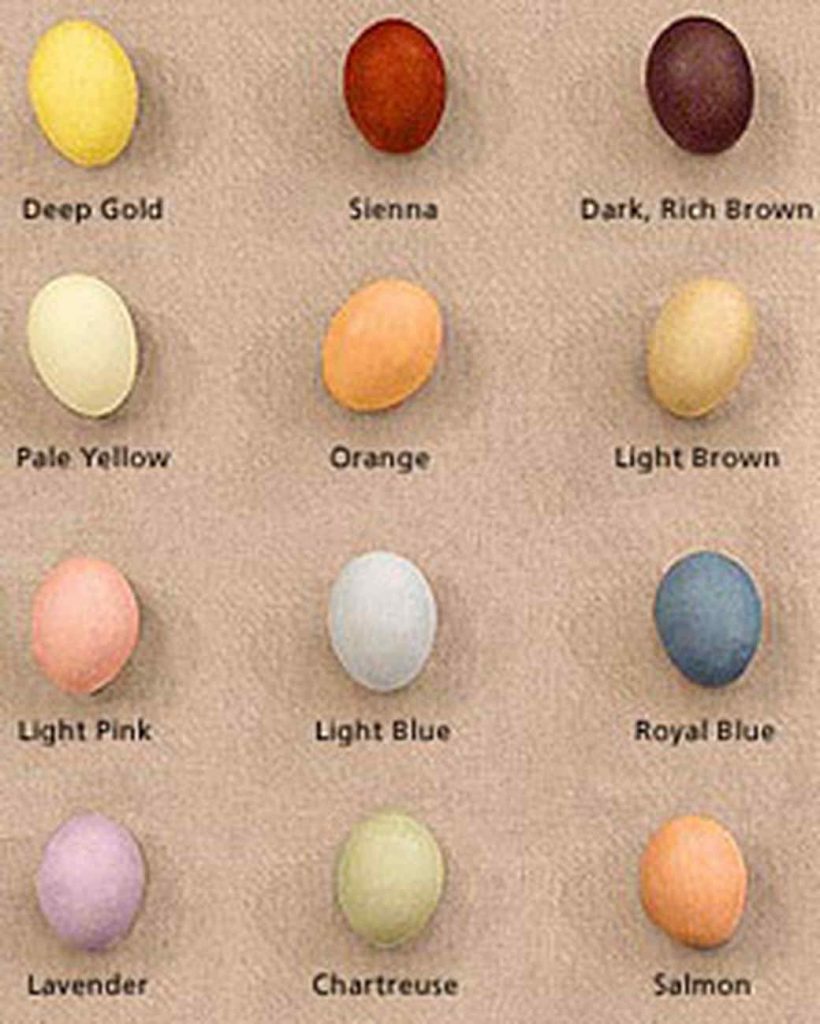 Martha Stewart – Dyeing Eggs Naturally
Isn't she just the cutest sweetheart of an egg. Start with a brown egg, add a pretty headband and a sweet face. She is just so adorable.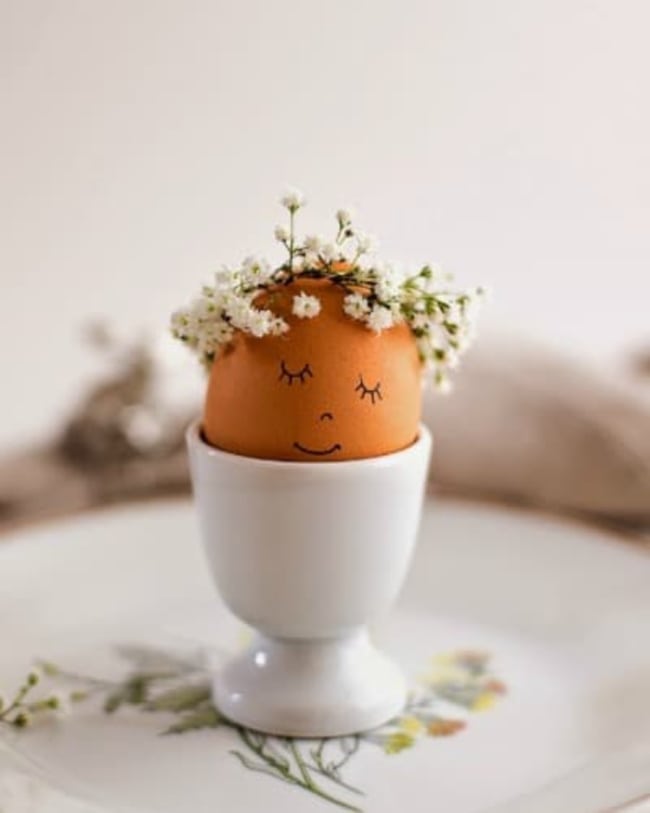 a
Flax and Twine – Floral Wreath Crowned Easter Eggs
These simple elegant eggs are done with a cutting machine and gold vinyl. I find their quiet elegance beautiful. If you don't have a cutting machine you could hand letter or stencil your own wording.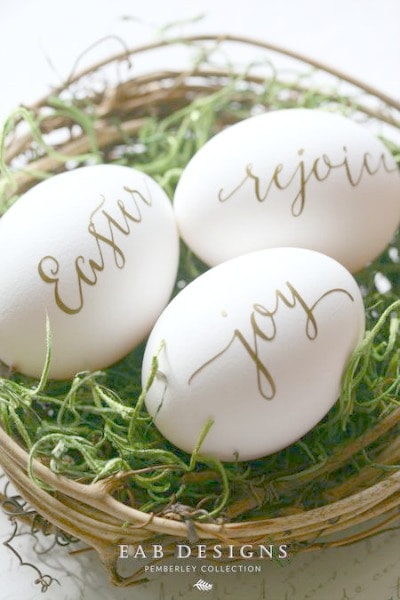 EAB Designs – Easter Egg Project
These eggs are dyed but super easy to do. To get the ombre effect you dye each egg a little bit longer than the previous one. So pretty and so easy.
a
Cool Whip Easter Eggs are quick, easy, and require minimal clean-up. You will love this less mess way to dye Easter eggs with kids.
In Katrinas Kitchen – How to Make Cool Whip Easter Eggs
Easter Eggs You Just Want to Keep
Easter eggs are wonderful for Easter decor. Everyone knows them as an Easter tradition, they are just so pretty and can be created to match decor. The following eggs aren't meant to be eaten they are simply used for decor.
These glittered Easter eggs or so sparkly and fun. Imagine all the difference colours of glitter you could use, tutorial in the post. Love the brown egg idea.
a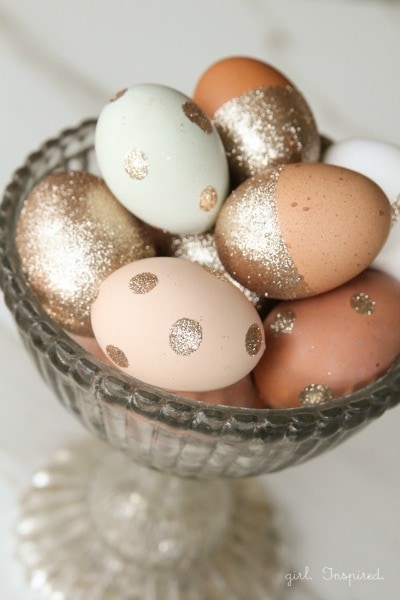 The Girl Inspired -Glitter Easter Eggs
This is one of my own Easter Egg designs. These Easter themed placeholders make a simple tablesetting look elegant. Complete step by step instructions for this simple design are in the post.a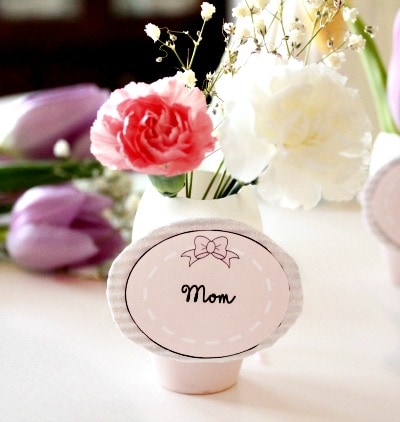 a
Pretty DIY Home – Floral Egg Place Holders
The secret to these easy decorative Easter eggs is printable tatoo paper. All the design and no mess.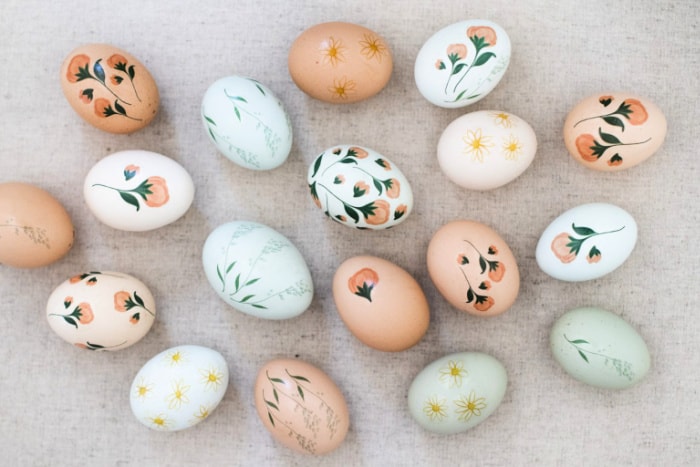 Monika Hibbs – Easy Decorative Easter Eggs
These Disney Pixar eggs are inspired by the families favorite movie. What a fun creative way to create together with the kids.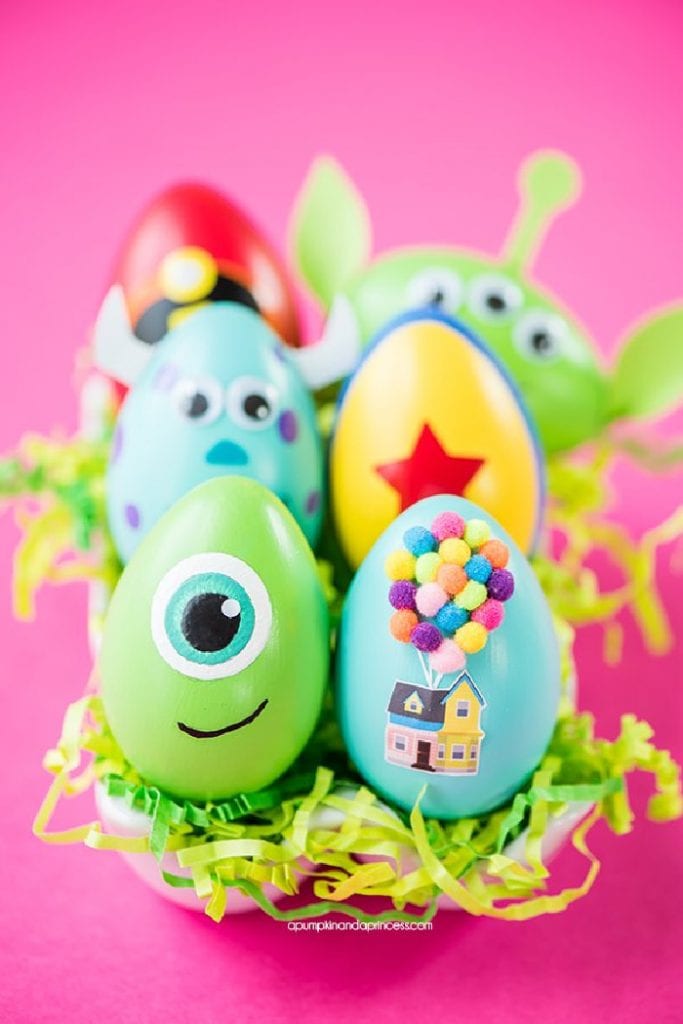 A Pumpkin and a Princess – DIY Disney Pixar Easter Eggs
The Bunny face Easter eggs couldn't be easier to make. A Girl and Her Glue Gun includes a free svg file to make it super simple to create.
A Glue and a Girl Gun – Funny Face Easter Eggs with Free SVG File
These little cactus Easter eggs start with real eggs. A very different Easter egg in natural cactus colours. I enjoy the neutral colours of these eggs.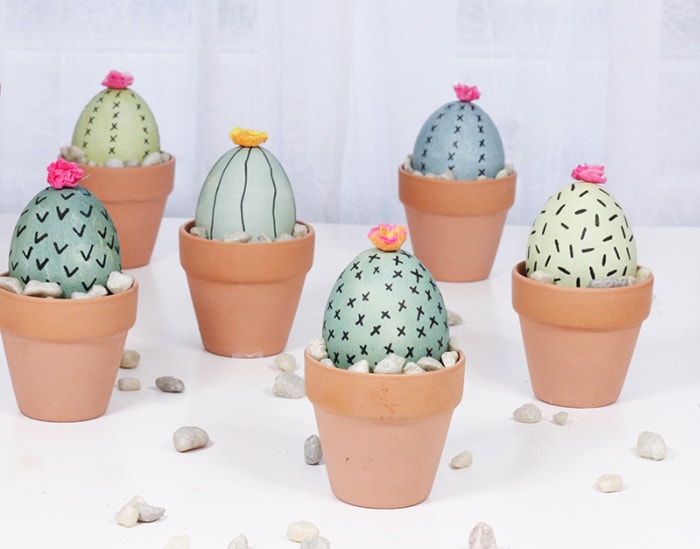 Quartz and Leisure – Easter Egg Cactus
Have the kids colour in some colouring pages, cut the small motifs out and use them to decorate Easter eggs. A simple yet fun way to collaborate with an Easter craft. Sometimes the simplest ideas seem the most brilliant.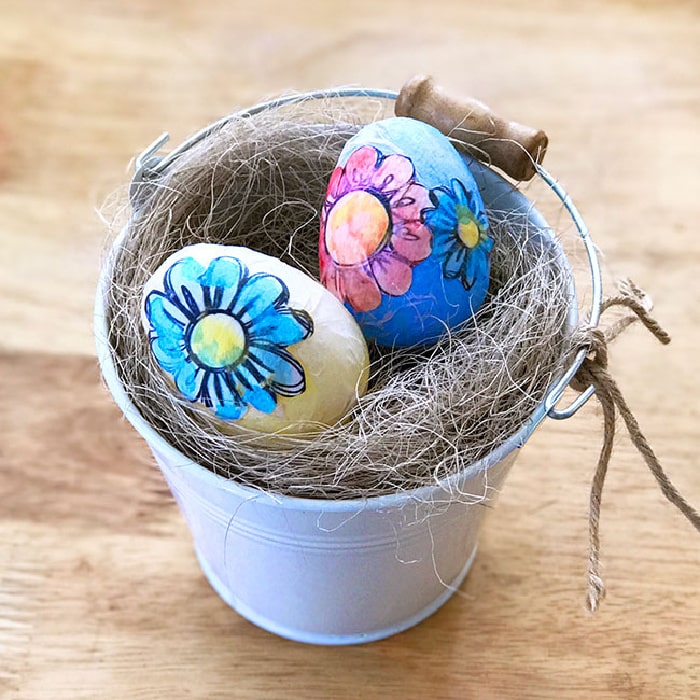 Angie Holden – Colouring Page Decoupage Easter Eggs
The pretty robin egg blue eggs are made out of wood. So natural looking in their robin eye blue and yellow paints with speckles. Again the tutorial is included in the blog post.
a
Birds Party – Painted Easter Eggs
These magical Unicorn Easter Eggs are great for tweens, start by painting a wooden egg, adding a face and pretty accessories.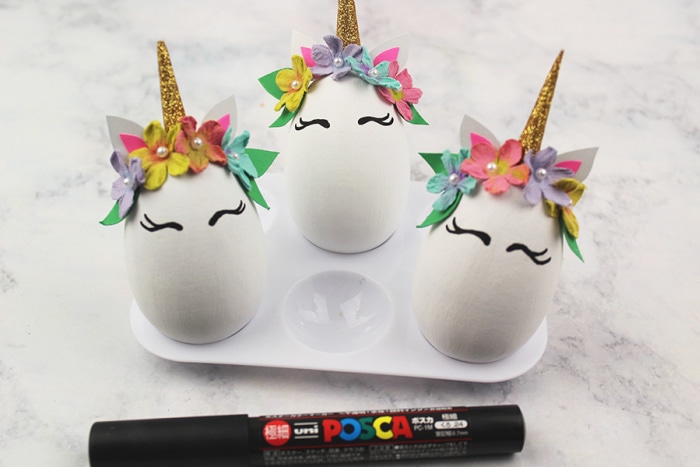 I Heart Arts n Crafts – Unicorn Easter Eggs
Temporary tatoos are the secret to these pretty Easter eggs.
a
The Graphics Fairy featured Evi's vintage Easter eggs. The Easter eggs are made from goose eggs. Using the same method and graphics from the Graphics Fairy you can make a wide variety of your own one of a kind eggs. These ones are so quaint and vintage inspired.
a
Graphics Fairy – Featured Vintage Eggs
A simple yet adorable painted Easter egg craft. Such a sweet looking egg.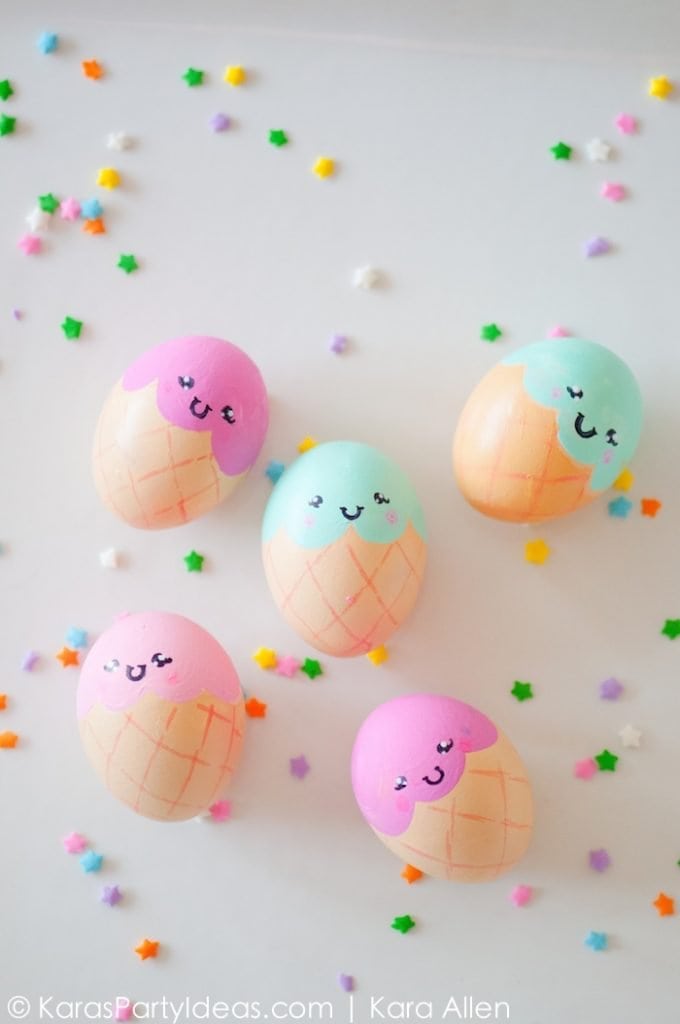 Karas Party Ideas – Ice Cream Cone Easter Eggs
This egg shaped basket start with a balloon. It would certainly be the biggest Easter Egg in your collection and possibly the prettiest. This idea from My Melodrama can be used in so many ways, she shares her how do.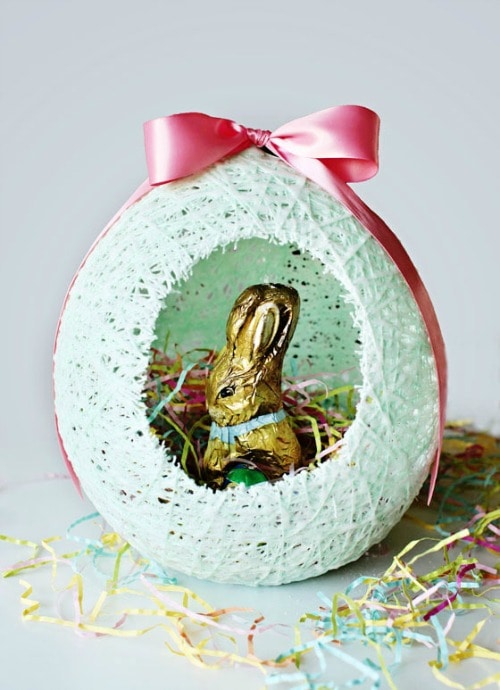 My Melodrama – Sugar String Egg Basket
Moss is so trendy right now you see it everywhere in Easter and Spring decor. Cherished Bliss provides us with a tutorial of her brilliant moss covered egg.
a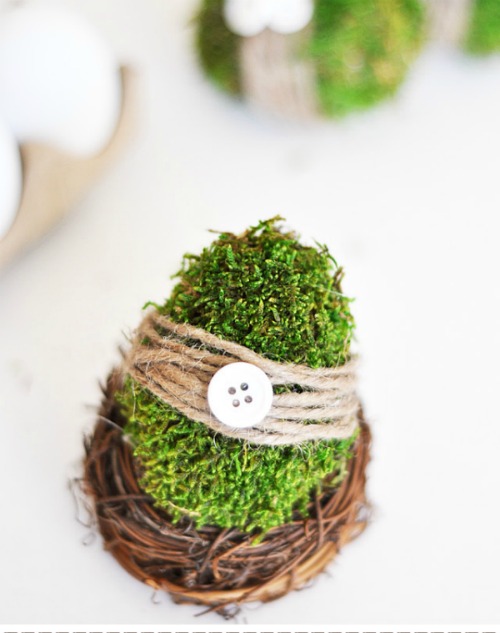 Cherished Bliss – Moss Covered Easter Egg
Painting Easter eggs by following a simple tutorial, trust me, no art ability required.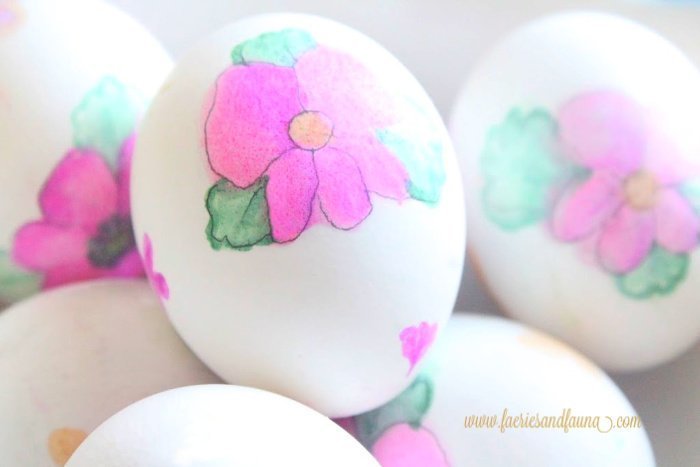 This tutorial used egg wash to attach the napkins, brilliant idea. These are so intricate looking, while being easy to put together.
a
larecetadelafelicidad.com – Napkin Easter Eggs
These eggs are hallowed, painted with chalk paint and wrapped in lace and other feminine embellishments.
a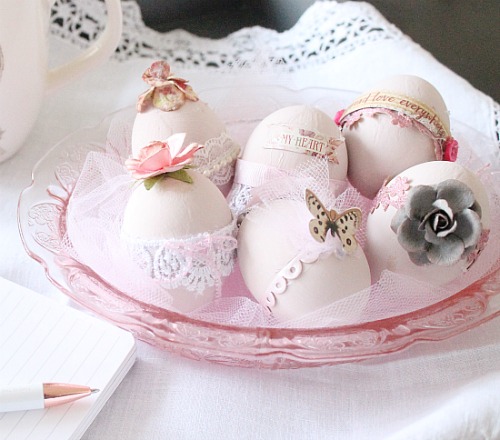 a
Pretty DIY Home – Feminine Easter Eggs
a
a


General Egg How-To Tutorials
How to Blow out an Egg
I promise this is easy to do, all you need is a little bit of patience. The worst case scenario you may break one egg out of a dozen and your going to have enough eggs for an omelet supper either way.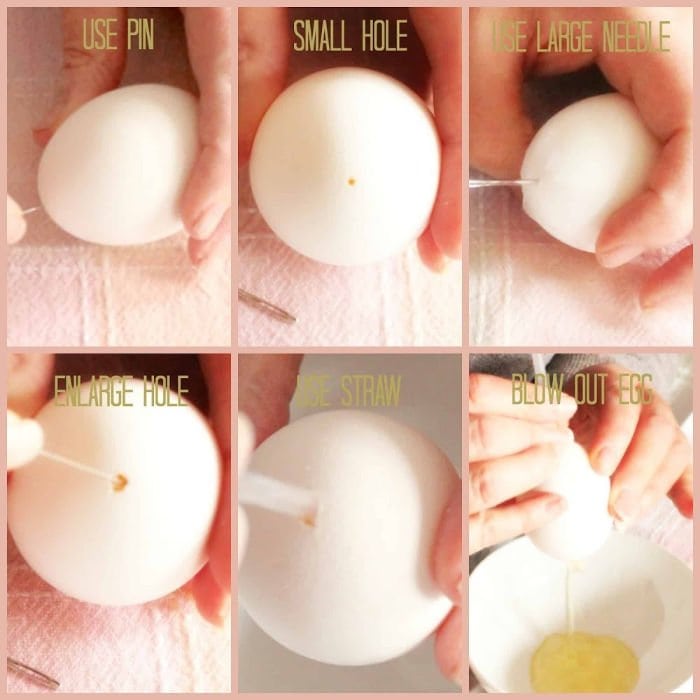 a
You will need:
Eggs, towel, bowl, tape, small headed pin, large sharp darning needle, and a juice box straw.
Start with washing your egg. Place on a clean towel, along with needles, straw, and bowl.
Firmly grasp the egg. Poke the egg with the small needle in the pointed end first, apply steady pressure and twist. You will feel the needle slowly grip and then drill through the eggshell. This may take up to a minute or so, this requires patience. I promise it works.
Once the small pin breaks the surface, apply tape over the hole. This will help prevent cracking.
Insert the large darning needle. Twirl it around gently to enlarge the hole a little bit and plunge in and out of the egg to break the yoke and sort of scramble the insides.
Using the small pin roughen up the edges enlarging the hole.
Repeat this on the other end.
Now that you have two holes. Cut the juice box straw and use just the little straight part.
Place your egg over the bowl, put the straw over the hole and huff and puff and blow the egg out.
Once this is done, run the egg under the tap to rinse out whatever little may be left inside.
You can then drain your eggs for two days, or do like I did and bake them at 300 F for ten minutes. Let cool and decorate.
To Remove the Cap of an Egg
You will need Caution, an egg, and a sharp box cutter. Be cautious and careful and don't get cut.
Make sure the box cutter blade is sharp. Apply a steady pressure towards the narrow end of the egg. Spin the egg slowly as you scratch a single line, it may take two rounds. The egg will start to crack along the weak scratch point. Continue cutting along the line until the cap of the egg is lose and comes off.
Empty the egg contents out into a bowl, you can still eat them. Rinse the shell out thoroughly with water and let dry.
To Hard Boil Eggs
Place eggs in a pot, cover with water so that the water is 1 inch above the eggs. Place on high heat, once they boil turn to very low heat and let them quietly cooks for about 12 minutes.
To test if they are hard boiled take an egg out of the water and spin on the counter. If it spins well that means the yolk is hard. If the egg wobbles it means the yoke is still runny causing the wobble.
Happy Easter