Shabby Chic Easter Eggs
As we get older lifestyles change, we no longer have a house full of children wanting to dye boiled eggs they refuse to eat. In our home little fingers aren't creating beautiful eggs in bright colours any longer, instead, egg decorating has become more elaborate, and I enjoy making these fancier shabby chic Easter eggs but wish I had the munchkins creating their Easter treasures instead.pa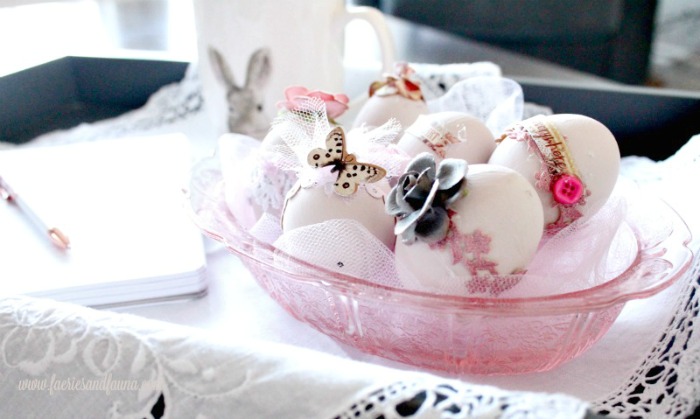 These eggs are designed for a teenager girl who is old enough to play with hollowed eggs and use a glue gun. These eggs would look so pretty on a girl's dresser. Let's start with preparing the eggs.
How to Blow out an Egg
I promise blowing out real eggs is very easy to do, all you need is a little bit of patience. The worst thing that could happen is a couple of broken eggs out of a dozen you're going to have enough eggs for an omelet supper either way.
h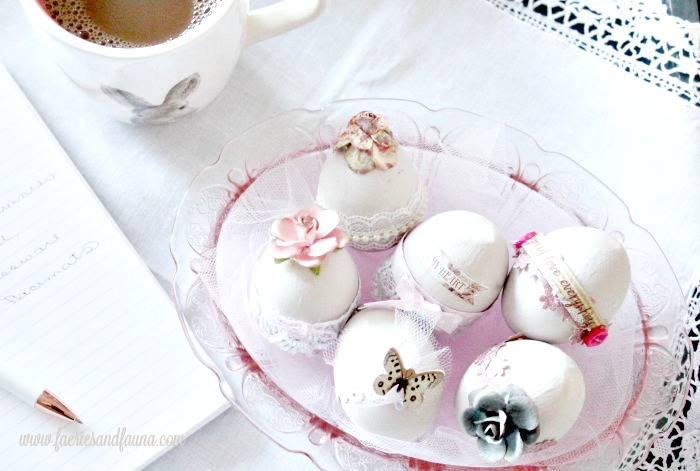 You will need:
Small-headed pin
Large sharp darning needle
Juice box straw
Start with washing your raw eggs. Place them on a clean towel, along with the needles, straw, and bowl.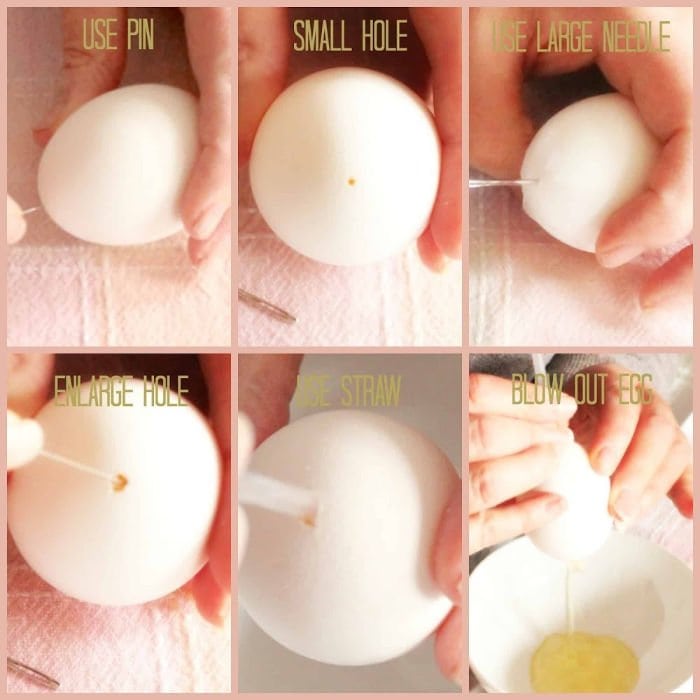 Firmly grasp the egg. Poke the egg in the pointed end first, apply steady pressure and twist. You will feel the needle slowly grip and then drill through the eggshell. This may take up to a minute or so, so be patient.
Once the small pin breaks the surface, apply tape over the hole. This will help prevent cracking.
Insert the large darning needle. Twirl it around gently and plunge in and out of the egg to break the yoke and sort of scramble the insides.
Using the small pin roughen up the edges enlarging the hole.
Repeat this on the other end.
Now that you have two holes. Cut the juice box straw and use just the little straight part.
Place your egg over the bowl, put the straw over the hole and huff and puff and blow the egg out.
Once this is done, run the egg under the tap to rinse out whatever little may be left inside.
You can then drain your eggs for two days, or do like I did and bake them at 300 F for ten minutes. Let cool and decorate.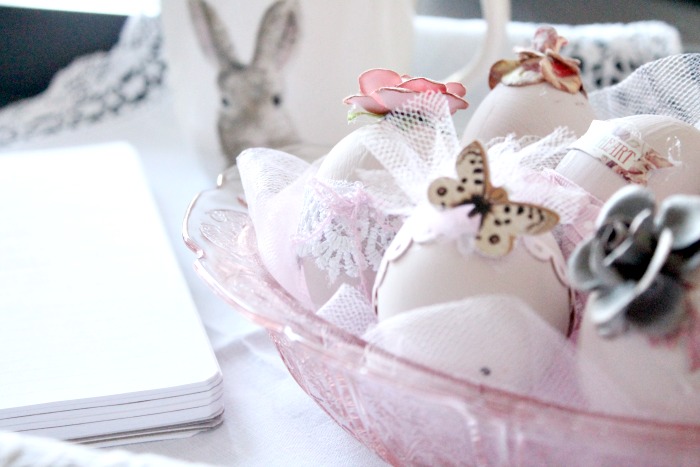 Colouring the Eggs
Originally I dyed these eggs using beets but the colour was not what I wanted, so I finished them with chalk paint instead. The chalk paint supports the shell if I was to do them again I would just paint them.

Embellish the Easter Eggs
Gather your supply of embellishments, buttons, ribbon, stickers, tiny flowers, feathers, mesh, scrapbooking supplies, small beads or glitter.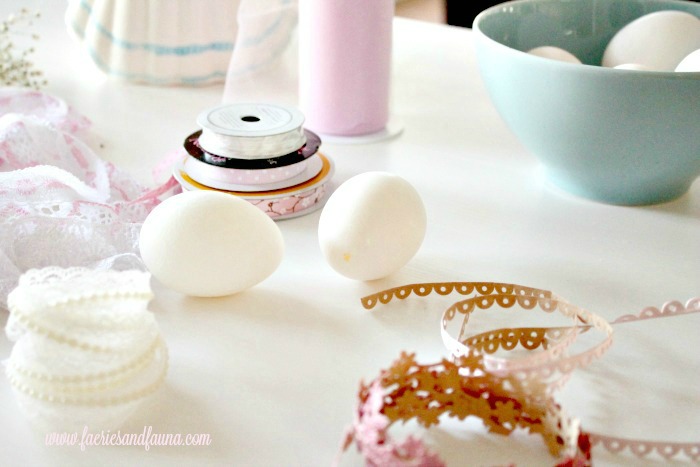 a
Add the ribbon first with the glue gun. Then add the other decorations.
Storing the Feminine Easter Eggs
Keeping eggs from one year to the next is something I have no experience with. Now that the children are all grown I made these eggs. I miss the earlier days. These particular eggs are going to be stored for next year. Not sure how long they will last, hopefully, they will keep for a couple of years.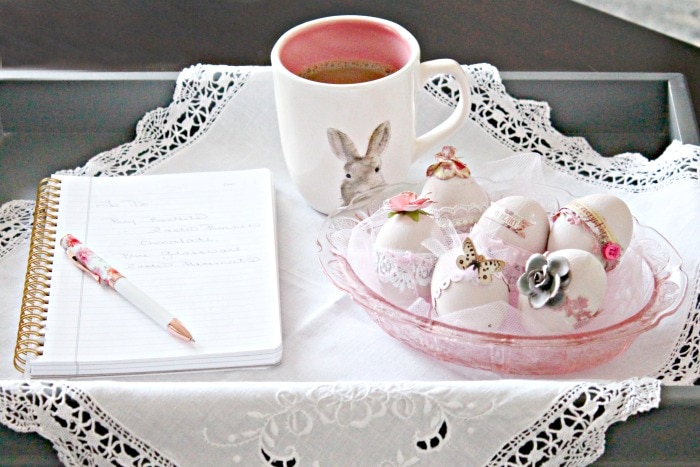 Easter eggs are so fun to create and inexpensive. I usually create at least one a year. I have added some other Easter Eggs I hope you enjoy.