DIY Farmhouse Signs for a Simple Fun Coffee Station
Over this summer I have been focusing on projects that I could make from a too large wood scrap pile. Its actually been lots of fun and most of the projects are super inexpensive as well. This particular project I did for free. If you don't have all the supplies on hand like I did the signs should still cost less than $5.00.
Supplies
These ones were made using 1″ by 8″ lumber that I cut into four-inch slices. You will need any kind of 1″ thick lumber or plywood that you can cut into 3 – 4″ by 8″ squares.
Paint or Stain
60,120,150 grit sandpaper
Graphite Paper, and Pencil
Black Sharpie Pen
Coffee Makes Me Perky Template
Cut and Sand the Lumber for the Coffee Signs
The lettering will fit like mine does as long as you cut your rectangles to 4 by 8-inch blocks. If you change the size you make need to tweak the wording template size.
Once your lumber is cut, sand until smooth using 60, 80 and then 120 grit sandpaper. Round the corners and the edges. I did mine by hand as the pieces are small and easy to work with.
Paint the Coffee Signs
We are out of white chalk paint, so these coffee signs are made using white pickling stain. You can use whatever you have in the colour you like. The blocks received two coats of stain and were sanded well between each coat with 150 grit sandpaper.
Transferring the Wording
Print out the Coffee Makes Me Perky template and then cut out the wording.
Place a sheet of graphite paper on top of the wooden block. Put the template wording on top of the graphite and trace the lettering using a pencil. You may prefer to place the quotation marks a bit higher on your sign then the template does. If you do skip tracing them and add them at the end using a black Sharpie pen.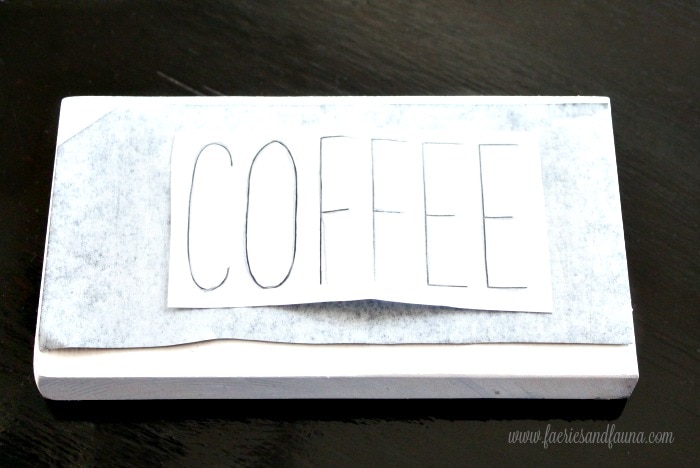 Once you have the lettering traced onto the woodblock, retrace the letters using a black Sharpie or fine-tipped paint pen. Let dry overnight.

Wipe or erase off the graphite.
The little coffee signs were placed into a 3 tier galvanized tray. I added some white cups, a mason jar for sugar, a vintage sifter holds the teaspoons. There is room for more items like coffee flavourings, or small snacks.
When I first created an organized coffee bar the family wondered why I bothered. The funny thing now is when I took it down to update it, they were asking when I was going to put one back. They found it really handy having everything centralized and on the counter, especially for groggy mornings.
This one has either a farmhouse feel or a neutral fall feel, but these little signs will work during any season.
Enjoy!

Large Custom DIY Welcome Sign Tutorial