A Bee Happy DIY Planter Sign
The summer is simply flying by, but the best of times typically do go by all too quickly. At our house we are spending as much time outside as possible, hauling the laptop outside to write on the deck and not worrying one bit about the screen glare either. It's worth it.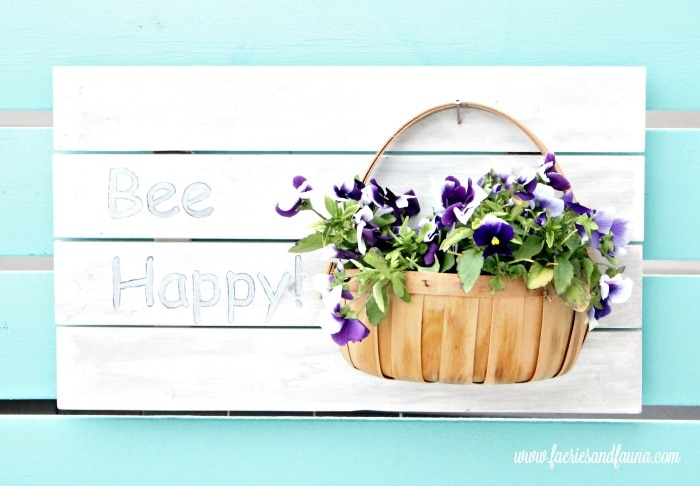 This month my Farmhouse Hen friends and I are blogging about planters. Some of the Hens live pretty far north, so our summer planters are finally maturing. Michelle from Our Crafty Mom is in the middle of a large move to a new town, she is missing this month but will be joining us once she is settled in. Make sure to check out what they have created for you at the end of Bee Happy planter post.
1 by 3″ lumber or pallet wood – four pieces cut to 24″ long
1 by 2″ lumber or pallet wood – two pieces cut to 12″ lengths for the back frame
Sandpaper, screws, and nails
Saw and screwdriver (Electric make it easier but it can be done with hand tools)
White stain (paint), half basket, potting soil and flowers
Graphite paper
Grey Paint Pen
How to Build the Wood Sign Background
This part of the post was really easy for me, as I have two or three of these wood backgrounds left unused in my junk wood stash. For the planter, I just scooped one out of my stash, sorry for cheating. Here is how they were made.
Start by selecting and then cutting your lumber to length. Make sure they are good side down, the same length and even on the ends. Hubs used an extra board to line them up.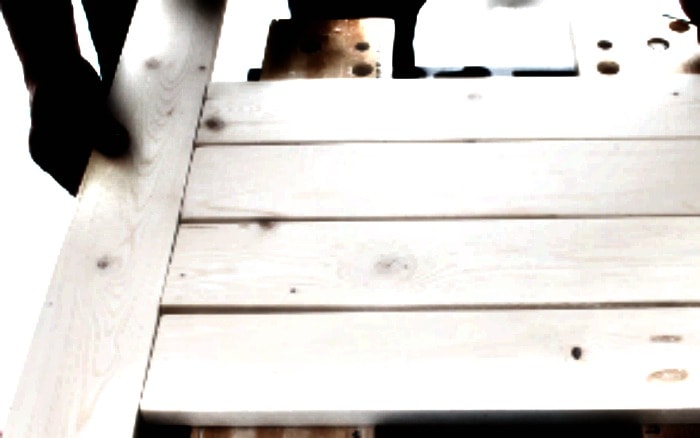 The background has some little spaces between each board, to make these even we used two same size screwdrivers and placed them between the two boards on each end and then nestled the boards together.
Once you have the boards aligned the way you want, hold them in place using cross pieces. Place the 1 by 2″ on the back about four inches, make sure your nails are short enough not to pop through the front of the wood when hammered in, then hammer them in.
Sanding and Staining
As this DIY planter is for outdoors sanding can be minimal. I recommend at least removing any slivers from the end cuts with 120 grit sandpaper before staining or painting.
This planter was painted in chalk paint, first white paint and then sanded with 80 and 120 grit sandpaper. It then received a dry coat of grey chalk paint, to add texture. To dry coat place a little bit of paint on the ends of your paint bristles and then dab most of it off onto a rag. Once there is a little paint left on the end of your bristles lightly apply the paint to the wood surface. This leaves you with a very light hint of grey paint texturing.
Let dry thoroughly before continuing.
Bee Happy Text
For my planter, I started by laying the basket down on the backdrop and then eyeballing how big I wanted the text to be.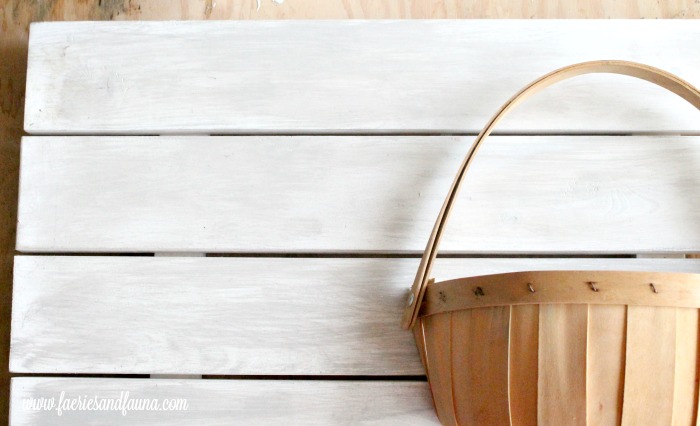 I then created and printed out this Bee Happy template.
Cut the excess paper off from around the text letters, place your templates on the backdrop and tape them on one edge to keep them secure, place graphite paper behind the template.
Trace out the lettering and remove the templates. I erased any smudges using a regular eraser before colouring in the letters using a grey paint pen.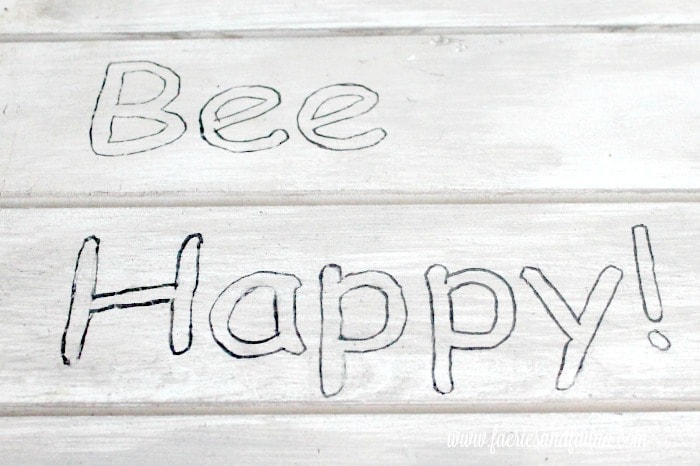 Add the Basket and Flowers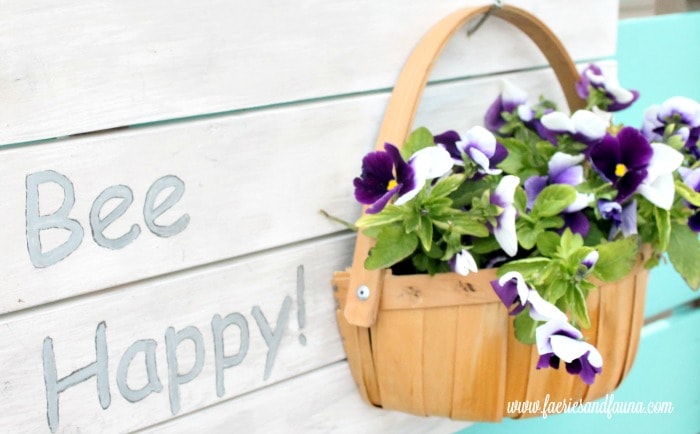 The basket looks like it is suspended by the handle using a single long screw. Actually, the top screw only holds the handle in place. The weight of the basket is held to the backdrop using three screws that are hidden by the flowers.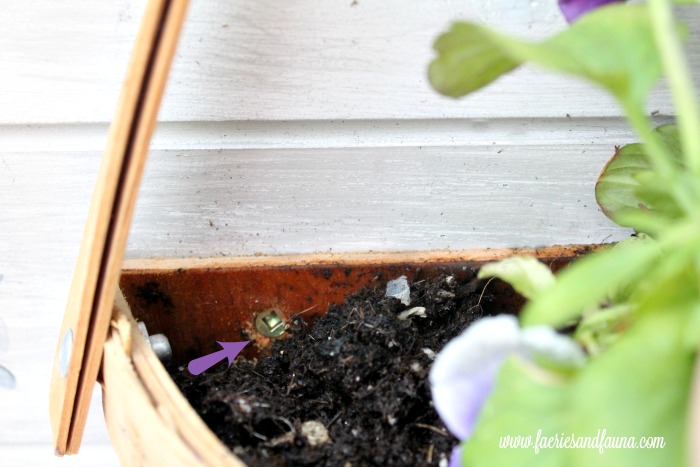 The basket has little spaces between the slats that provide aeration for the plants. I just added some dirt into the basket and then transferred some pansies I had growing in the flower bed.
I love the cheerful little saying with my favorite yard flower. Pansies always remind me of little happy faces turning their sunny faces towards me, they make me happy.
Now for the other great ideas from the Farmhouse Hens
Stephanie at Abbotts At Home! Blog / Facebook / Instagram / Pinterest / Twitter
Denise at My Thrifty House! Blog / Facebook / Instagram / Pinterest / Twitter
Sam at Raggedy Bits! Blog / Facebook / Instagram / Pinterest / Twitter
Tarah at Grandmas House DIY! Blog / Facebook / Instagram / Pinterest / Twitter