DIY Wood Riser for Tabletops and Counters
Easy DIY Wood Riser Stand and Table Protector
Often gift shops have a wide assortment of table risers for decor, so after pricing some I came home and made this DIY wood riser stand for less than $3. Farmhouse stores always have all these cute and attractive little ornaments for us to oooh and ahh over. Galvanized salt and pepper shakes, pretty flower sprigs, adorable and fun signs, pretty linens and so forth. Next time you go shopping check and you will notice they have a variety of table risers, some small pricey ones for sale, and sometimes ones like this large wooden riser stand that are often hands off store displays.
Not only is this dining table riser cheap and easy to make its large enough to be pretty centerpiece. It can also do double duty as a table protector when your serving anything hot. Mine is done in natural wood to add some warm colour to my white kitchen set, and it matches the golden tones of our kitchen cabinets. If you want one in black or white, just give it a quick paint job instead.
This farmhouse table riser for the kitchen is a great simple wood project for beginners like me. No asking and waiting for Hubs to create it. It allows you to get practice using a saw, sander, drill, and screwdriver on a simple project, and you get a new rustic riser for decorating. Can you tell I am excited to make one? You can easily create one yourself as an easy weekend afternoon project.
DIY Wood Riser Materials
You will need 1 – 1″ by 6″ and 1 -1 by 2 piece of lumber, glue, 4 1″ screws and a small piece of felt. Small amount of Varathane or paint and that's it. We were able to make ours with scrap wood, check your stash for any wood you have laying around. The same ideas can be used on various lumber dimensions.
Cutting the Lumber
Cut the 1 by 6 lumber into two pieces 36″ long (or whatever size you like).
Cut the 1 by 2 lumber into two pieces 10″ long
Drilling the Cross Pieces of the DIY Wood Riser
Stack your two 10″ cross pieces so the ends meet. Then drill a hole about one inch from the end. Drill right through the first piece and a little bit into the second piece. This way the holes on both pieces will be evenly placed.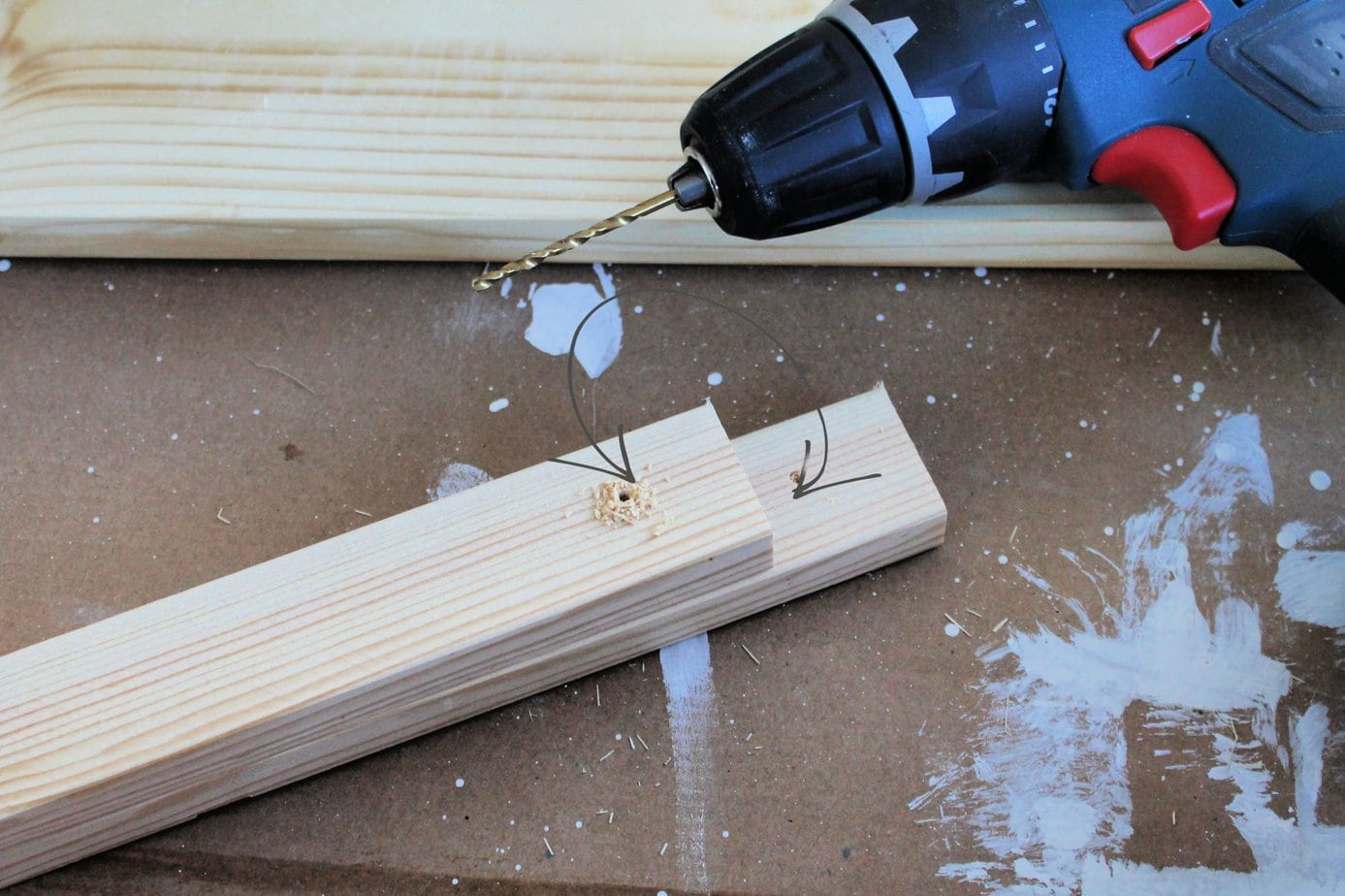 Take the lower board, put it on the top and finish drilling the hole right through.
Repeat this process on the other end.
My screws are an inch long because I had them handy. Use whatever screws you have laying around just make sure they are long enough to go through the cross pieces, and short enough they don't poke through the top of your riser.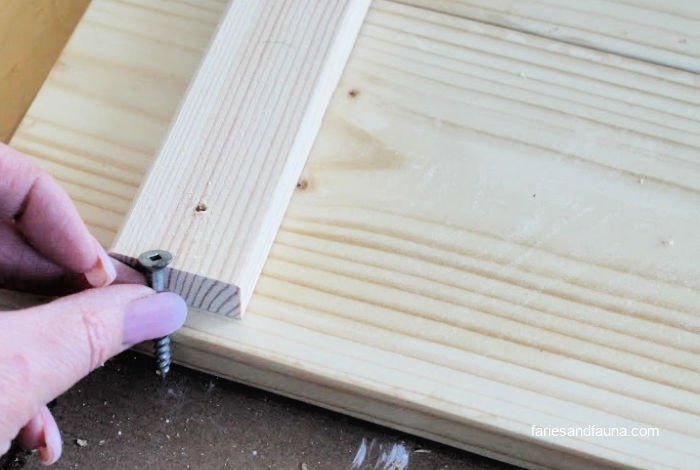 Sand the Wood
Sand all your wood with first 120 grit and then 220 grit sandpaper to remove slivers and smooth out the wood.
Check out your lumber to see if one side is more blemish free of knots or nicks then the other. I call that the good side. Place both good sides face down on your work surface.
Line up the ends so that the meet exactly and form a square end.
Place a cross piece three inches from each end. Making sure the two top pieces are pushed up snuggly together attach the predrilled cross pieces into the top using screws. Repeat at the other end.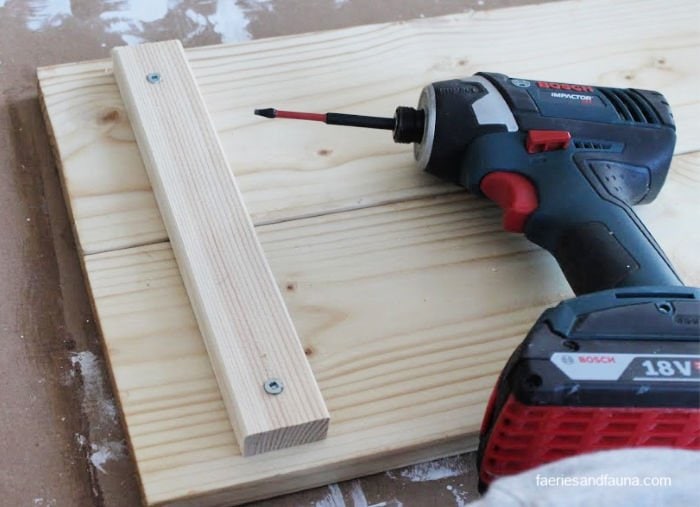 Make sure to drill the screws until they are flush and sink into the wood. If the screw heads are left sticking out, they could scratch your table.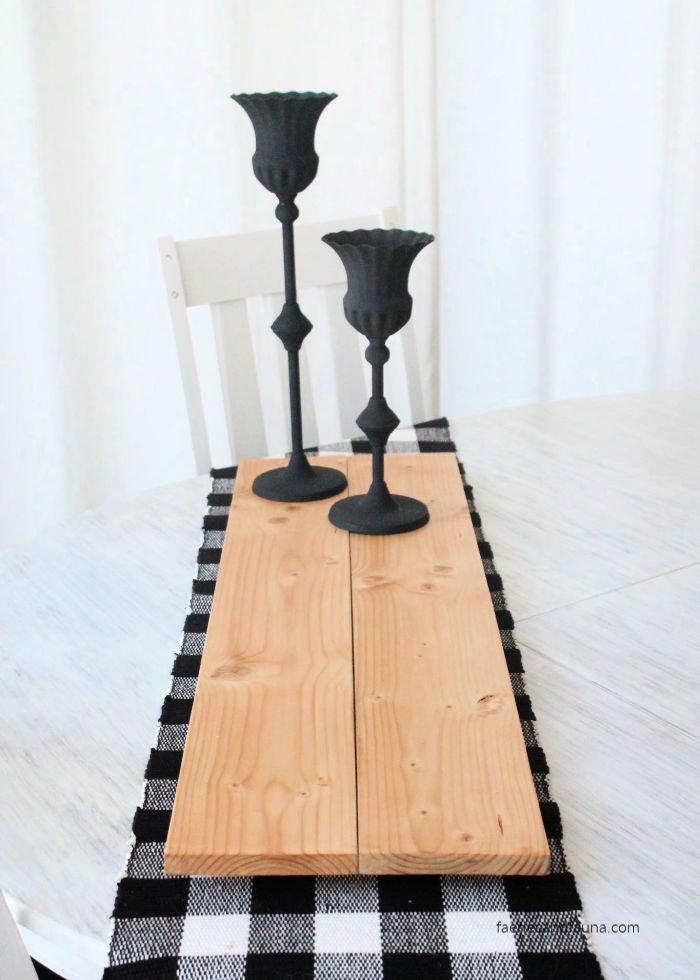 Add Finishing Touches With Paint or Stain
Mine is currently natural, I used Varathane to give it a quick coat for protection. I was very tempted to do it in both black or white, but I can always do that later. For now I love it in the natural wood colour. I gave this rustic farmhouse riser one coat top and underside in Varathane and no stain.
To protect the table you can buy little plastic glue one beads for over your screw heads, but I had white felt handy, so I just cut it to match the size of the cross pieces and glued it in place.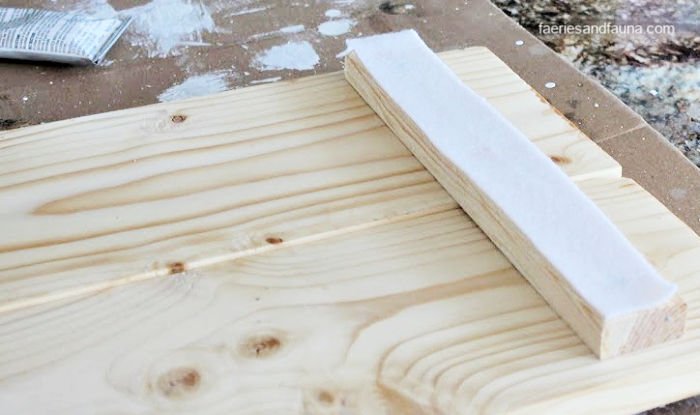 I really enjoy bits of natural wood decor in each room of our home. This DIY table riser was a nice way to add some. There is no such thing as having too many table risers so I have made two more. One is a small round white farmhouse riser, that you can use for plants or decor. The second one is larger but painted in sage green to add a touch of colour to the living room coffee table.
As an extra benefit as long as the table riser is inexpensive, they make terrific heat plates for the table, the counter or coffee and snack holders for the coffee table. No scratching and you can serve hot appetizers on them without any worries.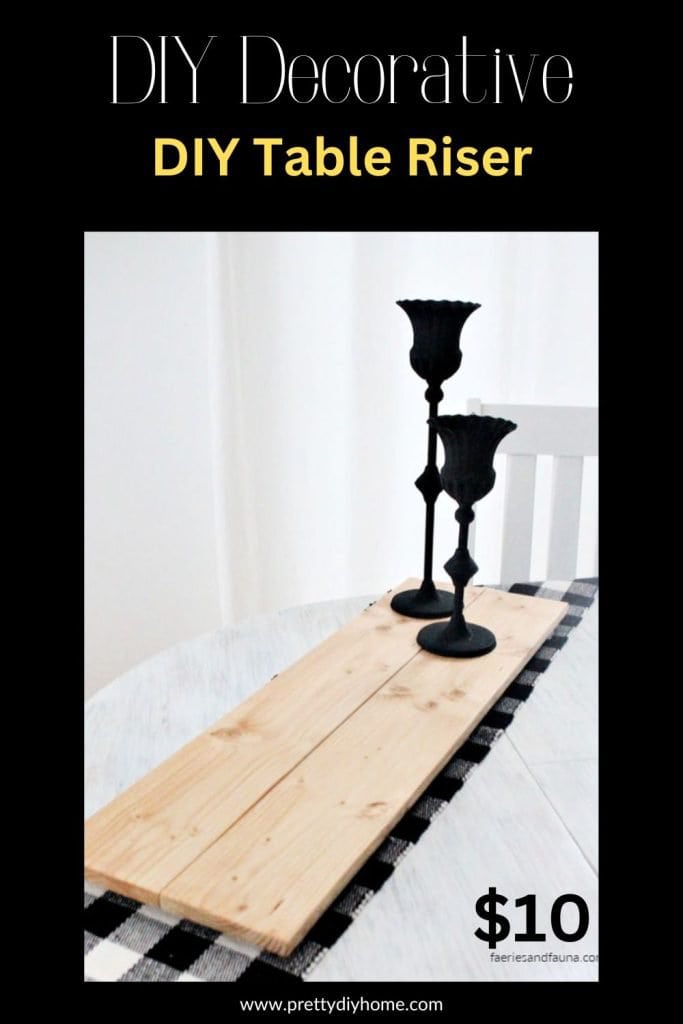 Other DIY Wood Risers to Try
Here are the links to my other table risers.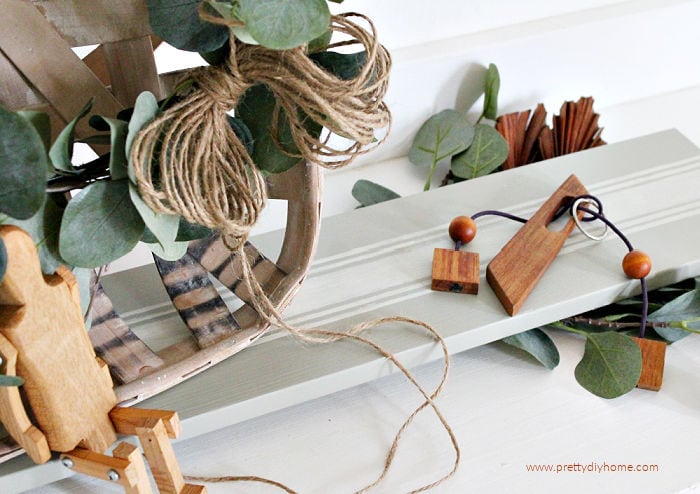 Grain Sack Striped Eucalyptus Green Riser
A scrap wood table riser in soft green with grain stripes. Risers are really useful for home decor, stores have been using them for years.