Easy Jar Decor For Easter
4 Large Glass Jars Ideas for Easter
Easter and Spring decorating has been challenging this year. As you may know we moved to a small town and there is no local shopping, the closest dollar store is 45 minutes away and my favorite decor shops are farther yet. We love the quiet so much, surrounded by trees instead of traffic and the deer walking by my office window never grows old. But I didn't get a chance to cruise by the pretty gift shops this year. Panicked was last minute visitors I came up with some last minute jar decor for Easter.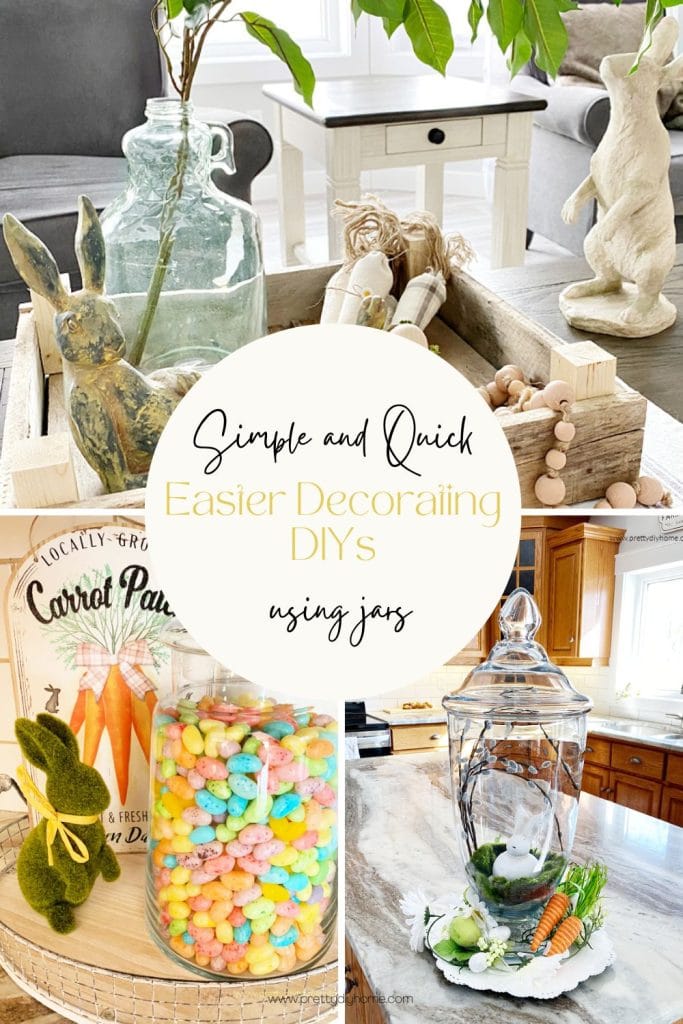 If you've been decorating your space for awhile, you probably know the value of large apothecary jars and shopping at home first. This is exactly what I did, and a quick trip to the dollar store for candy and two Easter signs. Here are the four glass jar ideas and simple diy apothecary jar fillers I came up with for Spring. I hope you enjoy them, and that even with little time and what we have on hand we can come up with some cute Easter decor ideas.
Candy Jar Decor for Easter
I snuck this little jar full of candy around the corner so the kids wouldn't notice it as soon as they came in. I swear they can smell jelly beans, because they zoned in on it immediately and I was thrilled with how much they liked this jar. If like my little ones your kids may wonder if its decor, or if its candy.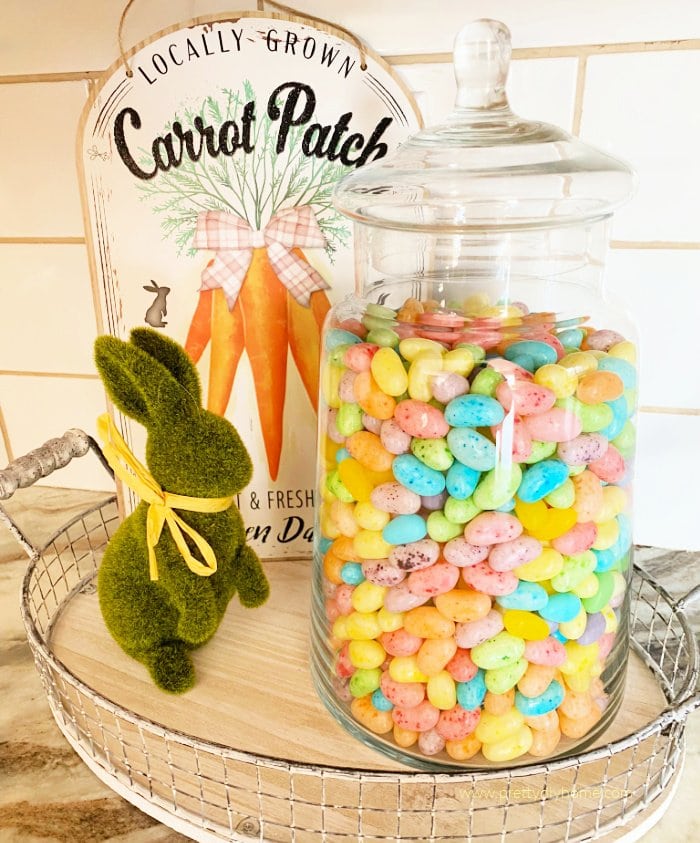 I made a simple arrangement in a group of three, placed a dollar store sign I really like beside the jar and my favorite moss covered bunny. Are you obsessed with greens like I am each and every Spring? I cannot wait to see green leaves and grass, its been months and I miss them. Here is a quick video to show you how easy this was to put together.
Cookie Jar Decor for Easter
I actually have a vintage Easter bunny cookie jar, but the colours aren't what I wanted this year, so instead I whipped up a batch of bird's nest Easter cookies, and filled a large clear mason jar with them. If look carefully you can see the little arrow on the sign that points to the Easter treats. The cookie jar is placed next to the coffee pot and its been a hit.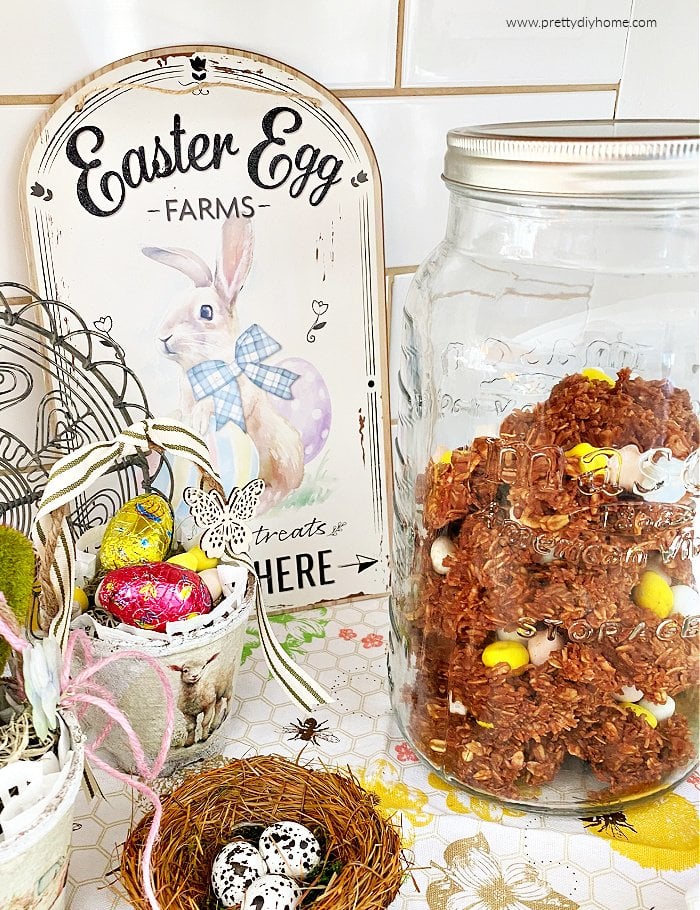 Large Island Apothecary Jar Bunny Arrangement
This large apothecary jar is several years old, and its always dramatic because of the size. I went shopping in the basement, used a green moss cover from Michaels thats a few years old, some pussy willow faux branches, and a Pier One rabbit thats also been around awhile. Instead of adding flowers to inside of the jar I wrapped a dollar store flower wreath around the bottom. In less than 10 minutes it was finished.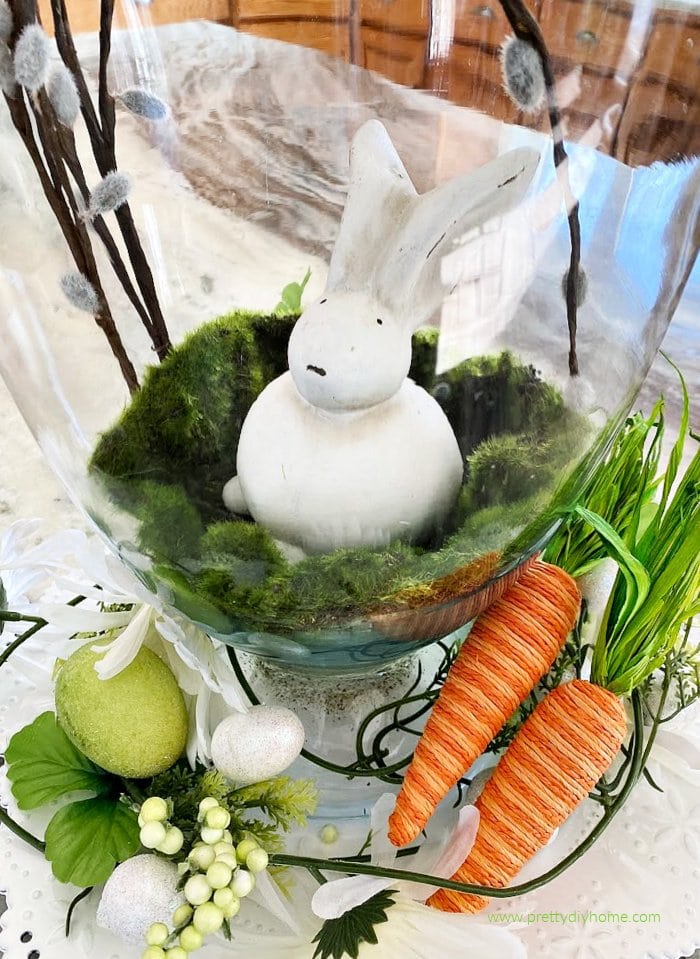 Alternatives, you can use moss in the bottom of the jar and mini lights, or small books. I have a rabbit shaped book I almost used instead. A teacup or two, stacked with flowers. Birds nests and flowers, or lemon and limes. How about a fairy garden with moss? There are just so many alternatives.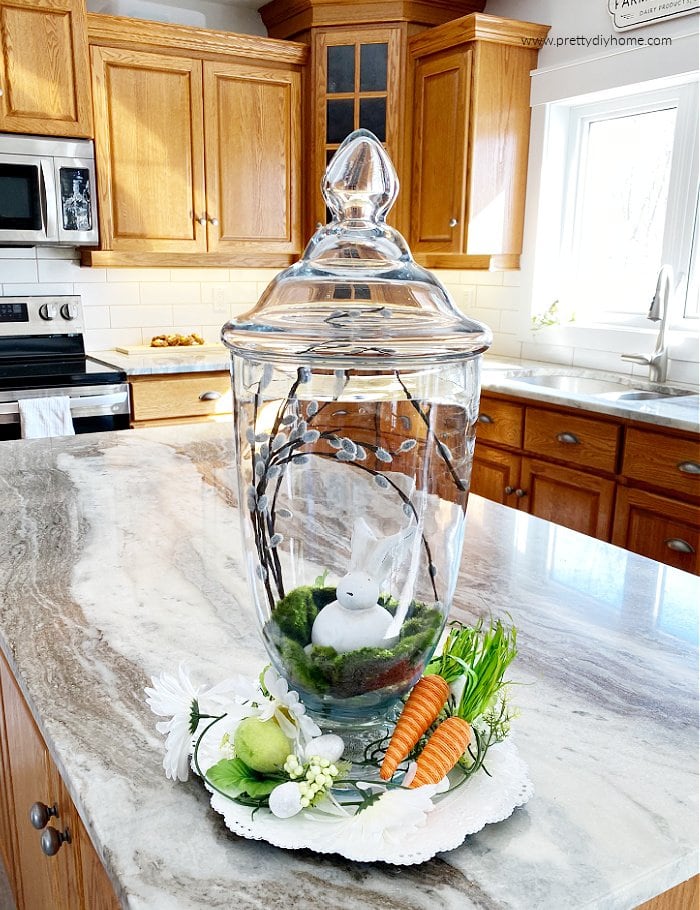 Thrift Store Jug Vase
Sometimes small towns pay off, the little thrift store out here is very quiet, and there are lots of seniors so you can find some really fun articles, like this old cider jug. I removed the label, gave it a good wash, placed the branches in it and done. It took about half an hour to get the large jug clean but once the dust was off the slight green of old glass shines through.

If you want to see free and makeable DIY Easter Decorations on Pinterest I have all my own Easter decorations as well as other favorites on this DIY Easter Decorations and Easter Decor board on Pinterest
The Livingroom Jar Vignette Tutorials
The livingroom jar Vignette is part of a larger decor project we created for our living room. including the tulip crate and the neutral fabric carrots. The other arrangements we really quick and simple.