An Evening Fall Home Tour
DIY Fall Decor with Lights
This fall I decided to use my older traditional fall decor, add some teal for contrast and lights to brighten the longer evenings.   Our days are already noticeably shorter and the lights add a different ambiance.
I  believed I can have anything I want, but Not everything I want.    The decor in this post is either from my stash or homemade inexpensive DIY crafts.   I spent the savings on several string of fall coloured lights.  The new light sets come in different shapes and colours, are so easy to use, add a nice update to existing decor, and I can use them for a few years.
Simple Fall Porch Decor with Lights
I love the lights in this easy Fall front porch arrangement.  Real candles aren't a great idea with the burlap, and I think the coloured lights are beautiful, especially from the street.
f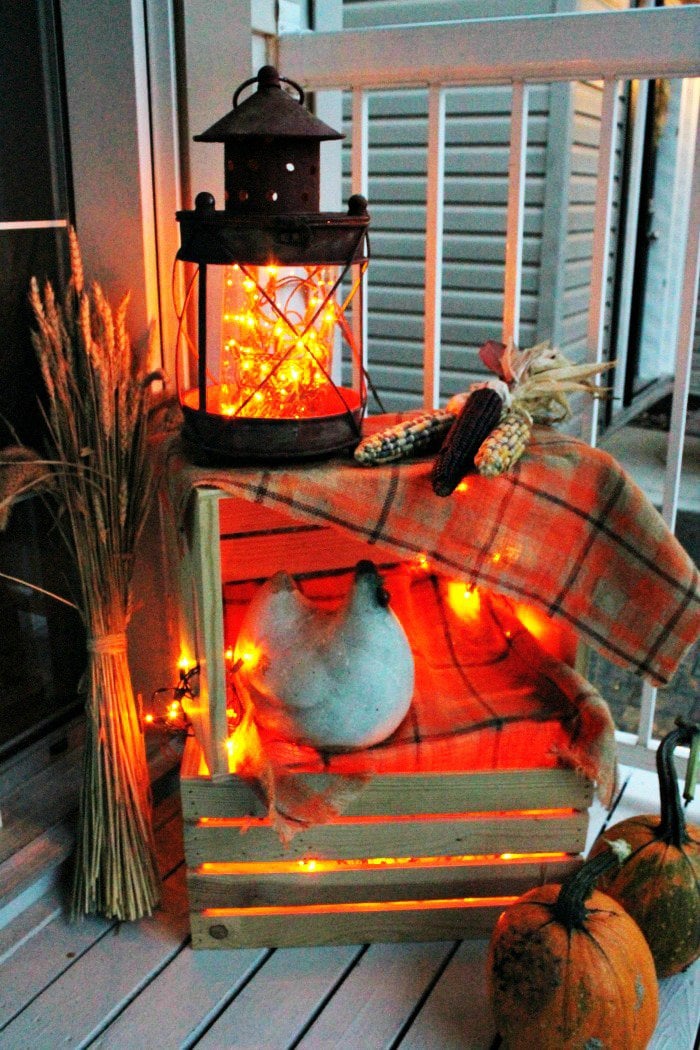 The rest of the arrangement is some plain bins that the Fall decor was stored in.  A Christmas lantern in a pretty dark red, and natural decor from the farmers market.  So simple to do.
The Front Foyer with Candles
The front foyer has some candles that I have not lit yet.  The Welcome sign is a DIY project and the large arrangement is various dried florals and real branches  added for height.
d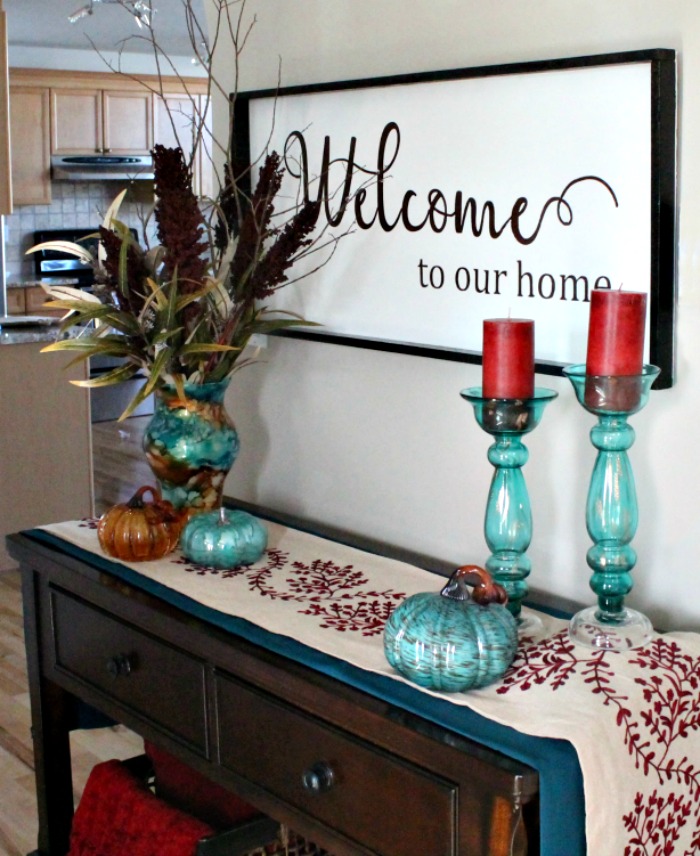 h
DIY Fall Centerpiece with Lights
The kitchen has some very simple fall decor in it, but nothing with lights.  The adjacent eating area has lights in this Fall centerpiece.  Its has a little sparkle all day but is really dramatic at night.   Its a simple DIY floral arrangement that comes with a step by step Fall arrangement tutorial.
l
Fall Mantel with Light Banner
The focal point of the family room is always the fireplace.  In the picture there are no lights turned on anywhere in the family room or kitchen.    The golden huge of the lights is very cozy.  The little lit pumpkin on the mantel is four or five years old, its fun because when turned off the pumpkin is a teal colour.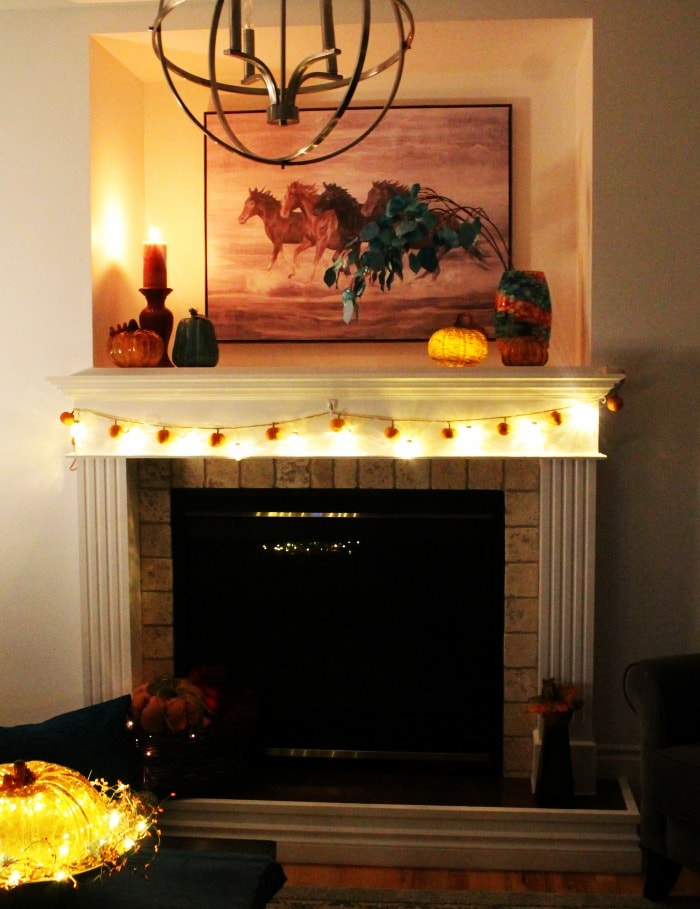 l
The decor on the coffee table  is the most brilliantly lit.  Its a simple bowl filled with a fall garland, battery pack lights, and a clear glass large gold pumpkin.  There is also a few lights woven around the basket that sits nearby.
Candles are beautiful especially when scented, but although more expensive I prefer the lights now.  They don't melt, or get hot and I find I turn them on more then the candles.
My Blogging Friends Fall Home Tours
In addition to my rather short post I hope you enjoy
This centerpiece from Jeannee with the tall central feathers is a beautiful example  of how to add height and elegance to a floral arrangement.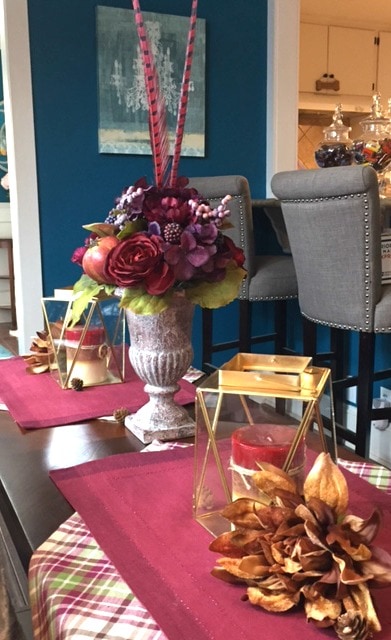 Fall Home Decor for your Five Senses by Centsably Creative
This piece of art from Lynne is the type of artwork that makes a house a home.  It conveys her feelings about gathering and sharing.  So timeless and beautiful for any time of year.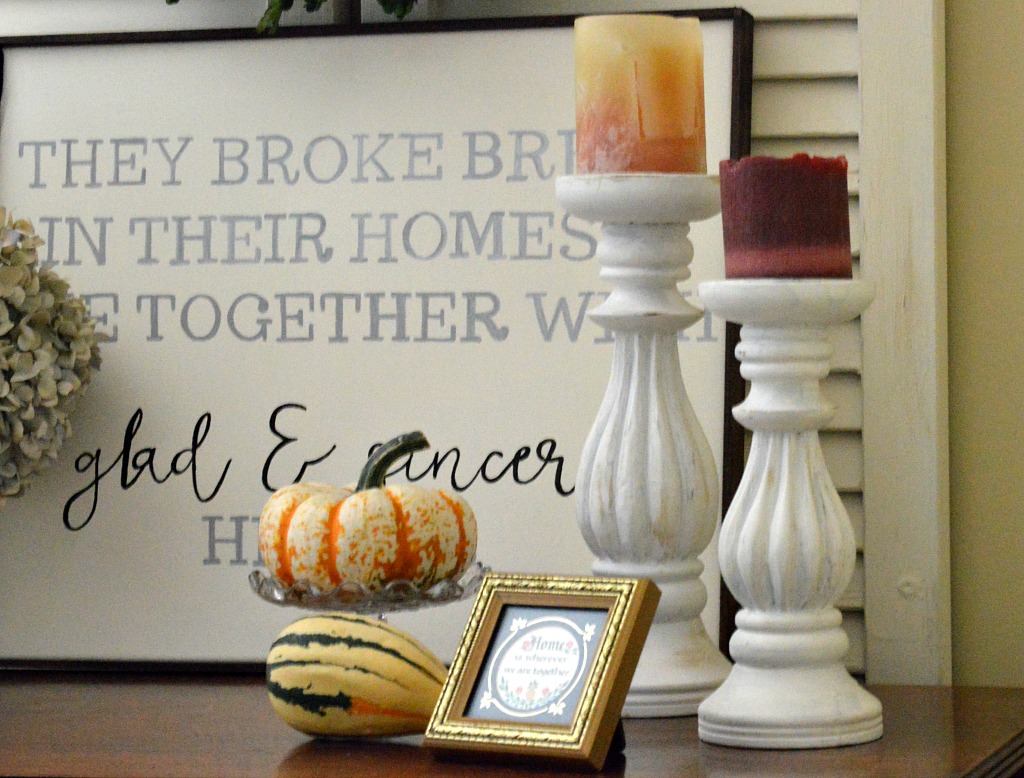 Festive Fall Home Tour by My Family Thyme
I think this arrangement with the vintage suitcase is so unique and fun. g
Festive Fall Tour by Red Shutter Cottage
The mixture of colours in this Fall tablescape is so fresh and different.
Festive Fall Home Tour by Steeplechase Manor
What type of theme are you using for fall decor this year, traditional, farmhouse, whites, metallics, or jewel colours?
Do you have a  favorite style or are you like me and love them all?   
a