Oktoberfest Table Decor with Simple Appetizers
Oktoberfest Table Decorations
Oktoberfest happens every September in Munich Germany and is famous for its beer gardens and various German foods. When Milena from Craft Beering approached me to create some Oktoberfest printables, I was only too happy to collaborate.
Plan an Oktoberfest Party
It's pretty easy to put together a simple Oktoberfest Party, buy some German beer, serve a couple German appetizers and create some decorations using the Oktoberfest printables.
There are four different Oktoberfest decoration templates for you to mix and match any way you like.
The Blue and White Lozenge Banner

d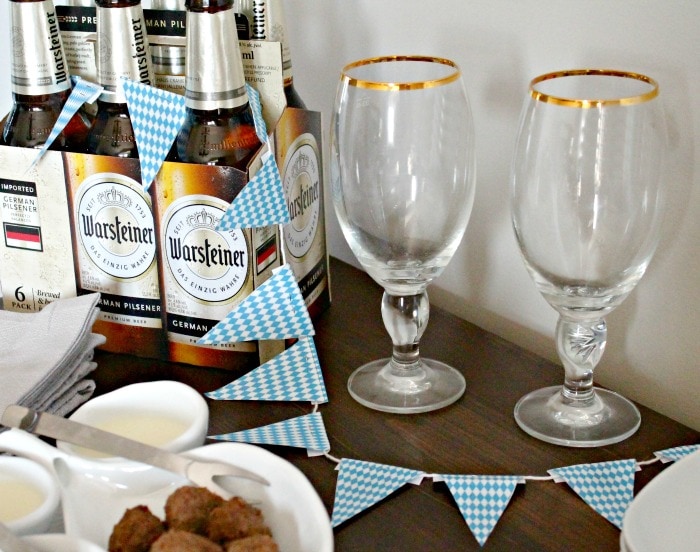 v
In heraldry this diamond pattern is called lozenge and dates back to Otto II of Bavaria (1206-1253). In 1835, the Bavarian king Ludwig I redesigned the coat of arms for Bavaria, with the lozenge at the epicenter of the design. More information can be found in this reference.
To make this banner print out the Lozenge Patterned Banner Printable.
Cut out the banner pieces.
Fold over at the mark on the printable.
Fold over a string and staple.
Prost Banner
Prost means cheers in German so its very fitting to have a Prost banner at your Oktoberfest party.
s
g
There are Prost banners in two different sizes depending on how you want to use them. The ones above are the large size.
Weisn Printable
Weisn is the Bavarian word for Oktoberfest, the German Coat of Arms is added for flare.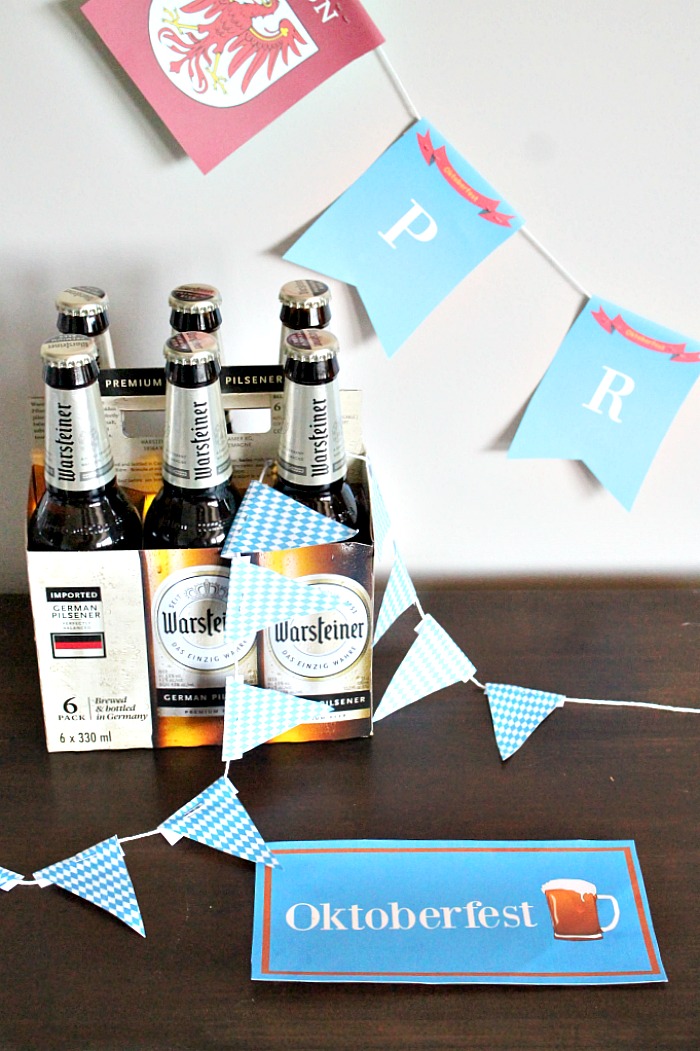 e


Oktoberfest Printable

This Oktoberfest printable is pretty self-explanatory. To use this printable simply cut it out and lay it on the table where ever you like.
Oktoberfest Appetizers
To host an Oktoberfest party all you really need to do is go to a local German deli and grab some simple German traditional foods. Sauerkraut, pickled red cabbage, Bavarian sausage, rye bread, and German cheeses. Here is a link that outlines the foods served at Oktoberfest.
My Oktoberfest Party Menu
Hub loves all things German so to spoil him I make special German meals for him and have a few authentic German cookbooks from the German deli in Edmonton. German food has lots of variety, it isn't just sauerkraut and black forest cake.
Fleischsalat (German Meat Paste)
My mother use to make me something very similar as a child, she would grind up the same ingredients. The authentic version comes with quark cheese that is available in a German deli. If you cannot find it, greek yogurt works.
k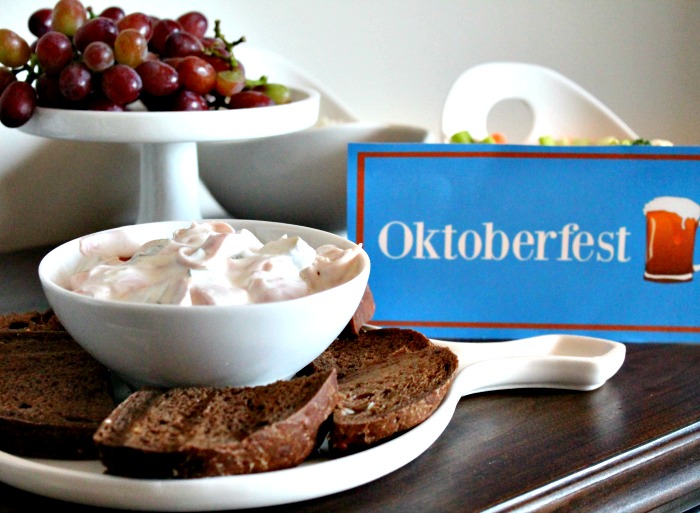 g
g
You will need:
[wc_row]
[wc_column size="one-half" position="first"]
4 oz Lyoner Sausage
2 diced dill pickles
1/2 cup mayonnaise
[/wc_column]
[wc_column size="one-half" position="last"]
1/2 cup quark cheese (greek yogurt)
2 tsp sugar
pickle juice
[/wc_column]
[/wc_row]
f
Cut the lyoner sausage into strips.
Dice dill pickle into small bits.
Place in bowl. Add remaining ingredients. Mix and add pickle juice a tsp at a time, until it's a consistency you like.
Serve it with small slices of rye bread, German crackers, or raw vegetables.
Appetizer Konigsberg Meatballs
This recipe is one of Hubs favorites. I make it for him every year when he first comes home for his Christmas holidays.he's home for the Christmas holidays as a special treat. To make this into an appetizer the recipe was updated by making the meatballs small and serving them with the sauce for dipping.
j
f
f
What you will need:
[wc_row]
[wc_column size="one-half" position="first"]
2 slices of dry bread
1/2 cup onion chopped fine
1 lb hamburger
2 large eggs
1 tbsp butter
1 tsp flour
[/wc_column]
[wc_column size="one-half" position="last"]
1 tbsp butter
1 tsp flour
1/2 cup milk
tbsp  capers
salt pepper nutmeg
1 egg yolk
2 tbsp cream
[/wc_column]
[/wc_row]
Make the bread into crumbs, add the onion, the meat, eggs and spices, mix together and make into small meatballs. Cook the meatballs until brown.
Melt the butter, then add the flour, whisk in the milk. Add the capers and cream.
German Sausage Appetizers

g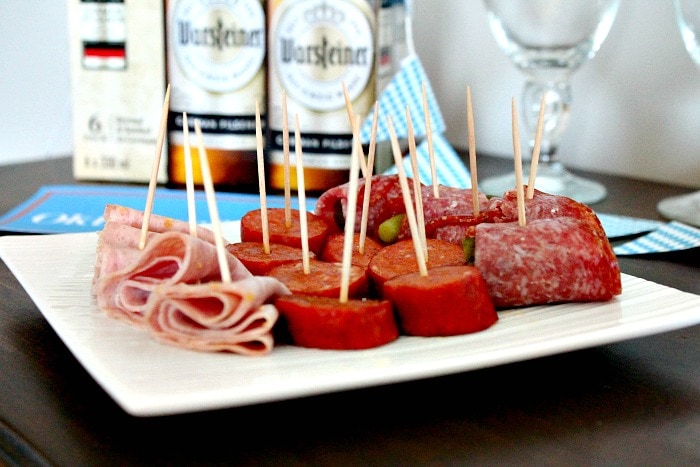 f
Cut Bavarian sausage into small chunks and fry until cooked. Fold German salami around pickles, or fold into quarters.
Potatoe Salad with Dill
This is a simple potato salad with cooked mashed potatoes, egg, onions, radishes, grated carrot, mayonnaise, yogurt, salt and dill.
s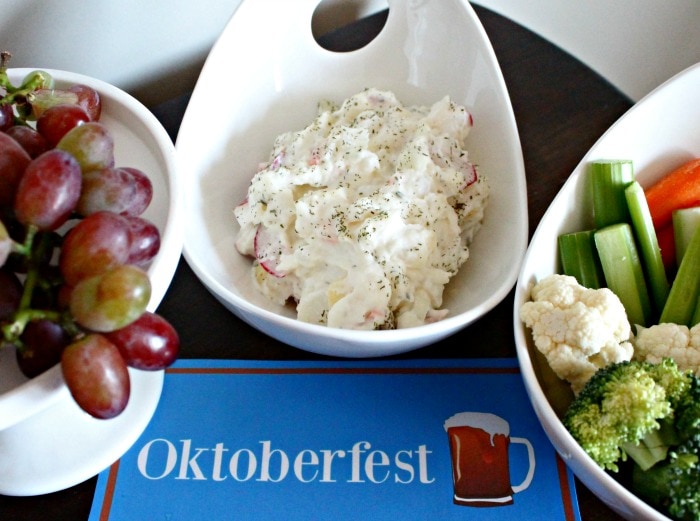 To finish the menu I purchased pickled red cabbage, fruits, vegetables, and soft pretzels. Once upon a time, I made soft pretzels but the recipe so much work and makes a very large batch. I promise these high quality purchased soft pretzels taste just as good and you can likely find premade soft bread pretzels in your area as well.
a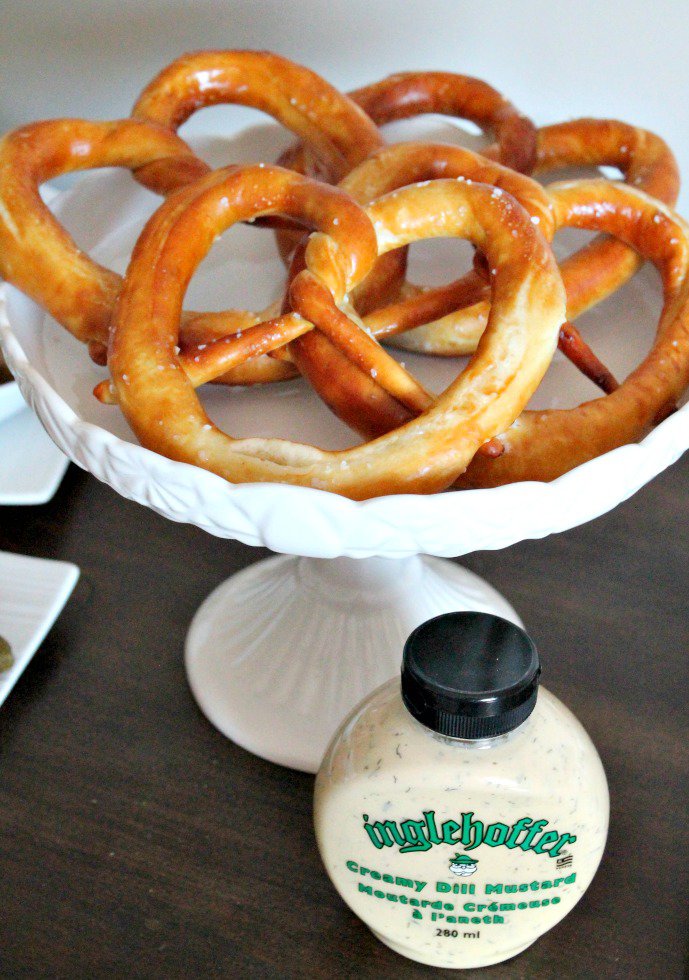 The label on the mustard was adorable so instead of serving it in a bowl with the pretzels, the mustard was left in the jar.
Would you consider hosting an Oktoberfest party?