Faeries and Fauna Spring Home Tour
Home and Garden Spring Home Tour
I am really happy to be collaborating with these awesome bloggers in putting on a home and garden Spring tour.  I would love to live south where the gardens are in bloom, the decks are in use and the sunshine has warmth in it.   Some of my friends have gardens on their tours.   You will find their tours at the end of my post.  Enjoy!
Almost Spring Home Tour
The calendar says its Spring, but it certainly isn't Spring outdoors here yet.  There is still snow and the outdoor plants haven't sprouted. Everyone here is anxiously awaiting the warm days of Spring.   Spring decor is so much fun to do, decorating with all the pretty pastel colours lifted my spirits.
a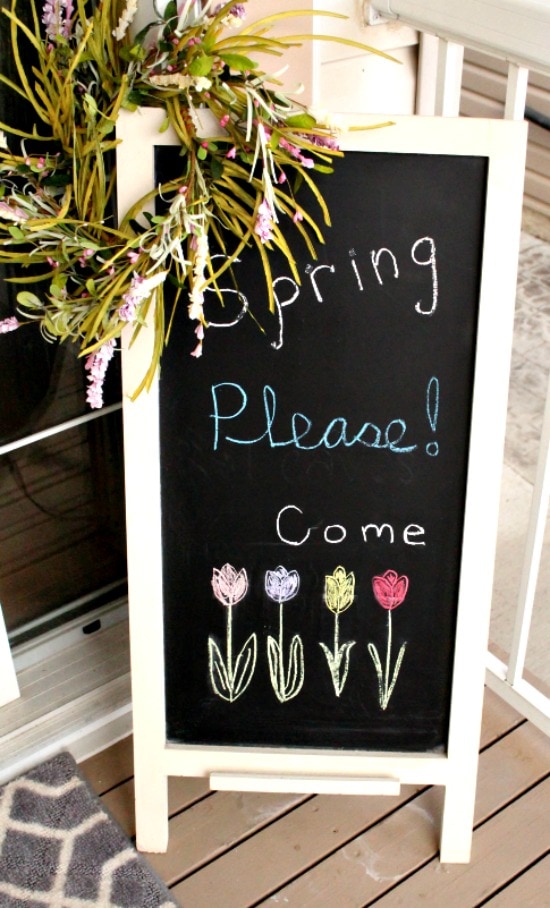 a


Welcome

Normally there is a large mirror in the front foyer, it is very practical for taking a last minute check before heading out the door.  Unfortunately, it reflects the staircase so it ruins any decor pictures.  Instead of taking the mirror down, I covered it with a really pretty Spring wall hanging.  The 3 tier tray is made over from fall and is galvanized matching the chalkboard and flower bowl.  Spring decor especially blush spring decor is excessively feminine;  I toned it down by using galvanized metal and birch bark.
a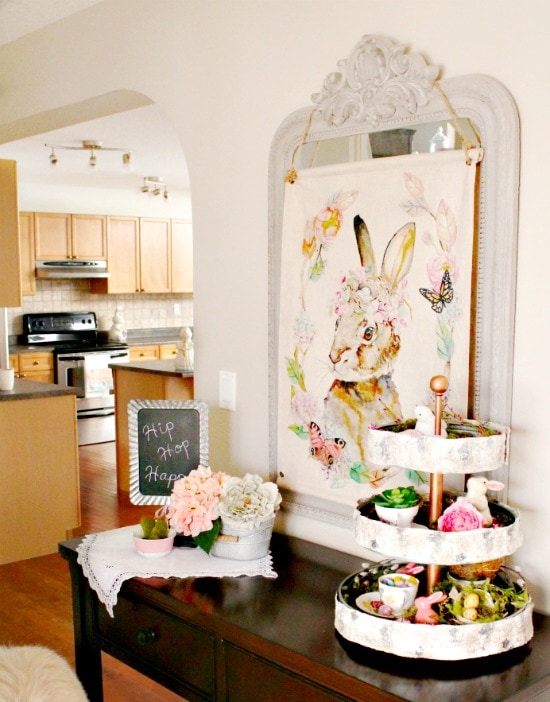 a
Main Living Area
The blush, soft blue and bunny theme carry through into the kitchen.  This little welcoming lady bunny cookie jar is a thrift store find from last week.  Although there is still snow outside, you can tell by the shine that it is a gloriously bright clear blue day.
a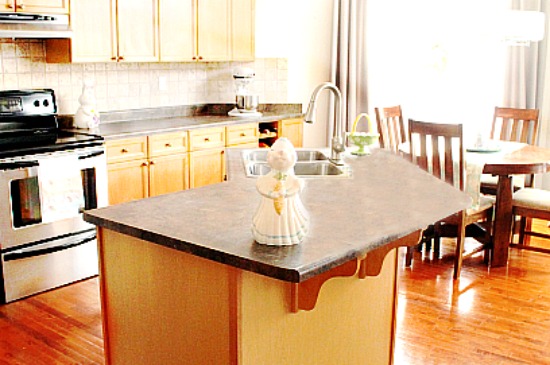 a


Kitchen

This is the first time I have posted the table and chairs without chair covers of some sort.  I planned on making some for Spring but ran out of time.  You may be able to tell how much this hardworking set needs a refinishing.   Hopefully, they receive their well-earned makeover before Summer.

a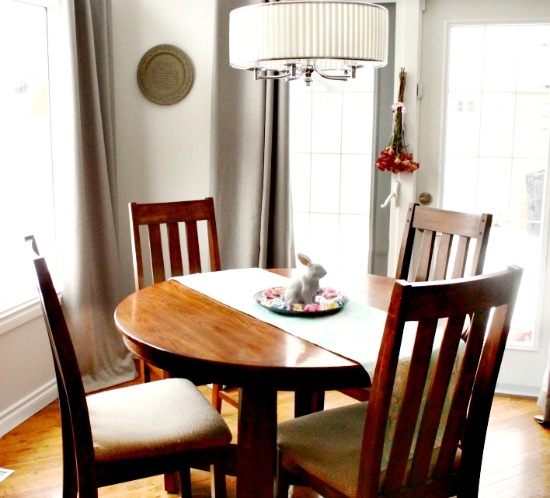 aA
 As this is our only table it is very busy, because of that I use a small centerpiece that can be easily moved.  This little bunny is sitting on a sugar starched hand crocheted pansy doily and a galvanized plate charger.  The sugar starch makes the doily solid, it doesn't bend and can be dusted. Close to Easter I will surround it with chocolate eggs.  I think that the active areas of the house should have simpler decor.
a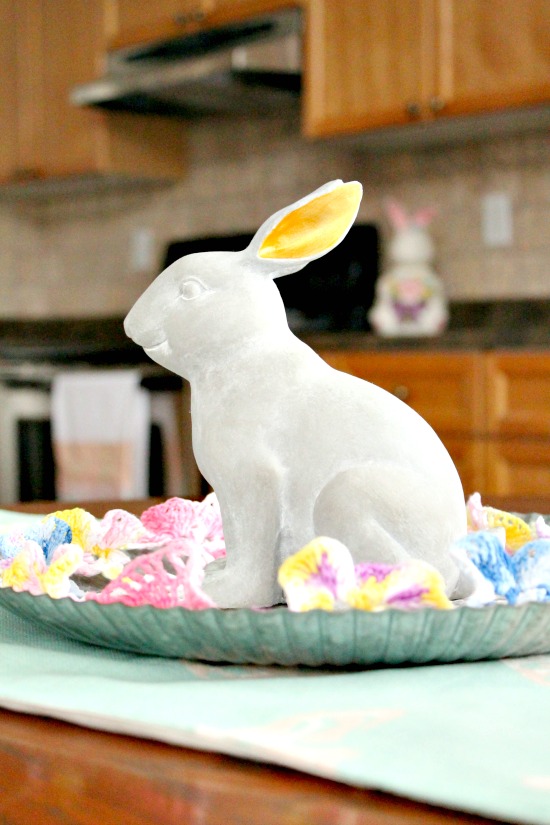 a
The family room is my favorite room in the whole house.  The windows are so bright and cheerful.  During the summer you can look out and see the flower covered deck. To allow more light in I moved all the furniture away from the windows. Moving furniture around in a room or better yet between rooms can quickly update and refresh a room you're bored with and best of all it's free.
a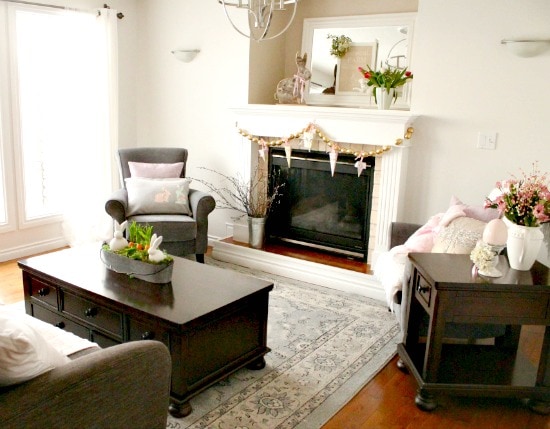 a
The Easter banner and five of the cushions are DIY projects I will post the tutorials on the blog very soon.
a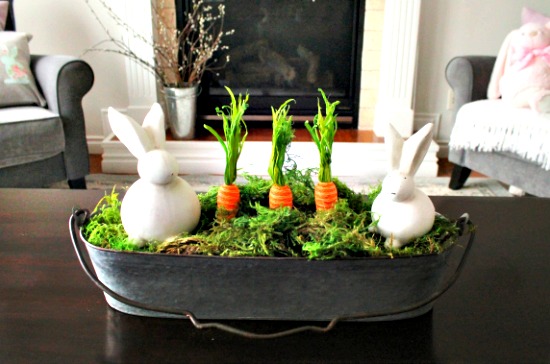 These sentries are guarding their treasures.  Who can blame them they look delicious.
a
a
This little dragonfly cushion is a recent find,  it was worth buying for the bling and sparkle.  It's not cuddly or practical,  I made some of those.  This one is pure bling.
a
aa
I feel one of the best parts of DIY accessories is being able to coordinate them. The little rabbits on this cushion are appliqued in the same fabric as the DIY spring tea towels on the stove.  Both tutorials are coming up on the blog.
a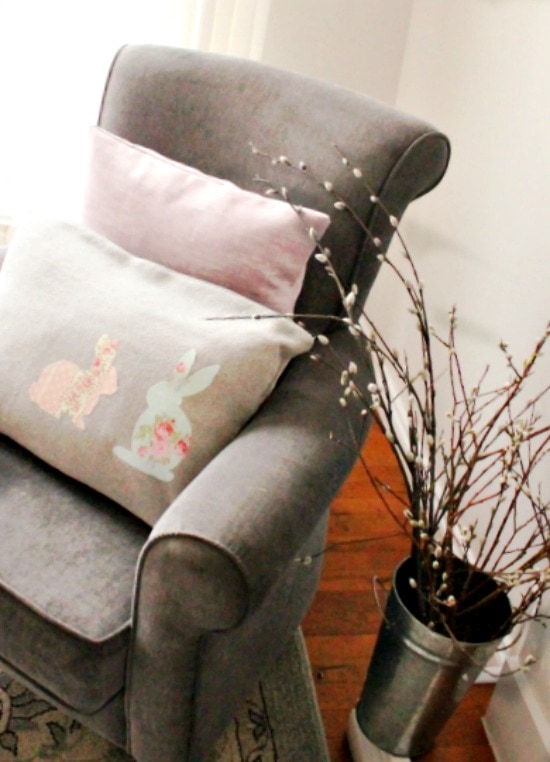 a
a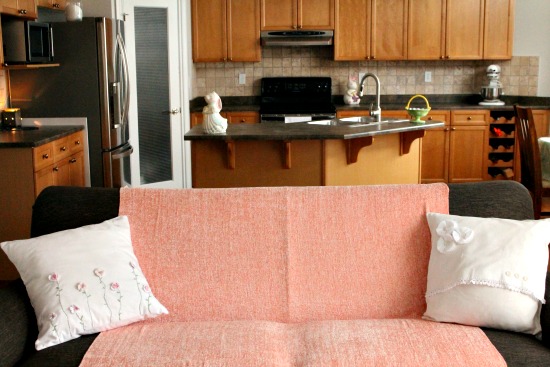 a
For spring I only decorated two rooms upstairs, the main man cave got a few items and the guest bedroom for my granddaughters.  The other rooms are refreshed for Spring but don't have any fun bunnies, or fresh flowers.
This gorgeous caddy is from the Interior Frugalista, I love it.  The rest of the ornaments are odds and sods I grabbed from the storage room and a small bundle of fresh spring flowers.
a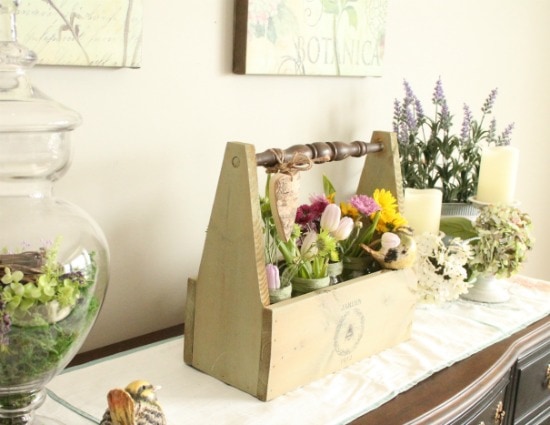 a
My tour ends with these pictures from my granddaughters guest room.  The carrots in this room will be gifted to the girls.
a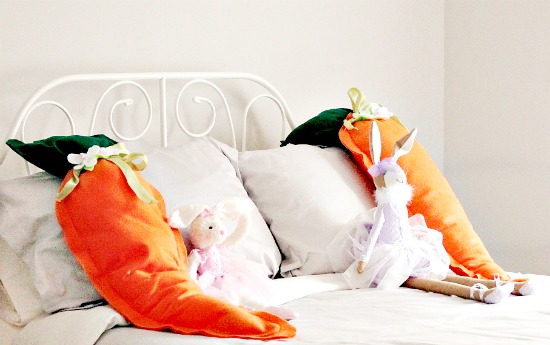 Please Visit All of our Homes and Gardens on the Tour. Just click the photo to go directly to their home. Enjoy!