Fall Home Tour with Fall Crafts in Teal and Orange
Fall is the big kickoff to decorating season with Halloween and Christmas in quick succession. All that decorating can be tiring but its exciting and if you're not cautious ridiculously expensive. For those of us who love decor it is also ridiculously fun. It gives us the opportunity to showcase all our Fall crafts and Fall projects, dust of last years decor finds, and create a cozy home.
This year I chose to use my older traditional Fall decor and liven it up with some teal accessories and quick inexpensive Fall crafts. My beloved neutral decor is not being showcased this year, instead I chose to refresh my older Fall decorations and celebrate colour.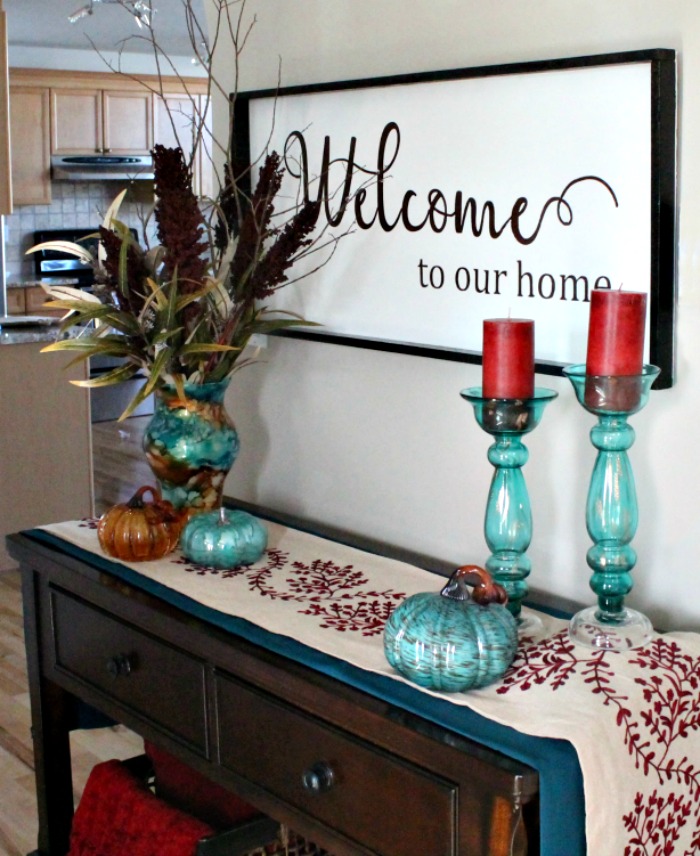 Besides storage using older decor does have some advantages. It's more unique as its no longer available for purchase, it may have a memory attached to it (ask my teddy bear collection), it's quite likely you have more of it to choose from, and its free. In the above picture, the teal runner and the Welcome Home sign are both DIY projects the rest of the decor is from my stash.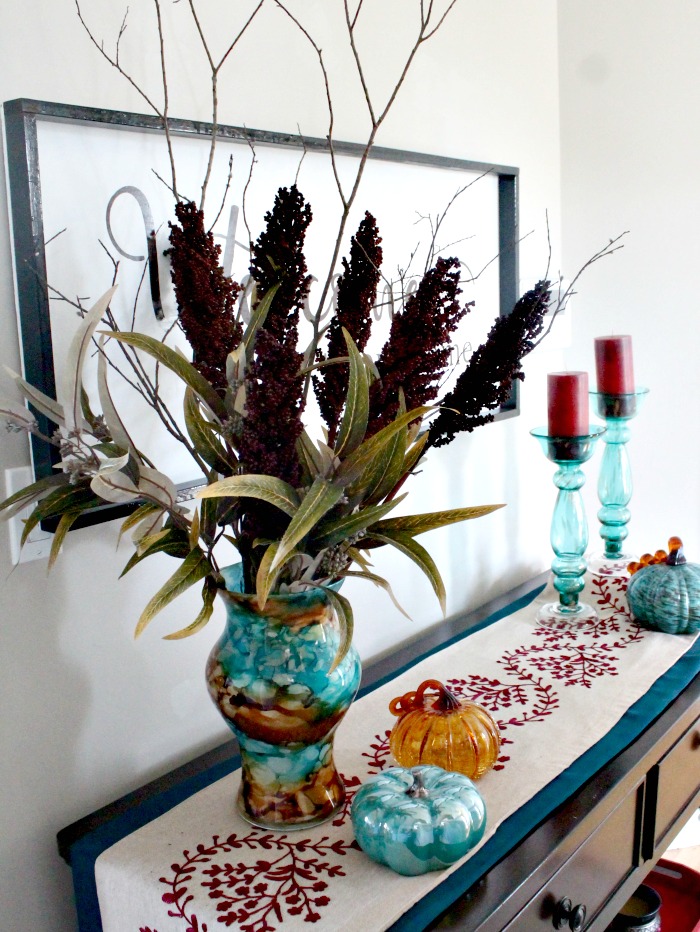 I went for a walk and picked some branches to add dramatic height to the floral arrangement, the burgundy dried florals are dollar store, and I had the leaves.

The Kitchen with Eating Area
Our kitchen has an island with a corner that juts out. I keep a cookie jar there of one type or another as a greeter. This time of year my family knows exactly where to find their ginger cookies.
I adore this silly rooster, is it just me or does he appear to be giving you the evil eye?
f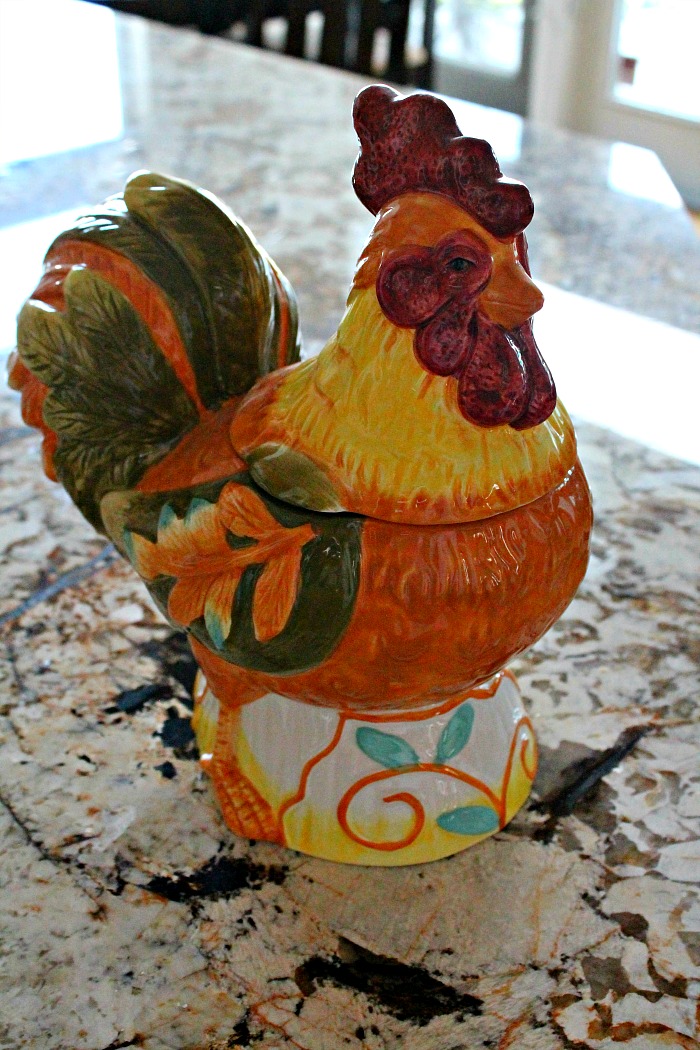 My favourite kitchen decor is shiny clear countertops, but in June I saw this adorable squirrel in Home Sense. For Fall I added a tiny coffee station that I bought on a trip to the USA and the red apple to create a simple vignette.
f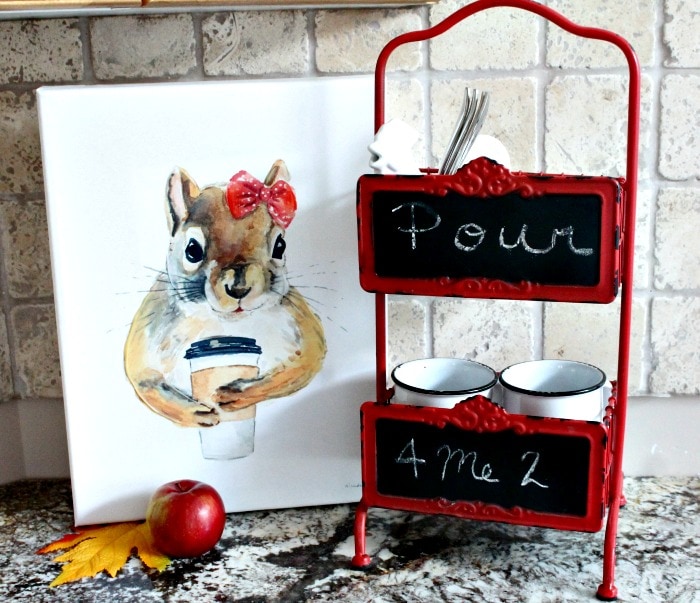 k
We only have one table in our home, it sits in a small alcove next to the kitchen. Its a very busy area so I need the decor to be easily movable. This DIY centrepiece lights up for the evenings. Battery operated fairy lights are so useful and I really enjoy how they come in Fall colours and shapes. This arrangement has coloured lights, but I also use plain fairy lights tucked around glass pumpkins to add a glow to the evening.
j
g
The battery pack is snuggled into the florals so that it doesn't show in the glass bowl.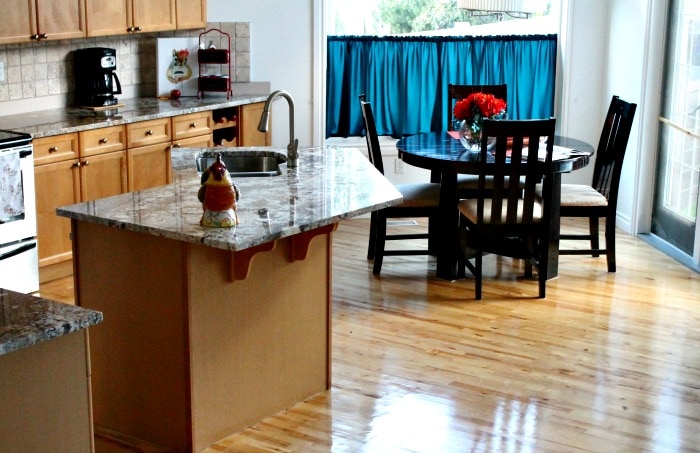 l
h
There are orange and teal tea towels hanging from the stove and dishwasher and the teal cafe curtains are an easy inexpensive DIY project for fall. The dark teal draws the eye across the room, give us some privacy in the lengthening evenings, and the cafe style allows lots of light to enter the room during the day.
The Main Floor Family Room
Whereas the decor in our kitchen is simple, the adjoining family room has a little more fall decor as this room isn't nearly as active.
h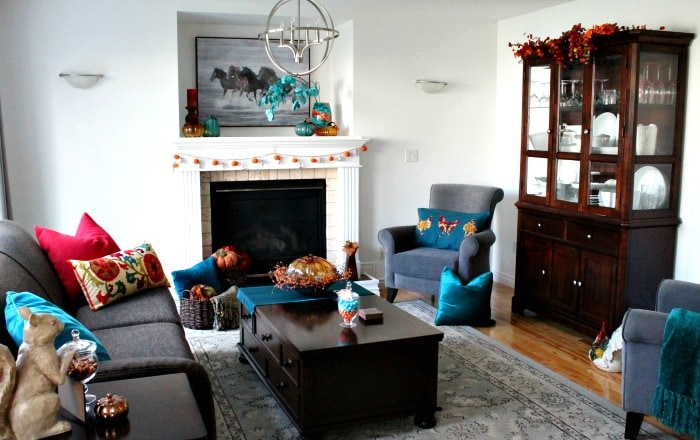 g
Instead of adding teal in very specific Fall decor items I was able to incorporate the colour in other ways. The glass pumpkins I have had for a few years, I purchase one each year and I really like how the teal makes them appear so bright and vibrant.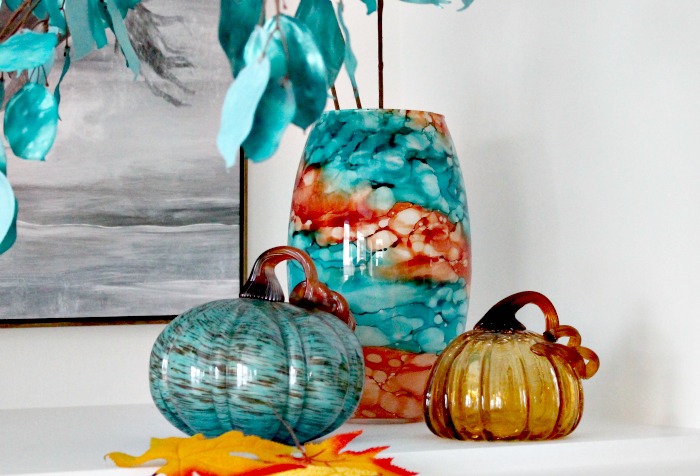 l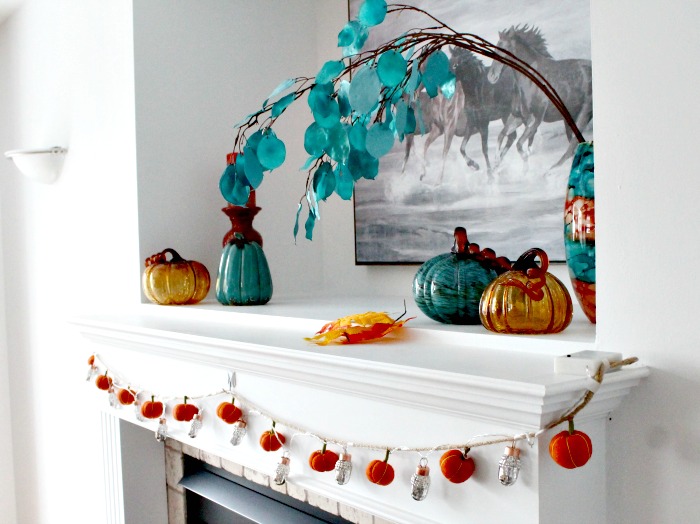 e
Cushions are my weakness, but all of these cushions are DIY projects except for the one elaborate orange cushion that is four or five years old. Every year I sew a few new cushion covers, this year I made the appliqued chicken cushion and this teal lacey cushion which is a simple envelope DIY cushion cover.
z
Texture is very important for Fall decor as is warmth. We live in northern Canada so throws are a necessity as we had frost already. My throw collection is extensive and we have them nearby from September until June. Hard to believe but some areas of our city received a dusting of snow already.
k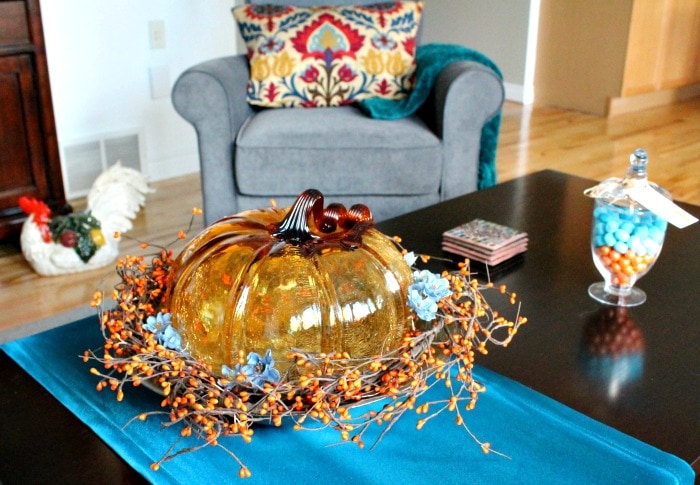 w
This glass pumpkin arrangement lights up for the evening. The apothecary jar has theme coloured candy. The little ceramic rooster you see in the background is one of my favourites and he is several years old. He may not be glamorous but he is a plucky little guy.
h
Another inexpensive idea is chalkboards like the one my little squirrel is holding, and of course free Fall printables that are so popular every year.s
s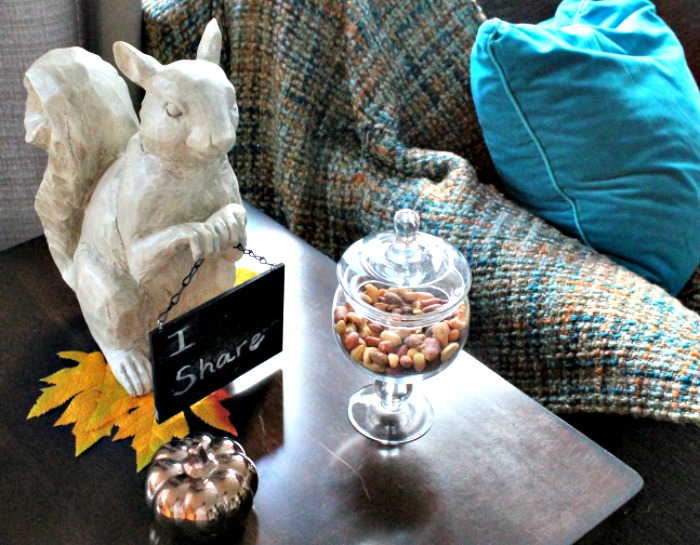 This squirrel is my one new purchase for Fall. He is neutral but with the leaves, I fit him into the theme. Of course, the little apothecary jar is full of nuts if you want one.
The upstairs living room has some fabric pumpkins and apothecary jars. The guest bathroom has a leaf coloured shower curtain and of course, all the bathrooms have teal, orange and dark red towels and facecloths.
The bedrooms get heavier bedding added and some throws, but otherwise I don't decorate them specifically for Fall.
j
This is the first year I have tried illuminated decor for the long fall evenings. The lights make the lengthening evenings much more enjoyable.
g
I hope you enjoyed our home decorated for Fall. Let me know what you think of the teal accents. Is teal a colour you have ever considered for Fall?
Stay warm.
Leanna