Farmers Markets, Garage Sales and Stunning Fall Front Porch Decor Ideas
Ideas for Beautiful Fall Porches
Americans celebrate Fall much more than Canadians do. I can say you actually "welcome" it, especially my friends in the southern USA, I cringe every time a blogging friend talks about avoiding the heat. For Canadians Fall although gorgeous and enjoyable, were feeling extremely resistant to saying goodbye to Summer, we certainly aren't thankful to escape higher temperatures. Personally, instead of feeling celebratory towards Fall I miserly hold on to the last days outdoors, enjoying the Fall season, and the beautiful Alberta harvests. But instead of celebration, I feel a foreboding for its soon to arrive brutal cousin Winter.
As far as decor goes, I have done my front porch up with pallet pumpkins, and pumpkin arrangements but nothing as large scale as the fantastic Fall porches you see in this post. These fall porches are simply stunning, and I can truthfully say I have never seen a Fall front porch as beautiful as these are. They certainly made for two amazing evenings reading posts to discover them for you. I hope you love them as much as I do, and enjoy the budget tips I will chirp on about.
Fall Porches in Various Colours
This amazing display of unique colours from Design and Dazzle is made up using craft Pumpkins from Michael's. The thing that I love about it is Michael's brings the faux pumpkins for Fall in early enough that you can have an early Fall porch if you like. Better yet they won't get ruined by frost, last year it snowed in September.
Fall Pumpkin Porch Decor| by Design and Dazzle
These beautiful Mums are so large and spectacular. The use of mauves and pinks in Fall decor is so feminine, different and appealing. This is such a simple arrangement with so much impact. Although she has a nice expansive front porch, those of us with small porches could certainly replicate her idea.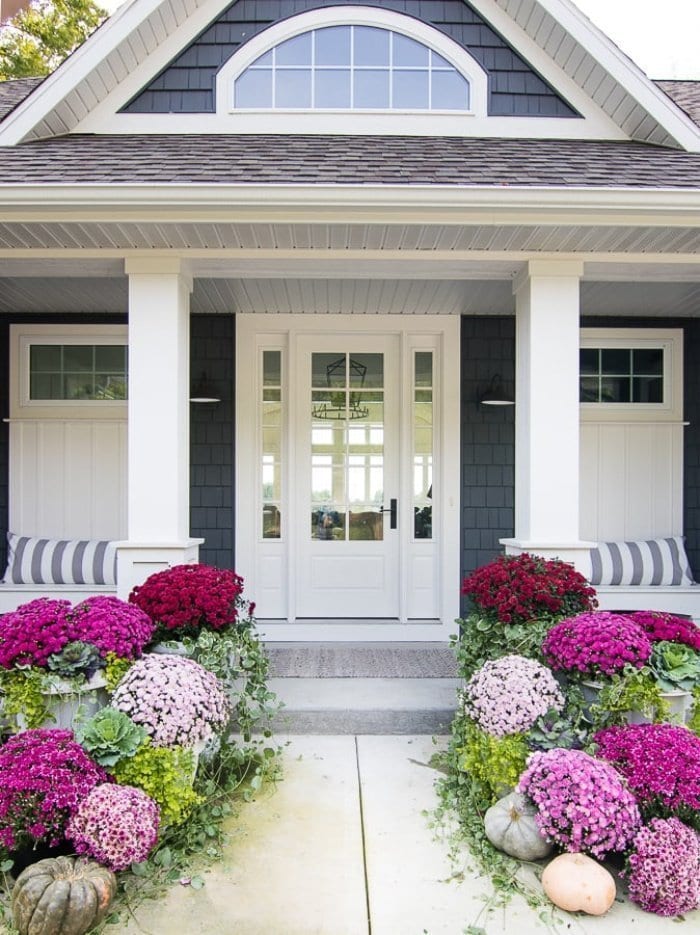 Burgundy and Pink Fall Front Porch | by The Lilypad Cottage
This porch is so warm and cozy looking. Fresh plants and a hydrangea still in bloom. Would you ever want to come inside?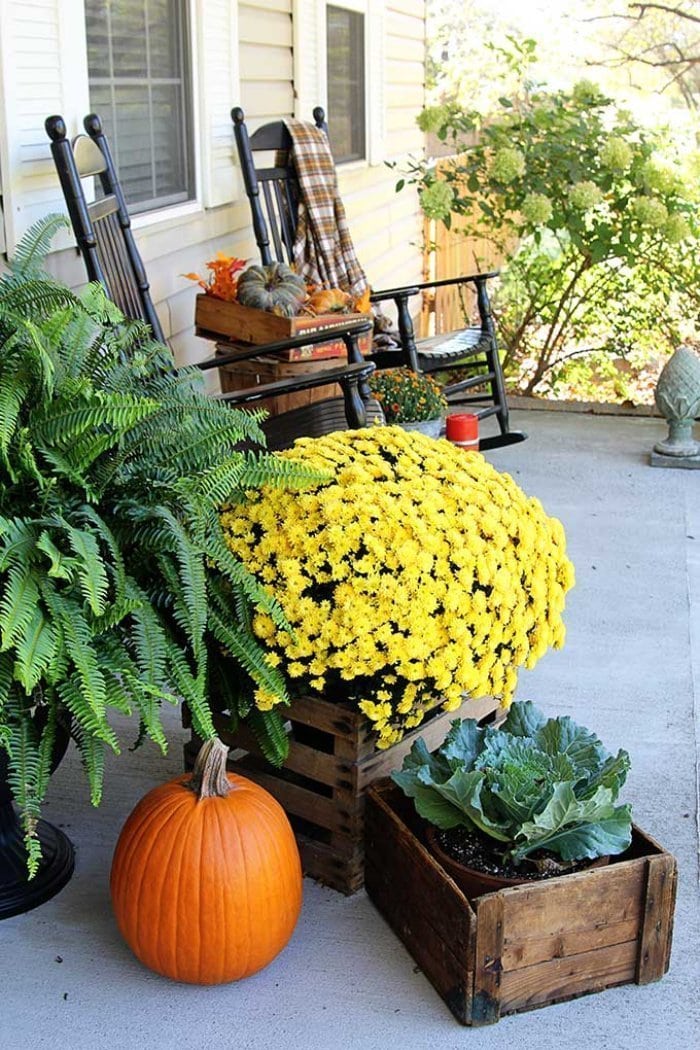 Farmhouse Porch Decor with Color| by House of Hawthornes
This Fall front porch from Fynes Designs is so fun. It looks so evenly balanced but unique. You can really appreciate how she took pairs of each element and used them in slightly different ways on each side of the door. Brilliantly done. One trip to the farmer's market and you would have everything you need.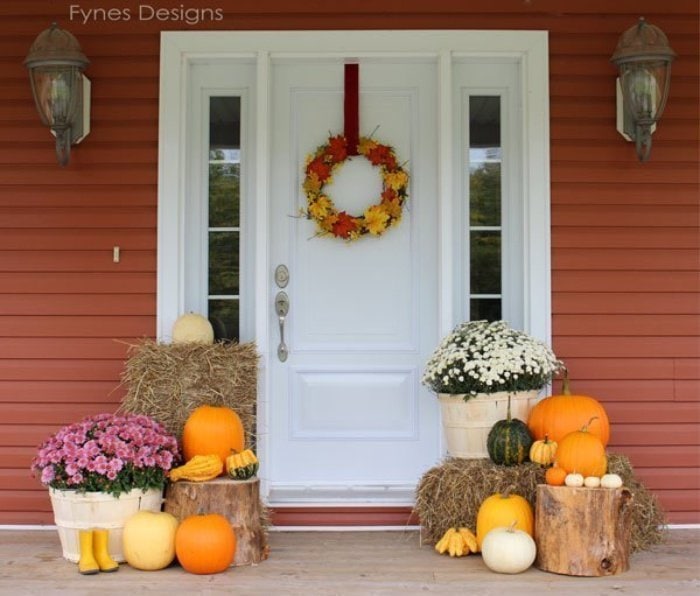 Fall Porch Decorating| by Fynes Designs
Speaking of Farmer's Markets. Look at that beautiful pallet sign. Other than the eggs it reads like a shopping list for natural decor.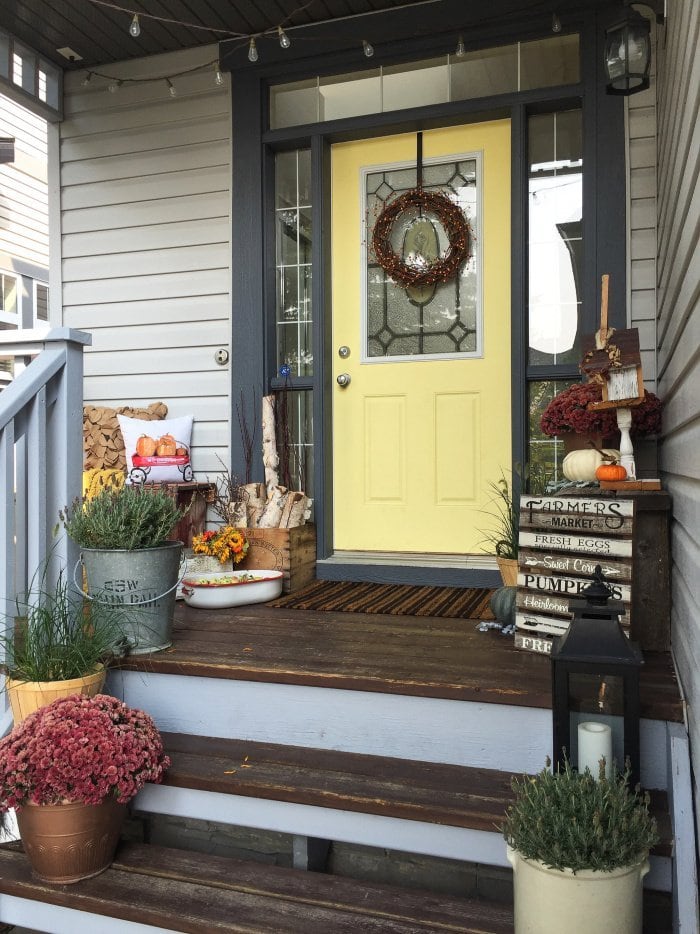 Harvest Themed Fall Front Porch| by a Pretty Life in the Suburbs
Corn stalks can be dramatic and add height to your Fall porch, just like the pretty tall painted signs do. I really love how she used hurricane lanterns, one lucky garage sale, or a quick trip to the lumber yard, and I bet we could make one of those benches for less than $10. I want a rustic one just like that.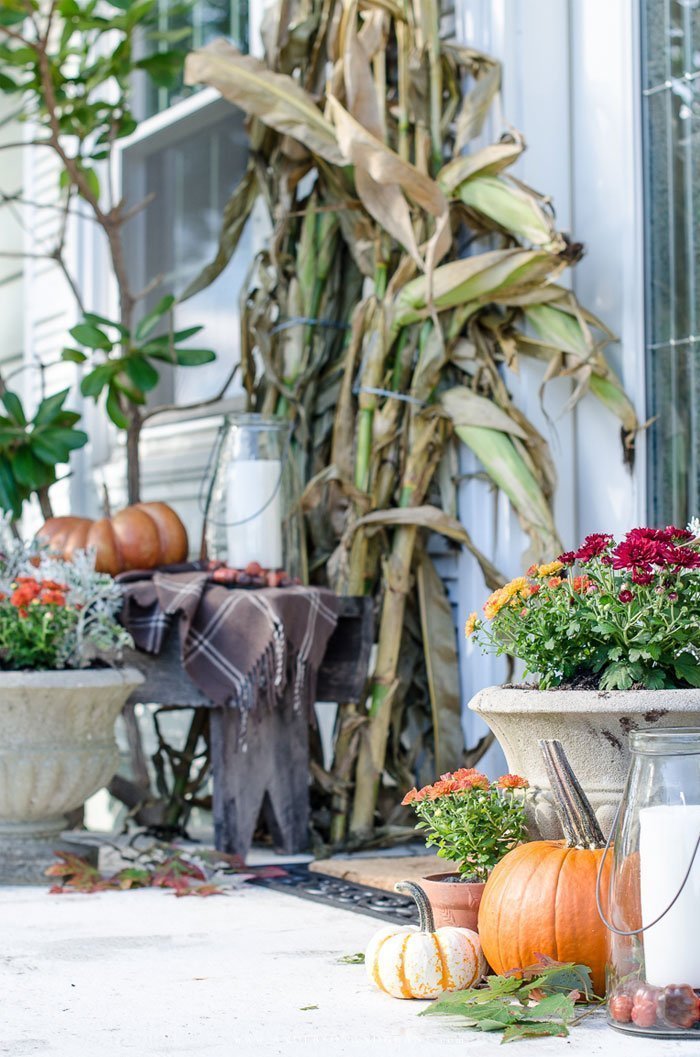 Fall Porch Decor| by Anderson and Grant
My first impression of Worthington Court front porch was Simple and Elegant. I am amazed at how much drama it has. Do you feel that when you look at this porch?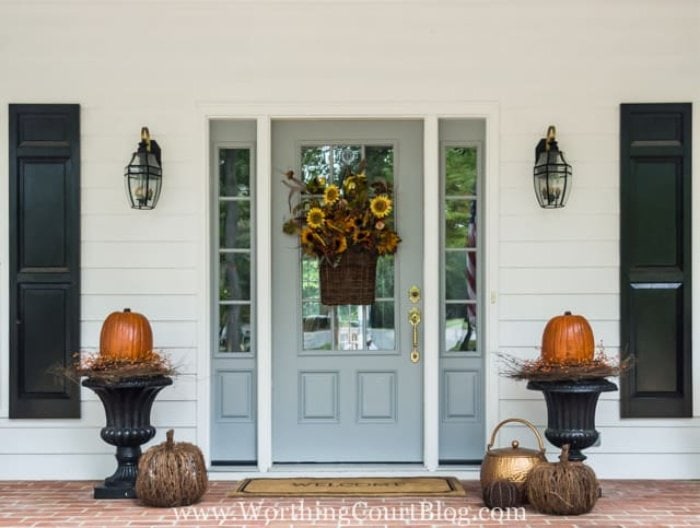 Easy and Simple Fall Front Porch | by Worthington Court
Wood, wood, and more wood. So rustic and spectacular. This fall display is something for us Northerners, it beautiful and hardy, I find it very inspiring to try and I bet it can be achieved inexpensively.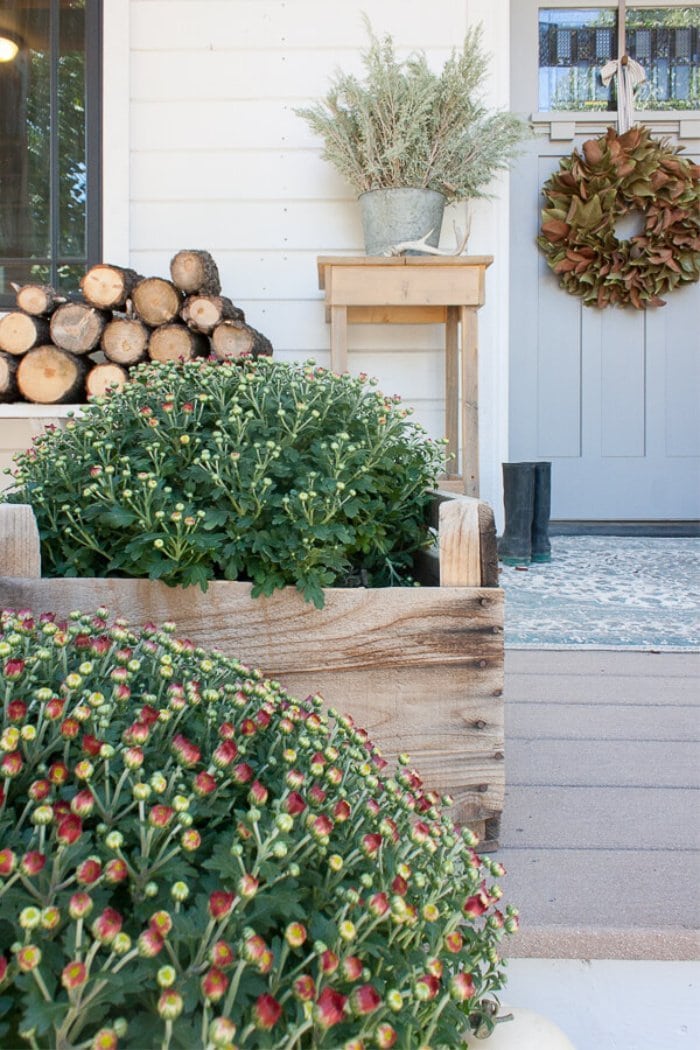 Porch and Entryway Fall Decor to Make You Swoon| by Twelve on Main
About two week's ago I was at an auction that had an old barrel. I knew I should bid on it, but I had no idea what I would do with it, and since we Konmari'd everything I left it there. Sigh I wish I had seen this front porch from Love Grows Wild. Isn't that barrel perfection? A little garage sale stool, or even a broken chair, could be used in a display like this as well.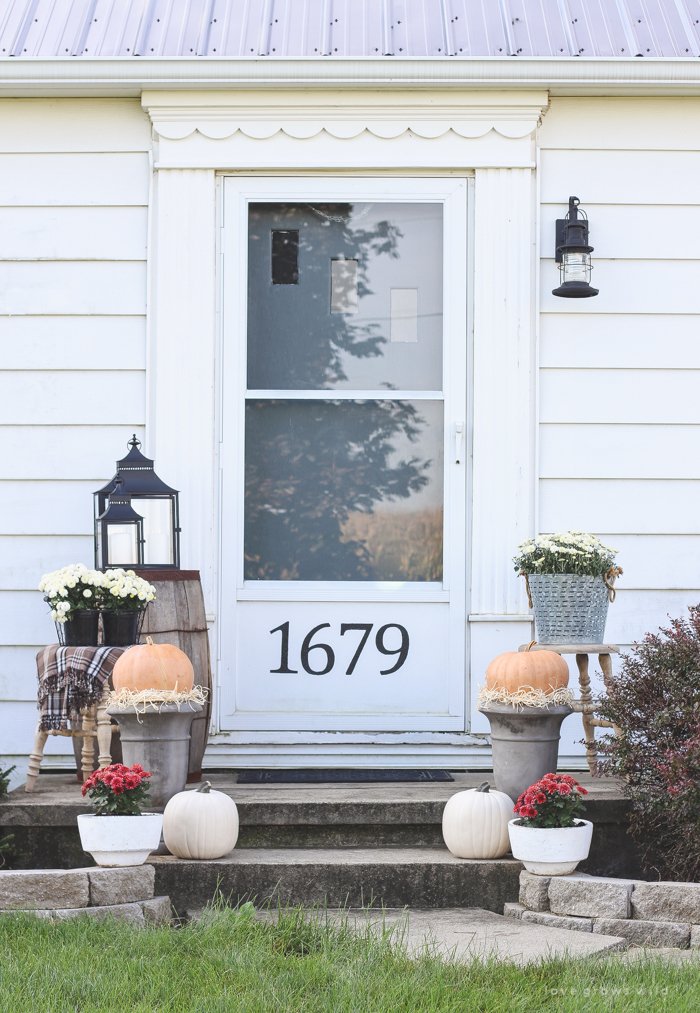 Simple Farmhouse Front Porch | by Love Grows Wild
Another fantastic looking pallet sign. No construction, just some white paint and done. You can't really get much simpler or less expensive than that. That cute little burlap banner is adorable as well. This is the first time I wandered past Taryn's blog, and I am an instant fan.
Neutral Fall Porch| by Taryn Whiteaker
Please Read
From now until Christmas I am creating roundups on various topics that interest me and I think will interest you as well. In the collections, I do my very best to respect the original authors work, effort, talent and give credit when its due. Every post I share has a copyright restriction of some sort or other, allowing the use of one photo with a link back and credit. Its such a generous thing for these lovely bloggers to allow. Under no circumstances would I ever post them any other way.
These roundups are taking me a considerable amount of time to put together, surprisingly so. The challenge is finding the original blog post that hasn't been stolen and used without credit. If you see a post that says 50 Fall porches, or 100 cookies, or 50 best Christmas trees. Please look for links and credit, I promise you that I am.
Stay warm. Leanna