Farmhouse Christmas Decor Ideas
I'm so excited to share this collection of Farmhouse style Christmas decor
Farmhouse Style is everywhere these days, and I for one am so glad it remains popular.
We live in Edmonton on the Canadian prairies and are surrounded by millions of acres of gorgeous farms. Farmhouse decor is all about cozy, vintage, well loved, handmade crafts, items with a history, or appear to have a history.
You don't need to have the Joanna Gaines gorgeous shiplap walls, solid hardwood floors and swoon worthy farmhouse sinks to decorate in a Farmhouse style. Smaller items like mason jars, burlap, galvanized decor items, vintage carpets, greenery, gorgeous farmhouse style word signs, slipcovers, or brown paper art, can evoke feelings of cozy tradition and family. These days more than ever I need that so very much.
I learned something writing this post, farmhouse decor is also about layers, a handmade slipcover, with a throw, and then one or several handmade cushions. Or a tray with a plate, a container, some greenery and then candles. You will see what I mean in the images.
Farmhouse Christmas Porches
Lets quickly start at the front porches.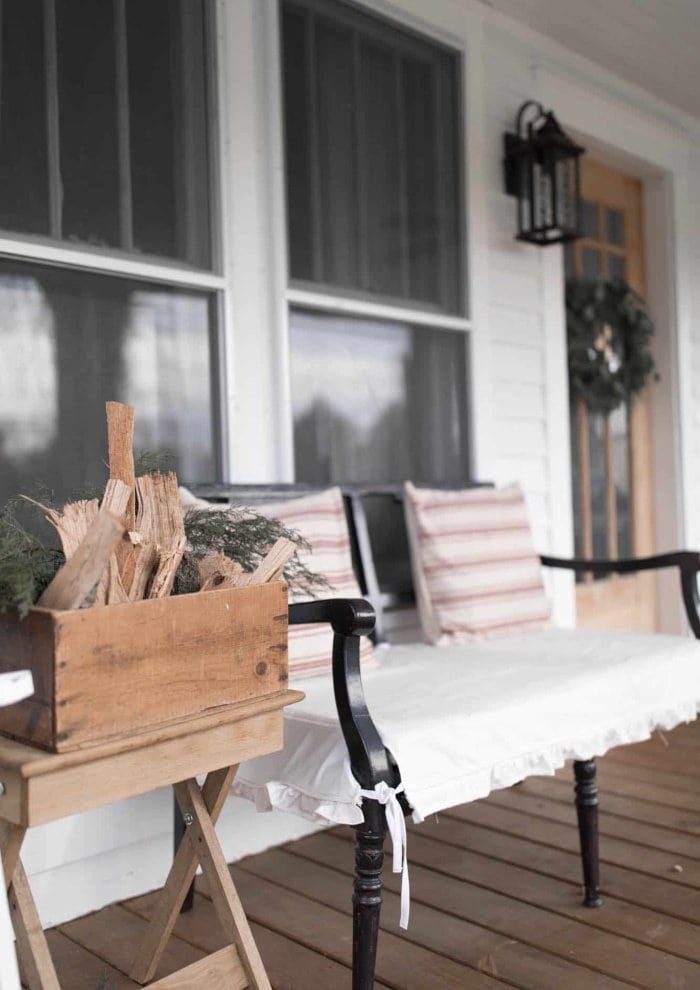 Farmhouse Christmas Front Porch Decor | Farmhouse on Boone
Often to find some truly unique and spectacular the best way is the DIY way. The next two posts feature a fun DIY Farmhouse Christmas Sign, and Door Tree. I have to find a way to make these once Canada's winter warms up a bit.
Rustic DIY Elf Parking Pallet Sign | Over the Big Moon
Our garage is closed for winter but wouldn't one or two door trees be amazing on the front porch!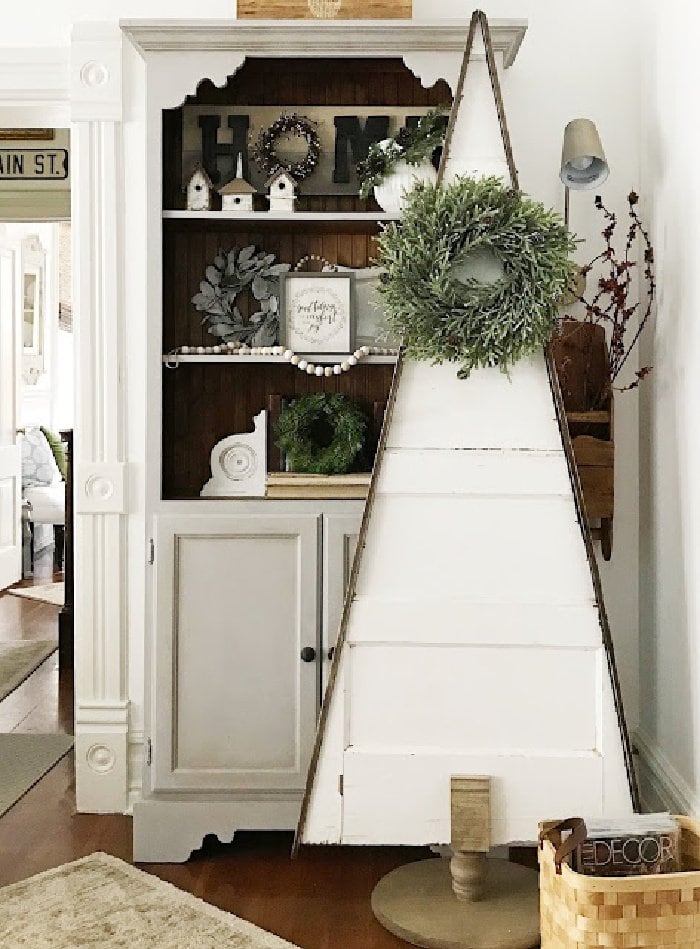 Old Door Christmas Tree | Old House on Main
Farmhouse Livings Areas for the Holidays
Swoon worthy simple Christmas decor idea, I can smell the tree boughs when I look at this photo.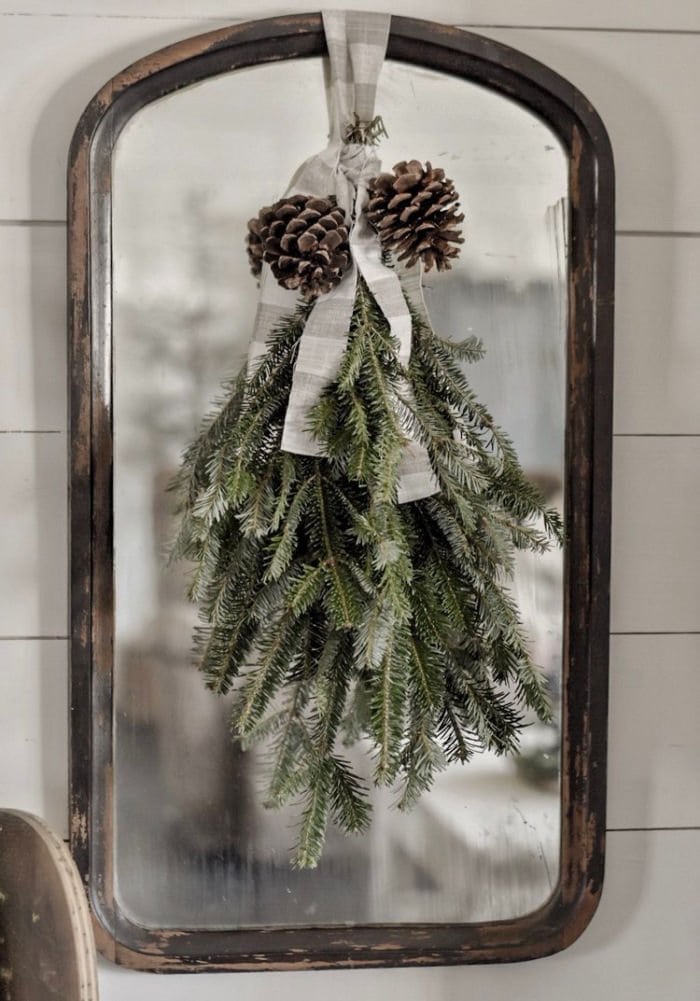 Evergreen Christmas Swag | Rocky Edge Farm
Wilshire Collections Christmas tour is modern and playful, but still very much farmhouse with all the buffalo check and burlap.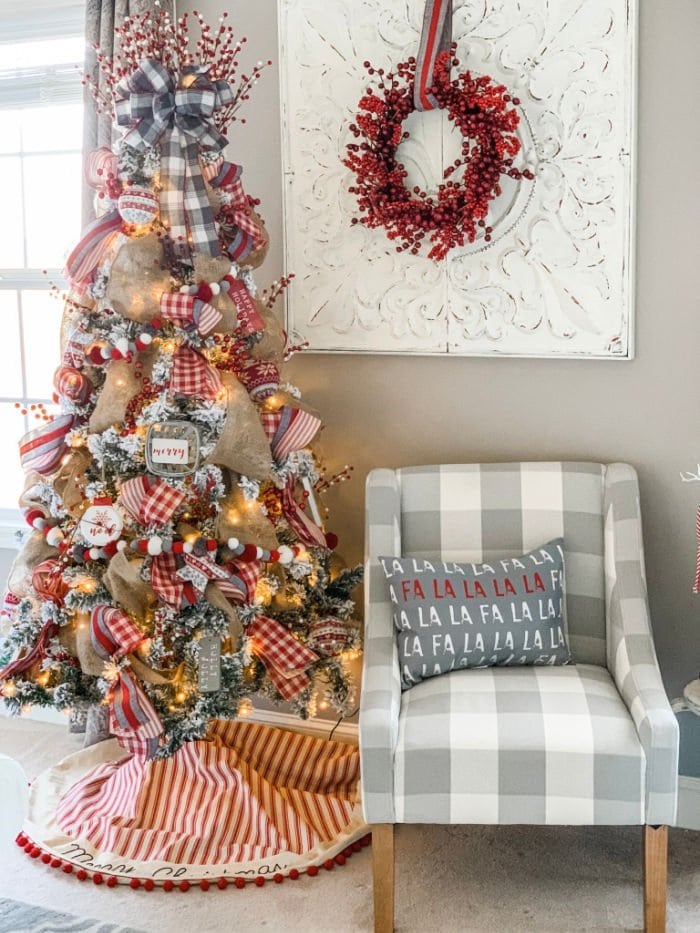 Flocked Christmas Tree Decor | Wilshire Collections
Oh my I love how Tribe of Burton styled this Christmas tree. So nostalgic, simple, and farmhouse perfect. Definitely a case where elegance happens when you subtract the unnecessary.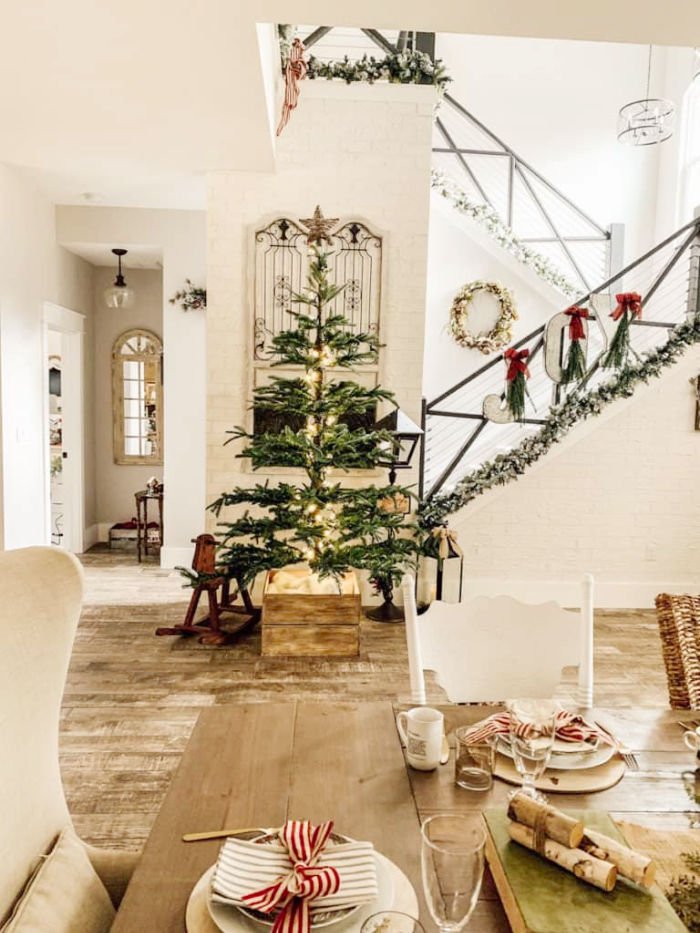 Modern Farmhouse Christmas Tour Tribe of Burton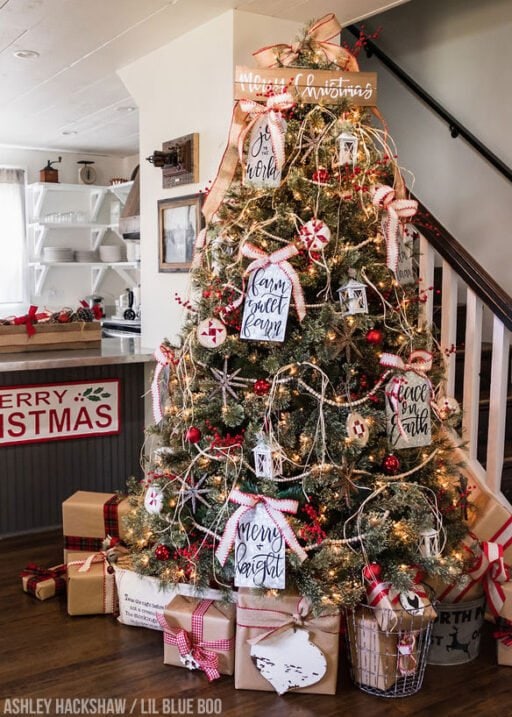 A Modern Farmhouse Christmas Tree | Lil Blu Boo
Have you ever looked at vintage brass at the thrift store and kept on walking? I sure have, but I regreted those decisions when I saw this mantel.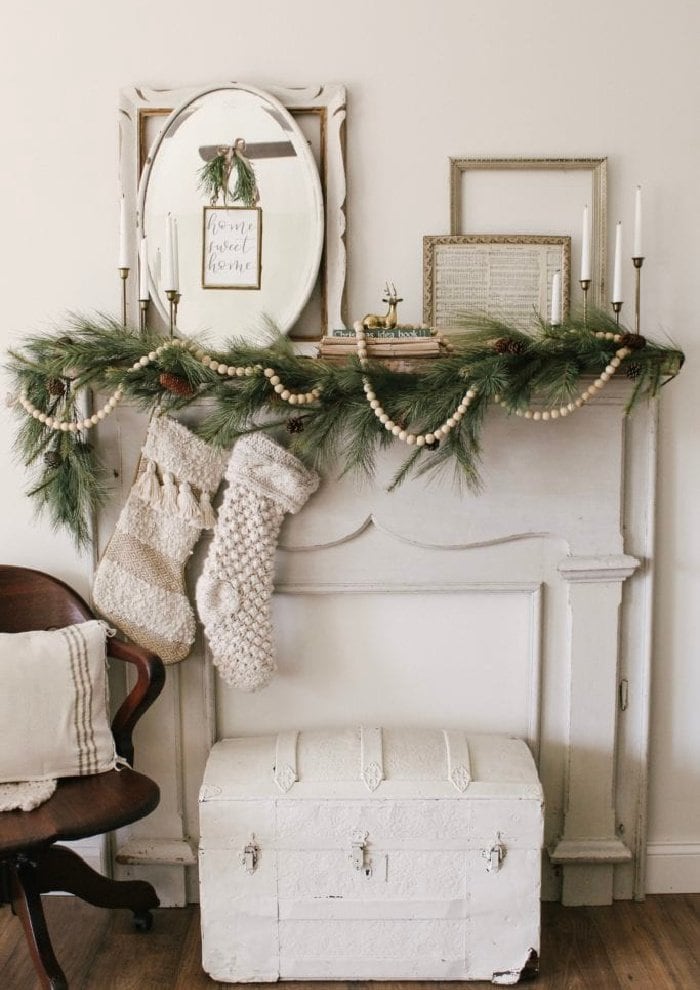 Whimsical Gold Winter Antique Mantel |Sarah Jane Interiors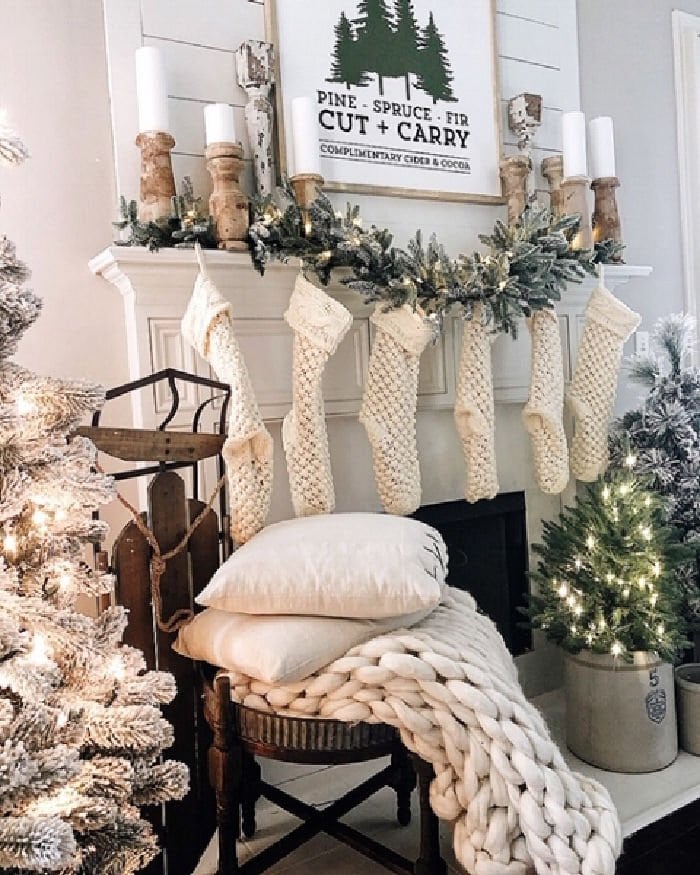 Farmhouse Style Christmas Home Tour | She Gave It A Go
This post from Beauty for Ashes is the prettiest example of how to decorate with Christmas trees I have seen. She has them in all sizes and shapes, and that tree of lights is spectactular. What do you think?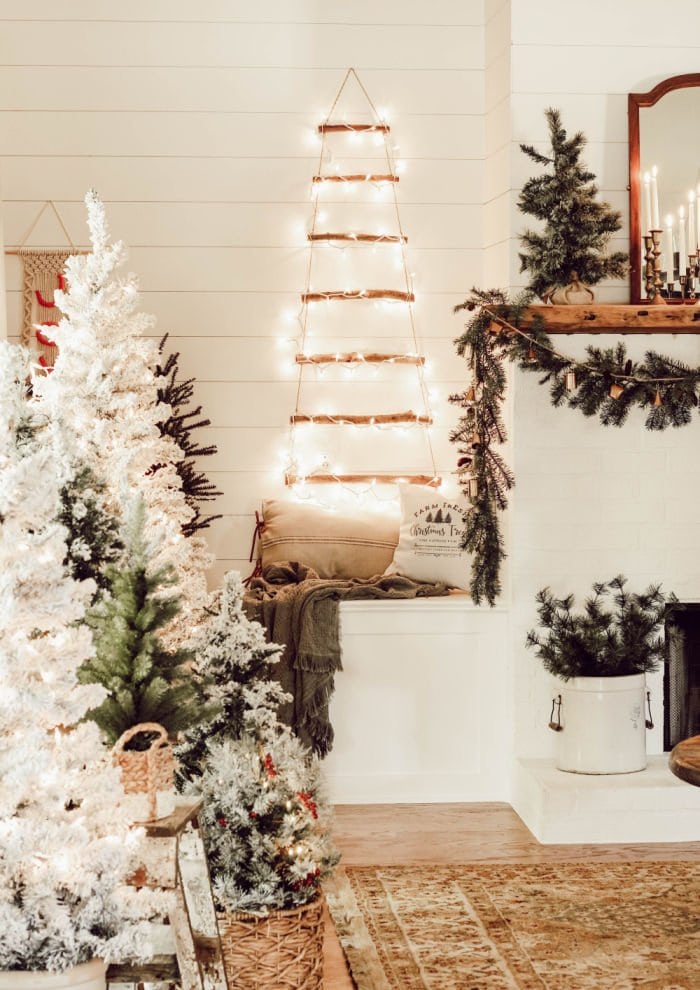 Cozy Christmas Living Room Tour | Beauty for Ashes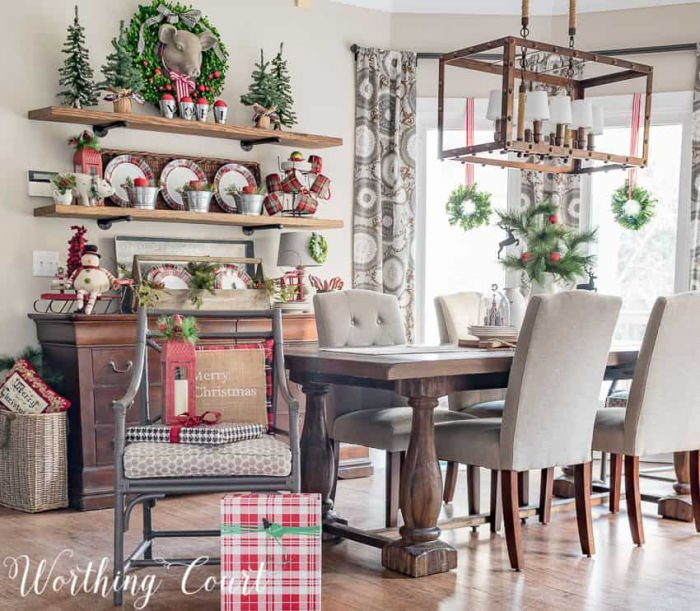 Christmas in Farmhouse Breakfast Nook | Worthington Court
Finding Home Farms took an old toolbox and created the quintessential farmhouse Christmas centerpiece with it.
Farmhouse Christmas Decorating Tour | Finding Home Farms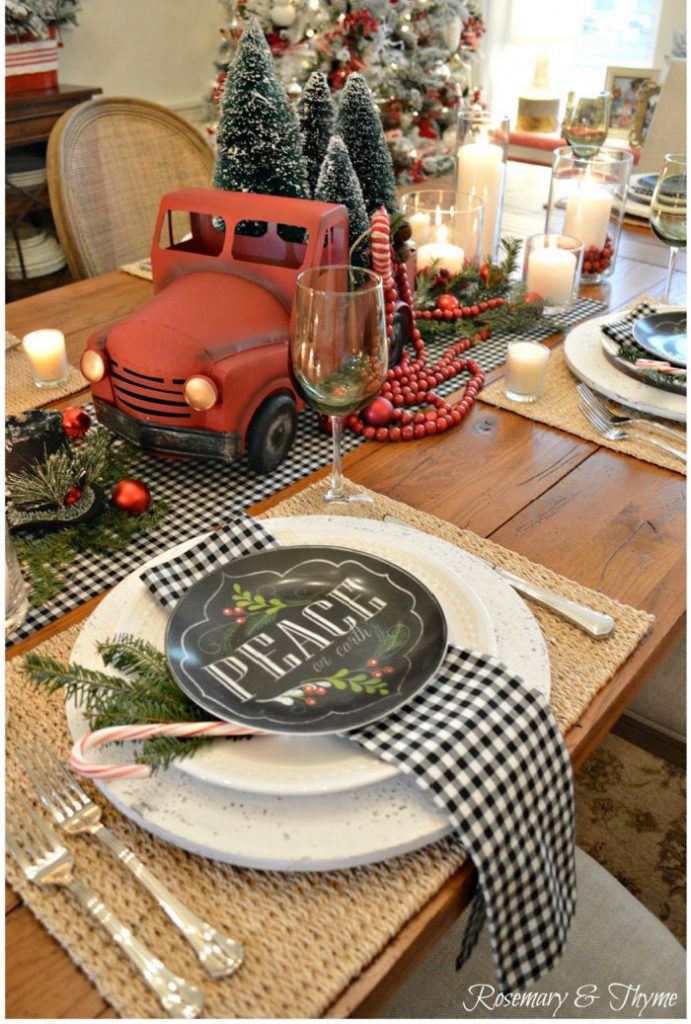 A Country Christmas Tablescape | Rosemary Thyme
All of this gorgeous natural farmhouse home decor and then a whimsical bright red riding car is added. What a beautiful marquis piece, what a great idea.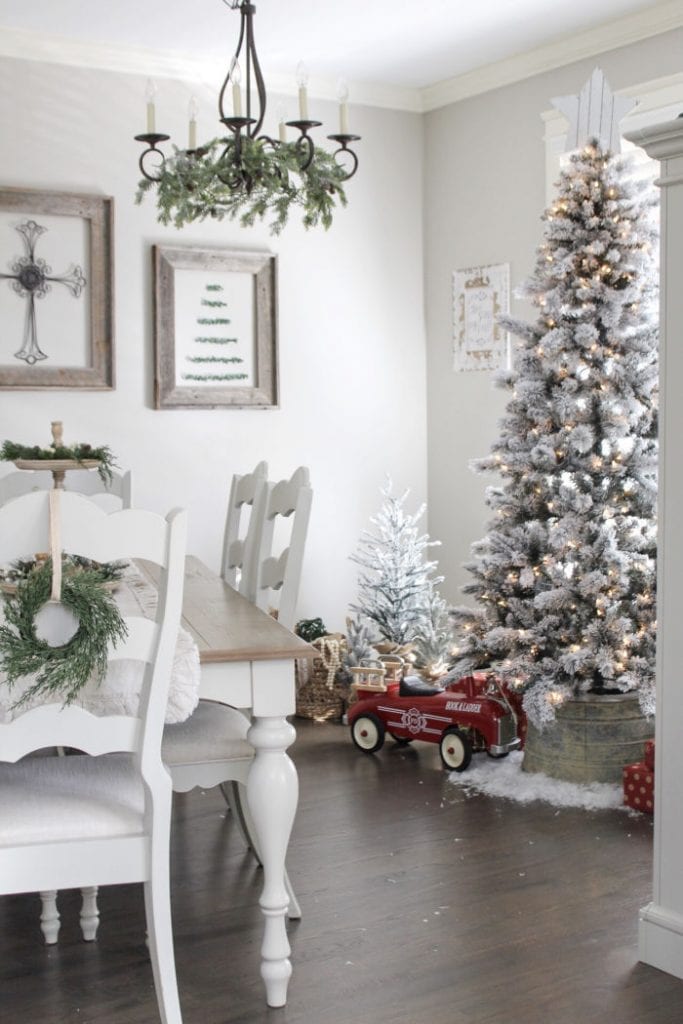 Christmas Home Tour on Highcrest | Dogs N Decor
I instantly fell in love with this dining room from DIY Beautify because of that amazing large chalkboard. But on a closer look check out the way she hung vintage blue china in her Christmas tree, so unique and gorgeous.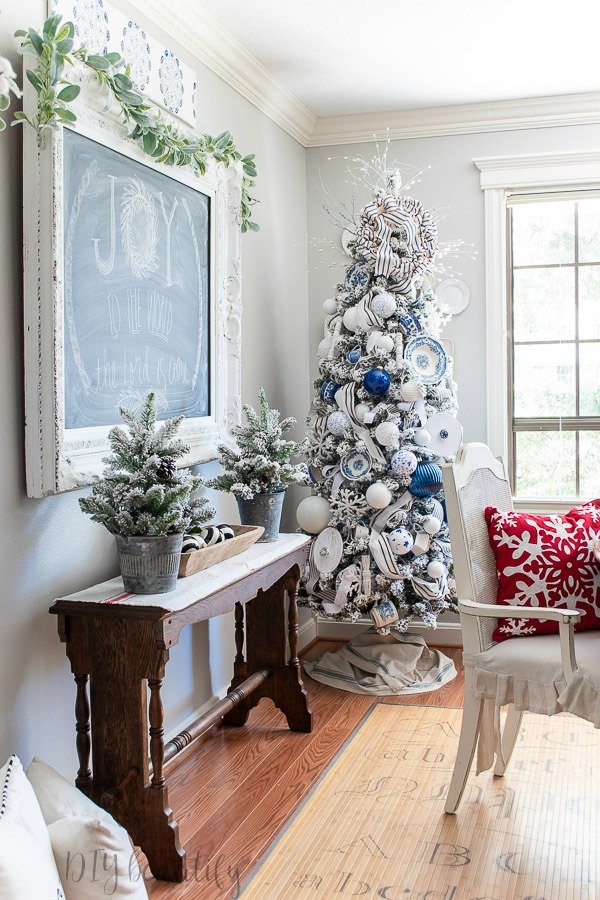 Bright and Festive Christmas Farmhouse Tour | DIY Beautify
Everytime I see these signs from Craftholics Anonymous I want to pinch myself for not thinking of this craft idea myself. Its beautiful for Christmas or different colours for any time of the year.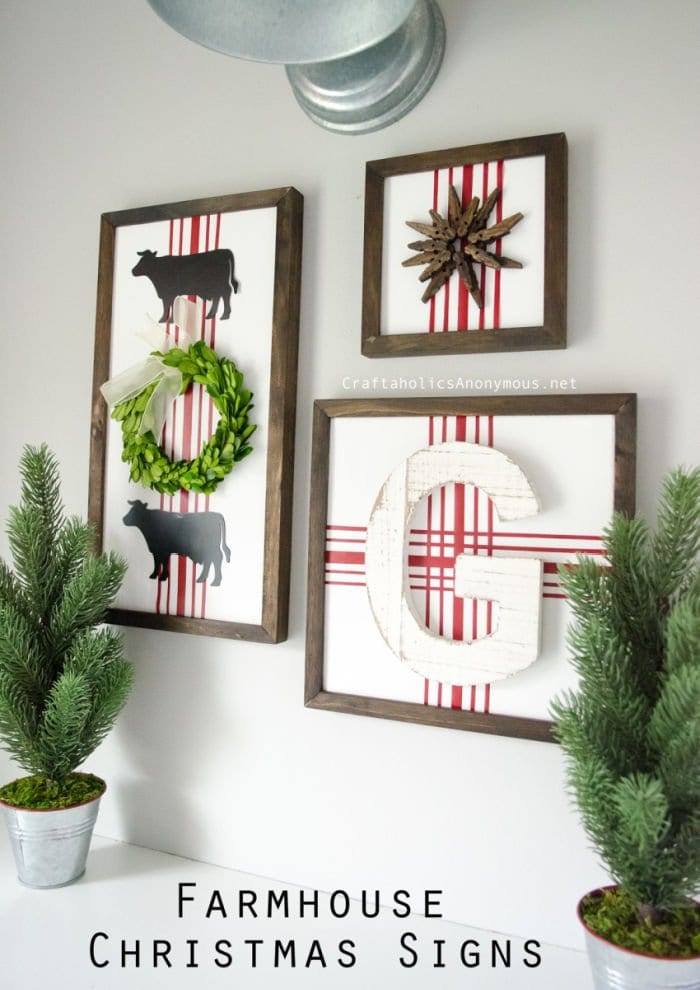 DIY Farmhouse Christmas Signs | Craftaholics Anonymous
This is what I meant by layers, they look so easy and haphazardly put together, but I know from experience this kind of home arrangement is art.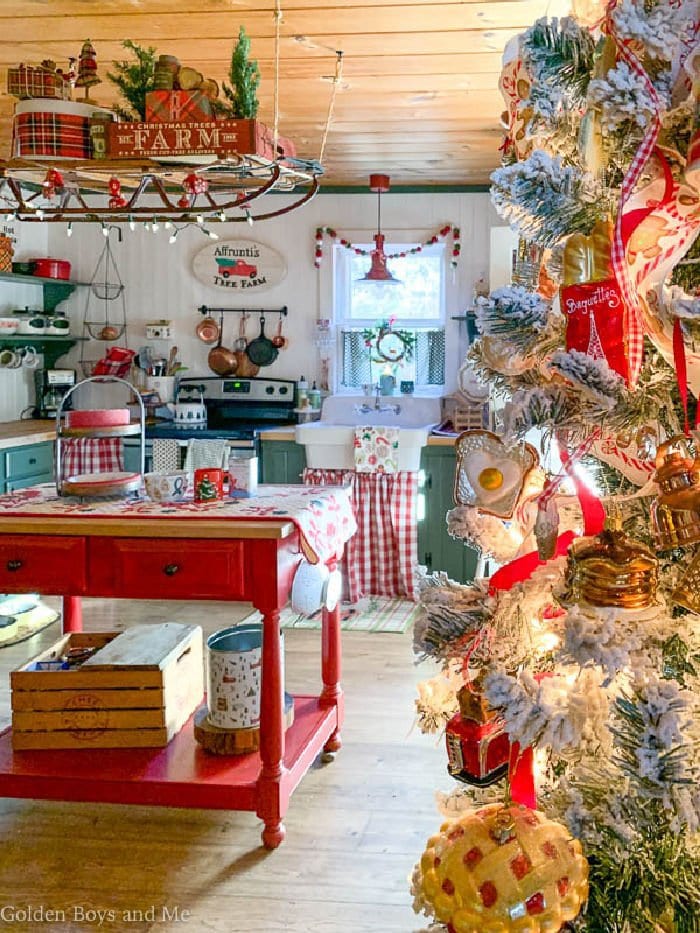 Christmas Cabin Home Tour | Golden Boys and Me
Oh my this chalkboard, what a beautiful statement piece. My daughter in law calls it a marquis piece, and it certainly catches the eye. Such a lovely Farmhouse Christmas inspiration.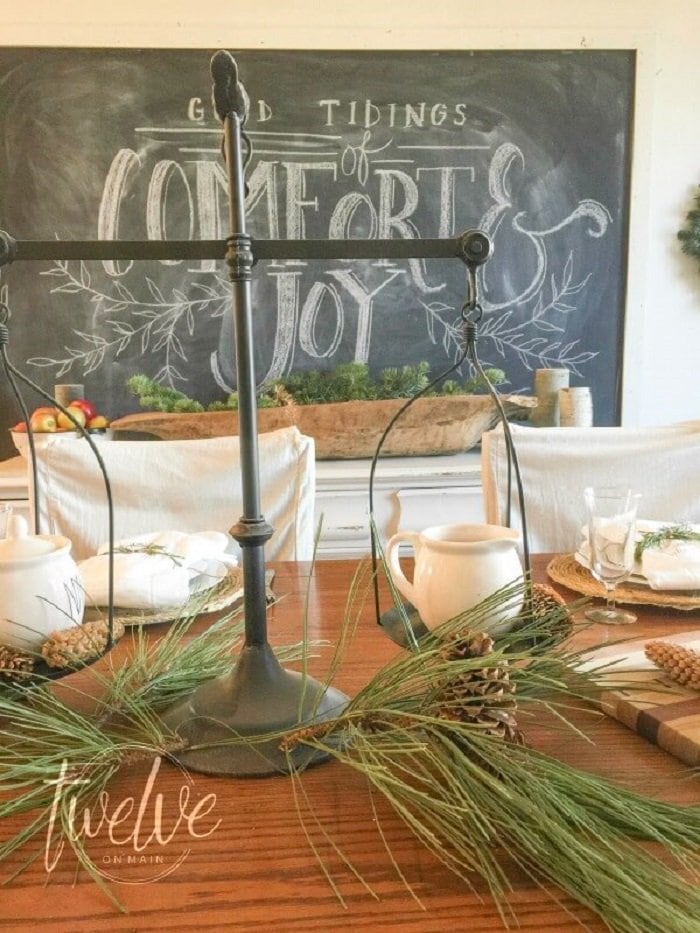 Farmhouse Christmas Tablescape | Twelve on Main
I thought I would finish my collection of favorite farmhouse Christmas decor ideas with something simple and crisp and quietly joyous.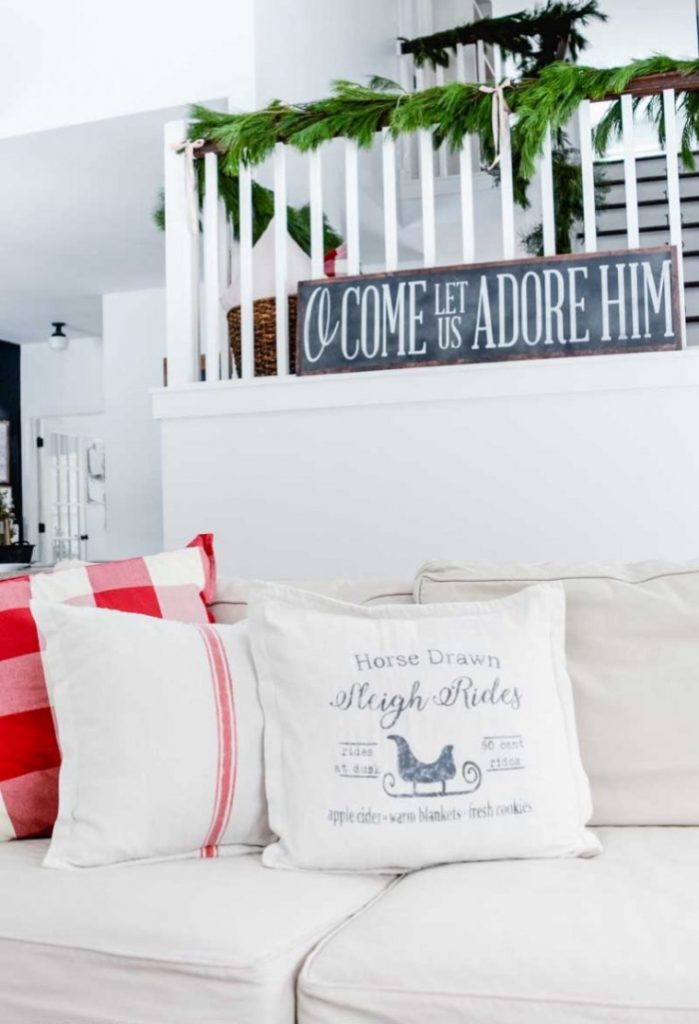 Old Salt Farm | Christmas Home Tour
Farmhouse Living Room
The Liz Marie Blog create the most casual, yet stunningly beautiful home decor. Everything looks so easy to put together and perfect at the same time. This blog is full of Farmhouse inspiration.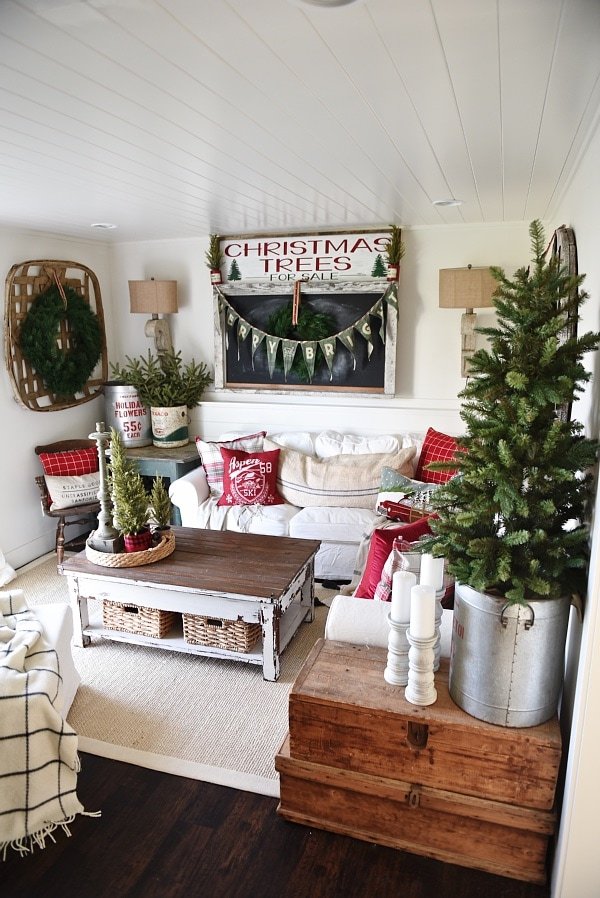 The Easiest Way to get Farmhouse Christmas Style | Liz Marie Blog
What an amazing collection of farmhouse decorating home tours. Make sure to take some time checking out each post, there are many many more ideas on the original blog posts than in my roundup.
I love these ideas so much I have decided to once again stick to farmhouse decor for this Christmas. (I was leading towards plaid lol)
Farmhouse decorating has such a wide assortment of affordable ideas you can make yourself which very much appeals to my budget. I hope you enjoy reading this post as much as I had fun collecting the ideas.
I did have time to create a DIY farmhouse hall tree for Christmas. Hubs and I managed to make it with tidbits from our garage and 30 bucks for just one large board.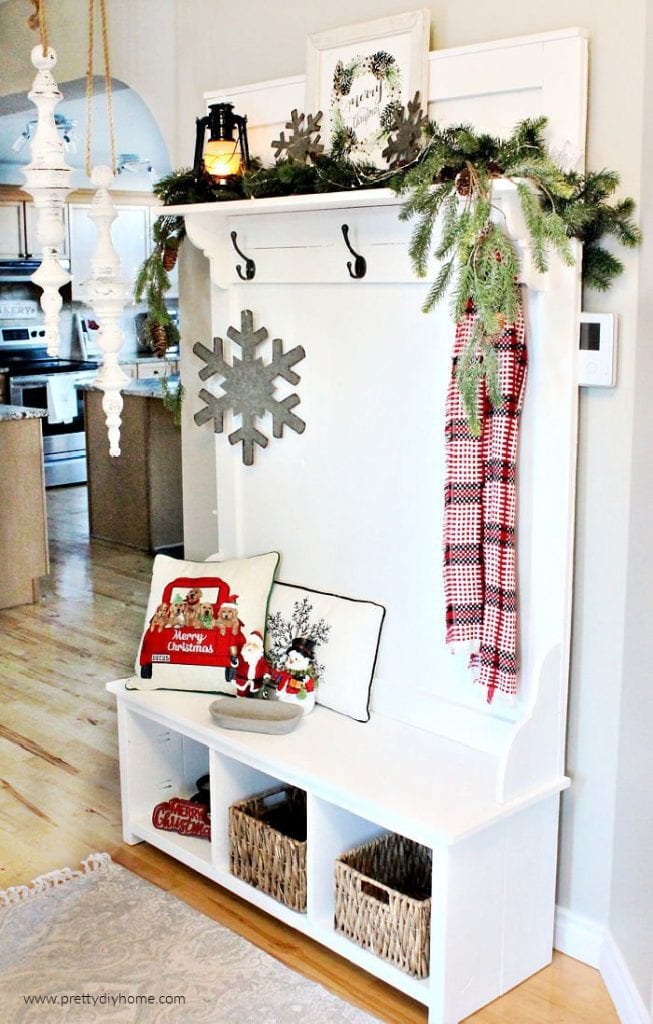 Festive Farmhouse Christmas Foyer | Pretty DIY Home
If you like the content but too busy to read it all. How about pinning it for later?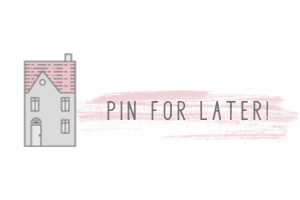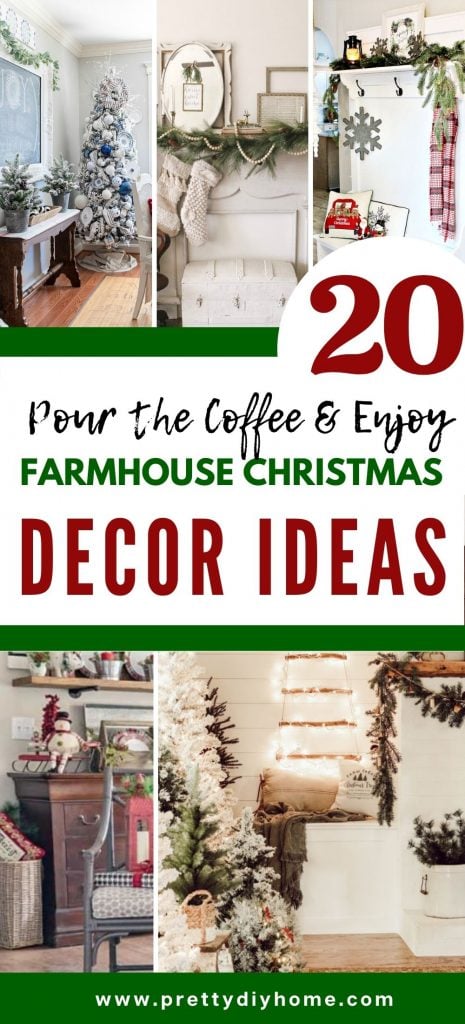 Other Christmas Decor Ideas to Enjoy
There are so many different Christmas decor ideas, styles and themes to daydream about. It sometimes makes it very hard to chose which one you want to create. But its also just so much fun deciding. Christmas decorating is my favorite prep for the Holidays, I love it, plus theres no dishes!!
Plaid for Christmas
If you love plaid this post so many fantastic one of a kind ideas for plaid decorating. Whether you want to add some plaid throws, or wrap a gift in tartan paper, or add ribbons to a tablesetting. There are lots of inexpensive and fabulous ideas for adding plaid to your Christmas decor.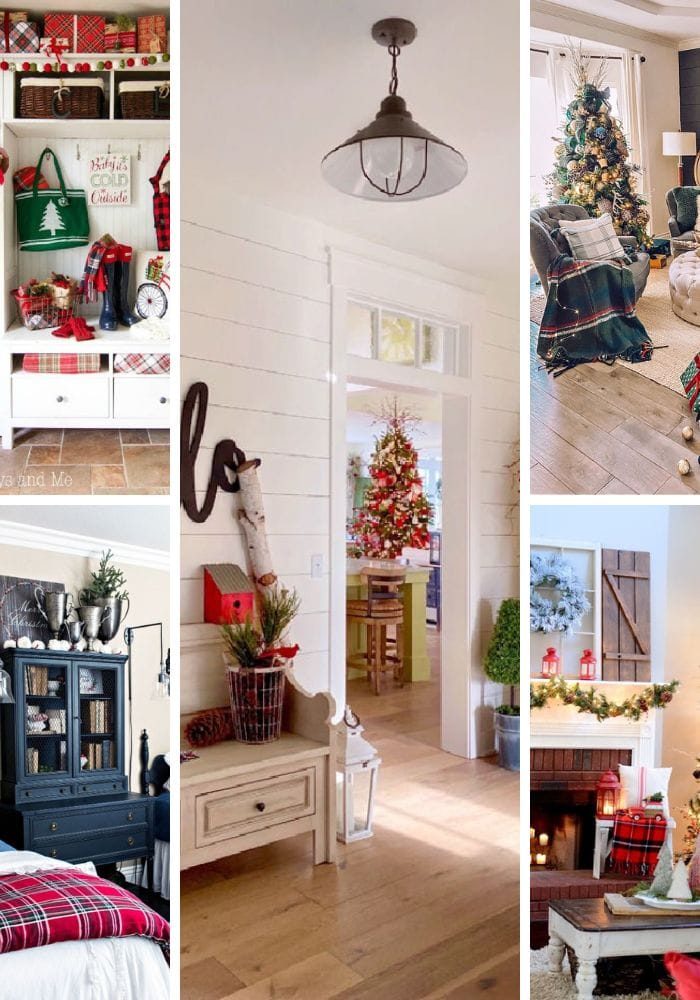 Traditional Christmas Decor Ideas
If you love gathering memories from over the years, and then adding some new and novel ways to use them. Or if you just love the feel of nostaligic Christmases this post has all sorts of gorgeous traditional Christmas decorations done in everyday homes. No fancy schmansy mansions to swoon over, just lots of breathtaking ideas we can use in our own homes.