Neutral Farmhouse Christmas Tree
I am so excited to start sharing our Christmas home decor ideas, starting with our main floor neutral farmhouse Christmas tree. This room is so bright and white and the family room is by far my favorite room. The Christmas tree is understated and quiet, I hope you find it charming and different.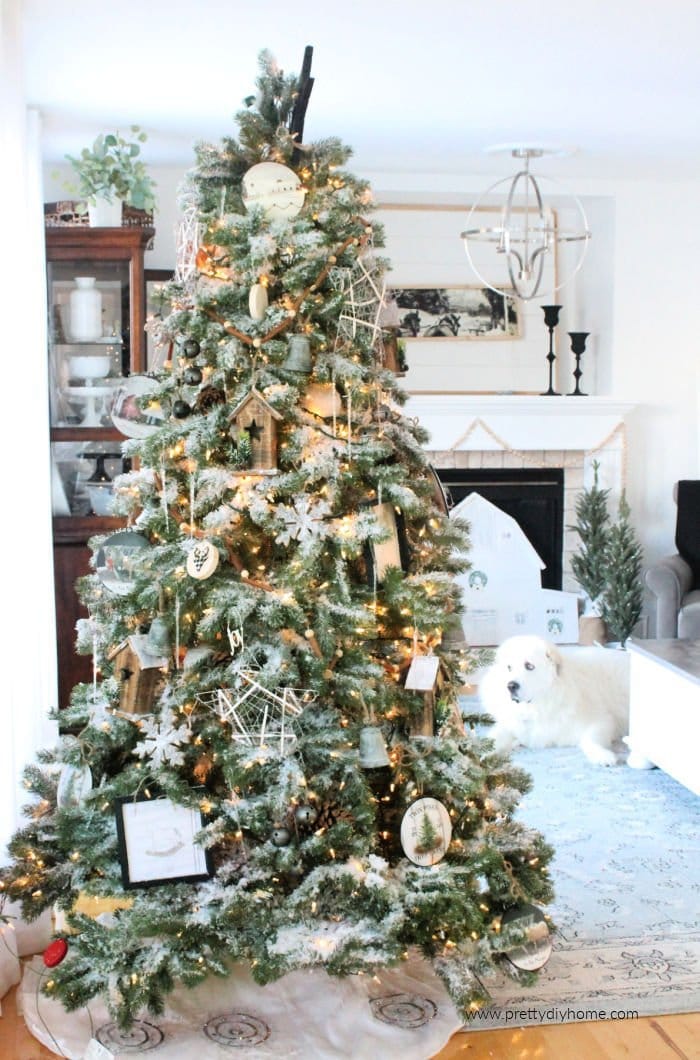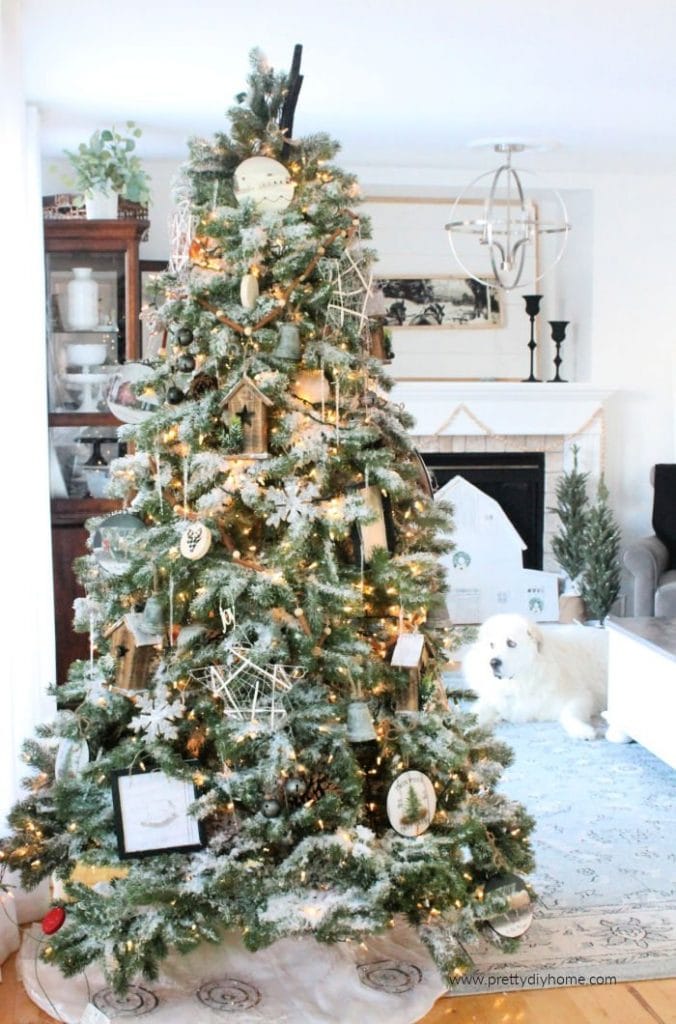 Welcome back to year 6 of our Festive Christmas Event where we team up with oodles of our talented blogging friends we admire to bring you a plethora of creative ways to celebrate your holiday season
You will find new ideas every Monday and Wednesday between Oct. 19th through Nov. 18th. Scroll all the way down to find all the ideas linked at the end. At the end of my post you will find a listing of all the other DIY Christmas ornament ideas from the Fabulous Christmas group.
In Canada it's pretty standard to put your tree up after December 1, and bad form to put it up before Remembrance Day. This year everyone is leaping into holiday preparations, looking for something joyous. Although we put up our tree early but in honour of our veterans we won't light it until after Nov 11th.
Make sure to check out the other bloggers Christmas trees I am sure you will find several to inspire you for you tree.
Rustic Farmhouse Christmas Tree
This year I am keeping with a more rustic Christmas look, skipping lots of the glitz and sparkle in favor of a homespun look. As always I start with a theme and shop the basement for any existing ornaments that fit in. This year I grabbed our barn themed ornaments. Barns have a warm spot in my heart from the years I had hanging out with the thoroughbreds. We no longer have them and I miss my time just hanging out with the horses. Barns bring me back to those moments.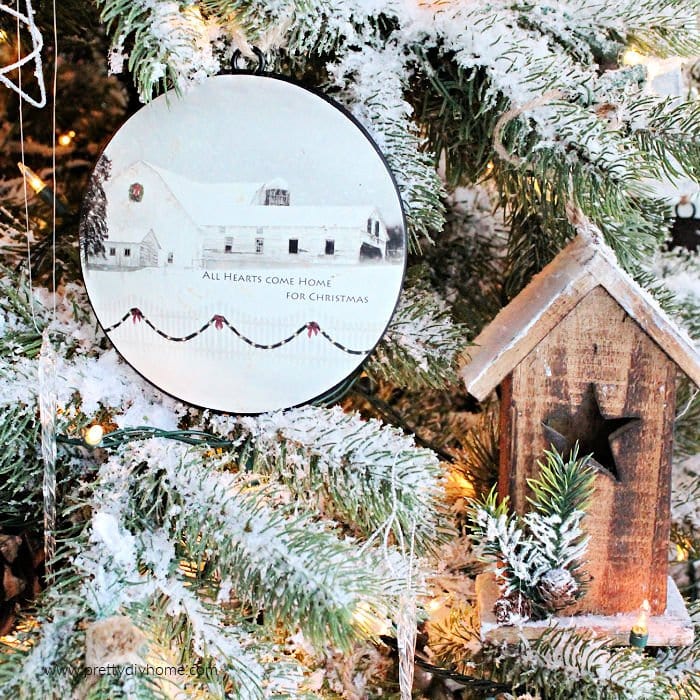 The DIY projects started with adding more flocking to the Christmas tree. You can read about how to flock a tree here. The black star top, the black framed pictures, and the cinnamon stick garlands are homemade. I will share the tutorial for the black tree star and the cinnamon stick garland once I get them written.
.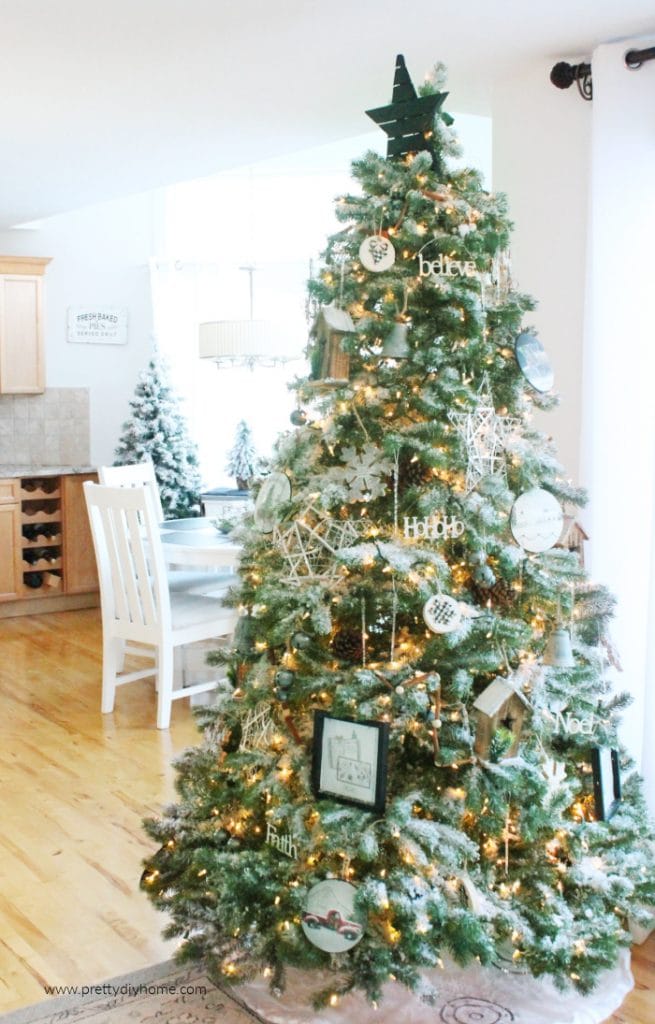 This tree is designed to be quietly neutral and calming to look at. I purposely kept it neutral with no reds. After deciding on the barn ornaments, large white stars, and birch snowflakes from the basement I purchased the natural wood bird houses. The store also had some pretty white bird houses with buffalo check roofs, but I decided the warm colour of the wood for the tree in this very naturally bright room.
As the ornaments are large I hung them into groups of three, each large star has a dark pinecone under it and a wood snowflake above it. The bird houses have a hanging bell above it and a wood slice ornament beneath it.
I am not certain if this tree is completely finished yet, but were still a few fun wonderful weeks away from Christmas. Decorating and looking at other ideas to inspire me makes me ridiculously happy every year.

Now let's check out the rest of the beautiful Christmas Trees!
Animal Crossing Christmas Tree My Pinterventures
Simple Silver & Gold Christmas Tree Decorations Intelligent Domestications
3D Felt Christmas Tree Creative Cynchronicity
Tips for Decorating a Small Christmas Tree Farm Girl Reformed
Small Christmas Tree for the Bedroom Little Vintage Cottage
Slim Flocked Christmas Tree An Alli Event
Louvered Door Slat Tabletop Christmas Tree Interior Frugalista
Rustic Minimal Christmas Tree Mom Home Guide
Coastal Christmas Tree Across The Blvd.
How to Create a Unified Look on an Eclectic Christmas Tree Tikkido
Black and White Christmas Tree Domestically Creative
2020 Candy Christmas Tree Craft Rocker
Rustic Christmas Tree As For Me and My Homestead
Washtub Christmas Tree Skirt Coffee With Us 3
A Christmas Tree Filled with Memories Made Through the Years Blogghetti
Woods and Silver Christmas Tree Polka Dot Poplars
Crochet Filled Christmas Tree Eye Love Knots
Purple Hues Christmas Tree Purple Hues and Me
Festive Outdoor Christmas Trees Domestic Deadline
How To Decorate A Stunning Christmas Tree – 5 Easy Steps My Humble Home and Garden
How to Make a Super Easy Paper Christmas Tree! Our Sutton Place
Neutral Farmhouse Christmas Tree Pretty DIY Home
Grinch Christmas Tree From House to Home
Mickey Mouse Christmas Tree Simply Inspired Meals
Christmas Tree Trends for 2020 Christmas Tree Lane