A Decorated Christmas Tree in Soft Neutral Colors
I am so excited to share our neutral Christmas tree, and the rest of our Christmas decor ideas. This main floor family room is so bright and white and by far my favorite room. The Christmas tree is understated and quiet and I hope you find it charming and inspiring.
What is a Natural and Neutral Christmas Tree?
A natural and neutral Christmas tree is decorated in soft shades of white, cream, browns and greens. Most of the ornaments come from natural items like wood and metals, cinnamon sticks, nuts, and of course pine cones.
Very much like the farmhouse Christmas tree is a perfect style for the budget Christmas decorated, ornaments like the wood star top, cinnamon stick garland, sliced oranges, gathered pinecones, and homemade white ornaments are fit into the natural neutral theme. Although green isn't considered a neutral colour I include green and white neutral colour, when I am decorating neutral Christmas tree.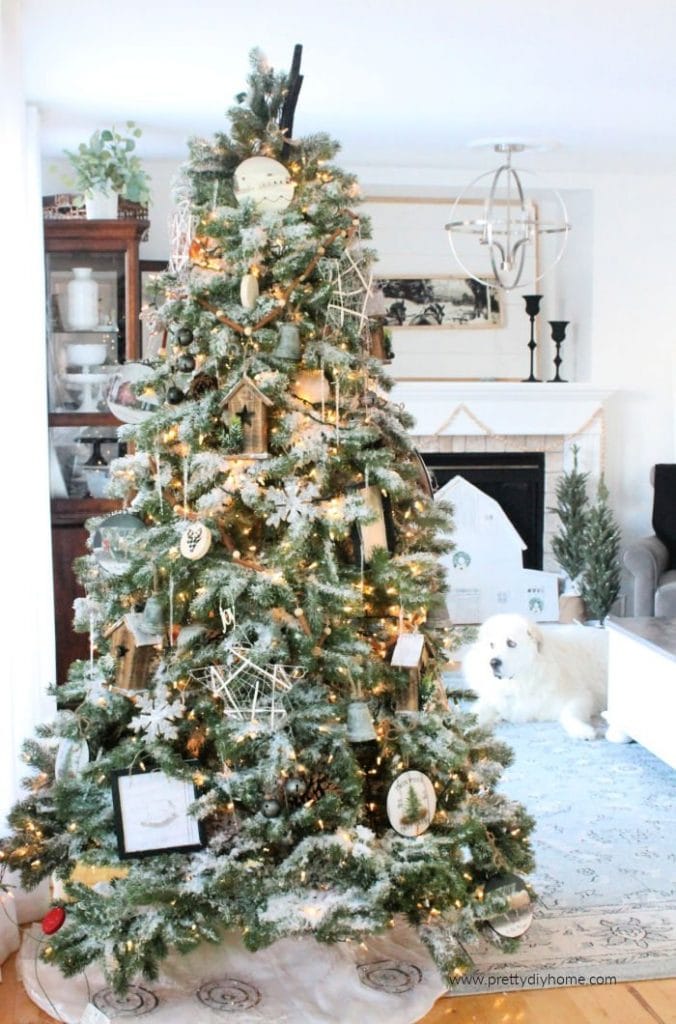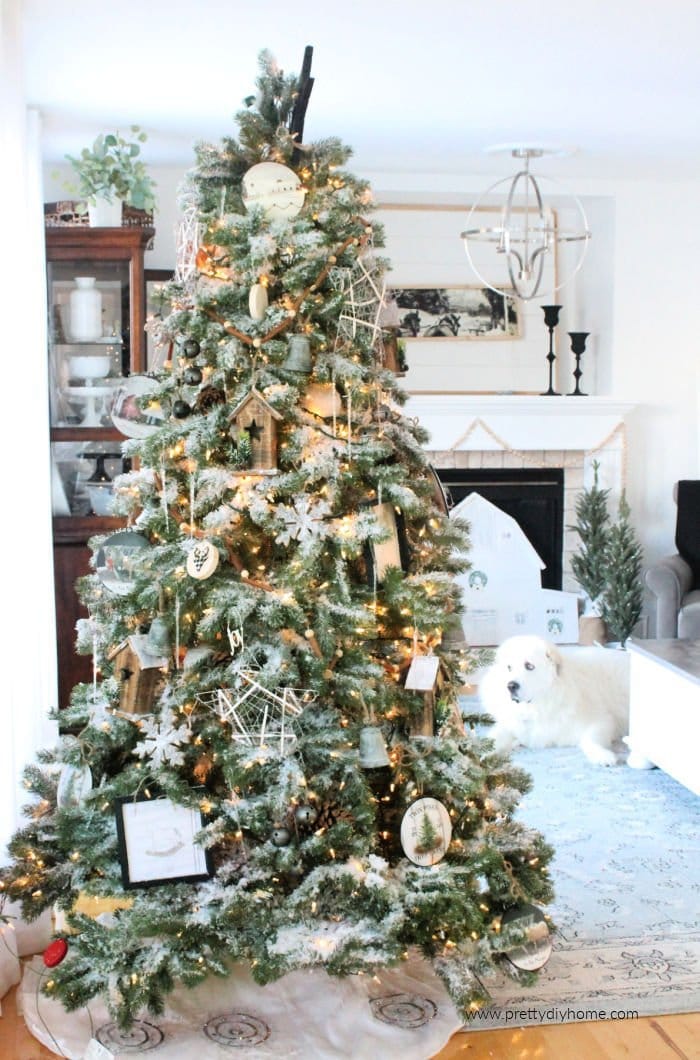 At the end of my post you will find a listing of all kinds of different Christmas trees.
In Canada it's pretty standard to put your tree up after December 1, and bad form to put it up before Remembrance Day. This year everyone is leaping into holiday preparations, looking for something joyous. Although we put up our tree early but in honour of our veterans we won't light it until after Nov 11th.
Why and How to Decorate a Neutral Christmas Tree?
Neutral Christmas decor is more cozy than other types of Christmas decor, the sparkle is reduced, which seems to allow the warm flow of the natural elements to stand out more. Over the years I have done loads of sparkling white glamour Christmas trees and I love them for there brightness, sparkle and bling. But that icy look is anything but warm and cozy. Knitted tree skirts, thick woolen cushion covers, throws, and lots of fresh green greenery all add to this feeling of being snuggly and warm.
This year I am keeping with a more rustic and cozy Christmas look, skipping lots of the glitz and sparkle in favor of a homespun look. As always I start with a theme and shop the basement for any existing ornaments that fit in. This year I grabbed our barn themed ornaments. Barns have a warm spot in my heart from the years I had hanging out with the thoroughbreds. We no longer have them and I miss my time just hanging out with the horses. Barns bring me back to those moments.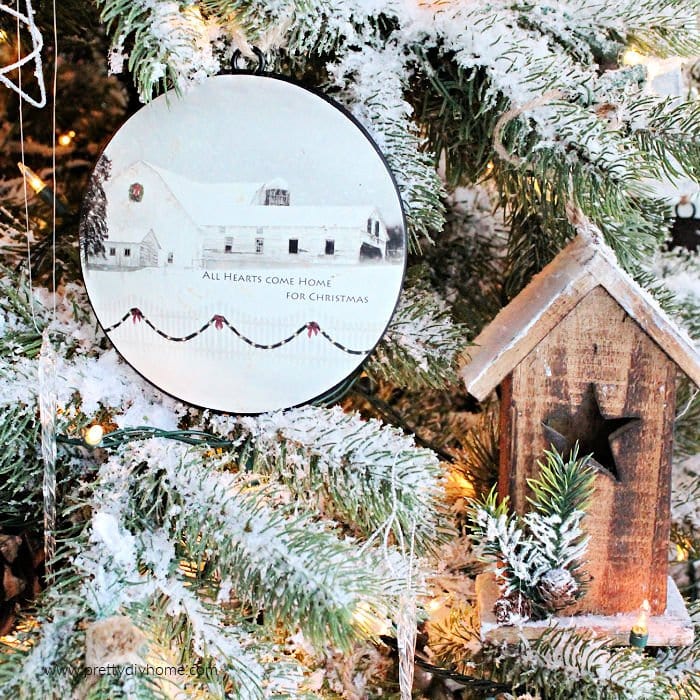 The DIY projects started with adding more flocking to the Christmas tree. You can read about how to flock a tree here. The black star top, the black framed pictures, and the cinnamon stick garland are homemade.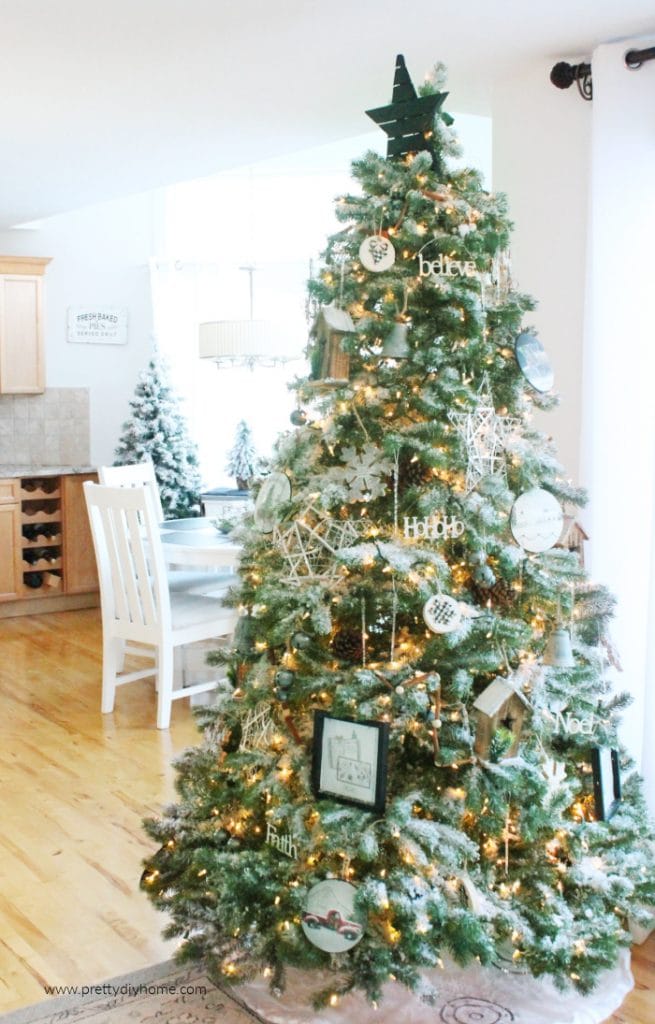 Most years I don't worry about actually grouping my large ornaments in any pattern at all. I just ensure they are scattered and no two of the large ornaments are side by side. Unfortunately on this Christmas tree I had a large selection of large ornaments requiring a more structured approach than usual.
After deciding on the barn ornaments, large white stars, and birch snowflakes from the basement I purchased the natural wood bird houses. The store also had some pretty white bird houses with buffalo check roofs, but I preferred the natural warm colour of the wood for the tree in this very naturally bright room.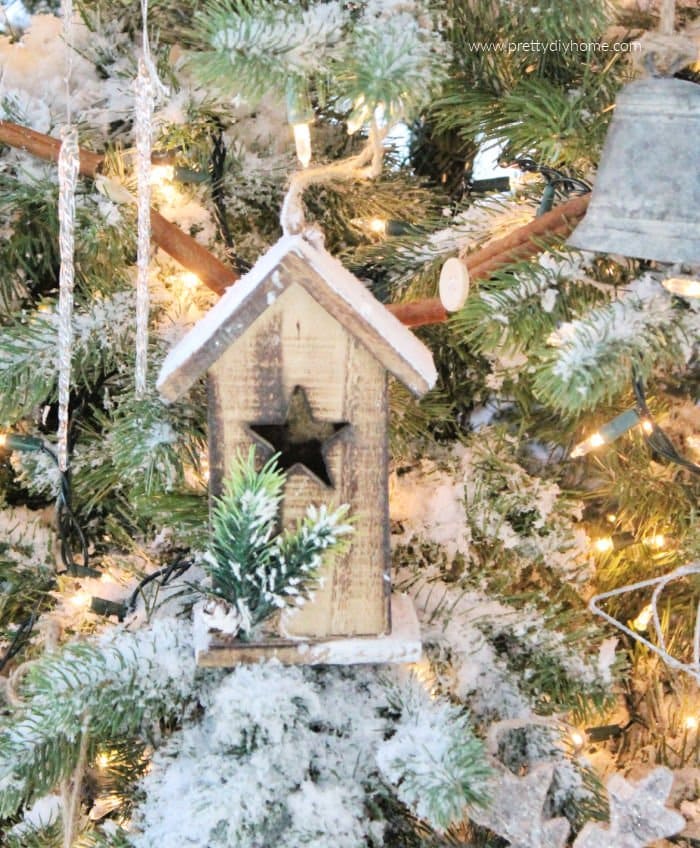 As the ornaments are large I hung them into groups of three, each large star has a dark pinecone under it and a wood snowflake above it. The bird houses have a galvanized bell hanging bell above it and a wood slice ornament beneath it.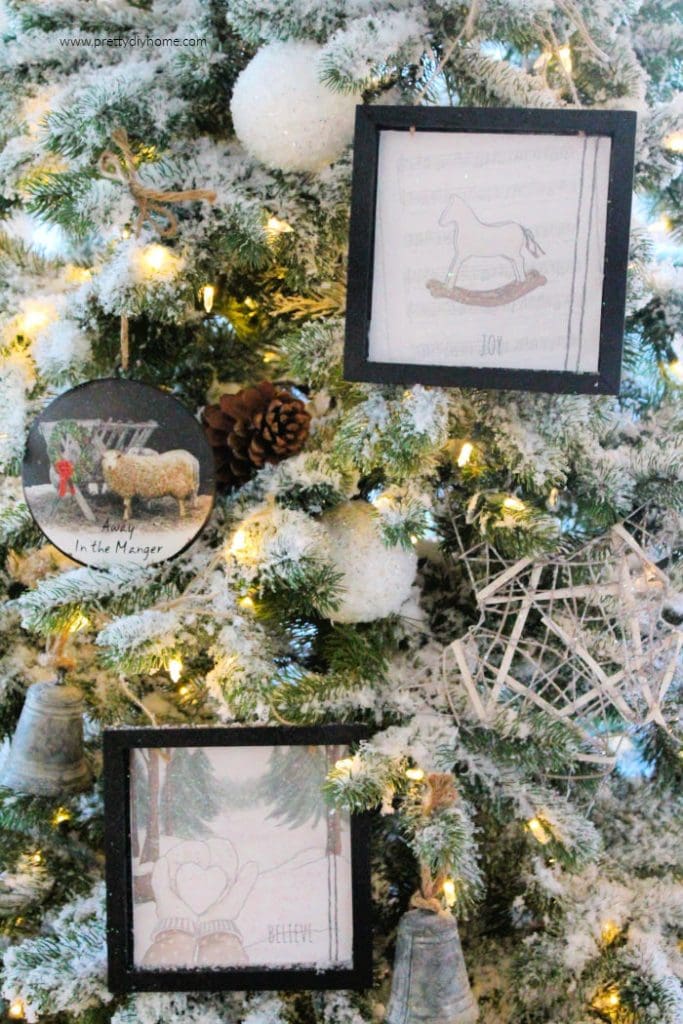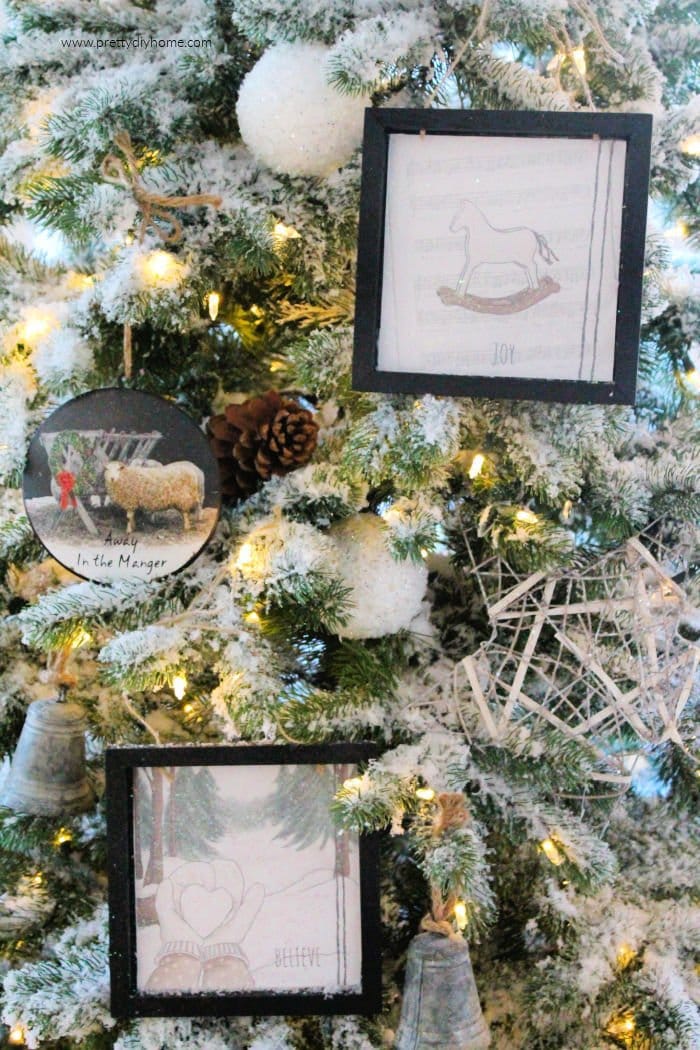 The final touches are galvanized bells with twine cords, some DIY Christmas printable ornaments, and small wood slice ornaments.
Want to try and find some neutral and natural Christmas tree decorations for this year? Pin this post for ideas.
I have just created a new Pinterest board especially for Christmas trees, Christmas tree trends and decor. I want to use it to inspire this years Christmas tree. Check it out if may inspire you as well.
Other Decorated Christmas Trees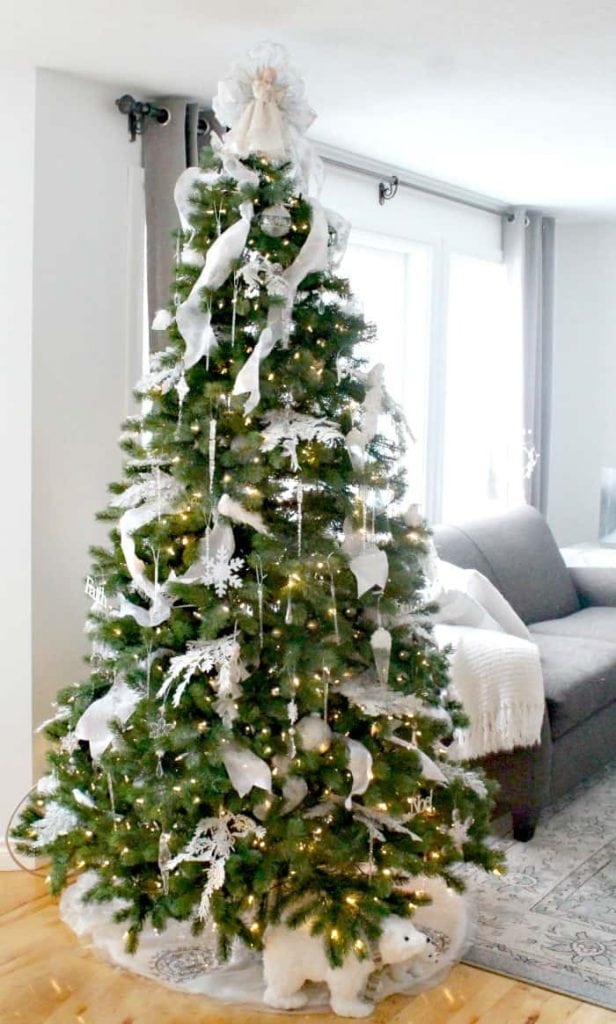 All White Christmas Decor
Here is another Christmas tree decorated in frosty white and ice. This year the theme was about white on white with lots of sparkle and glamour. This look was accessoried with white snowly animals including the white fox picture over the mantel and the bear under the tree. I loved the bright glam of an all white Christmas decor, and it was made affordable as that white collection of ornaments is decades in collection. I loved it but its not cozy like the neutral tree shown in this post is.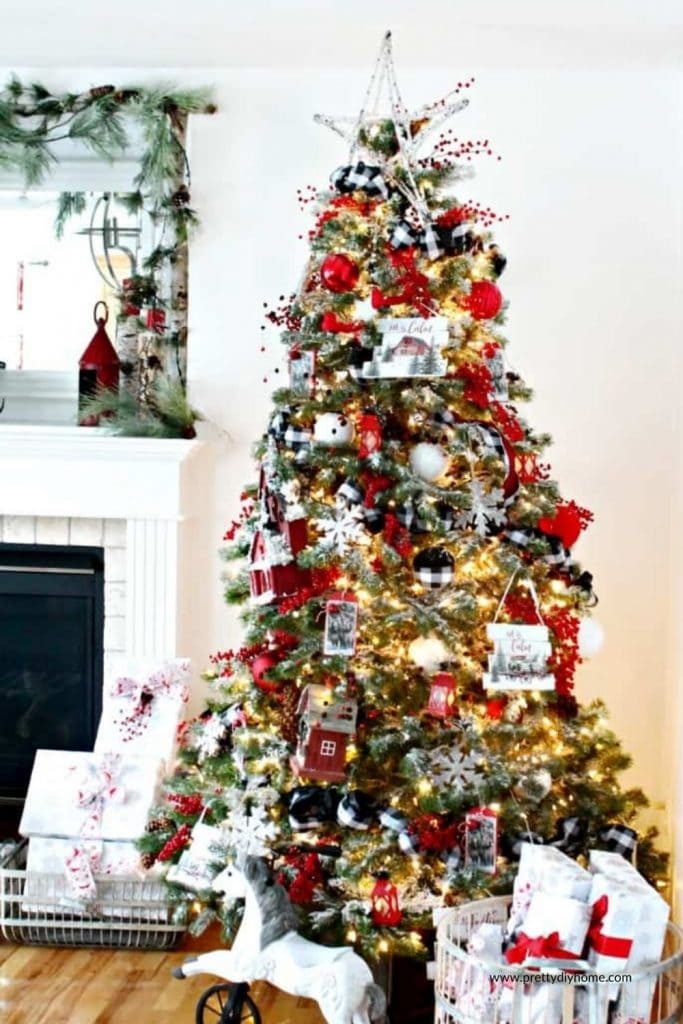 Decorating a Tree with Buffalo Plaid
This Christmas tree features buffalo plaid ribbon and buffalo plaid diy Christmas tree ornaments. It features a large red chuch and a large red barn as the focal point on the front of the tree.
I am not certain if this tree is completely finished yet, but were still a few fun wonderful weeks away from Christmas. Decorating and looking at other ideas to inspire me makes me ridiculously happy every year.
Now let's check out the rest of the beautiful Christmas Trees!
Animal Crossing Christmas Tree My Pinterventures
Simple Silver & Gold Christmas Tree Decorations Intelligent Domestications
Slim Flocked Christmas Tree An Alli Event
Louvered Door Slat Tabletop Christmas Tree Interior Frugalista
Rustic Minimal Christmas Tree Mom Home Guide
ow to Create a Unified Look on an Eclectic Christmas Tree Tikkido
Black and White Christmas Tree Domestically Creative
Candy Christmas Tree Craft Rocker
Rustic Christmas Tree As For Me and My Homestead
Washtub Christmas Tree Skirt Coffee With Us 3
A Christmas Tree Filled with Memories Made Through the Years Blogghetti
Woods and Silver Christmas Tree Polka Dot Poplars
Crochet Filled Christmas Tree Eye Love Knots
Purple Hues Christmas Tree Purple Hues and Me
How To Decorate A Stunning Christmas Tree – 5 Easy Steps My Humble Home and Garden
Grinch Christmas Tree From House to Home
Christmas Tree Trends Christmas Tree Lane