Farmhouse DIY Bucket Makeover
Do you have lots of stairs in your home and a battle with clutter wagering on full time? Our home is a four level somewhat two story, and instead of putting things where they go, they get left for me. I bet you can relate. That's where these clutter catcher bucket ideas started.
Over the years I have developed a spot on each floor to place stuff for my next trip up or down the stairs. But those piles can get messy and these buckets will so so handy as a pretty container to stick odds and sods in before I make a trek to the other floor.
DIY Farmhouse Bucket Makeover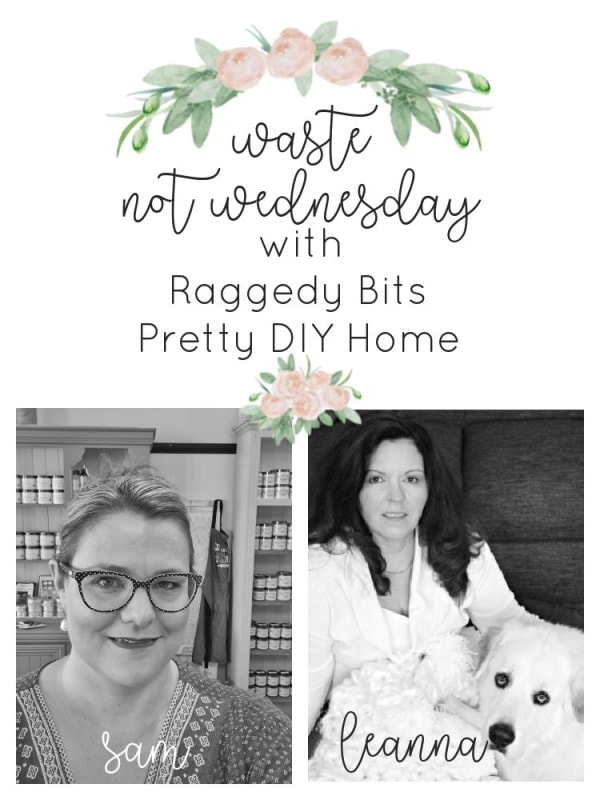 Welcome back to Waste not Wednesday. Sam from Raggedy Bits and I are collaborating on Waste not Wednesday Sam and I love working together and I know you will enjoy what she makes. Every Wednesday we will bring you our own fun projects to try, and then some of our favorite posts from other bloggers. You will see Sam's' DIY bucket makeover, right at the end of my DIY bucket tutorial.
The buckets were in my storage room, they use to be Fall decor before I went neutral, and although I love the chickens they weren't getting used.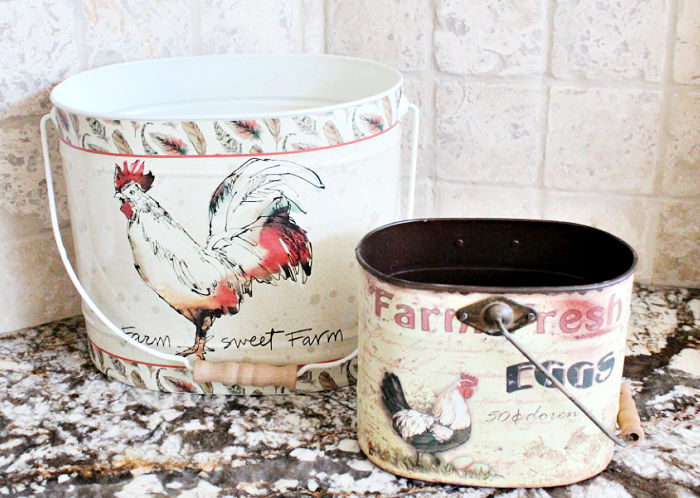 I actually still like the buckets, especially the little wood handles and there is not one thing wrong with them. But they just don't suit our home anymore.
Supplies for Makeover
Old Bucket
Painters tape
Small and medium paint brush
Large clear labels
Coordinating ribbon or twill tape
Painting the Bucket
After giving your bucket a really good scrub using TSP and letting it dry. Begin by taping off any area area of the bucket you want to keep original. I wanted the inside of my buckets to remain as they were, so I carefully taped off the rim, as well as the handles.
Paint the bucket(s) with primer and then two coats of latex paint any colour your like. I used Binz 123 primer and fusion mineral paint picket white.
Let dry well between each coat.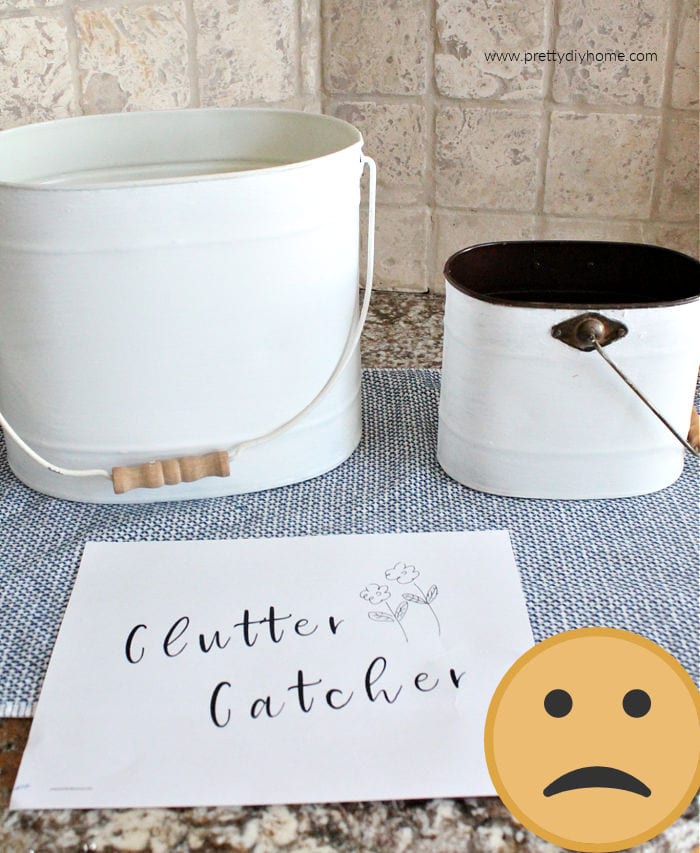 I began by making the flower pattern on the finished buckets and this clutter catcher printable. Unfortunately I wanted to try scraping the lettering out, and then filling it in with fine tipped pens. I disliked the colours of the pens, washed, sanded and painted the buckets and started over. I will try it again without silly coloured pens.
Adding the Floral Label
So with the clean white buckets all ready to go again. I swapped out the childlike colours of the pens for a more sophisticated all black flower label. I printed out the label on a clear label sheet and attached it to the front of the bucket. You will notice the downloadable pattern is in png, that is to keep the background clear when printing.
The flower line up I designed but I got the original flower vectors at Rawpixel.com.
Begin by checking which side your printer prints on. Mine prints on the underside, so I placed the shiny side of the label face down on my printer. Then change the menu to print labels, easy peasy.
Once printed cut the flower label out and stick to your bucket. That's all it takes.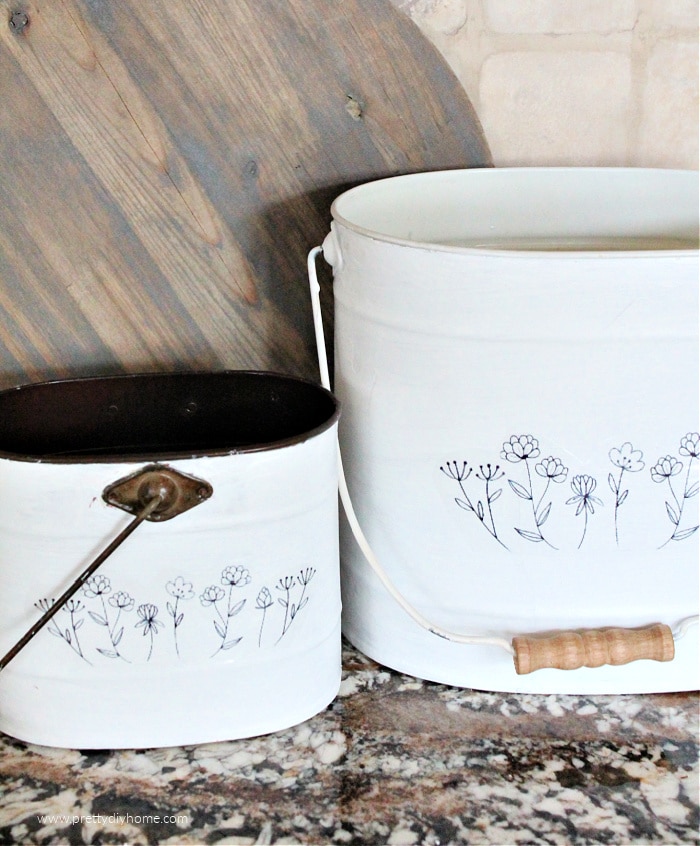 For now the small bucket will be used on the countertop to hold keys, brushes, pens, tape from the office and so forth. The large bucket will be perfect to hold books, papers, found socks and what not that needs to go upstairs.
Sam from Raggedy Bits consistently amazes me, how trendy is this black DIY farmhouse bucket makeover complete with lemons.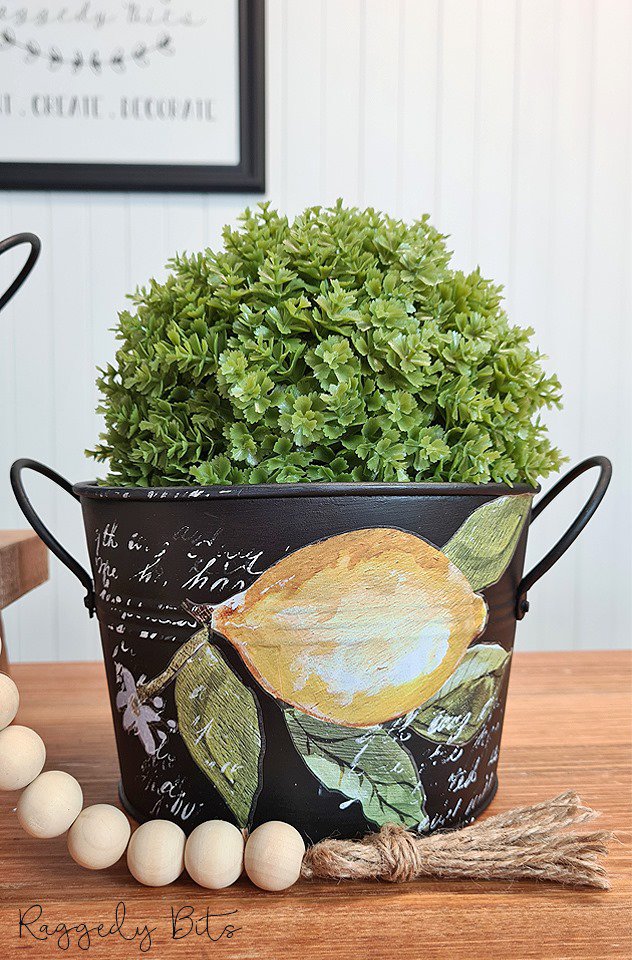 Vintage Farmhouse Galvanized Bucket Makeover
Check out these other DIY bucket makeovers, lots of pretty and unique ideas for some inexpensive and useful crafting.
Amy from Atta Girl shows us how to use coloured stain to transform a galvanized bucket into a pretty garden planter.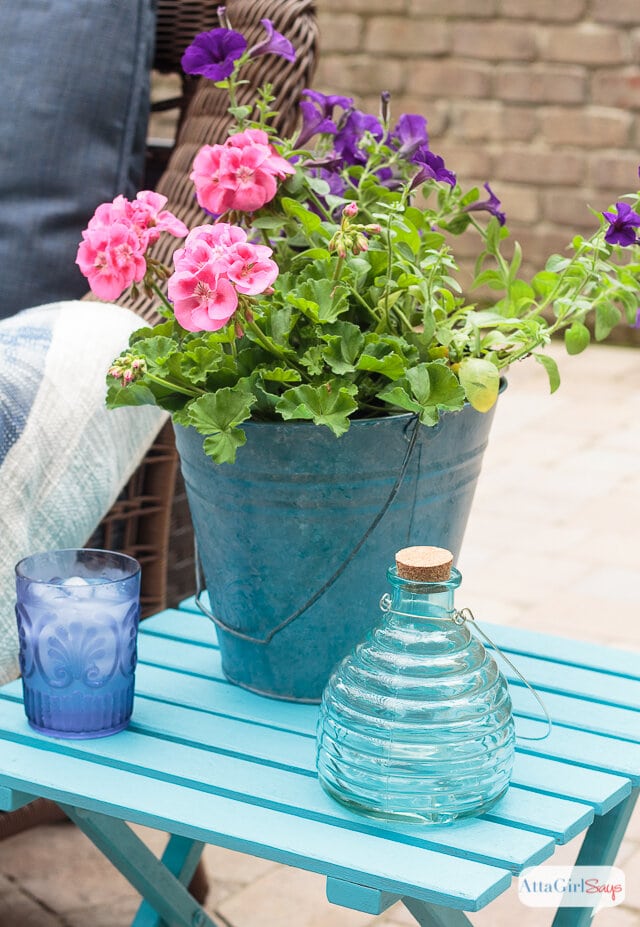 Galvanized Bucket Makeover with Color Stain | Atta Girl Says
Would you believe this began as a $2 thrift store find. Add some spray paint, a Prima transfer and voila she made this gorgeous French floral bucket.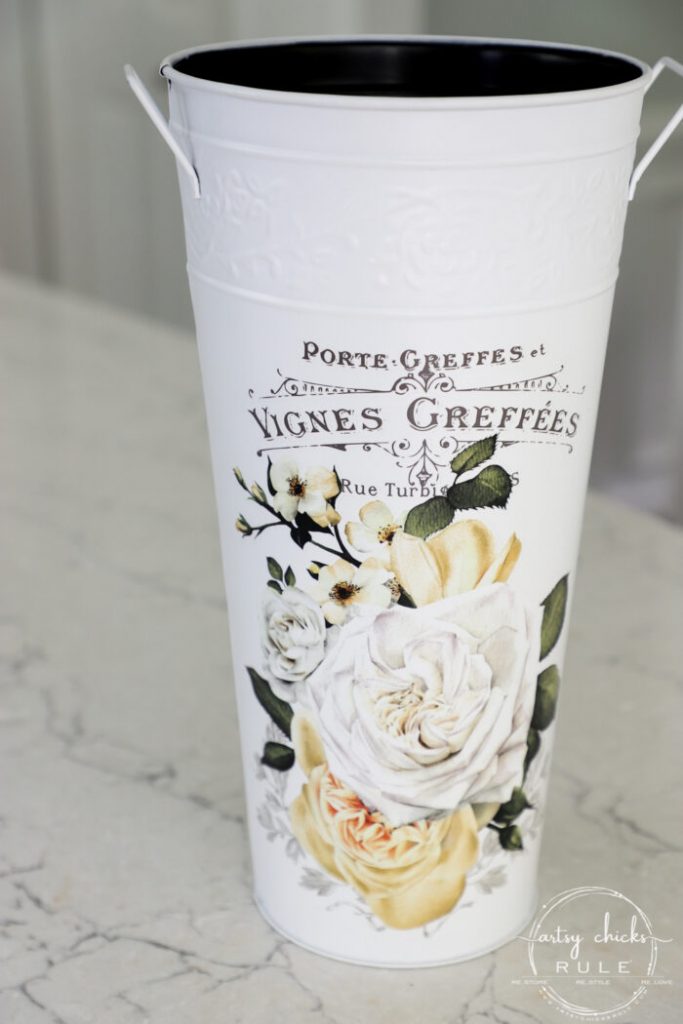 $2 French Floral Bucket Makeover | Artsy Chicks Rule
Old rust can be really beautiful, all we need to do is give it some flare to make it stand out. Isn't this floral bucket rusty gorgeous.
Flower Shop Rusty Metal Farmhouse Bucket Makeover | Knick of Time
Sarah took a $5 target find, removed the shine and gave it a chalkpaint finish. Check out how simple this is to do. I think this bucket is pretty enough to be featured in a gift shop, and I love the little wood handles.
$5 Galvanized Bucket Makeover | Sarah Joy Blog
You won't believe how ugh this little wood bucket was to start with. So clunky 70s plain, but not anymore.
Flower Market Bucket | Girl in the Garage