Farmhouse Style Kitchen Decor Ideas
Create a Farmhouse Feel with Small Decor Items
It has been a very exciting fun time over here. With all the fall home tours and Halloween posts, September flew by. So hard to believe its been a whole month since the Farmhouse Hens posted about Farmhouse Vignettes. Today we are linking up to share our ideas on styling a farmhouse kitchen.
Have you ever done the "if I won the lottery day dream". I don't do them too often, but when I do it always looks the same. We move to the warmth of the southern USA, maybe Kentucky or South Carolina, build a big farmhouse for me with a massive kitchen and porch and as many thoroughbreds as we could rescue and love for Hubs. I would never leave, I would be content redecorating and refurbishing that old home and barn forever. A carrot garden just for the horses. Sigh…..
Back to reality, no farmhouse sinks, huge butcher block kitchen islands, or big antique farmhouse tables for me anytime soon, but I do have a few inexpensive farmhouse ideas to bring the farmhouse feel to our homes.
s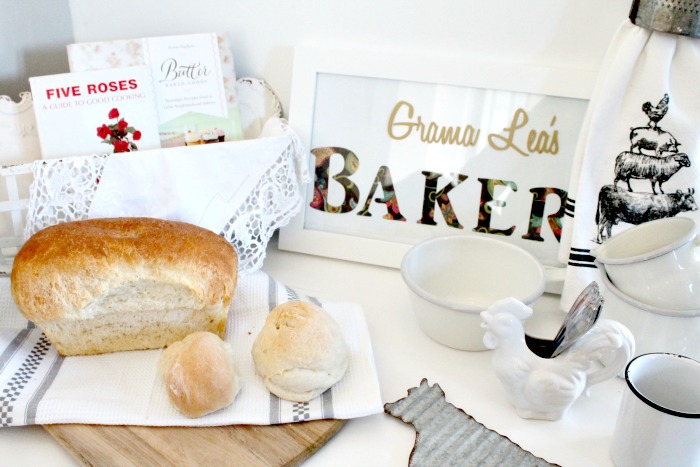 Farmhouse Kitchen Signs
You see farmhouse kitchen signs all over the internet, they are easy to create and come in all sorts of sizes and designs. I made this modern farmhouse sign for our kitchen using some vintage print paper, I found while traveling at Hobby Lobby, an old IKEA frame, my cutting machine and some stick on vinyl.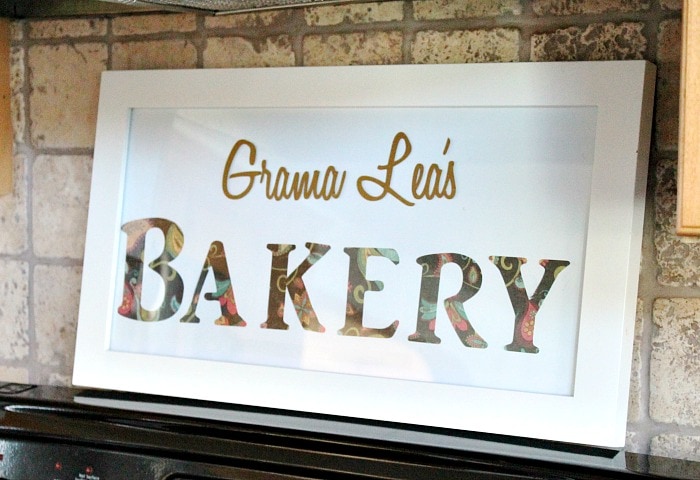 My method is pretty typical for a farmhouse diy sign. Create the wording using Arial Unicode font for Bakery and Honey Script for the Grama Lea's on my cutting machine. Then I cut out all the wording on scrap paper to judge the placement and sizing of the letters. It took two tries to get the sizing proportions the way I wanted them.
Once your sure of the lettering, cut the word Bakery out on some vintage style card stock and the name ( Grama Lea's) on some coordinating sticky vinyl.
l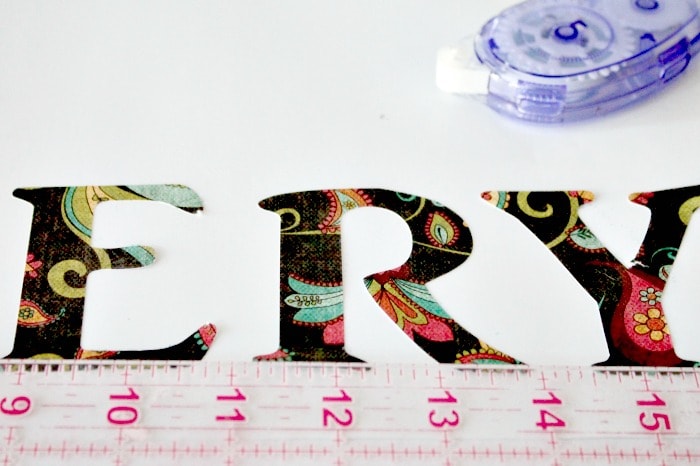 h
Using the liner from the Ikea sign as the backdrop line the individual letters up using a ruler. Then attach each letter with double-sided tape. I spaced mine 3/8 inch apart, depending on the size of your frame and letters your space may be different.
Once the lettering was attached I cleaned the glass and frame and then reassembled the frame together.
To apply the vinyl to the outside of the glass. Cut and then weed away the excess vinyl, leaving your wording, then transfer it using transfer paper.
z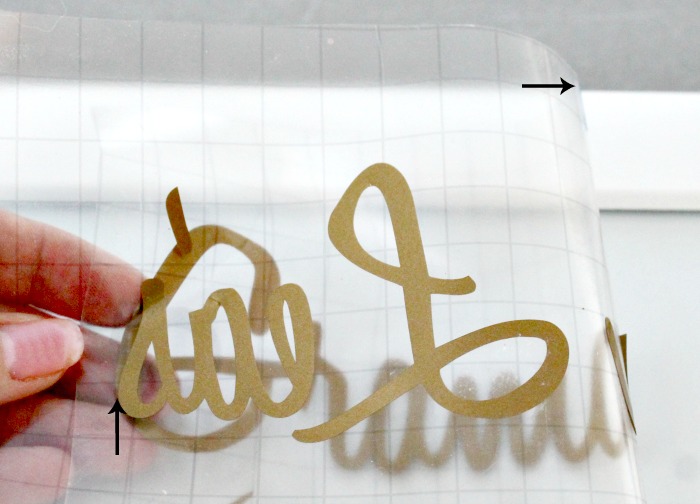 s
To place the vinyl on the glass, fold it in half lining up the edge of the words together and then mark the center of the fold with a marker.
l
n
Line up the center of the vinyl to the center of the frame and line up the square grid of the transfer paper to the edge of the frame. So easy. With a tool or a pencil hold the vinyl down to the glass while you pull away from the transfer paper.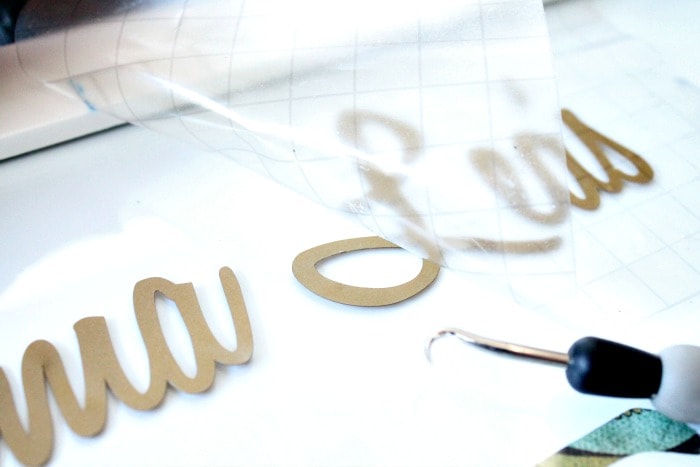 Besides farmhouse signs, there are many tiny ways to add a little bit of farmhouse feel to your kitchen.
Cookbooks
Look for some tried and true cookbooks that Grama must have mentioned to you. In Canada, it is this Five Roses Cookbook.
r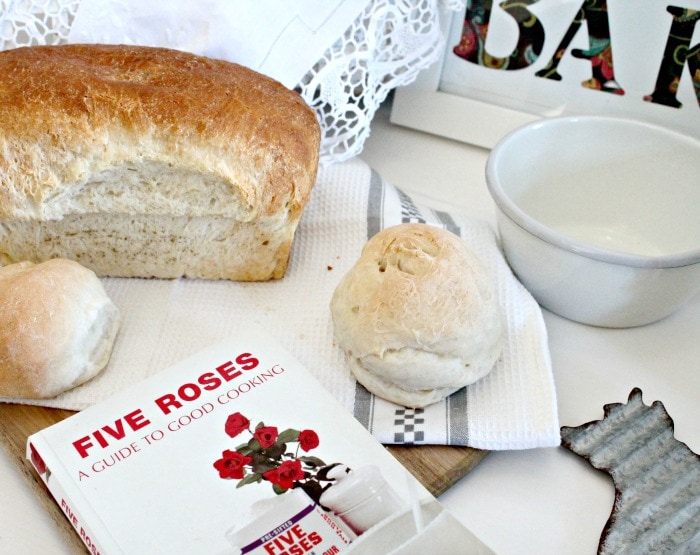 g
h
I don't remember a time this cookbook wasn't in our home. Put it out in a pretty spot like a shelf. You could also r frame one of your mother's or grandmothers old recipe cards in the pretty cursive writing.
This pretty metal shelf came from Michael's a couple of years ago. Add a vintage doily and some pretty cookbooks for an instant farmhouse shelf.h
Wood Chopping Boards
We recently put in our first set of granite countertops, so hubs bought various wood cutting boards to protect it. I purchased two or three more with handles as they add a farmhouse feel and you can use them as a backdrop to all sorts of farmhouse vignettes. Maybe you don't have or don't want butcher top counters, but wood chopping boards are an inexpensive alternative.
j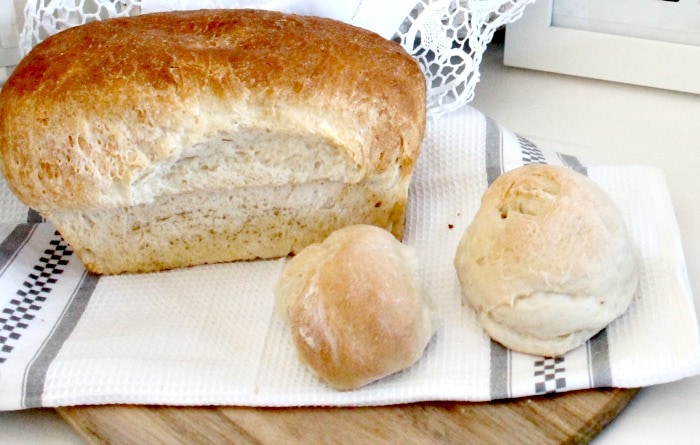 Vintage Kitchen Utensils
Downstairs on my pegboard I hang up all sorts of little pieces I find while out vintage shopping. I really enjoy collecting vintage kitchen utensils, somehow they give me an attachment to all the hard working women from earlier generations. This really old grater is one of them.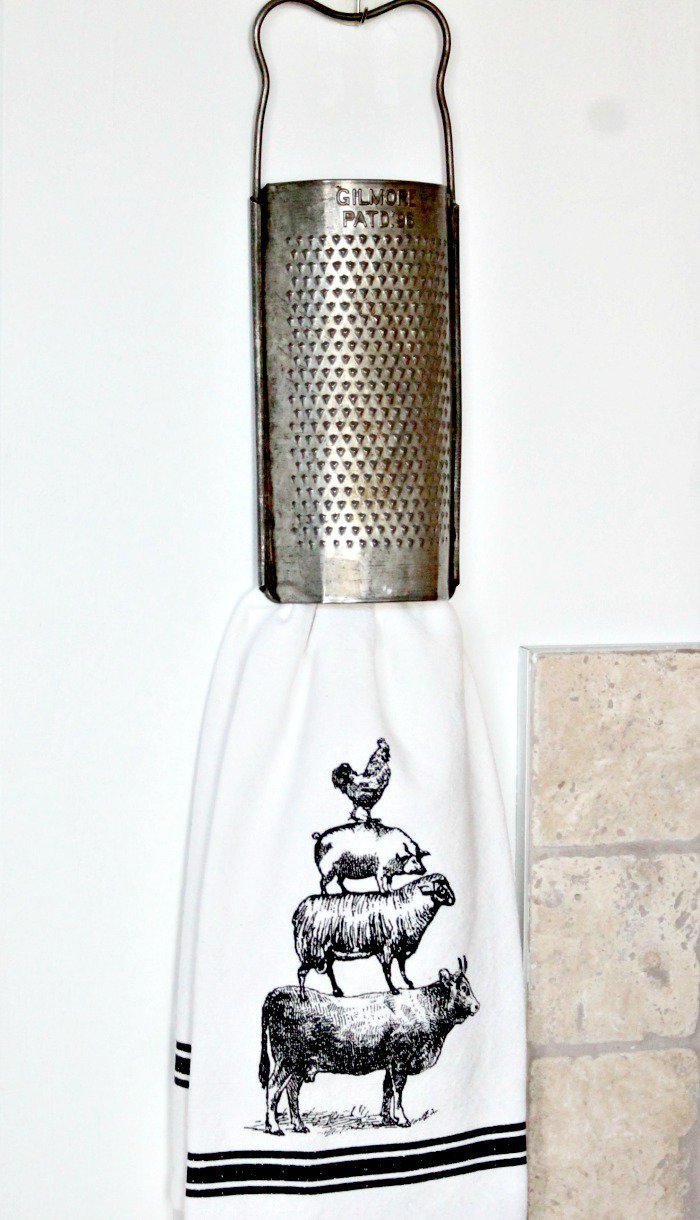 g
g
Iron a pretty flour sack tea towel so that it fits and hang it up using a vintage grater as the holder. I have also seen this done using a rolling pin as the towel rack. My tea towel is the typical farmhouse animals, but any kind of flour sack tea towel would be nice, especially if was vintage and embroidered in some way.
Enamel Ware and Ironstone Dishes
If you come across anything ironstone it works for a farmhouse kitchen. Use it to hold utensils on the counter, or a flower vase. Or as bookends for your cookbook collection. The little ironstone chicken was $5.00 at Home Sense, I have a little cow pitcher as well.
I purchase enamelware like these coffee mugs or little mixing bowls with pouring spouts whenever I see one. The little pieces are perfect for serving cream, eggs, or syrup for brunches.
l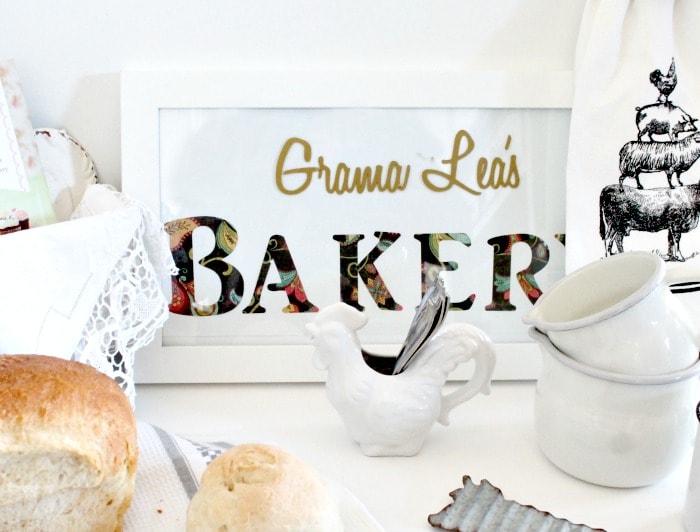 K
You can also look for collector items for your farmhouse kitchen, such items as jadeite, depression glass, and fire king casserole dishes are some brands to look for. The original pieces can be pricey and there are lots of reproductions. Personally, I have no issues with using and enjoying reproductions as long as I am not paying the vintage price.
Kim from Reinvented K. has opened up a new brick and mortar cupcake bakery and took her life in a whole new exciting direction. I am really happy to announce that Denise from My Thrifty House has accepted our invitation to become our new hen.
Here are the other Farmhouse Hen's kitchen decor ideas. Grab a coffee and enjoy.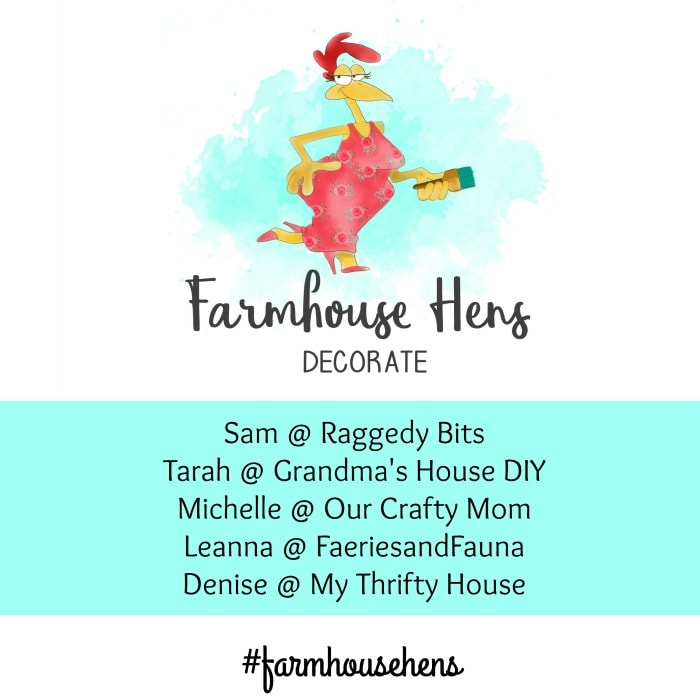 Farmhouse Kitchen Project by Tarah @ Grandma's House DIY
DIY Farmhouse Kitchen Sign by Michelle @ Our Crafty Mom
Creating a Modern Farmhouse Kitchen with Vintage Treasures from Denise @ My Thrifty House
Easy Farmhouse Kitchen Wall Hanger by Sam @ Raggedy Bits